It has been a month since we announced we're leaving the daily grind for a new life on the road. We have been overwhelmed by the encouragement and support shown by our family, friends, and coworkers. Thank you all! ♥ It is hard to believe 2019 is here and even more difficult to comprehend exactly what lies ahead. There is much that we don't know, but the picture is slowly coming together.
Work
We're down to about seven weeks at work. I was fortunate enough to secure a part-time remote position with my current employer. I have been the project manager for a new software system. The process development and implementation is something I've been enjoying and that I can do remotely as long as I have an internet connection. My boss seems happy to have me and I'm appreciative for the part time, flexible work. I've switched my cell phone plan from our local carrier to Verizon so that I'll have better coverage on the road.
Jason won't be working for now and is looking forward to spending his time pursuing new interests such as learning how to maintain all the systems on our RV. I have no interest in that and am happy he has it covered.
Readying the rv
J
ason has been working hard to get the RV ready to hit the road. Our first modification was a quick and easy one, an upgrade to an Oxygenics RV Shower Kit
. We've heard nothing but great reviews on this head which infuses oxygen into the water creating better pressure. We expect this will quickly pay off since we'll primarily be boondocking (no hookups) and will need to conserve water.
The day after Thanksgiving, we drove the RV up to my parent's house. My dad has a heated shop large enough for the RV, hydraulic lift, tons of tools, and experience working on just about everything imaginable. He has been recovering from knee replacement and is a bit limited in what he can do, but his help has been invaluable.  He and Jason have worked on the RV every weekend since then, getting the Jeep ready to tow and upgrading our battery system.
We'll do more detailed posts later, but the Jeep tow project has involved installing a new bumper, adding a Ready Brute Elite Tow Bar
with Break Away Device
, running an emergency break away cable, adding an electric wire harness, and wiring a break light activation indicator into the RV dash. I think Jason has seen the underside of both vehicles more than he has seen me over the past month!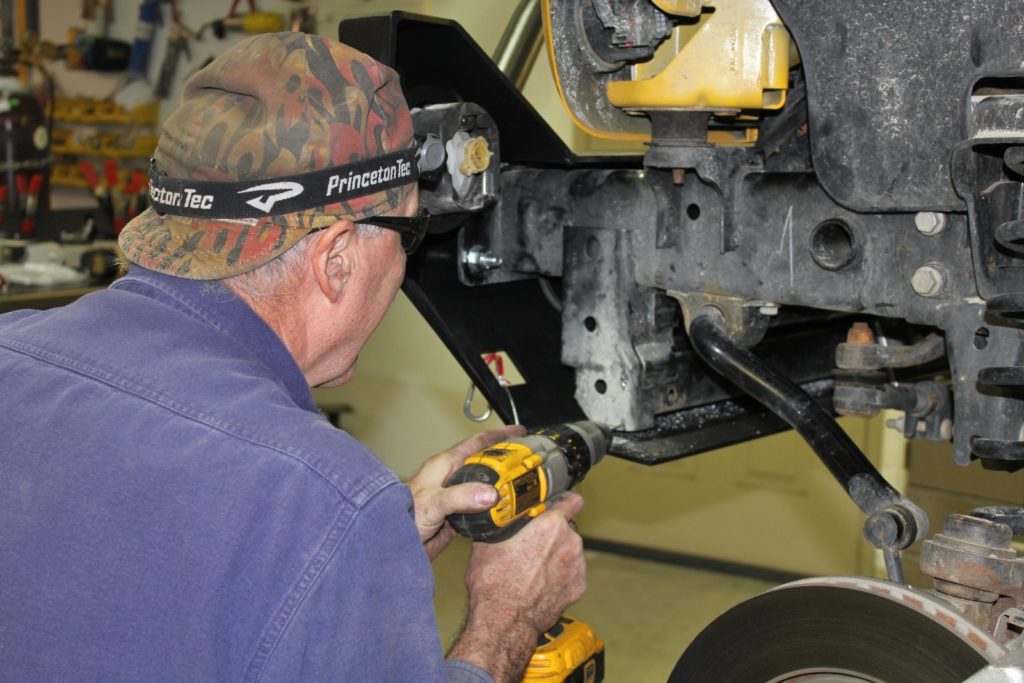 The batteries that RV manufacturers use are a joke. It was a given that we'd need a major upgrade. After intensive research, Jason ordered two 100 Ah LiFePO4 12 Volt Deep Cycle  lithium batteries from Battle Born. This decision was not made lightly since the batteries alone cost just over $2,000! But the advantages of these batteries over all others were clear. The upgrade also involves replacing a board in the converter for the charge controller, addition of a Victron battery monitor with shunt and temperature probe, addition of a battery switch, and 250A class T fuse. Rounding it all off, we have purchased a Zamp Portable
200W solar system. I won't lie, this upgrade has been shocking to the wallet. But this isn't just providing power for a weekend vacation—it is going to be powering our daily lives. It will allow us to routinely boondock which will save us a ton of money in RV park fees. Reliable power will also be essential for my part time job.
The battery upgrade would be complete by now, but we added on another modification… Initially, we thought we'd have to place one of our lithium batteries in a side compartment since the battery box from the manufacturer only holds a single group 27 battery. After some measuring and planning, my dad came up with a better solution. He is fabricating a new battery box that will hold both batteries and is adding longer extension sliders so the whole thing slides in and out of the battery compartment allowing for easy access. This modification has been very time consuming and an unexpected expense; however, it is going to be so much nicer than what we originally had planned.
Once we have the RV back home, our nephew Max is going to make us a custom designed, modular cat platform and install some shelves for our wardrobe closet. As he's doing that, I'll work on getting everything packed that we will need to live in the RV. After that, the adventure can finally begin!
2019 Travels 
I've been getting lots of questions about when we plan to hit the road and where we're headed. Our first couple trips will be short ones close to home—we want to give our battery system a good workout and fine tune our gear and storage before we get too far away. This will also give our cats Jake and Indy an opportunity to slowly adjust to RV life.
The first big trip is still a bit up in the air. Yes… that is hard for an ultra Type-A such as myself (I confess that I vacation with an itinerary and a 3-ring binder full of trail guides and maps). But this isn't vacation anymore. This is going to be our everyday life and we don't have to have every moment planned. We'll see what the weather is doing and how long we can be away from home. We need to be home for some personal affairs this spring, so we may not wander too far. The Oregon Coast, Bend area, and Columbia River Gorge are the leading possibilities.
Summer in the Pacific Northwest is beautiful, so we plan to stick around the immediate area. We anticipate trips along our favorite fly fishing streams in the mountains of north central Idaho, exploring the Washington Cascades, and backpacking in Oregon's Eagle Cap Wilderness. The bucket list is still quite full even though this is all so close to home!
September we'll begin the long, slow trip south for the winter (bye bye Palouse winters!). We may head to the Sawtooths of Idaho or down the Oregon Coast. We'll see how the mood strikes us—we can go wherever we want. October will be spent in Utah. We're especially looking forward to our friends Mick and Suzy joining us for some red rock explorations. I also hope to catch up with a coworker who recently retired to the St. George area as well as a couple friends who live in Utah.
In November we'll stick around Utah until the weather really starts to turn and then we'll slowly continue our travels south. Sedona, Phoenix, Tucson, Organ Pipe Cactus National Monument, Red Rock Conservation Area, Valley of Fire State Park, Lake Mead National Recreation Area, Anza-Borrego Desert State Park, Joshua Tree National Park, and Death Valley National Park are all high on the list for future winter explorations. I expect we'll cross paths with our friends Tom and Claudia who winter at the BLM snow-birder areas in Arizona and California.
Spring of 2020 will find us pushing our way north as soon as the weather starts to change. New Mexico explorations are a real possibility before returning home for the summer. By then we'll know a lot more about ourselves and life on the road. We anticipate we'll be downsizing all our belongings into what can fit into an average size storage unit so we can turn the family home over to my uncle upon his retirement. At that point, we will officially be full time nomads.
Those are our current plans for 2019. We hope the year brings you good health and happiness. Be sure to dream a little—some of those dreams do come true.
Got Gear?
Click here to see some of our tried and true gear. By accessing Amazon through the links on this page, you get the same GREAT Amazon pricing and they share a little with us. You don't even have to purchase one of the linked items, simply access Amazon through our site and purchase anything! This helps us maintain Evans Outdoor Adventures and is much appreciated! Thank you to our supporters!