October 7-13, 2019
Day 19: We Arrive at Grand Staircase-Escalante National Monument
We spent the morning moving roughly 80 miles from Bear Valley RV Park just north of Panguitch, Utah to a sweet boondocking spot in Grand Staircase-Escalante National Monument. We have plenty of space between us and the closest neighbors as well as beautiful desert views. The free permit we obtained at the monument visitor center allows us to stay in this spot for 14 days. We hope to max out that stay provided our fresh water, waste, and propane tanks last that long. The longest we've ever boondocked in the Hawk is about a week, so this is a great test.
Day 20: Chriss Lake Hike, Dixie National Forest
One of the wonderfully unique things about the Escalante, Utah area is the diversity of the landscape in a relatively small area. On day twenty of our adventure, we drove just 40 minutes from our boondocking site in the desert, to Chriss Lake Trailhead on Boulder Mountain at nearly 9,000′ elevation. We had hiked to nearby Deer Creek Lake a few years ago and the fall colors of the aspen forest were spectacular. It was our hope that the hike to Chriss Lake would be just as spectacular on this warm fall day.
Almost immediately we were in beautifully colored aspen groves. At higher elevations it looked like some had already peaked and at lower elevations they were just starting to change. It was a pretty stiff 1.75 mile climb over relatively rocky tread to Chriss Lake. At the lake, we met a nice older couple from Ohio who come out to the Escalante area for several weeks each October. We saw two other parties at the lake, otherwise we had the trail to ourselves.
Chriss Lake shoreline was surrounded by gorgeous fall colors and we could see cliffs in the distance that we recognized from the Deer Creek Lake hike. From Chriss, we caught the Great Western Trail over to its junction with the Deer Creek Lake Trail. We continued to pass through pine forest and aspen groves of varying stages of fall color. In all we hiked 5.65 miles with just over 1,000' elevation gain, most of that coming in the first 1.75 miles up to Chriss Lake.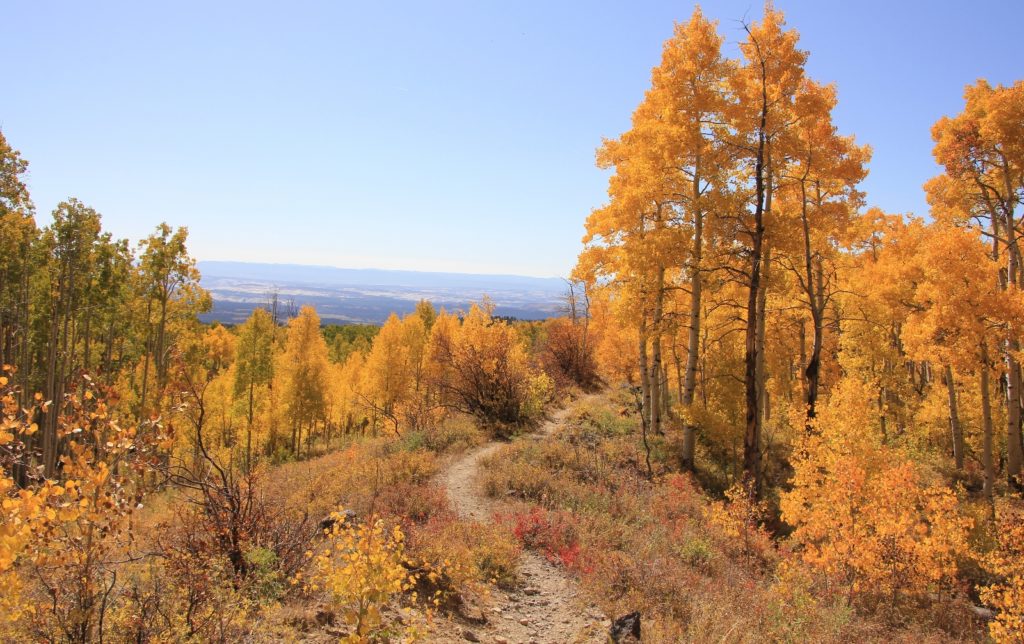 Day 21: Lower Calf Creek Falls
The notifications started before we could finish breakfast. First, it was a text from my boss with views of snow from her balcony. Then Jason's mom sent a photo from a web camera along our old commuter route. And then our nephew sent photos from his morning commute. Washington's Palouse was getting hit with its second record setting winter storm… and it was only October 9th. I'll admit that I'm really missing family, home, and all things familiar right about now, but I am NOT missing a snowy commute!
While snow was hitting back home, we had a beautiful morning in the desert. But that would be changing by mid-day. The same storm that was hammering home would be hitting us with gusting winds and a 25 degree drop in temperatures. We took advantage of the beautiful morning to do a repeat of a hike we had done on our very first visit to Utah back in 2010.
Lower Calf Creek Falls is the most popular hike in Grand Staircase-Escalante National Monument. This is the hike that I have repeatedly heard the visitor center recommending to the casual tourist. It is one of just a handful of hikes within the monument that can be accessed via paved road, it is well-marked, relatively easy, has stunning red rock views, and leads you to a waterfall in the middle of the desert.
Calf Creek was just a 20 minute drive from our camp. We got an early start and were able to hike the 6.0 mile roundtrip trail before the winds picked up. As we anticipated, trail traffic had increased significantly since our 2010 visit. We only passed a few people on the way in, but it was like a super highway on our way out. We even passed a few foreign tourists hiking in flip flops—not what I would recommend for a rocky trail lined with cactus!
Despite the dry monsoon season (the area has not received any rain in over 100 days), the falls were beautiful. The rock formations around the canyon were even more spectacular than I remembered and we had a little fall color starting to brighten the canyon. For any hikers planning to visit the area, I highly recommend adding on the more strenuous trail to Upper Calf Creek Falls.
Back at camp, it was a bit of a rough afternoon. For the past few days, we'd been having issues with our refrigerator turning itself off. We returned from our hike to find the problem had reoccurred only this time we had a difficult time getting it restarted. We are still under warranty, but we're hours away from any licensed repair facility. Meanwhile, the winds were really gusting and were hitting us broadside. At times it felt like they could tip us over. It was still quite warm outside, so I opened a couple windows on the downwind side to let a little fresh air in. Big mistake—all I did was open the flood gates to the swirling sand outside. Everything inside the RV was covered in red sand including all our bedding. To end the day, my mom called and said Jason had received a jury summons. Like life at home, some days on the road are easier than others.
Day 22: Cleaning Up After the Sandstorm
We decided to take a day off from hiking so that we could do some post-storm cleanup. We headed into town with all our bedding to Canyons of Escalante RV Park. The park allows public use of their laundry facilities and will sell you a shower for $7 per person. The shower price seemed a little high, but the ability to shower AND do laundry at the same time was priceless. And at least we felt like we got our moneys worth—the showers were clean with great pressure and abundant hot water. We left with clean sheets and clean us. It was a real boost to moral!
After a resupply trip to the local grocery store, we returned to the RV where we swept, mopped, and scrubbed as much sand out as possible. It was not a glamorous day on the road, but we ended the day feeling better.
Day 23: Zebra & Tunnel Slot Canyons
Grand Staircase-Escalante National Monument is known for its slot canyons. Our friends and family back home are probably wondering what a slot canyon is—I certainly had no idea before we starting adventuring in Utah. Wikipedia defines a slot canyon as a long, narrow, deep and tortuous channel or drainageway with sheer rock walls that are typically eroded into either sandstone or other sedimentary rock. A slot canyon has depth-to-width ratios that typically exceed 10:1 over most of its length and can approach 100:1. The term is especially used in the semiarid western United States, including the Colorado Plateau region. Some slot canyons can measure less than 3 feet across at the top but drop more than 100 feet to the floor of the canyon.
**Note: slot canyons are subject to deadly flash floods! Never venture into a slot canyon if there is rain in the forecast for the surrounding area!
I'm not a big fan of the slots. We've been in a few that I enjoyed very much (Choprock and Bighorn were especially stunning). But generally I prefer hikes with far reaching views, not slot canyons where you are squeezing your body through a thin crack in the earth. I get why people like them, they just aren't my thing. Still, there are a few slot canyons, like Zebra and Tunnel, that are on my bucket list.
We drove eight miles down the horribly maintained Hole In the Rock Road to the unmarked trailhead. We were the first car there, but we'd see 15 vehicles filling the lot upon our return. Like most hikes off Hole In the Rock, the trail begins humbly as it works its way through a seemingly featureless sagebrush plain. Soon enough, a wash formed and red sandstone walls began to rise on both sides.
At two miles we intersected with Harris Wash. We forked to the left and headed for Zebra Slot which is the most popular slot canyon to branch off Harris Wash. The opening of the slot had a calf deep stretch of ice cold water which was made even more bone chilling by our overnight low of 18 degrees. As we continued, the slot constricted more and more to where there was no squeezing our bodies through without stemming up the walls. While I'm sure this technique is not particularly hard given some practice, it is something we have never done and I'm not comfortable with. We missed seeing the short stretch of zebra striped walls that were just around the corner, but the rest of the hike made up for that.
Back out of Zebra, we went off trail and explored a colorful region of slick rock just above the slot. Then we headed down Harris Wash about a mile to Tunnel Slot. While not as narrow or pretty as Zebra, we enjoyed our explorations up Tunnel. While we saw several people going to and from Zebra, we didn't see anyone on the trail to Tunnel. The solitude alone puts Tunnel above Zebra in my book. In all we covered about 8 miles total for the day.
Day 24: Many Hands Pictograph Panel
Grand Staircase-Escalante National Monument is a treasure trove of ancient Indian ruins and rock art. Some sites are well know; whereas, others are not widely publicized. Many Hands Pictograph Panel is a rock art site that I had only seen mentioned on one other website and the directions I had were a little vague. The panel is located off a particularly scenic stretch of highway 12 near Calf Creek, so we knew it would be a nice hike even if we didn't find the panel.
We began our hike at a small unmarked area of slick rock just off the highway. There is no official trail to this panel. At times we found random footprints seemingly in the middle of nowhere. At other times we'd catch a brief segment of social trail until it disappeared. And for much of the hike we blazed our own way navigating by landmarks on a topo map. Our main landmark with a massive white slickrock dome in the distance.
Arriving at the panel, we found some nice hand prints and a couple human figures with outstretched arms and open hands. Surrounding views of the Escalante were as impressive as the panel. We didn't see anyone on this 4.5 mile route.
Day 25: A Day of Rest
Like last week, we made this Sunday a day of rest. We enjoyed a quiet day around the RV charging the batteries with our portable solar panel, catching up on computer work, calling home and watching some football games. The disappointment for the day is that our refrigerator started giving us fits again after four days of solid performance. We seem to be limping along, but it could drive us into an RV park until we can get to a larger population center with a repair shop. The malfunction appears to be tied to propane operation of the refrigerator. In a park, we can run our refrigerator off 30 AMP electrical service (provided we are correct that it is a propane operation problem).
Stay tuned next week to see where Jake and I have us going next!