September 23-29, 2019
Day 5: Winnemucca to Ward Mountain Campground
We left Winnemucca, Nevada on day five intending to drive to the Ruby Mountains near Elko, but I had been keeping an eye on the weather and it wasn't looking good toward the end of the week. A historic, early fall snow storm would be hitting the Northwest and would bring high winds and cold temperatures to Nevada. An hour into our drive, we decided to head straight to Ely, Nevada which was the next stop on our itinerary. We turned south off I-80 at Carlin and took highway 278 to Eureka, Nevada. This was a surprisingly beautiful stretch of Nevada highway. From there we made our way to Ward Mountain Campground. This was our fifth travel day in a row and our longest mileage day yet at 275 miles. We were road weary. It was time for us to stay put for a couple days and do some adventuring.
Ward Mountain is a Forest Service campground located a few miles SW of Ely, Nevada. It was recently improved and everything looks brand new. Amenities include water, garbage, picnic table, fire pit, and lovely sites in a pinyon pine and juniper forest at 7,339' elevation for $8 per night. We camped in site 1, a large pull through in loop A across from the host.
Day 6: Ward Charcoal Ovens State Park, Ely, Nevada
On day six, we finally took a break from driving and enjoyed some local sights. We headed south of Ely to Ward Charcoal Ovens State Park. The park preserves six charcoal ovens in nearly pristine condition. According to an interpretive sign, "these ovens were constructed during the mid 1870's… They are 27 feet in diameter and 30 feet high with a capacity of about 35 cords of wood. The charcoal was used in the smelters at nearby Ward, about 30-50 bushels being required to reduce one ton of ore. Each filling of one of these ovens required the total tree crop from 5-6 acres of land. During the late 1870's the hills and mountains around many mining camps were completely stripped of all timber for a radius of 35 miles."
After visiting the ovens we hiked 4 miles of the park's trails including the Overlook and Riparian Loop trails. It was a beautiful, sunny day with a high in the low 70s. We had far reaching views including over to Great Basin National Park and Wheeler Peak, Nevada's tallest mountain. Best of all, we had the park all to ourselves. This was a nice stop not far from town and just what we needed after five days of driving the RV.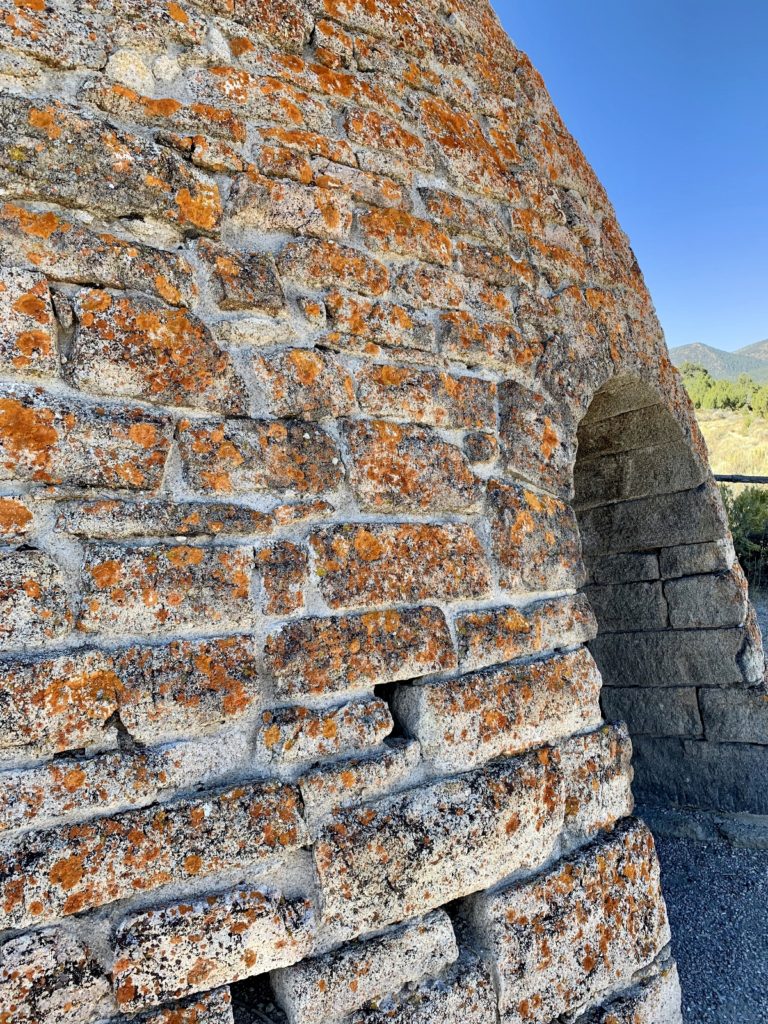 Back at camp, we struck up a conversation with a retired couple from Phoenix, Arizona. Turns out the husband is from our hometown and the wife from a town just an hour to the north. It really is a small world! We had a great time visiting with Rocky and Janet and it was nice to talk "home" with someone after a week away from family and friends. Rocky also inspired me to start a spreadsheet of the places we camp—thanks for sharing the idea Rocky!
Day 7: Cave Creek State Park, Ely, NV
We were enjoying our camp at Ward Mountain so much that we decided to stay for another two nights. This gave us an opportunity to explore nearby Cave Lake State Park which is a short drive SE of Ely. The park offers two campgrounds, lake with fishing, and several outstanding looking trails. We hiked the Cave Overlook Loop Trail which was roughly 4.0 miles long with 850' elevation gain in the first 1.4 miles. We had lovely views of the surrounding mountains, a few cottonwood trees starting to turn color, and an arch sighting on a sunny 75 degree day. We had the trail to ourselves and only saw a few other people in the park.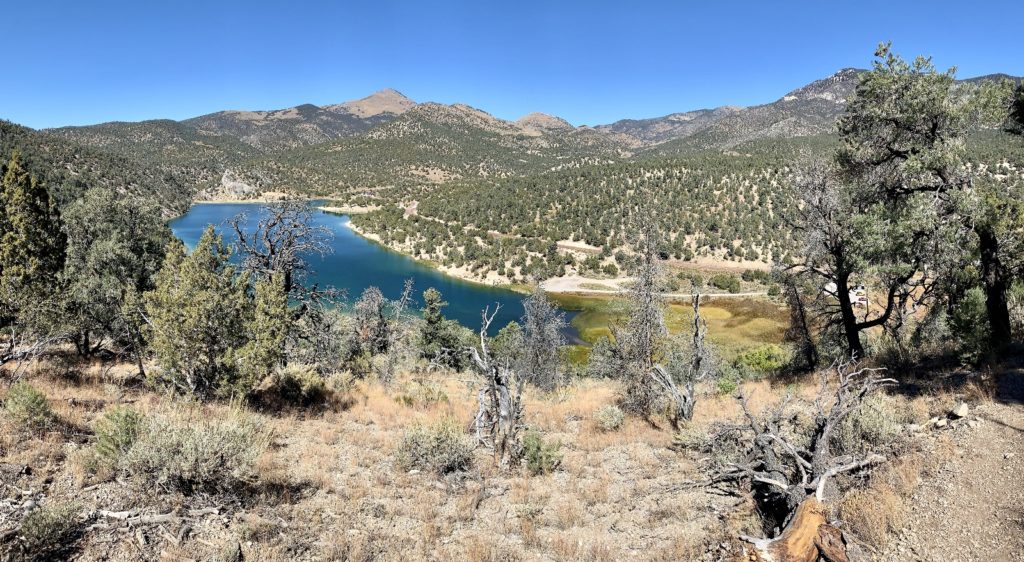 Back at camp, our friends Tom and Claudia had arrived and were set up in the site across from us. Jason and Tom were coworkers for years and having them with us for a couple days was like having a little bit of home right there in Nevada with us.
Day 8: A Relaxing Day with Friends
We spent the day enjoying the beautiful weather and time with friends Tom and Claudia. We all planned to leave and go our separate ways the following day due to snow warnings for the mountains above Ely. I worked a few hours, but other than that it was a nice lazy day with friends.
Day 9: Ely to Great Basin National Park
We left Ward Mountain near Ely, Nevada intending to travel to Minersville Reservoir near Beaver, Utah where we would ride out the storm that was expected to hit the following day. But as we were heading into Baker, Nevada, I looked up at the mountains of Great Basin National Park and saw beautiful fall colors. We knew campgrounds in the park's RV friendly campgrounds would be full due to the weekend's astronomy festival, so we pulled into Whispering Elms RV Park in Baker. They had one site available for the weekend. There wasn't anything fancy about the campground, but we'd have full hookups, the managers were good people, and it was just 5 minutes to the park. Sold!
We did a minimal setup on the RV and headed for the park. It was a beautiful late September day, but the weather would deteriorate rapidly in less than 24 hours. We took advantage of the weather and headed straight up the Wheeler Peak Scenic Drive which climbs a staggering 4,000 feet of elevation over just 12 short miles. As we neared the top, we drove through groves of aspen trees turning brilliant yellows and oranges. At the end of the road was a small trailhead parking lot that was nearly full—it seems we weren't the only one trying to beat the weather. We grabbed one of the last available spots and hit the trail.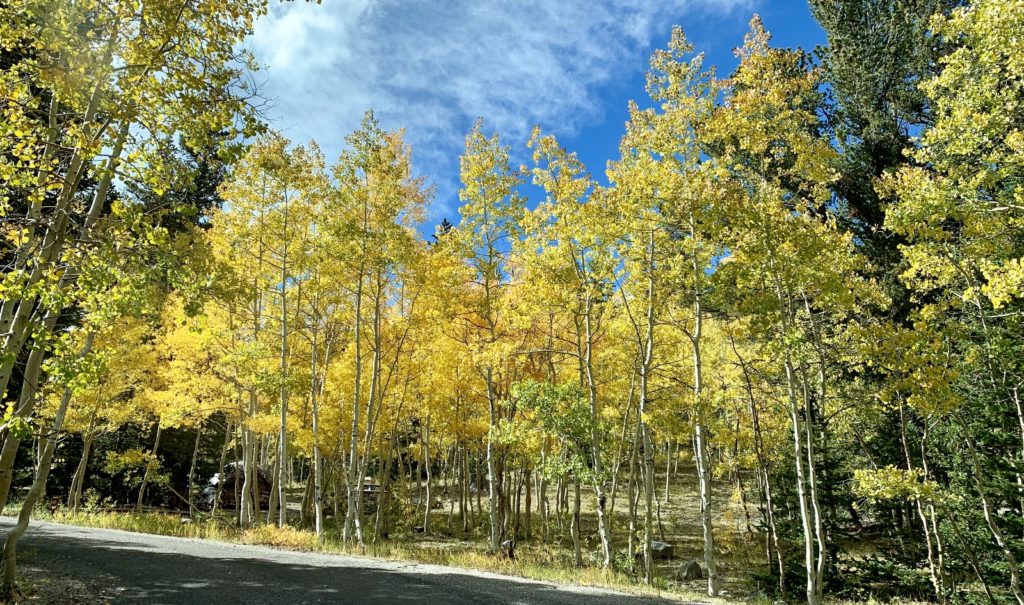 We hiked the Alpine Lakes Loop and added in the Bristlecone Pine Loop and part of the Glacier Trail for a 5.0 mile hike with approximately 1,300' elevation gain. At over 10,000' starting elevation, we slowly huffed and puffed our way up the trail. After all, this is roughly 10 times the elevation of our home! We hiked the Alpine Lakes Loop in a counter-clock-wise direction. Much of the stretch before Stella Lake was ablaze in fall colors. We also had some nice views up to Mt. Wheeler (Nevada's tallest peak at 13,063') and surrounding peaks. We were surprised by how small both lakes were, but they were still quite beautiful.
As much as I enjoyed the colorful aspens on the Alpine Lakes Loop and stunning scenery along the Glacier Trail, the short Bristlecone Pine Loop was the highlight of the hike for me. It was truly awe inspiring to walk among some of the oldest living organisms on earth. One tree is 3,200 years old…that means it was here 1,230 years before the birth of Christ.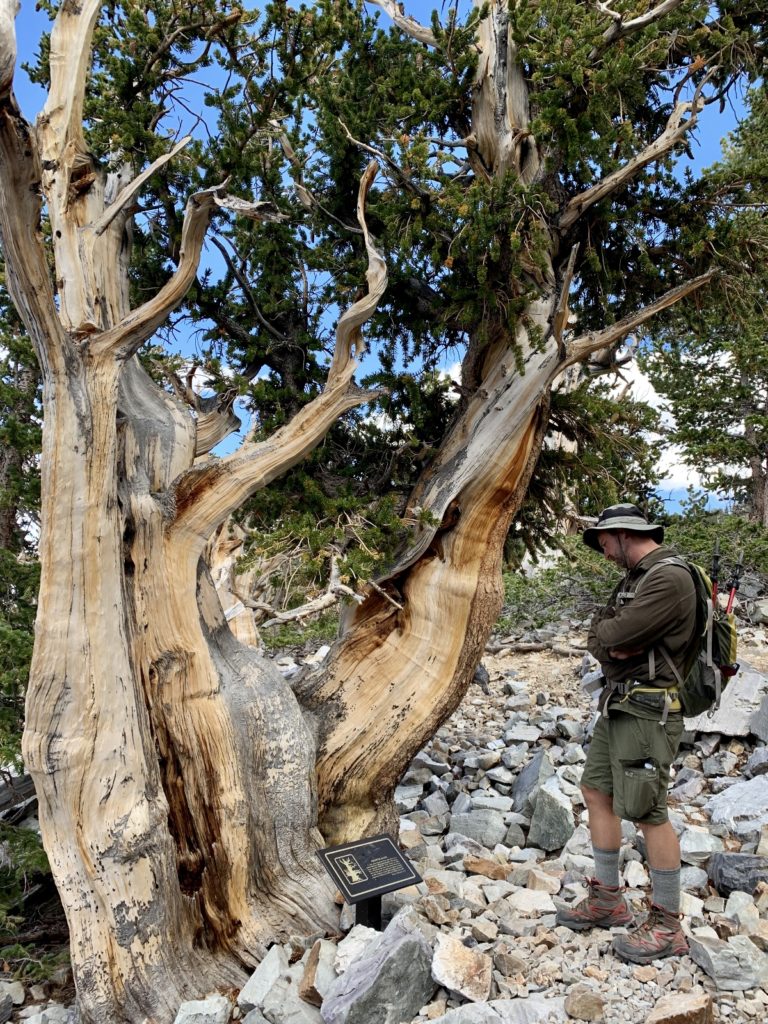 Day 10: Lehman Caves Tour, Great Basin National Park
We awoke to a beautiful morning but all that would change later in the day when a massive weather system was expected to hit the area. This seemed like a great day to visit Lehman Caves in Great Basin National Park. Tickets can be reserved in advance or purchased day of the tour with space limited to 20 people per tour. To increase our odds of getting a same day tour, we arrived at the Visitor Center half an hour before opening. Our early arrival paid off – there was a long line behind us when the doors opened at 8:00. We managed to score tickets to the Grand Palace Tour which visits all areas of the cave open to the public. The tour costs $11 for adults, is 90 minutes long, and includes 0.54 miles of walking through narrow and short passages and up and down stairs in a dimly lit environment. A shorter tour called the Lodge Room Tour is available for $9 for adults, is 60 minutes long and covers 0.4 miles. Our tour guide was Diane and she was very knowledgeable and a ton of fun.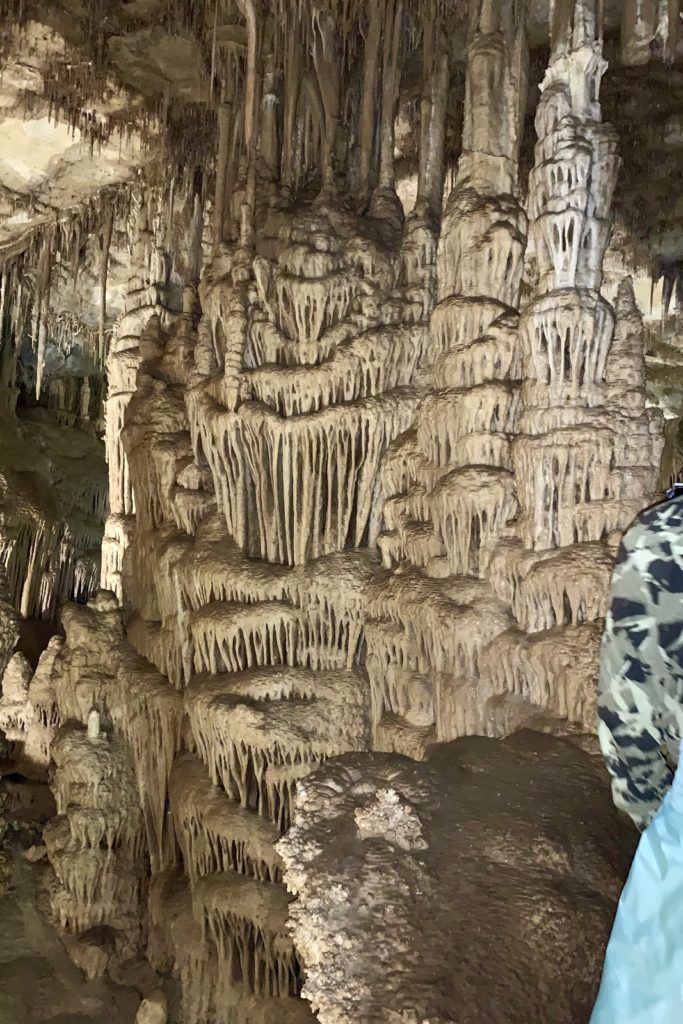 While we were in line waiting for tickets, we struck up a conversation with a lone woman who appeared to be several years younger than us. Laura is from Albuquerque and is on a solo road trip to several of the National Parks. We later ran into her at the park's cafe so we asked her to join us. Turns out she and her family (husband and two daughters) had spent about a year touring the country in their RV similar to what we're doing now. She was super excited for us and a great source of encouragement for this crazy thing that's we're doing. It was a pleasure meeting you Laura!
Later in the afternoon, the weather moved in as promised. Winds intensified to gusts of 50 mph, it poured rain, we had some thunder and lightning, and temperatures plummeted 20 degrees. Snow blanketed the alpine slopes we had hiked the prior day. Back home, record breaking snowfall fell.
Day 11: Final Day at Great Basin National Park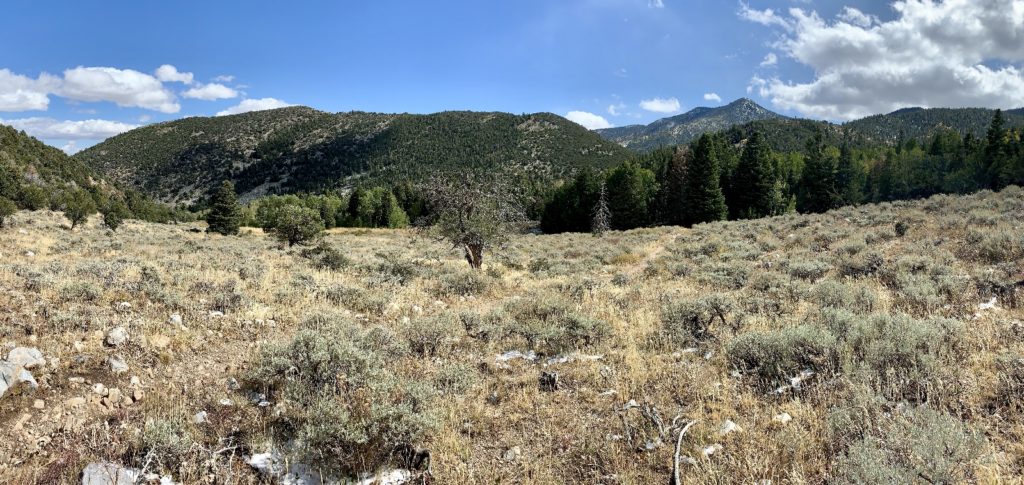 The worst of the storm moved out by the following morning leaving behind a winter wonderland on Mt. Wheeler and surrounding peaks. At lower elevations, some clouds lingered and temperatures were chilly in the low 40s, but the sun started peeking out providing us with the opportunity for one last short hike at Great Basin National Park. At the suggestion of a park ranger, we selected the Baker Creek Loop. This was an enjoyable climb through the mountains with nice creek and mountain views, a nice meadow, several aspen groves, and a rafter of turkey. A few of the aspen groves had some color, but most were still waiting to turn. We climbed into the snow and had an icy bridge crossing. This hike was 3.5 miles long with a starting elevation 8,000' and top elevation of 8,900'.
Next Up:
Stay tuned next week as we move into Utah! Until then, stay well and happy trails.