After a week at Organ Pipe Cactus National Monument, we turned north and headed for River Island State Park on the banks of the Colorado River. I had originally wanted to stay at nearby Cattail Cove State Park, but they were completely booked. As it turned out, that was a good thing for us. We ended up loving River Island and enjoyed our week there.
Park Facilities
River Island State Park is a year-round destination for those looking to enjoy a variety of outdoor recreation opportunities. In the summer, the park is popular for boating, fishing, jet skiing, swimming, and camping amidst a backdrop of beautiful mountains. In the winter, visitors like us appreciate the mild climate and enjoy camping and kayaking.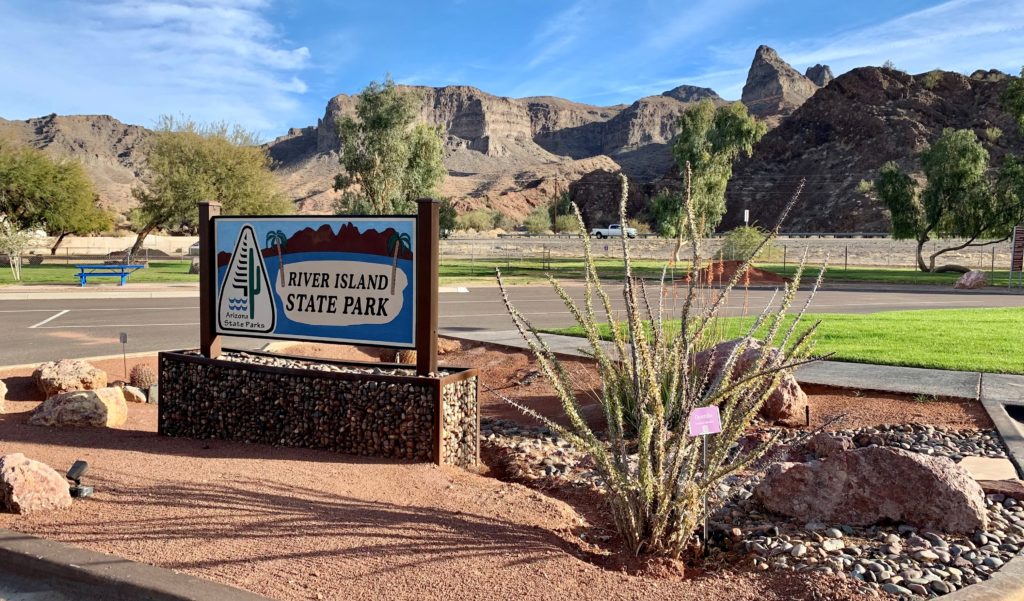 River Island State Park is open 24 hours a day, year-round. Click here for park brochure. Visitors will find a beach and day use area, boat launch, and 37 site campground. There are eight beachfront campsites on the grass overlooking the Colorado River with electric and water. These sites are very tight and are best for tents and vans. The other 29 sites are ideal for RV camping (up to 65 feet deep) with 50, 30, and 20-amp service, all with water. Showers and a dump station are available on site. Day use fees are $10.00. Campsites are $30 per night.
River Island is sandwiched in between the Colorado River and US95 south of Lake Havasu. I was concerned about road noise during our stay due to its proximity to the highway. While we could hear cars passing, it was never intrusive and didn't bother us at all (even me as a light sleeper). We loved how small the campground was and that the sites were generously sized and well-spaced. We had close-up views of gorgeous, rocky peaks on three sides. This limited our Verizon service making it almost nonexistent, but we were too busy recreating outside to care. The camp hosts were helpful and we enjoyed the company of some wonderful neighbors (hello to Ramona and her dog Sitka as well as Rian and his furry crew!) And the cherry on top—the temperatures was perfect for our mid-January stay.
During our stay, we hiked the park's Wedge Hill Trail which climbed steeply for commanding views of the campground and Colorado River. On another day, we caught a connector trail across the highway from the park. It tied us in with the trail network at nearby Buckskin Mountain State Park. We climbed up and over the hills between the two parks and spent a little time exploring at Buckskin.
In addition to hiking around River Island and Buckskin, we did some typical sightseeing and scenic driving while we were in the area. We also spent a couple days kayaking and found a gorgeous desert oasis to hike, but I'll cover those in upcoming posts.
The Adventure Continues
Be sure to join us on our next adventure as we hit the Colorado River in our inflatable kayak! And don't forget to check out our Amazon RV and Adventure Gear recommendations. We only post products that we use and that meet the Evans Outdoor Adventures seal of approval. By accessing Amazon through our links and making any purchase (even things as simple as toothpaste!), you get Amazon's every day low pricing and they share a little with us. This helps us maintain this website and is much appreciated!