Surprisingly lush canyon hike to a lake and historic homestead near Grand Coulee Dam
Distance: 8.5 miles round trip (shorter options available)
Type: Y shaped out and back
Difficulty: moderate with ~1,000′ elevation gain
Best season: spring and fall
A scenic hike with peak wildflowers, a lake, AND lots of history? You have my attention! Northrup Canyon near Grand Coulee Dam had been on my bucket list for several years. My goal was to hike the trail in spring when everything was green and wildflowers at their peak. With the wet spring we'd had, the last half of May seemed like a prime time to go.
It was just over a three hour drive from our home in SE Washington to the Northrup Trailhead (elevation 1,800'). With temperatures already in the low 60s, a predicted high of 80 degrees, and sunny skies, conditions were primed for a great day on the trail.
Almost immediately after leaving the trailhead, we came to a split. To the left was the main trail up Northrup, to the right the Old Wagon Road trail. The wagon trail is closed through the winter to protect bald eagle nesting areas, but it was open for us and we hit it first.
Climbing the Old Wagon Road, we had shade for much of the lower section and a great birds eye view down into Northrup Canyon. Banks Lake came into view and the wildflowers became more impressive with each step.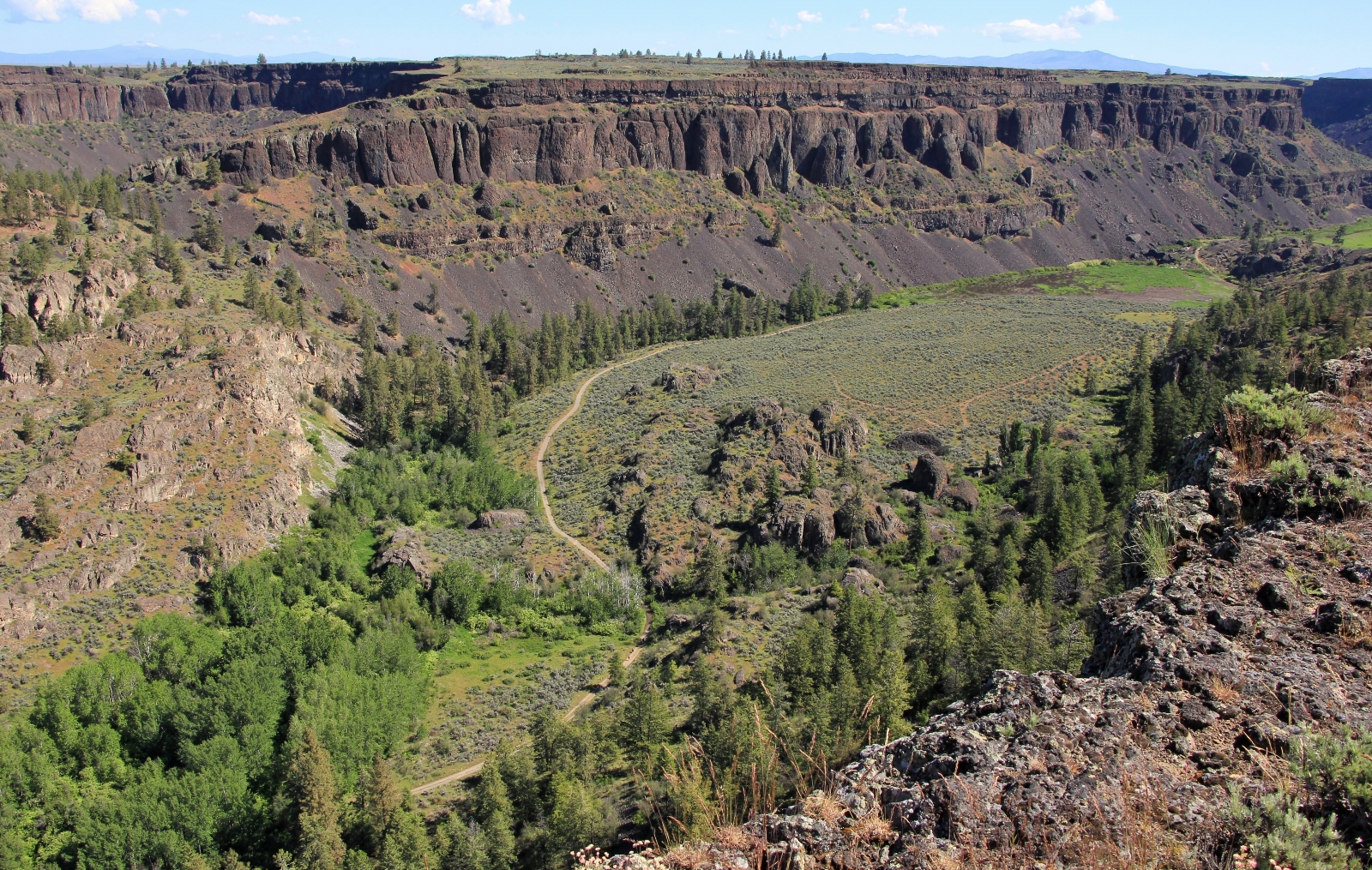 We topped out above the canyon (elevation 2,275') and continued west until we were 1.3 miles from the trailhead. We had great views of Banks Lake, Steamboat Rock State Park, the North Cascades.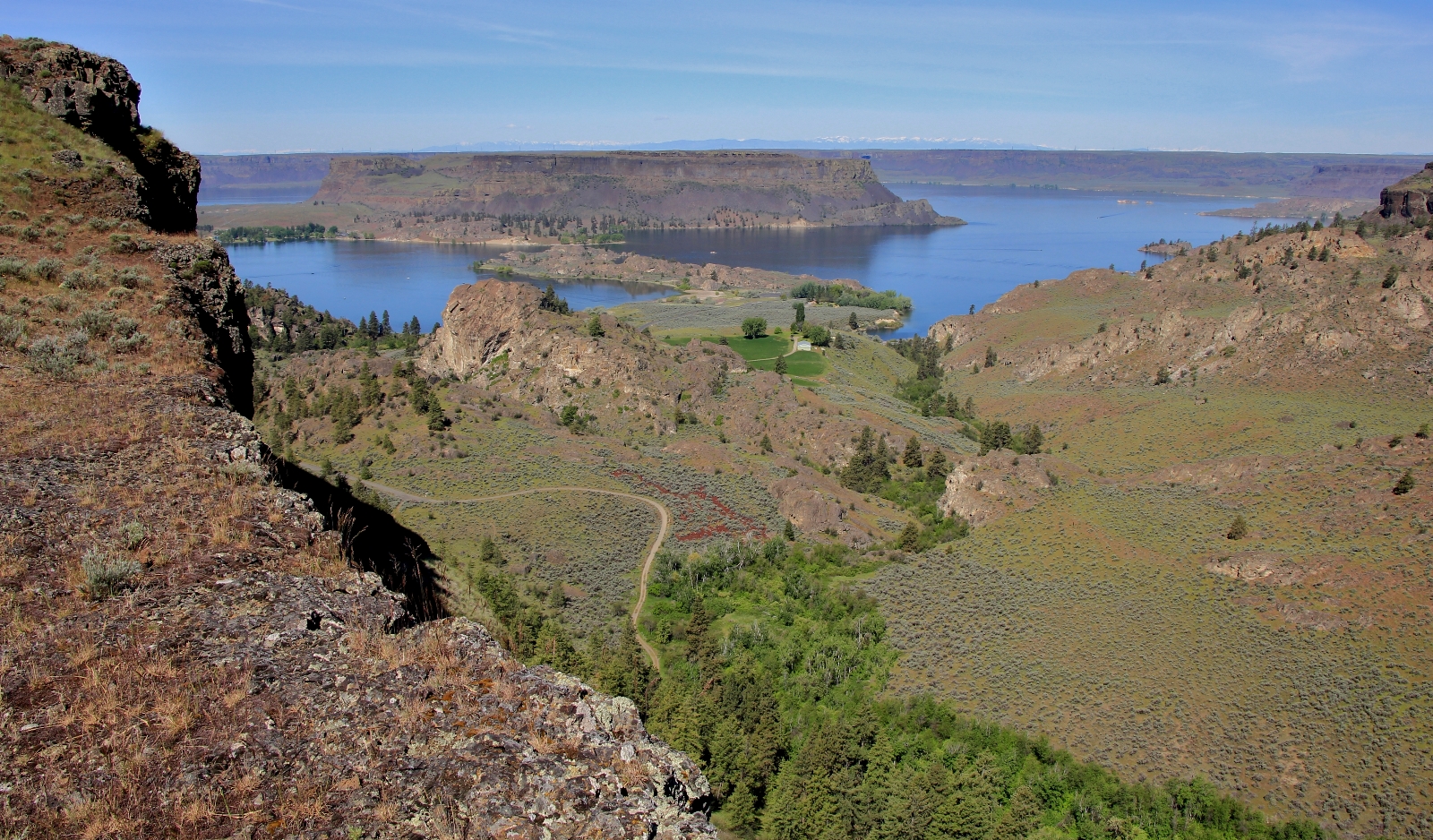 Working our way back down the wagon road, we took a spur trail to the right that we had missed on the way up. This short spur lead to great views down into Northrup and up to the old homestead.
Back at the junction we turned right up Northrup Canyon. Soon we came to the old tin can dump from when they were building Grand Coulee Dam.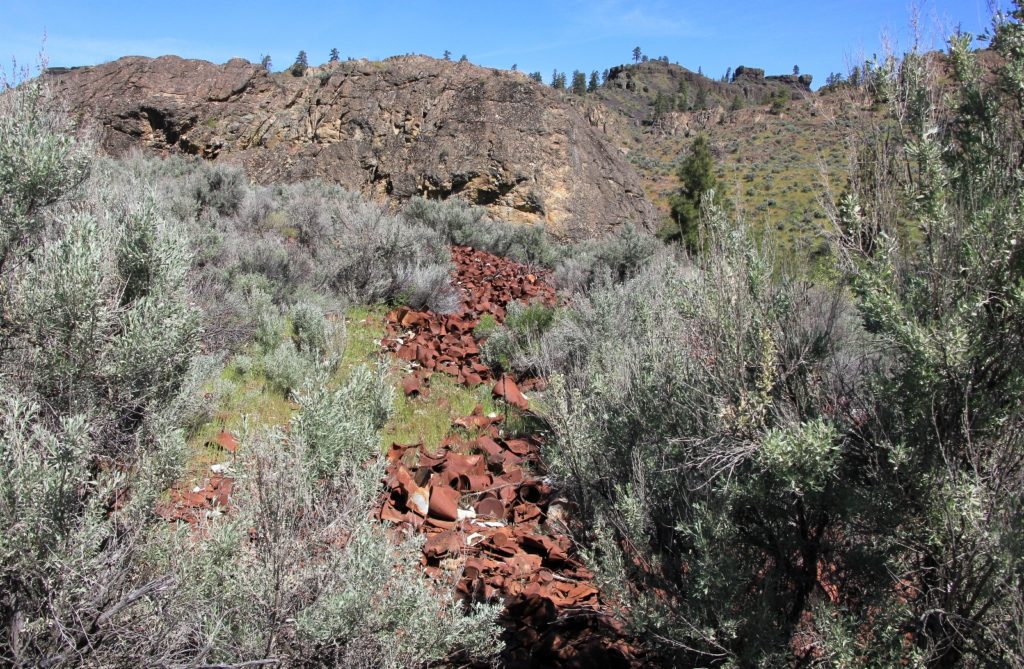 As we proceeded up canyon, we went through a lush area thick with ponderosa pines and aspen—an unusual mix for eastern WA. We continued on through alternating areas of open sagebrush and forest. To our left, a lively stream raced toward Banks Lake. Above us, massive basalt walls towered in interesting formations.
Just as we were really starting to heat up in the mid-day sun, we came to a beautiful little water slide. Set at the base of a basalt wall and in the middle of sage brush, it seemed an unlikely, but well timed, oasis. We scrambled down off the trail and cooled off in the refreshing water.
We reached the old homestead at 1.8 miles from the trailhead. Here we found several old buildings and lilac bushes in bloom. A display at the trailhead recounted the history of the canyon including the murder of Caty Northrup at the homestead in 1903 over a property dispute:
From the homestead, we continued up past the chicken coop. The canyon narrowed and the terrain began to transition to thicker pine forest. At times we hiked along both basalt and granite, a rare thing to find together (according to an Eastern Washington University geology professor we met on the trail). The next bit of trail was a bit of a roller coaster. We climbed 230' then dropped a hundred. Then we climbed another two hundred and dropped another hundred.
We passed four different seasonal ponds along the way.
Finally we reached Northrup Lake (elevation 2,160') at 3.1 miles from the TH. It was a pretty little lake, but shoreline access was a bit limited. Still, we found a nice spot for a break.
Jason immediately spotted a bunch of good sized trout near the shoreline. He spent our break perched on top of a rock watching them and wishing he had brought his fly rod.
It was a nice hike back. We saw a few groups of people, but not many considering the beautiful day. The temperature had climbed to 80 degrees, making it too tempting to leave without another splash in the water slide. Back at the car, the gps showed we had hiked 8.5 miles round trip with about 1,000' elevation gain.
I absolutely loved this hike—it exceeded all my expectations. Our timing had been perfect. The wildflowers appeared to be in peak bloom and the canyon was lush and green, just as I had hoped. I'd love to do it again in the fall when the aspens put on their colorful display.
Directions to trailhead: from the junction of State Route 174 and SR 155 in Grand Coulee, follow SR 155 south for 6.8 miles along Banks Lake and turn left onto Northrup Canyon Road. Continue 0.6 miles up the good gravel road to the trailhead at road's end. Privy available.