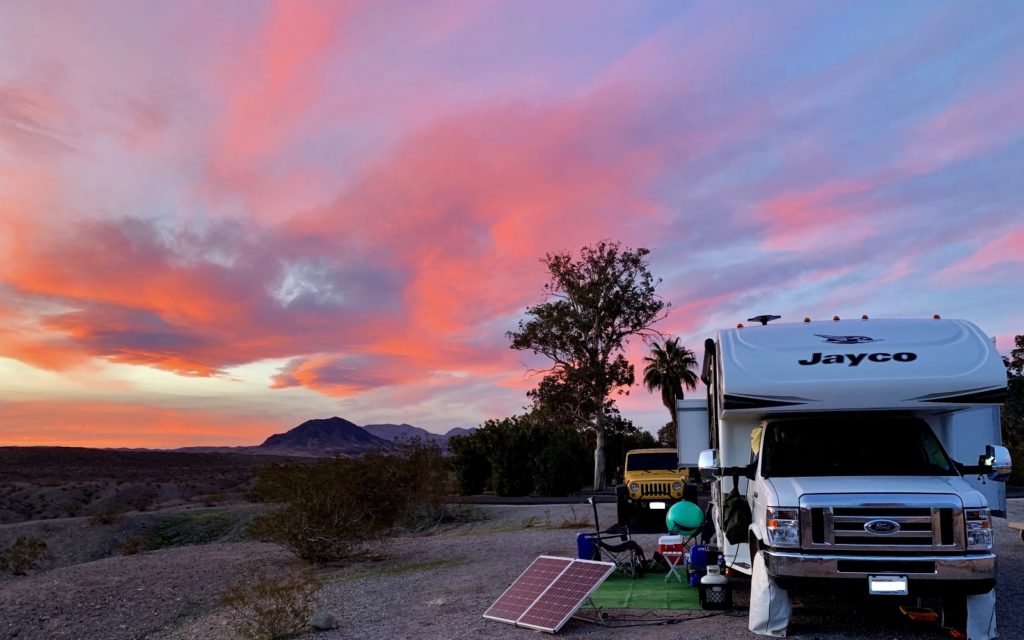 We found so many great RVing opportunities in Lake Mead National Recreation Area that I thought it was time to dedicate a blog post to the subject. The National Park Service summarizes it best on their website, "Swim, boat, hike, cycle, camp and fish at America's first and largest national recreation area. With striking landscapes and brilliant blue waters, this year-round playground spreads across 1.5 million acres of mountains, canyons, valleys and two vast lakes. See the Hoover Dam from the waters of Lake Mead or Lake Mohave, or find solitude in one of the park's nine wilderness areas."
The 1.5 million acres of Lake Mead NRA includes both Lake Mead (behind Hoover Dam) and Lake Mojave (behind Davis Dam). This massive area covers shoreline in both Nevada and Arizona. My post is limited to RV opportunities in Nevada north of Hoover Dam along Lake Mead's northwest shore.
The Off Season
I'm guessing that all of the locations discussed in this post are quite busy during the summer season. When temperatures in nearby Las Vegas are soaring into the triple digits, I bet the waters of Lake Mead feel pretty darn good. But in December and January, we found quiet and peaceful conditions, especially in the park campgrounds. Things were a little busier on weekends and over the Christmas and New Year holidays, but we never saw any of the park campgrounds more than 1/3 full. Weather is mild with abundant sunshine and daytime highs that average mid-upper 50s.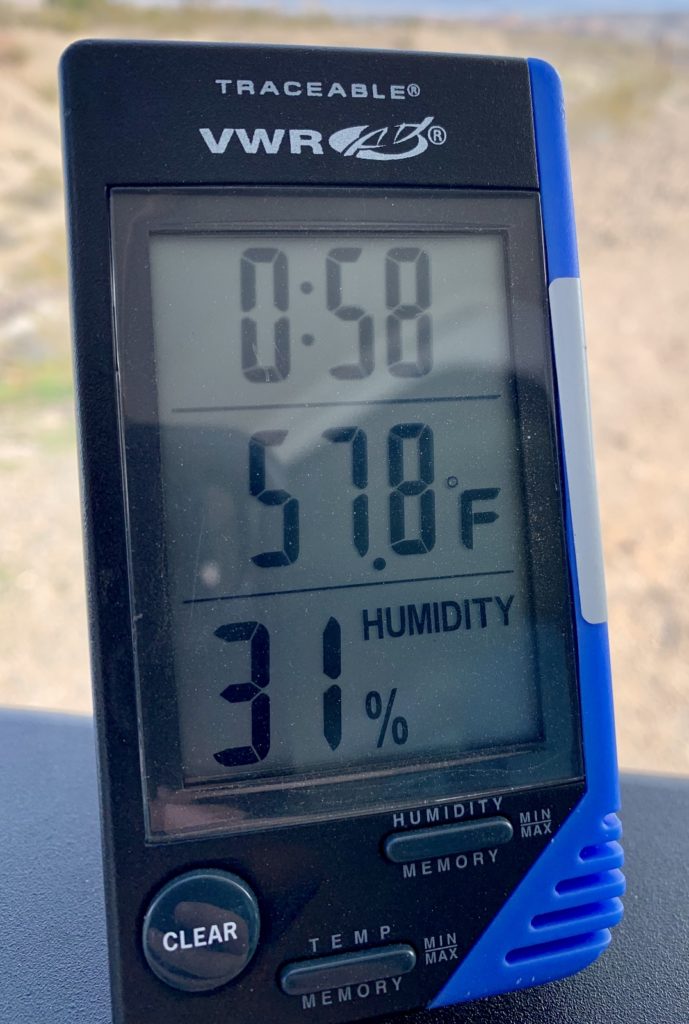 Area Attractions & Resupply Opportunities
All locations covered in this post are within reasonable distance to Overton, Las Vegas, Henderson, or Boulder City for supplies. Overton is a small community, but it will cover basic needs such as gas, propane, and groceries. The remaining towns will have everything you need. The great thing about most of these locations is that you are close to everything Vegas has to offer, but you don't feel like you are close to the city.
Outdoor and entertainment opportunities abound in Southern Nevada and Lake Mead makes the perfect base camp for adventure. From gambling and shows on the Vegas Strip to quiet desert hikes to interesting museums and touring Hoover Dam, there is something for everyone here. If you haven't already done so, check out our blog posts covering our Southern Nevada adventures.
Boondocking Locations
We did not boondock while at Lake Mead NRA, but we did scout out two popular locations, Stewart's Point and Government Wash.
Stewart's Point is located in the northern reaches of Lake Mead NRA and feels a bit isolated. I recommend this location if you are seeking a good base for Valley of Fire State Park or for those seeking solitude. The access road is paved most of the way, but it is in pretty rough shape. You'll want to take it slow over the bumpy pavement. As you approach the boondocking area, the road transitions to moderately washboard gravel, but it is accessible to all RV types. We saw mostly older RVs that appeared to be set up for an extended stay, but that could have just been our timing. There is quite a bit of room and everyone was spread out nicely. I've read great reviews of this site, but we liked our boondocking location to the north better.
Government Wash boondocking area is situated on a point overlooking the western shore of Lake Mead. A big advantage to this location is its proximity to Las Vegas. The lake views are nice, but we didn't like how close the sites were. It felt like people would be right on top of us. The site quality was mixed and we saw quite a few interesting leveling jobs on the sloped hillside. Those with smaller and more rugged RVs could get down into some of the quieter spots closer to the water and I think those would be pretty nice. The upper sites were not for us. The area was pretty busy when we drove through in mid-December, but did seem to quiet down some in January.
Private RV Parks
There are two concessionaire run RV parks in this portion of Lake Mead National Recreation Area. While checking out the campground at Echo Bay, we drove through Echo Bay RV Village. The park looked like your typical RV park with sites rather close together. They offer 55 full hookup sites with cable TV, Wi-Fi, showers, and laundry. Like Stewart Point, this location is rather remote and I only recommend it for those wanting to be out and away from the city, but with all the conveniences of an RV park. Rates are extremely reasonable at $28-30 per night with equally reasonable weekly and monthly rates. You do not have a lake view from any of the sites and I am suspicious of their cable TV and Wi-Fi quality (I'll explain why in the next paragraph). A lot of the people here appeared to be snow birders spending the winter.
The second concessionaire run park in the area is Lake Mead RV Village at Boulder Beach. They offer 115 full hookup sites with cable TV, Wi-Fi, showers, and laundry. They offer three types of sites: standard, lake view, and those that I'll call "small motorhome". Our nephew spent a few days in a lake view site and those were very nice. They were wide and had fantastic views of Lake Mead for $50 per night. We stayed a week in the small motorhome sites for $203 for the week. These sites are reserved for motorhomes 28′ and shorter. We liked this loop because it was quieter than the standard sites with only 1/3 occupancy on busy nights. The standard sites were busy and close together.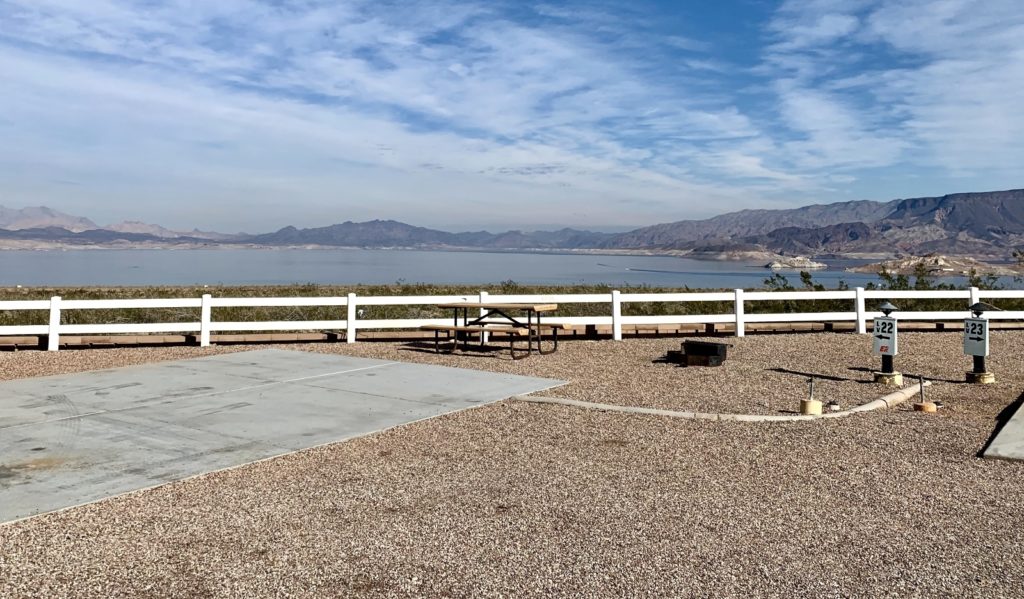 Pros of Lake Mead RV Village are friendly staff, full hookups, cheap laundry, on site propane (although their prices were a dollar more a gallon than in town), and close proximity to Hoover Dam and Boulder City. We had a limited view of Lake Mead and we were surrounded by palm trees. We stayed here over Christmas week and it was nice to have full hookups through some below average temperatures; however, I'm not sure we'd stay there again. First, we did not care for the showers. They were clean, but you share a changing area with others. The cable TV was analogue and most channels, including the major networks, were unwatchable. TV isn't normally a deal breaker for us, but we were looking forward to watching football on the rainy days after not having any TV reception for a couple weeks…and if you advertise cable TV, you should have watchable TV! We were also disappointed by the Wi-Fi which is limited to one device (which you don't find out until after you have paid)—we have four devices.
National Park Campgrounds
Ahhh, finally we're getting to what I consider the gem of Lake Mead National Recreation Area, the National Park campgrounds. North of Hoover Dam, there are four campgrounds, Echo Bay, Callville Bay, Las Vegas Bay, and Boulder Beach. Unless otherwise noted, these campgrounds all have the following:
First come, first serve
30 nights per calendar year stay limit
Cost $20 per night ($10 with Senior Pass)
Generally paved and level sites
Easy navigation for RVs
Potable water and dump available at entrance
Tables, fire pit, and bbq at each site
Nice spacing between sites with palm trees, creosote bushes, and other foliage planted to provide privacy between sites
Flush toilets (no showers)
Nearby boat launch (all but Las Vegas Bay)
Gas, ice, and firewood available nearby
2 or more bars of Verizon cell and usable LTE (except the lower campground at Echo Bay and a few sites at Las Vegas Bay)
At the farthest from Las Vegas, Echo Bay is a bit remote and delightfully quiet (uhhh, except for one night when we had quite the domestic disturbance next door). The campground serves as a good base camp for nearby Valley of Fire State Park. Echo Bay has an upper and lower campground. The park map states the upper campground is for overflow only, but that is not what we found during our visit. Only a portion of the upper campground was open, but it was clearly available for use even though the lower campground only had a few campers in it. We stayed at Echo Bay three nights and preferred the upper campground as many of the lower campground sites had unattractive views of a large maintenance area that included a mountain of old tires.
Further to the south, Callville Bay is a nice option for those looking for solitude, but with a shorter drive to Las Vegas attractions (click here for campground map). Callville has the benefit of shower and laundry facilities although they were pretty bare bones. They also have a nice looking restaurant at the marina, but we did not eat there. We did not stay at the campground, but like Echo Bay it looked charming and quiet.
For those looking for the closest campground to the Vegas Strip, Las Vegas Bay Campground is ideal (click here for campground map). At just 22 miles from the strip, it is close enough to visit, but far enough away that you feel surrounded by nature. We stayed 27 nights there in January and loved it. The campground was never more than 1/3 full and we loved the convenient location. Sunrises and sunsets were spectacular and we had a couple different hiking trails right out the back door. The campground overlooks Las Vegas Creek and has distant views of Lake Mead. The only negative to this location is you get quite a bit of air traffic overhead. The sound of airplanes is never loud or overly intrusive, but it is fairly frequent.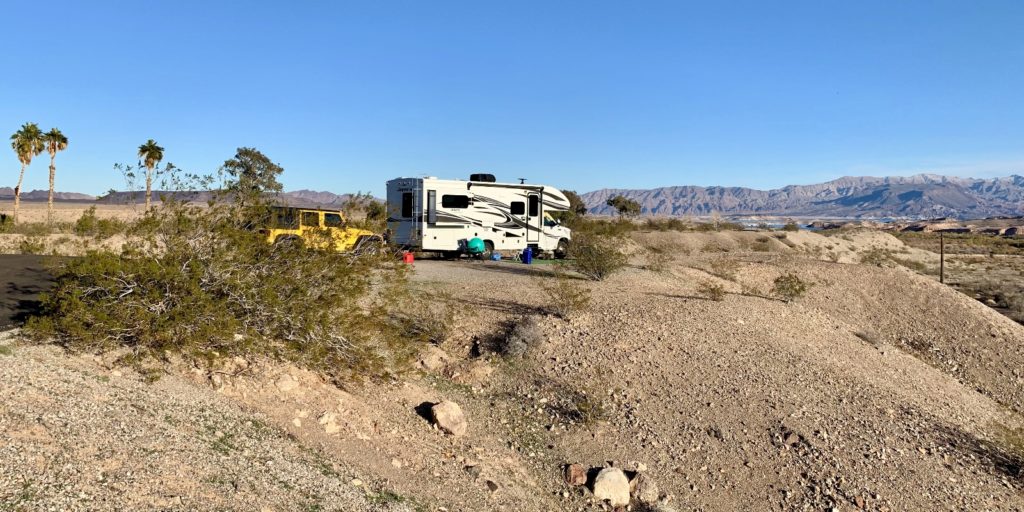 Boulder Beach Campground is the closest option to Boulder City and Hoover Dam (click here for campground map). We stayed here for five nights before Christmas and we should have stayed much longer. We had a stunning lake view site and the camp hosts were really nice. The one negative to this location is you get a lot of overhead helicopter traffic during the day.
Birding & Sunning Opportunities
The boys really enjoyed the birding and sunning opportunities at Lake Mead. We enjoyed them too. We were visited by quail, roadrunner, grackles, heron, various ducks, hummingbirds, flicker, hawks, raven, and even an occasional bald eagle. And those warm, sunny days sure felt good while our friends back home were buried in snow.