It was our last day at Mt. Rainier with Mick and Suzy. We had introduced them to the Ohanapecosh River, Paradise, and Sunrise areas of the park. I had one last area I wanted to show them before we left.
We checked out of our cute little cabin in Packwood and headed for Chinook Pass in the NE corner of the park to hike the Naches Peak Loop trail. This a relatively short, but highly scenic hike that receives much less attention (and traffic) than it's counterparts in the Sunrise and Paradise areas.
We arrived at Tipsoo Lake just off Chinook Pass to find foggy conditions. The sun looked like it was shining to the north, so we hit the trail in hopes that conditions would clear.
We started the loop hiking in a clockwise direction. The trail climbs above Tipsoo Lake and then crosses the highway at Chinook Pass before joining a stretch of the Pacific Crest Trail.
Shortly after hitting the PCT we entered the William O Douglas Wilderness where we had nice sunny views to the north and over to Chinook Pass. Yakima and Naches Peaks seemed to be where the fog line started.
We enjoyed mostly sunny conditions for the first half of the hike up to the Dewey Lakes junction. We crossed a few snowfields, but none that were a problem. There was a lot of glacier lilies and a few lupine, paintbrush, and mouse-on-a-stick in bloom, but nothing compared to what we had seen two years earlier during an August visit.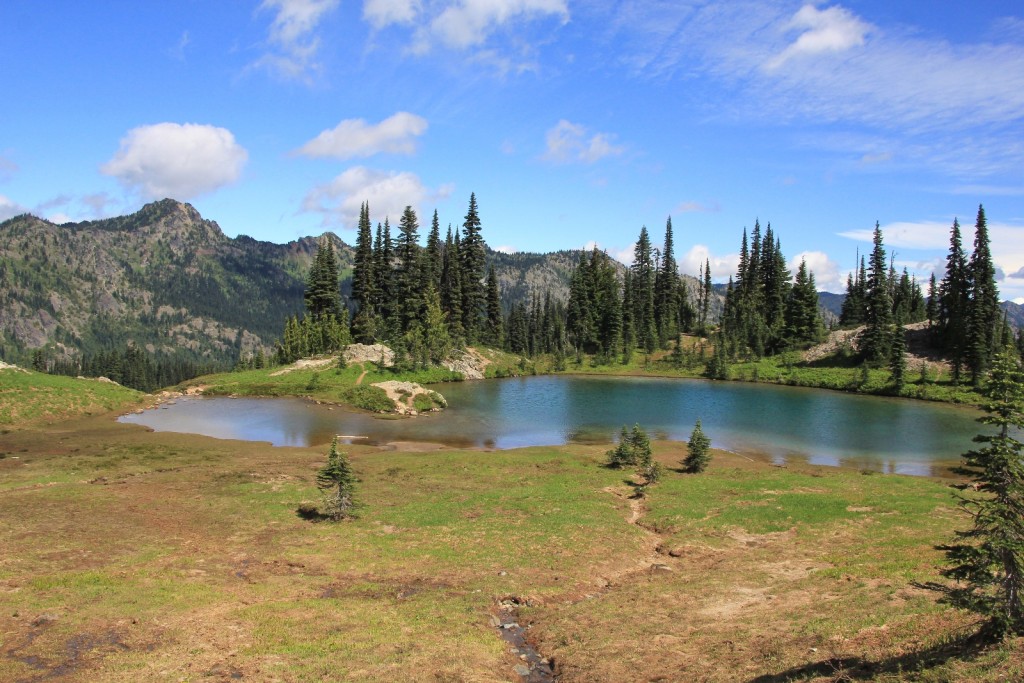 As we swung down toward the Dewey Lakes Junction, we started hiking through patches of fog and sun mix which created a neat contrast. We didn't get the nice views to the north you typically see due to the fog, but we got a rare glimpse of Mt. Rainier above the clouds. We took a break above Dewey Lakes and waited for a clear shot of all of us with Mt. Rainier. I did manage a mostly clear photo which required good timing as the mountain quickly disappeared again.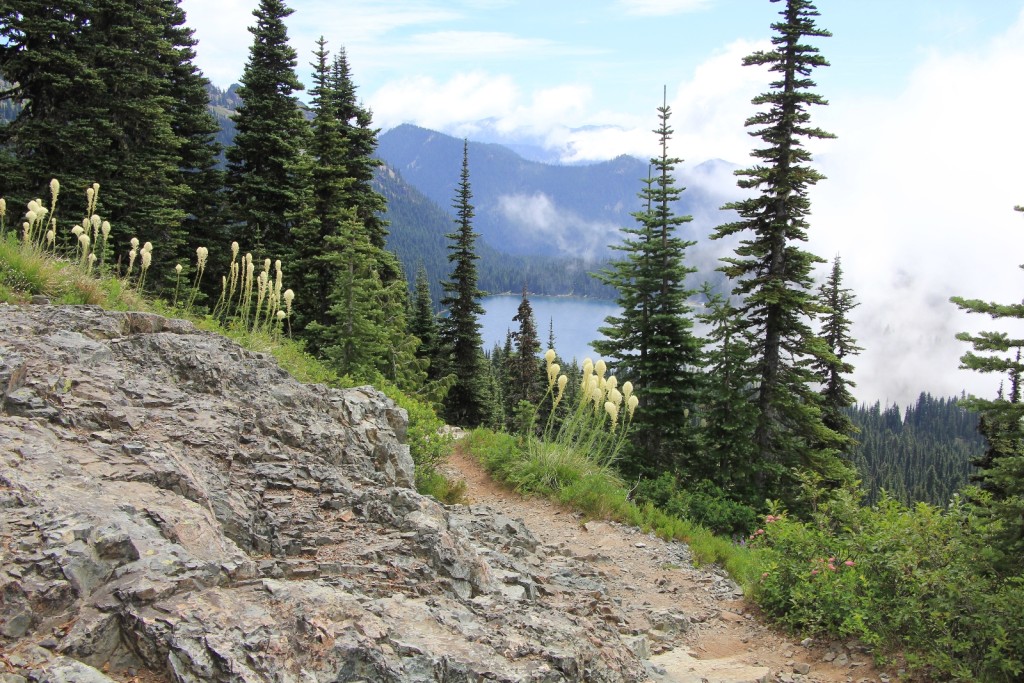 As we continued to make the loop back toward Tipsoo Lake, we didn't catch anymore views of Mt. Rainier through the fog, but the bear grass was everywhere. I had never seen such a dense concentration before- I was in heaven!
Alas, our mini-vacation with Mick and Suzy was coming to an end. We really enjoyed their company on the trails and hope to hike with them again one day. For a couple of flatlanders from the city, they had done great.