Day hike or backpack to a pretty alpine lake in Oregon's Eagle Cap Wilderness
Distance: 11.5 miles round trip
Difficulty: moderate with 2,350' elevation gain
Best season: July – October
Mid-August 2015 found us searching for a place to backpack that wasn't on fire. The Pacific Northwest was experiencing one of its worst fire seasons since the infamous 1910 Big Burn. It seemed all of our favorite local spots were on fire—Wenaha River, Selway River, Kettle Mountains, Clearwater River, Salmon River, and many more familiar names were plastered across the front page of the newspaper with the total number of acres burned growing by the day while the hot, dry summer kept its firm grip on the region. The few places that weren't on fire were choked with smoke from fires near and far.
The Wallowa Mountains of NE Oregon didn't have any fires, but there was a large fire just to the west near Baker City and La Grande. Smoke was so bad on Friday that officials shut I-84 down due to poor visibility. On Friday, web cameras at Joseph showed smoky conditions with the nearby Wallowa peaks completely obscured from view. We were on the fence, but Saturday morning made the decision to go for it.
We drove from our home in SE Washington to the little town of Lostine, OR. From there we drove along the Lostine River to the Bowman Trailhead where we found about 20 vehicles, including a couple with horse trailers. This trailhead serves as the jump off point for several trails. We gathered our gear and hit the trail at 11:00 with temperatures in the low 60s and full sun.
From the parking lot we walked back toward the road to the sign marking Bowman Trail #1651 off to the right. The trail paralleled the road a short distance and then crossed the Lostine River on a good concrete footbridge. From there the trail immediately began to climb in elevation—like pretty much every trail in the Wallowas, you're going to work for your views! The trail was well graded with switchbacks through forest that provided some shade. This was the steepest portion of the trail.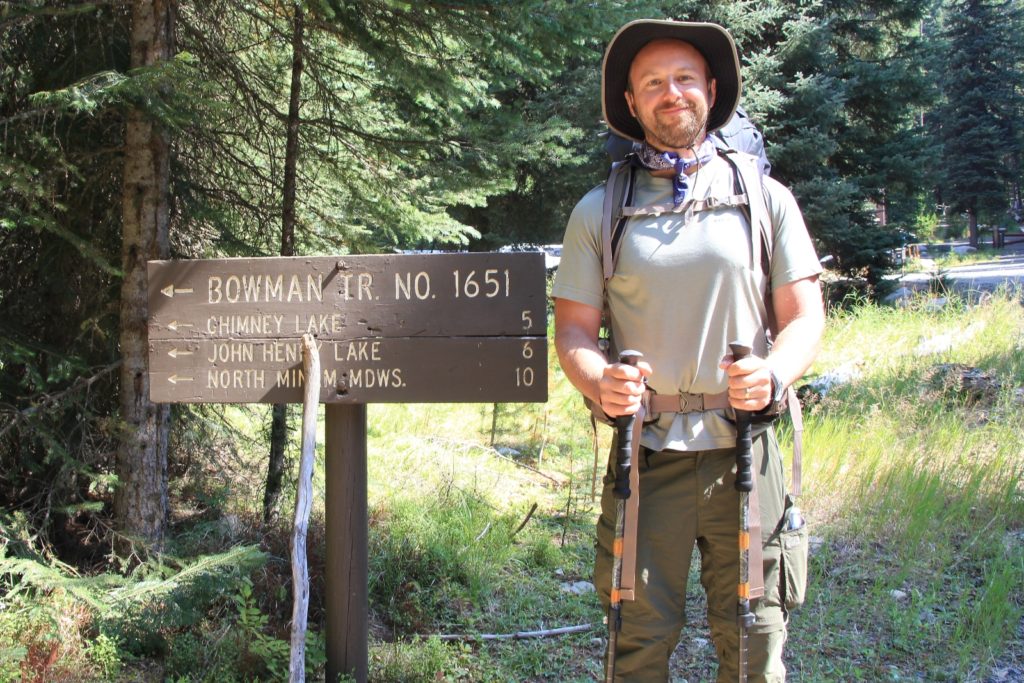 At about 1.0 mile in, the trail came alongside Bowman Creek as it cascaded down a steep stretch of mountain.
The trail continued to climb and slowly opened up to some nice views of the Lostine River canyon. At 2.75 miles, the trail crossed Bowman Creek at a point where it was split into three smaller streams. The crossings were very easy in mid-August on a dry year, but I could see where it would be difficult to keep dry feet during spring runoff. There was a nice campsite here, but the forest was dense and there were no views.
We met and talked with several nice backpackers coming down the trail. They all indicated that the previous day had been horrible due to thick smoke from the nearby fire. Visibility and air quality was very poor and ash covered their tents. They all commented that we had picked the right day to hike in, but that we would be sharing the lake with many people. We did have some smoke that day, but nothing to complain about given the area fires.
At about 3.0 miles, the trail reached Brownie Basin with nice meadows and views. There was a side trail to the left that appeared to lead down to several nice campsites. We stayed on the main trail and at 3.8 miles reached the well-marked side trail #1659 to Chimney Lake (elevation 7,240').
Shortly after turning off on the Chimney Lake trail, we came to a spot with magnificent views. We took the opportunity to take a nice break on a large boulder and enjoy the scene.
At 0.5 miles past the split, we reached Laverty Lakes (elev 7,450'). A woman had told us that these lakes didn't have anyone camped on them and that we should consider staying there for the night. This pair of lakes was quite scenic and there were a couple decent spots. While we were contemplating making camp there, another day hiker told us we really had to go on to Chimney Lake, that it was much nicer.
We continued 0.8 miles further to Chimney Lake (5.1 miles from the trailhead at elevation 7,604'). This is a beautiful lake with a couple small islands in the middle and a backdrop of towering granite cliffs. We did find quite a few people camped on the lake, but it appeared we had a few options left for campsites. We dropped our packs and made a survey of the lake before deciding to set up camp at the outlet to the right of the trail. We had a lovely spot just up from the lake. We couldn't see anyone from our camp, but we would hear other parties throughout the evening.
We arrived at camp around 4:00 and got the tent set up. We decided to go without the rain fly for the night. This is always my preference, but something we don't get to do very often. We were both hungry, so we made our dinner of top ramen with dehydrated veggies and chicken right away. We did our chores and then spent the evening hours relaxing around camp with our books.
We actually managed to sleep in until about 5:00 Sunday morning—late for us. Temperatures were very mild in the 40s. We got up and had coffee and breakfast (oatmeal for me and dehydrated egg meal for Jason). No one else was up yet and we enjoyed the peace and quiet of the lake after a moderately noisy evening the night before. We could smell some smoke from area fires, but fortunately I was able to get some decent reflection shots along the lake. We picked up camp and hit the trail at 7:45.
We had a lovely hike out in the cool morning temperatures. Conditions were smokier than the previous day. It didn't make hiking difficult, but it definitely cut out any long views. On our way past Laverty Lakes, we noticed that no one had camped there. I was glad to see Chimney Lake, but if we ever returned I think Laverty would be a much more peaceful place to camp.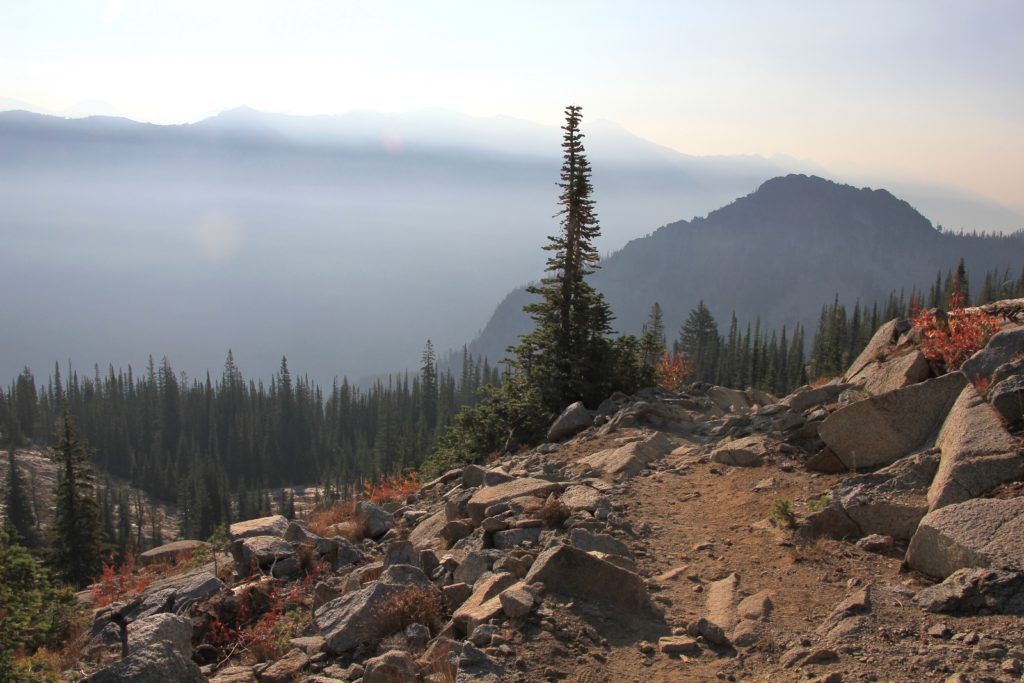 Directions to Bowman Trailhead: From Enterprise, Oregon travel north on highway 82 to the small town of Lostine. Just as you are entering Lostine, the highway curves hard to the right. Take a left here onto the Lostine River Road. Travel 12.2 miles on this 2-lane road and then another 2.9 miles along a gravel road. Turn left into the well signed Bowman Trailhead parking lot. This is a moderate sized parking lot with pit toilets available. A Northwest Trail Pass is required. (N45°17.6338 W117°23.6703', elev 5,220')