Stunning four day backpack to multiple high mountain lakes in Oregon's Eagle Cap Wilderness
Distance: 32 miles round trip (4.5 miles this segment)
Type: lollipop
Difficulty: difficult with 3,800′ total elevation gain (this segment easy with a mere 200′ gain)
Best season: July – October depending on snow melt
Day two of our Eagle Cap backpack (click here to read about day one). Happy birthday to me!! We slept in until 5:00—late for us while backpacking. Dawn was starting to break and my first sights of the day were of sunrise over Horseshoe Lake. We had coffee and a Mountain House breakfast skillet with a side of my homemade oatmeal. It was a beautiful and quiet morning on the lake with a mild temperature of 46 degrees.
We pulled out of camp around 7:20 and headed west toward Lee Lake. This was a nice stretch of trail with only moderate climbing and about ½ mile distance. Lee Lake was small and rather unimpressive compared to other lakes in the Lakes Basin. I didn't see any campsites, but a couple we had seen the day before said this was their favorite camp site. We didn't see anyone at Lee, so I can imagine the solitude is lovely when compared to other Eagle Cap lakes.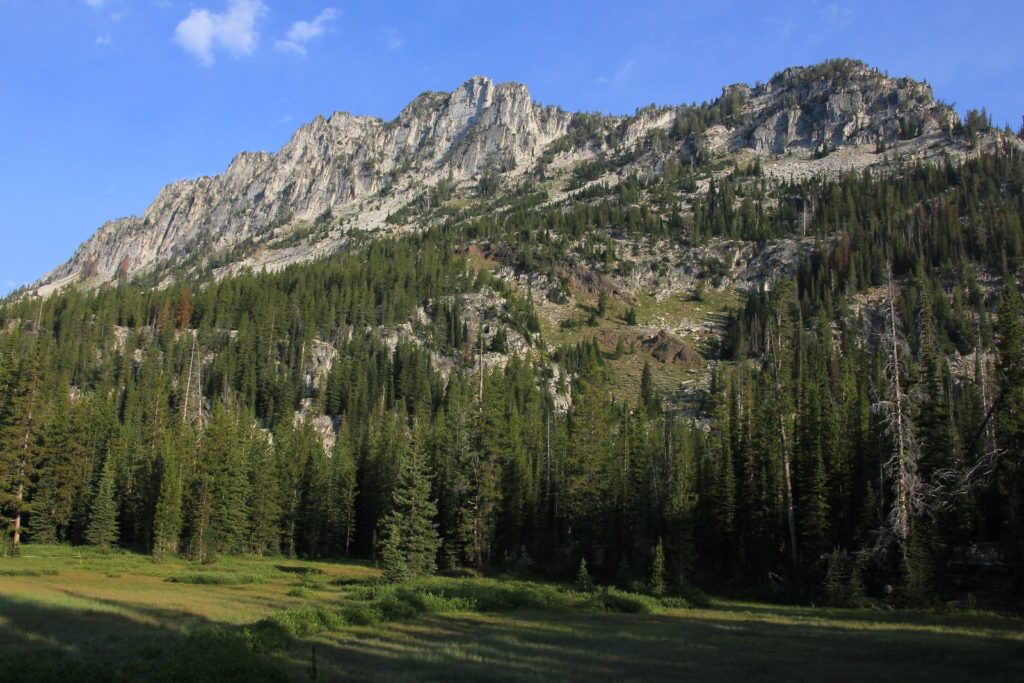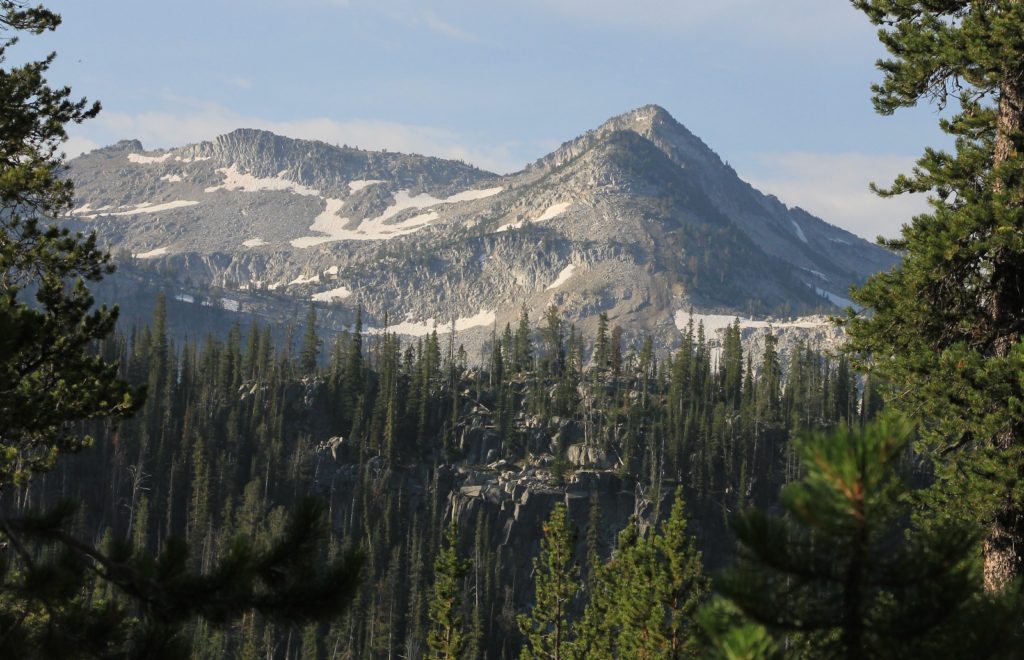 From Lee we made a short, but moderate climb up to where the Horseshoe and Lee Lake trail (1821) merged into the main 1810 trail. We took the trial to the left and continued half a mile on easy trail to a trail junction just before Douglas Lake.
Here, we took the trail to the right and walked a short distance to our first view of Douglas Lake at 7,350' elevation. This was a large lake with a lovely backdrop.
We dropped our packs and set off for some exploring. First we hiked along the north side of Douglas Lake. We saw what looked like one possible campsite fairly early on and to the left, but it had someone in it. It appeared this site would be quite a distance up off the water. There were another couple of spots along the north shore, but again they were too far above the lake for easy access. At the west end of the north shore, we found a side trail over to Crescent Lake. There were a couple nice campsites here along the western shore, but I didn't find the lake as scenic as Douglas and thought we should continue to look for spots on Douglas.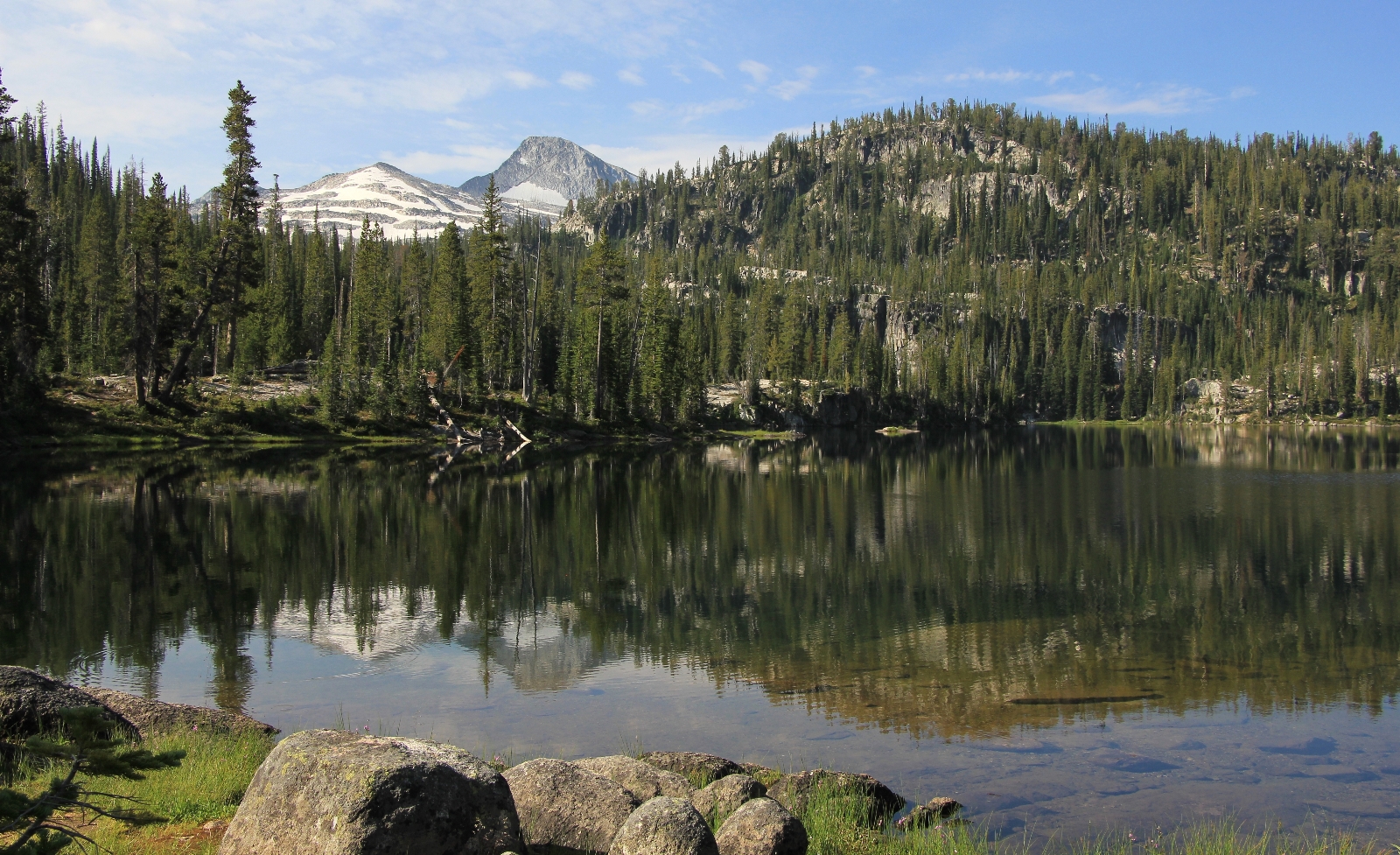 After returning to our packs, we followed the shoreline a short distance to the most beautiful spot on the lake… but it was posted no camping. Following along the southeast edge of the lake, the trail climbed a bit up off the lake. Side trails took off to a few nice campsites above the lake. We continued a bit further and ended up in the very last spot along the lake. We were a short distance above the lake, but it was easy access to the lake shore where we had a lovely grassy area to spend the afternoon.
We had only hiked 4.5 miles from Horseshoe Lake, but we had planned for this to be a light day and this would be the perfect place to relax for my birthday afternoon. Conditions were partly cloudy with a slight breeze and a high around 70 degrees. Jason fished some and then went for a swim followed by a nap. I spent the afternoon reading "In a Sunburnt Country" by Bill Bryson on my Kindle and soaking my feet in the cold lake. Aside from passing a few occupied campsites, we only saw one group of hikers on the trail—three middle aged hikers with day packs who were based out of Mirror Lake.
Dinner was a Mountain House beef stroganoff with side of couscous. We went to sleep with the rain fly on the tent, but the sides up. We awoke up in the middle of the night to thunder and lightning off in the distance and rain at camp. By the time we could batten down the hatches, the worst of the rain had passed leaving a lovely night.
To continue the adventure, please see our posts for days three and four!