On our recent post-Labor Day trip to Montana, we split up our travel days by spending some time camping along the Lochsa River in north central Idaho. Like many RVers, we prefer relatively short travel days. During our working years, we'd frequently tackle 12-15 hour days to maximize our vacation time. Those days are long gone and we now prefer to keep drive times to around 4 hours when RVing. For as much time as we've spent hiking, fishing, and even rafting the Lochsa River, we've never camped there. The U.S. Forest Service offers several campgrounds along the river offering the perfect opportunity to break up the seven hour drive to our destination in Montana's Pioneer Mountains.
The route from our home in SE Washington to our camp along the Lochsa River took us along Idaho's Northwest Passage Scenic Byway and All-American Road. This route begins in Lewiston at the Idaho-Washington border and follows US 12 east along the Middle Fork of the Clearwater River and the Lochsa Wild and Scenic River 175 miles to Lolo Pass Visitor Center at the Idaho-Montana border. Scenery along the byway is stunning and travelers should be prepared for a slower pace. This is a narrow and winding road through a rugged river canyon in the heart of the massive 4 million acre Clearwater-Nez Perce National Forest. To the south is the Selway-Bitterroot Wilderness, third largest wilderness in the lower 48 at nearly 1.5 millions acres. To the north, Lewis and Clark nearly froze and starved to death in September 1805 as they crossed the Bitterroot Mountains following what is now the Nez Perce National Historic Trail.
At the byway's heart is the mighty Clearwater River and one of two major tributaries, the Lochsa (a Nez Perce word meaning "rough water"). The Clearwater River Basin drains an impressive 9,645 square miles of rugged Bitterroot Mountains along the Idaho-Montana border. This is God's country. The blacktop ribbon of byway is a sliver of civilization in an otherwise untamed region of one of the nation's least populated states. Heading east from Lewiston, services become increasingly limited, particularly between Kooskia, Idaho and Lolo, Montana. You're going to want a full tank of gas and all the provisions you'll need for this trip. Cell and Wi-Fi service are non-existent for most of the route.
For the outdoorsman, the Northwest Passage is nothing less than paradise. Hunting, fishing, hiking, backpacking, ATVing, and rafting opportunities abound. A multitude of BLM and Forest Service Campground line the byway beginning with McKay's Bench Recreation Site on the Clearwater River all the way upstream to White Sand and Powell campgrounds along the upper stretches of the Lochsa River. Amenities at these federal campgrounds range from dry camping to full hookups, but mostly it is dry camping. While the site quality in most campgrounds is good, size varies a lot and you'll want to do your research if you are an extra big rig.
Scenic Byways and All-American Roads: An Overview
While doing some research for this blog, I realized that I didn't know the difference between a National Scenic Byway and and All-American Road. The Northwest Passage holds both designations and I wondered exactly what that meant.
The National Scenic Byways Program, under the U.S. Department of Transportation, was established by Congress in 1991 to preserve and protect the nation's scenic byways as well as promote tourism and economic development (click here for a map of all byways). Roads are recognized as National Scenic Byways or All-American Roads based on their archaeological, cultural, historic, natural, recreational and scenic qualities. Byways possess at least one of these six intrinsic qualities and are regionally significant. All-American Roads must possess multiple intrinsic qualities that are nationally significant and have one-of-a-kind features that do not exist elsewhere. They are considered a "destination unto itself". The Northwest Passage Byway impressively posses all six intrinsic qualities and is certainly a destination unto itself!
Wendover Campground (National Forest Service)
The U.S. Forest Service maintains several campgrounds along the byway along the upper stretches of the Lochsa River. On our eastbound journey to Montana's Pioneer Mountains, we spent a night at Wendover Campground. For those desiring a river view, nearby Whitehouse Campground is the clear choice. But Whitehouse tends to be busier as was the case during our visit. Wendover (located near milepost 158) was nearly empty and had larger sites for our trailer. The river was down a short trail behind our campsite, but a swath of lush forest behind our site prevented views of the water.
Wendover Campground has 27 first come, first serve sites split between two loops that we easily negotiated with our combined length of 51′ (truck + travel trailer). The Forest Service website states the campground can accommodate RVs up to 40 feet. While sites do very in length, there were many sites that easily fit our combined length. Each site had a picnic table and fire ring and most are nicely shaded. Campground roads and sites are all paved. Drinking water, pit toilets, and a garbage dumpster are available. Cost was $14 per night. There is absolutely no cell or Wi-fi signal here.
We thoroughly enjoyed our stay at Wendover. The campground is just off the highway, so there is some road noise. Fortunately, the noise is not intrusive during the day and there is minimal traffic at night allowing for a peaceful rest. We had a low-key afternoon enjoying a few rounds of Dominoes (with Jason dominating as usual), a nice campfire, and a visit from a stunning pileated woodpecker. Pileated woodpeckers are easy to identify with their brilliant red head and their massive size in comparison to other woodpeckers. They are much more common in the Eastern U.S., so it is a real treat to see one in Idaho, let alone have it hang around camp all afternoon!
We'd highly recommend a stay at either Wendover or nearby Whitehouse if you are traveling through the area. If you have an extra day or two, consider hiking to nearby Grave Peak or Diablo lookouts. These are both challenging hikes just to the south of the byway in the Selway-Bitterroot Wilderness. Both routes are highly scenic and well worth their sweat index, especially Grave Peak. For those wanting a more relaxed day, explore some of the area's fascinating Lewis & Clark history or enjoy a lunch at nearby Lochsa Lodge.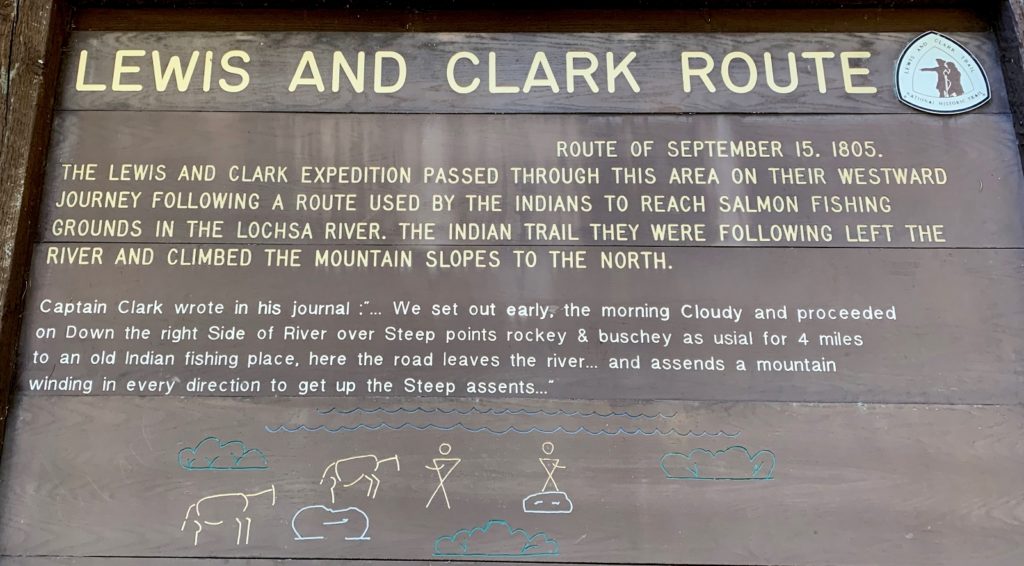 Jerry Johnson Campground (National Forest Service)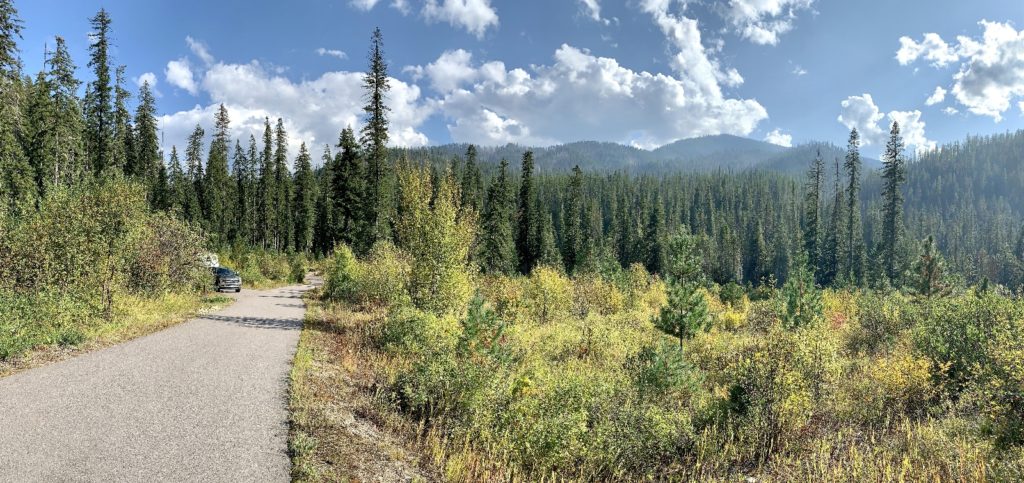 On our return trip from Montana, we spent four nights at Jerry Johnson Campground which is located just 8 miles west of Wendover along the byway. Jerry Johnson would be a horrible place to stay in the summer. The Forest Service thinned a bunch of diseased tress many years ago, leaving sites that have little shade. But in the fall, it is a great location for views of the surrounding mountains and sun exposure for our solar panels. The campground was empty upon our arrival and we had our choice of spots.
Jerry Johnson Campground has 20 first come, first serve sites on a big paved loop that was easily negotiated by our truck and travel trailer. The Forest Service website does not state a maximum length that the sites can accommodate. I'd estimate that at least half the sites were long enough for our total length (truck + trailer), but most of those would not easily fit anything too much longer. Each site is paved and has a picnic table and fire ring. Drinking water, pit toilets, and garbage dumpster are available. Cost is $14 per night. Like Wendover, you'll hear some highway noise, but it is not intrusive and there is very little traffic at night. There is absolutely no cell or Wi-fi signal here.
Conditions were quite smoky when we arrived at Jerry Johnson. In fact, smoke was the reason we were staying there. Smoke from the wildfires that were ravaging California and Oregon had moved into Montana's Pioneer Mountains (and the rest of the Northwest) making hiking conditions unhealthy and undesirable. We decided to start home early and spend a few days relaxing and fishing along the Lochsa, even though we knew we'd have smoke there as well.
To be honest, the Lochsa River isn't our favorite fly fishing destination. Don't get me wrong—the water, scenery, and fishery are superb. But you see, we are selfish and there are way too many fisherman to share the water with due to the river's proximity to a major highway. Still, it is beautiful water and Jason spent a day checking out a few new holes on a cold and smoky day.
As predicted, a major storm moved in, just in time for the weekend. After months of hot and dry and recent choking wildfire smoke, we welcomed the rain. We turned up the furnace, made an extra pot of coffee, and played some games as we listened to the pitter-patter of rain falling on the RV's roof for the better part of two days. When the skies cleared, the smoke was gone and the air smelled better than it had since June. We considered a hike up Fish Creek (a nice hike we've done a few time before), but instead wandered a few miles up the nearby Mocus Point Trail. Located at milepost 143 along the byway, the most impressive feature of this trail is the suspension footbridge that crosses the Lochsa.
Like our stay at nearby Wendover Campground, we enjoyed our time at Jerry Johnson Campground. Despite the smoke and turbulent weather, it is always great to be out enjoying nature. I wouldn't recommend staying at Jerry Johnson on a hot summer day (due to lack of shade), but it makes a great location the rest of the year.
Nearby Attractions:
If you are traveling along the Northwest Passage Scenic Byway & All-American Road, consider checking out one or more of these exceptional nearby attractions:
Resources:
The communities of Lewiston and Orofino offer most essential services including emergency medical care. Kamiah and Kooskia offer basic services such as grocery stores, gas stations, and restaurants.
Forest Service offices are located in Orofino, Kamiah, Kooskia
Lochsa Historical Ranger Station (open seasonally, click here for information)
Lolo Pass Visitor Center at the Idaho-Montana border (click here for information)
Amazon Store
I've read a couple superb historical books about the Lochsa River area. I recommend them both to anyone interested in learning more about this special place: