Nice early season backpack with great wildflower and wildlife viewing opportunities
Distance: 13.5 miles round trip
Type: out and back (extended routes and loop options available)
Difficulty: moderate with about 2,400′ elevation gain
Best season: June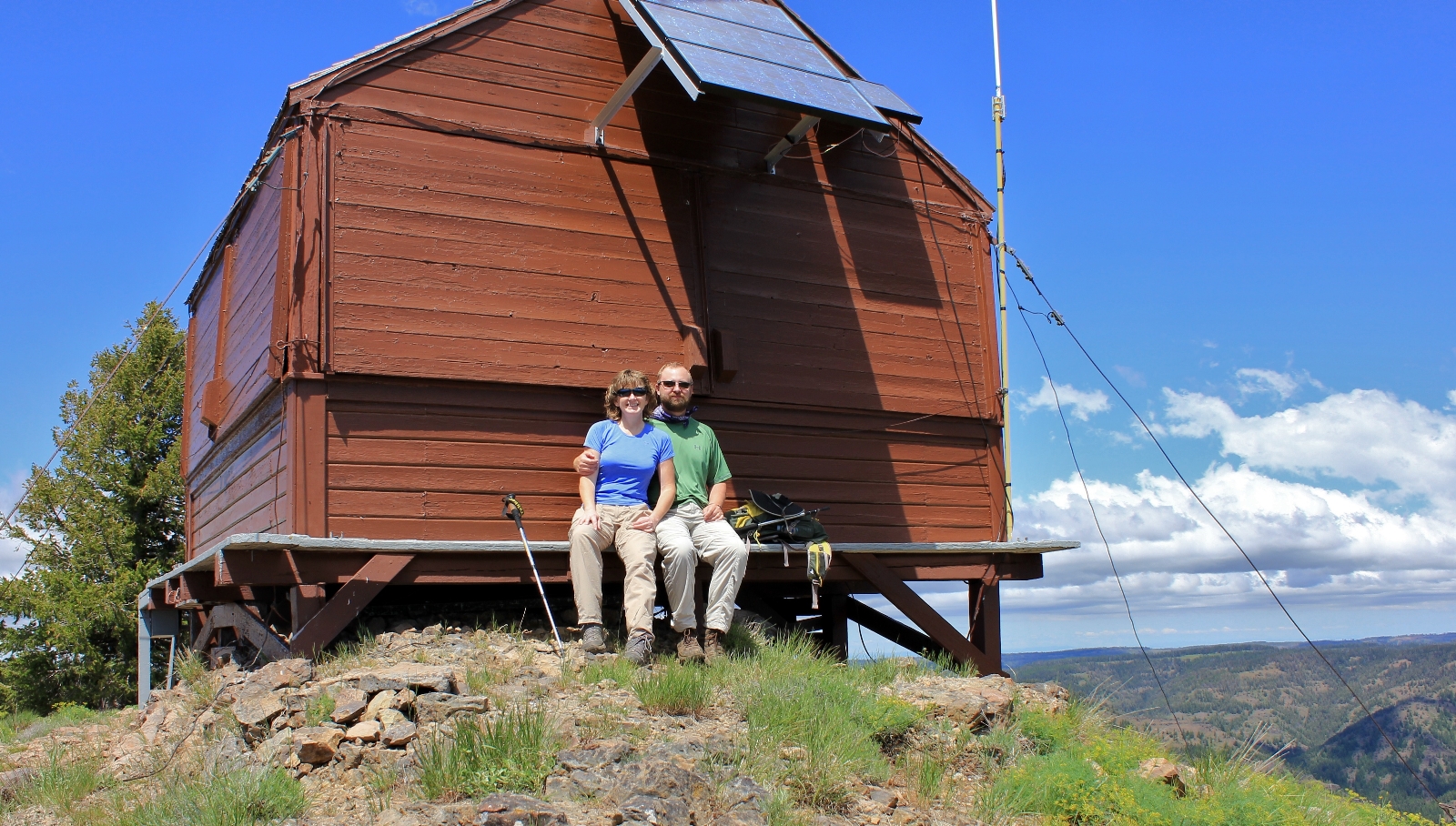 We first hiked from the Tepee Trailhead to Oregon Butte Lookout the first weekend of summer 2012. I didn't realize it until writing this post, but exactly five years later, we began at the same trailhead and did an overnight backpack to Indian Corral and Dunlap Springs. The route follows the Mt. Misery Trail east to a short spur to Oregon Butte L.O. then north along a ridge line to Indian Corral where several trails converge. This is a pleasant early season pack—not to mention it's fun to say you hiked "The Misery Trail".
The Wenaha-Tucannon Wilderness of Southeast Washington and Northeast Oregon is notoriously hot and dry in the summer. By August the area is a bone-dry tinder box waiting to go up in flames from a lightning strike or careless visitor. But in late spring and early summer, the bright green hillsides explode with wildflowers and team with deer and elk. With triple digits predicted at home for the fist weekend of summer, it looked to be a perfect weekend along Misery.
The Wenaha-Tucannon Wilderness was designated in 1978 and consists of 65,266 acres in NE Oregon and 111,471 acres in SE Washington for a total of 176,737 acres. It is the closest wilderness to our home and we both have wonderful childhood memories of camping and picnicking in the area. While the wilderness isn't our favorite place to hike, visiting it is like going home.
Wilderness Connect describes the Wenaha-Tucannon Wilderness as:
"a maze of deep, sheer-walled canyons at the northernmost reach of the Blue Mountains. The plateau has since eroded into long ridge tops and wide, forest-covered mesas that now stand as much as 2,000 feet above the drainages. Much of the area's water runs south into Oregon's Wild and Scenic Wenaha River. Ponderosa pine dominates the lower drainages, then defers to a forest of lodgepole pine above about 4,500 feet, with some larch, fir, and spruce. Rocky Mountain elk thrive in this area. Rattlesnakes love the area, too, and you may see mule deer, white-tailed deer, black bears, coyotes, cougars, bobcats, and snowshoe hares. You might even be lucky enough to catch a glimpse of Big Horned sheep. Summers are typically very hot and very dry. Approximately 200 miles of trail system stays high on the open ridges."
My first plan was to backpack a loop starting at the Panjab TH up to Indian Corral over to Oregon Butte and down Turkey Creek. But with hot temperatures predicted for lower elevations, the temptation to get high and stay high won out. We'd start at Teepee TH which would have us doing the lion's share of elevation gain in the Jeep. From there we'd follow the Mt. Misery Trail over to Dunlap Spring where we'd likely find reliable water. When backpacking the Misery Trail, everything revolves around water which can generally be found at a handful of springs.
Arriving at Teepee TH (elevation 5,441′), we found just two other trucks. Temperatures were already in the mid-60s and there wasn't a cloud in the sky. It was a beautiful day for a pack.
The first stretch of trail was one that we had hiked back in June 2012 on our day hike to Oregon Butte Lookout. Immediately after leaving the TH, we entered the Wenaha-Tucannon Wilderness. The trail climbed through relatively dense forest, but we caught some views down into the canyons of the rugged wilderness.
After 2.15 miles and 550′ elevation gain, we came to Oregon Butte Spring. The spring was surrounded by snow drifts and there was a steady stream of cold water gushing from the mountain and into a hollowed out log. The water was just a few degrees warmer than the surrounding drifts. Refreshing! If only this were our water source for the weekend! I doubted that Dunlap Spring would be this good.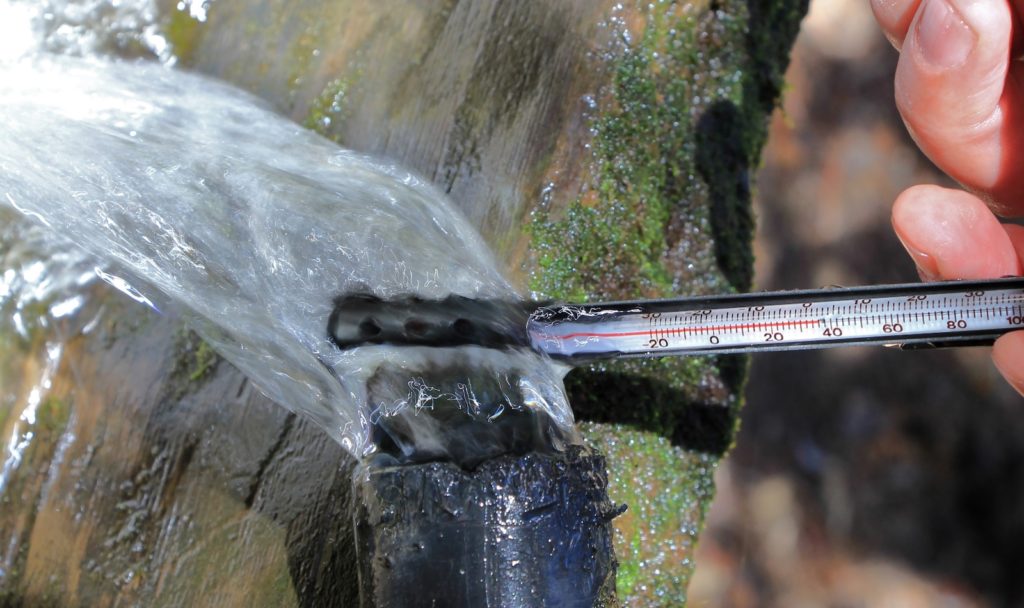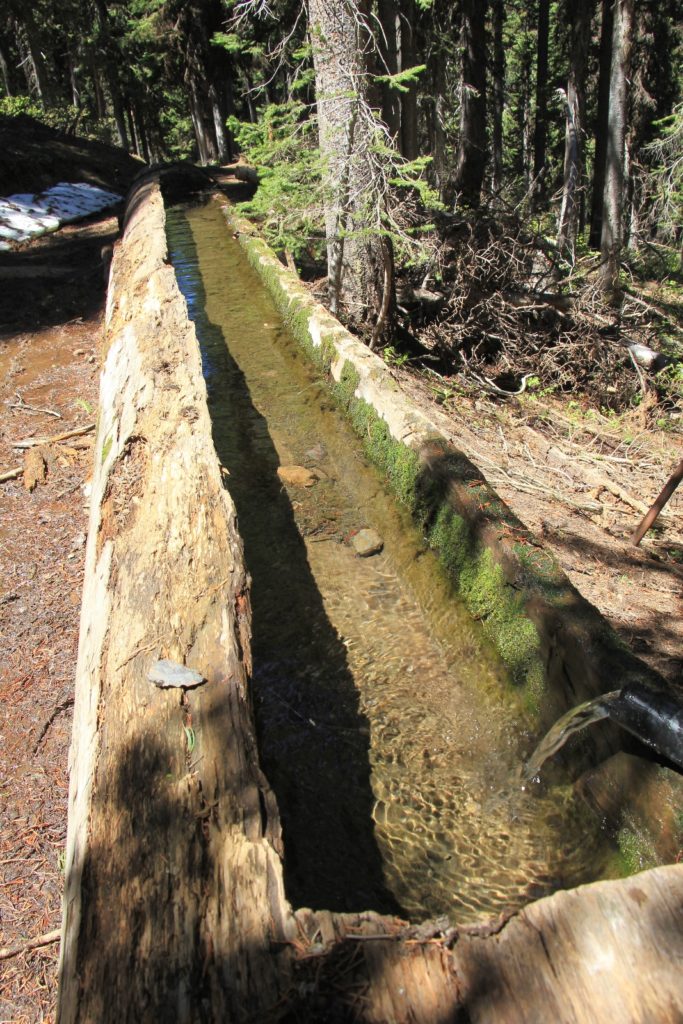 Continuing on, we kept climbing and reached the spur trail to Oregon Butte Lookout at 2.40 miles. It is only 0.6 miles up to the LO from this junction, but we deferred the side route since we had done it before; however, I did go back into the photo archives for a few photos to show you:
We continued straight on the Misery Trail and climbed to about 6,4000′ before starting to descend. At 2.67 miles, we came to nice campsites on either side of the trail. The site on the right had great views down into the canyon. A small sign on a tree pointed to Emergency Spring 200 yards off the trail. Back at Oregon Butte Spring, we had met up with three men from Dayton who stated they had gone down to the spring and found just a trickle of water. I had suspected this wasn't a great water source given the name. We were coming off a wet spring. If Emergency was already a trickle, I wouldn't count on it during a typical Blue Mountain summer.
Just past Emergency we passed another very nice campsite. Not far past that, we starting seeing some burnt trees. I'm guessing these were from the 2015 Grizzly Fire that ravaged the Blues along the WA-OR border. We saw a few blackened trees here and there, but never saw a completely burnt out area. The trail made a few moderately steep descents, but overall it was a gradual descent down to Indian Corral.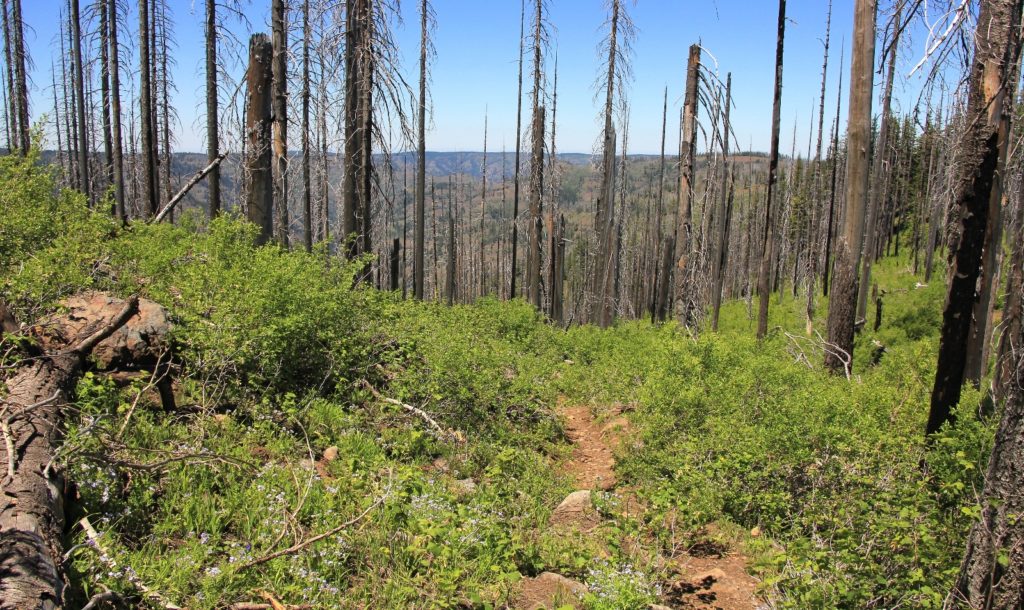 Wildflowers along the trail were amazing the entire trip. Different elevations and stretches of the forest had different varieties, but we constantly had color. Grasses were still green although we could tell things were beginning to dry out. With the heat and lack of precipitation in the forecast, it wouldn't be long before the Blues were bone dry.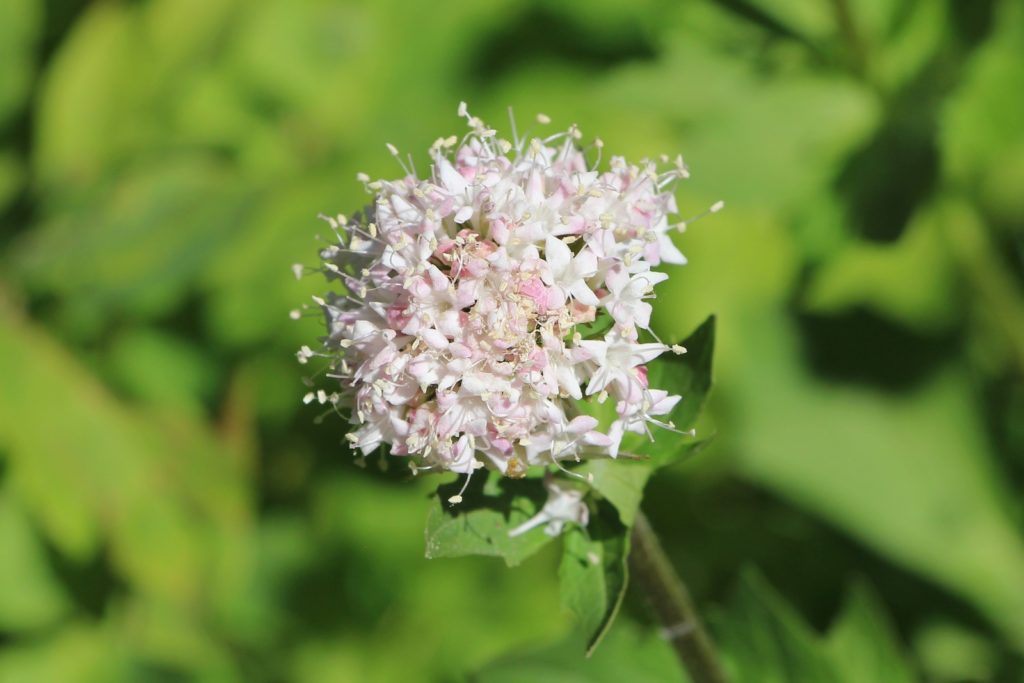 The stretch from Emergency over to Indian Corral provided nice views of the canyons below us and over to the Seven Devils of Idaho and Eagle Cap Wilderness of Oregon. Such amazing views of three states from one location is pretty special.
We went through one stretch of trail that was in need of clearing. We had several blow downs to navigate over and/or around and there were a couple stretches where brush had completely overgrown the trail. But overall the trail was in very good condition.
About mid-way between Emergency Spring and Indian Corral, we came upon a young couple with backpacks returning from Indian Corral. We struck up a conversation and learned they were from the Tri-Cities and had never backpacked in the Blues. Like us, they started at Teepee and had intended to spend the night at Indian Corral, but couldn't find Dunlap Spring—the only water in the area. As we continued down the trail, Jason said "are you sure you can find that spring?"… I sure hoped so.
As we neared Indian Corral, the forest gave way to a large wildflower-filled meadow where we had a deer run across the trail in front of us. Several trails converge here and there were also several user trails crossing the meadow making it difficult to tell exactly where we should go.
We took the first side trail to the right and continued on, unsure if we were still on the Misery Trail or if we had turned south onto the Crooked Creek Trail (which our map seemed to identify as Trout Creek). I don't have to rely on our GPS very often and sometimes I wonder why I even carry it, but it proved itself this day. It confirmed we were on the Crooked Creek Trail and soon we came to a sign indicating this was the trail to the Wenaha River. At this point, I kept a close eye on the GPS which showed we were getting close to Dunlap Springs.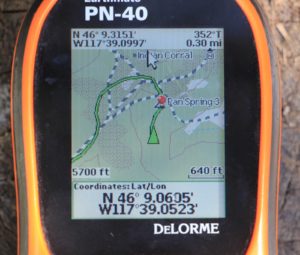 Finally, we spotted a faint trail to the right and followed it a short distance to a campsite. Dunlap had to be close. We dropped our packs and continued down the hill to Dunlap which was already a small trickle. While it wasn't a gusher like Oregon Butte, we'd be able to filter good water from it.
A faint trail continued uphill past the spring. We followed it a short distance to a nicer campsite at 6.5 miles from the TH (elevation 5,679′). The first site had space for another tent or two and we didn't want to risk having close company. This second site was also more lush and open while still having several nice shade trees. This would make a fine home for the night.
Shortly after dinner I could hear voices down by the spring and it sounded like they were hanging out around the lower campsite. I told Jason it would be good for them to know they have neighbors since we'd have to walk right past their tent early the next morning. I went down and struck up a conversation with a nice couple in their early 50s from Spokane. They were doing the 18 mile loop up Panjab, across Misery, and down Turkey Creek. They came up Panjab that day and reported quite a bit of burn out which further reinforced that we didn't miss out by not doing the full loop. They were nice to talk to and it was good to know we had nice neighbors close by.
With long summer days at their peak, we were up at first light which was about 4:30. Temperatures were mild, in the low 50s although that dropped to 46 just after dawn. We had breakfast and a couple cups of coffee before getting an early start back in the cool morning temperatures.
Hitting the trail at 6:00, I liked our odds of seeing wildlife in the meadows around Indian Corral. Sure enough, we found a lone doe grazing in the lupine filled meadow. We hooked up with the Misery Trail and headed south toward Oregon Butte. Soon we came to a faint split in the trail (remember the user trails I was telling you about?). We went to the left when we should have gone to the right. This caused us some backtracking, but as we were doing so we came upon a large herd of elk. There had to be at least 50-60 of them, mostly cows and calves with their cute little spots. Our presence stirred the herd up and they went thundering through the forest making quite the racket. We could feel the earth shaking from their force.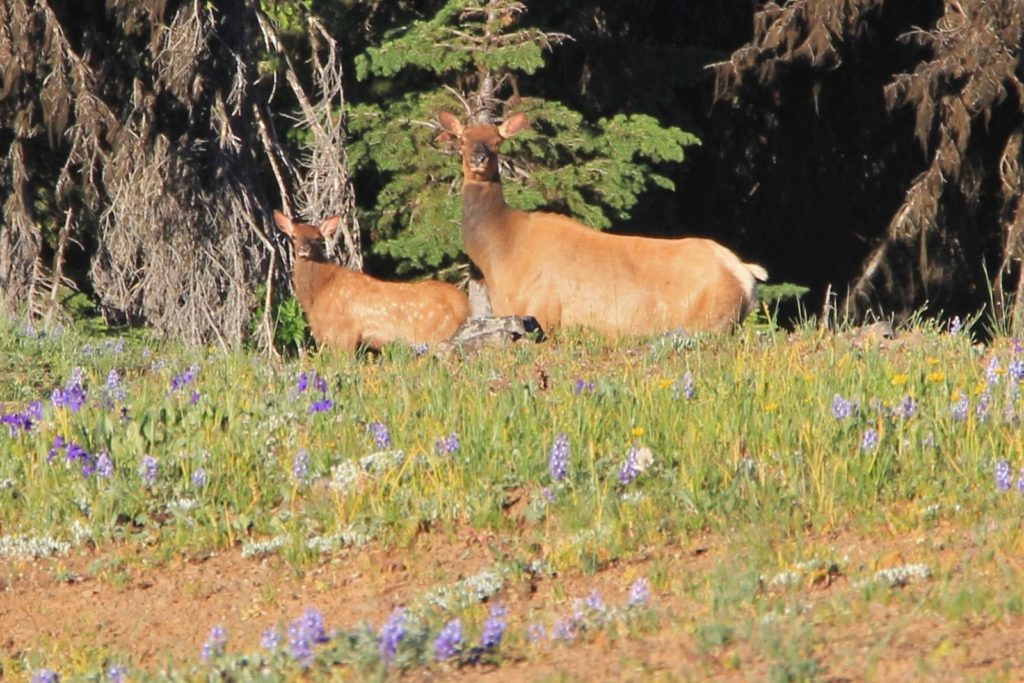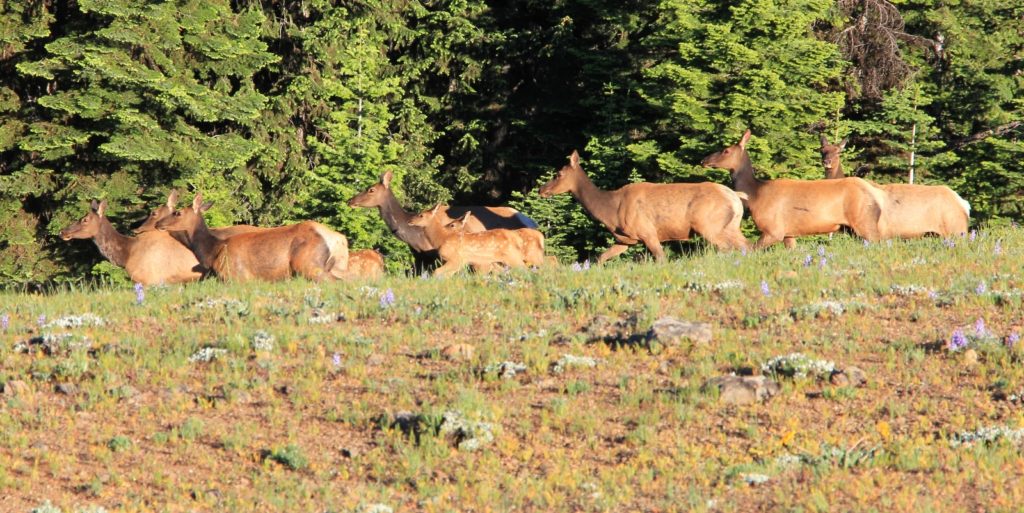 Thanks to the GPS, we found the main trail and continued toward Oregon Butte. About a mile in, we passed a group of three large bucks who unfortunately disappeared into the canyon before I could grab a photo.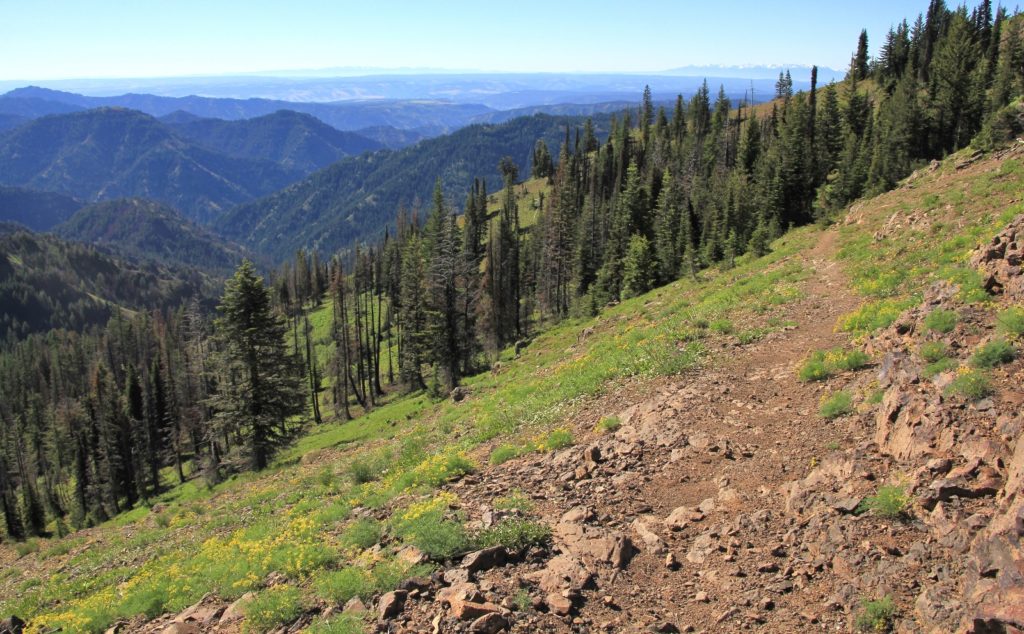 After the climb out of Indian Corral, we stopped for a cool off at Oregon Butte Spring. Here we saw a young couple trail running. They were the only people we saw during the return hike. This put our trail company for the weekend at two backpacking couples, this set of trail runners, and a group of three day hikers. Love it!
It was an uneventful hike the rest of the way down to Teepee with the exception of having a fawn with spots run down the trail toward us. It got about half way to us when mom called and it did a 180. It hustled back to mom who peeked over the hill to see us.
Back at Teepee, our mileage for the weekend 13.5 miles with an estimated total elevation gain of 2,400′. The stats weren't anything for the records books, but it had been a nice warm up backpack for the summer.
Arriving back in Dayton, we headed straight for Woody's, a place that had been highly recommended by one of Jason's coworkers. We sure were glad we listened to Curt's recommendation—Woody's was quite possibly the best burger we ever had. I had the Cowboy 'Woody' (bbq sauce, cheese, bacon, and onion ring) and Jason had the Ultimate 'Woody' (bacon, ham, and cheese). They both had artisan type buns and hand pressed patties. No burger is complete without a good french fry and theirs were very good. To top it off, our waitress was efficient and very friendly. Sadly, we returned a year later to find that Woody's had gone out of business.
Directions to Teepee Trailhead: From Dayton, Washington, turn south onto 4th Street. After 4.9 miles of paved road, turn onto gravel Hatley Gulch Road. At 5.4 miles, turn right onto county road 1424. In 5.9 miles turn right onto forest road 46 (Skyline Road). Continue 12 miles along this dirt road to Godman Guard Station where you'll take a left on forest road 4608 and continue 6 miles to the end of the road. The TH has a large parking lot, pit toilet, and a couple campsites tables.