During a September 1935 visit to Spearfish Canyon, visionary architect Frank Lloyd Wright described the canyon as, "unique and unparalled elsewhere in our country." During our fall 2021 adventures, we drove the 22 mile Spearfish Canyon National Scenic Byway and experienced its breathtaking beauty for ourselves. The canyon offers towering cliffs, lovely Spearfish Creek, three waterfalls, and a beautiful pine and spruce forest with aspen and birch stands that glow yellow during late September and early October.
The 22-mile byway begins at Exit 10 or Exit 14 off Interstate 90 in Spearfish, South Dakota and extends along U.S. 14A south to Cheyenne Crossing, a historic stage stop approximately 8 miles southwest of Lead at the junction of U.S. 14A and 85. The Black Hills & Badlands SD website offers this excellent map of the Black Hills including Spearfish Canyon. Their suggested driving routes (color coordinated on the map) serve as a great resource for those planning a trip to the area.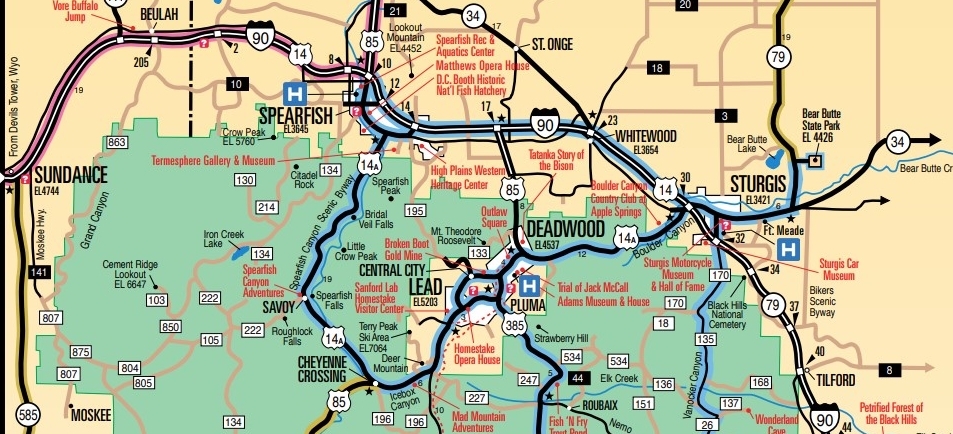 Note: The speed limit along the winding byway is 35 mph. Motorists enjoy the scenery and bicycles are alongside the road. This is a route for going slow and enjoying the beauty of the moment. It is not the route to take if you are in a hurry and need to make good time.
Bridal Veil Falls
Heading south along the Byway, our first stop was Bridal Veil Falls. Located just six miles from Spearfish, this is an easy roadside stop suitable for all. There is ample parking alongside the road, but be careful while crossing the busy road on your way to the overlook. The best time to view the falls is spring during snow melt. Sadly for us, it was a dry year in the Black Hills and we saw a miniscule trickle of water flowing over the rocks. It was a disappointing way to start the day's adventure, but fortunately the canyon had much more to offer.
Spearfish Falls
Continuing south along the Byway, our next stop was Spearfish Falls. This was one of the most popular tourist stops in the northern Black Hills around the beginning of the 19th century when a Burlington Railroad line took passengers directly over the cascade. In 1917, water was diverted from Spearfish Creek to a nearby hydroelectric plant that helped power the Homestake Gold Mine and the falls ceased to exist. It wasn't until 2003 that flows resumed and Spearfish Falls returned to its glory. Lucky for us because this was a beautiful little hike!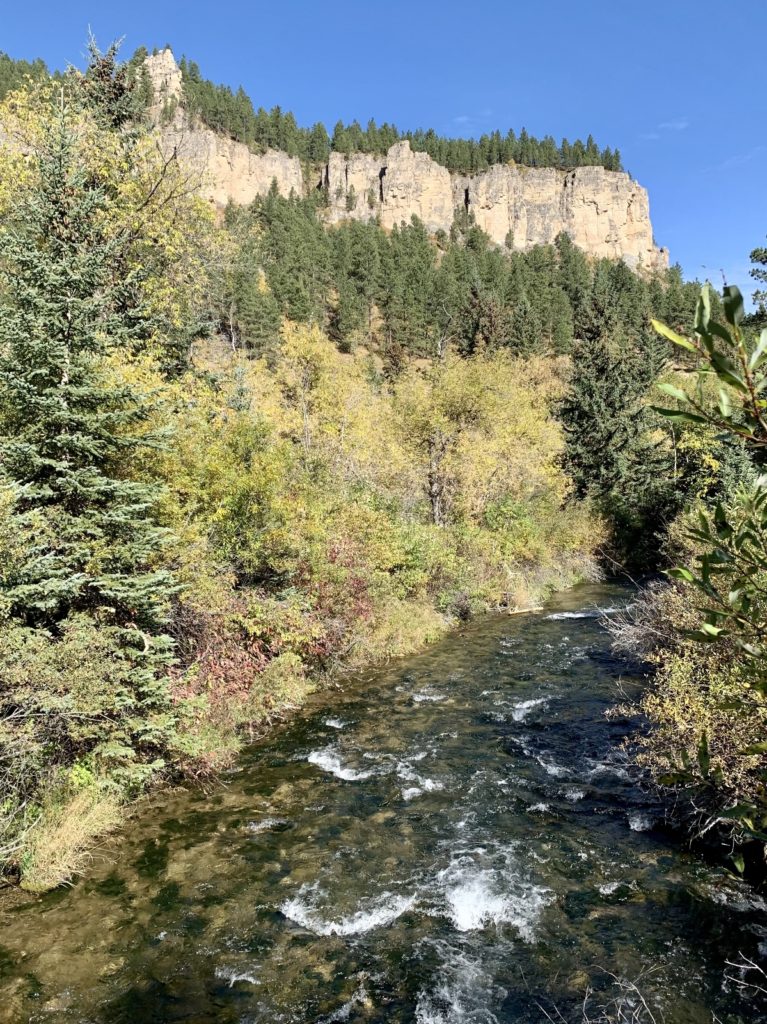 The trail to the 47 foot waterfall starts at the parking lot for the Latchstring Restaurant at Savoy where parking is tight and limited. I recommend parking at the Roughlock Falls Trailhead off Forest Road 222 and behind Spearfish Canyon Lodge which is just across the highway from Latchstring. This will set you up nicely for both Spearfish Falls as well as Roughlock Falls and you'll only have to find parking once.
The short 0.75 mile roundtrip trail to Spearfish Falls dropped us down into the canyon and made its way to an observation deck at the base of the falls. There is some elevation change in the beginning as the trail descends from the parking lot, but it doesn't last long and the beautiful scenery makes a nice distraction.
Roughlock Falls
The hike to Roughlock Falls along Little Spearfish Creek was the highlight of our day thanks to near peak fall colors in that portion of the canyon. The falls themselves were a little anti-climactic due to low water flows, but the fall colors and towering canyon walls more than made up for that. It was an easy 2.0 mile roundtrip hike to the falls with almost no elevation change. This is a popular destination for hikers of all skill levels and ages.
Cheyenne Crossing
Our hikes to Spearfish and Roughlock falls were short and easy by our standards… but we seemed to think we had worked up an appetite and deserved a nice lunch out. Continuing our drive south along the byway, we came to Cheyenne Crossing, a restaurant, lodge, and general store located at the junction of the byway and U.S. 85. I had read great reviews and it looked like a cute spot (despite being exceedingly busy). We had a short wait for a seat, but we passed the time looking through the charming general store.
From 1878 to 1885 this Black Hills landmark was established as a regular stop for the Cheyenne WY to Deadwood SD Stagecoach. They are known for their Indian tacos which have been featured on Food Network TV and Magazine. When a restaurant claims they have a specialty, I almost always give it a try. I ordered the small taco and commented to our server that I'd try a slice of their homemade pie if I still had room. "No, you'll have the carrot cake" she said. Hmmm, I'd never been told what I was going to have by a waitress. But there was something about the way she said it. It made me smile and somehow I just knew it would be amazing (even though I don't really care for carrot cake). We both ordered carrot cake to go and our server made sure the boxes were stuffed with giant pieces. We sure were glad we let our server pick for us—the carrot cake was amazing. You'll know where to find us if we're ever back in the area!
Historic Lead & Deadwood
We finished our drive by heading east through the historic communities of Lead and Deadwood. Historical sites and outdoor activities near these two charming towns could keep us busy for days, but we only had time to admire them from the road as we passed through. We fully intended to return while we were in the area, but we got too busy exploring the central and southern Hills and ran out of time.
More to Explore
With just one day to visit Spearfish Canyon and the northern Black Hills, we only got an brief introduction to what the area has to offer. We hope to return to the are someday to hike some longer trails, visit the site where several scenes from the movie Dances With Wolves were filmed (located on Forest Road 222 three miles from Spearfish Canyon Resort), and thoroughly explore the towns of Lead and Deadwood.
The Adventure Continues
Be sure to join us for our next post as we discover just how much there is to do in the central and southern Black Hills of South Dakota. And don't forget to check out our Amazon RV and Adventure Gear recommendations. We only post products that we use and that meet the Evans Outdoor Adventures seal of approval. By accessing Amazon through our links and making any purchase, you get Amazon's every day low pricing and they share a little with us. This helps us maintain this website and is much appreciated!