We thoroughly enjoyed our short stay at Cathedral Gorge State Park, but a cold front was on its way and we were wanting to hunker down someplace a little warmer for the busy Thanksgiving travel week. Pahranagat National Wildlife Refuge or Mojave National Preserve were our top choices, but they were going to be colder than we'd like. Lake Mead National Recreation area is a favorite of ours and it was directly on the route south to our next destination, so it was an easy to choice to head there.
Arriving at Las Vegas Bay Campground at Lake Mead, we scored a nice canyon view site for the next eight nights. Las Vegas Bay is our favorite of the Lake Mead National Recreation Area campgrounds. It is closer to Las Vegas and Boulder City than Echo Bay and Callville Bay, yet it isn't as busy as Boulder Beach.
During Lake Mead's glory days, before 20+ years of drought, our campsite was a prime lakefront site with the water's of Mead backing up into Las Vegas Bay Creek. Now, with Mead at just 35% capacity (2021 data), we were looking at mostly dry ground below our site. For those who are interested, there's a great article on the Earth Observatory at NASA website with water level charts and comparison imagines from space.
We settled in and enjoyed Lake Mead which remained relatively quiet over the Thanksgiving Holiday. We had sunny days with temperatures ranging from 63-73 which let us enjoy biking and hiking some our favorite area trails as well as one that was closed during our January 2020 visit. And, in honor of the holiday, we even enjoyed some smoked turkey at our favorite Boulder City restaurant, Fox Smokehouse BBQ.
Biking the River Mountain Loop & Historic Railroad Trails
The River Mountain Loop Trail is a 34 mile paved hiking and biking path that surrounds the River Mountains connecting Lake Mead National Recreation Area, Hoover Dam, Boulder City, and Henderson. Elevation varies by over 1,300 feet from its highest and lowest points, so users should be prepared to climb some hills! Maps and information on trailheads can be found here. We have ridden approximately 25 miles and especially enjoy the stretch from Las Vegas Bay to Boulder Beach.
The Historic Railroad Trail is an easy hike or bike ride along a former railroad grade that features five tunnels and offers panoramic views of Lake Mead. The trail is located just 0.3 miles past the Lake Mead Visitor Center near Boulder City and can also be accessed directly from the River Mountain Loop Trail. In the 1930's, nearly 30 miles of railroad were constructed between Boulder City and Hoover Dam to haul supplies to the isolated dam site. Today, the 2.3 mile (one-way) Historical Railroad Trail is the only remaining section. We have walked and biked this trail and really enjoy the history along the route.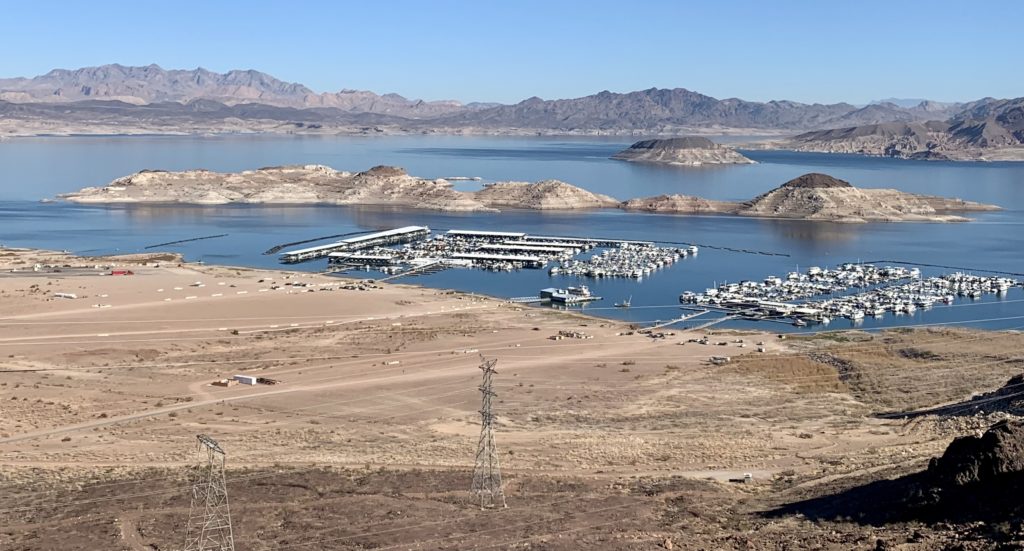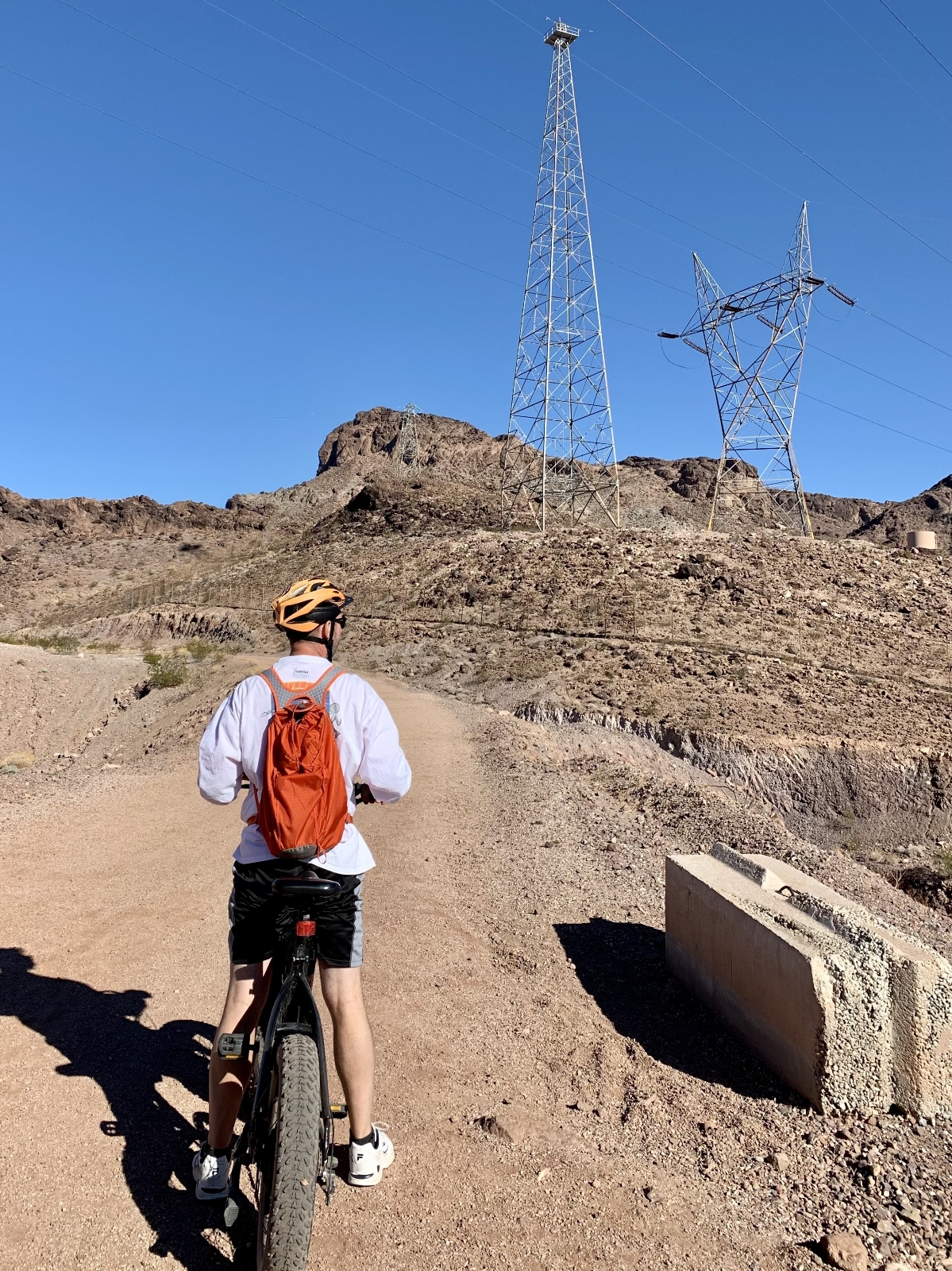 Shoreline Trail – Owl Canyon Loop
Owl Canyon is a popular slot canyon hike near Boulder City in the Lake Mead National Recreation Area. Most people access this from a large parking area at 33 Hole Overlook for a 2.2 mile out and back hike. We like to access Owl directly from the Las Vegas Bay Campground for a longer lollipop loop. We hike from the campground to the old Las Vegas Bay boat launch where we catch the Shoreline Trail. This leads us to the mouth of Owl Canyon where we hike up the narrows, through two massive culverts, up onto the River Mountain Trail, down another side canyon and back to the Shoreline Trail where we can retrace our steps back to the campground. This makes for a relatively easy 7.0 mile loop and we generally see very few people once outside the Owl Canyon Narrows.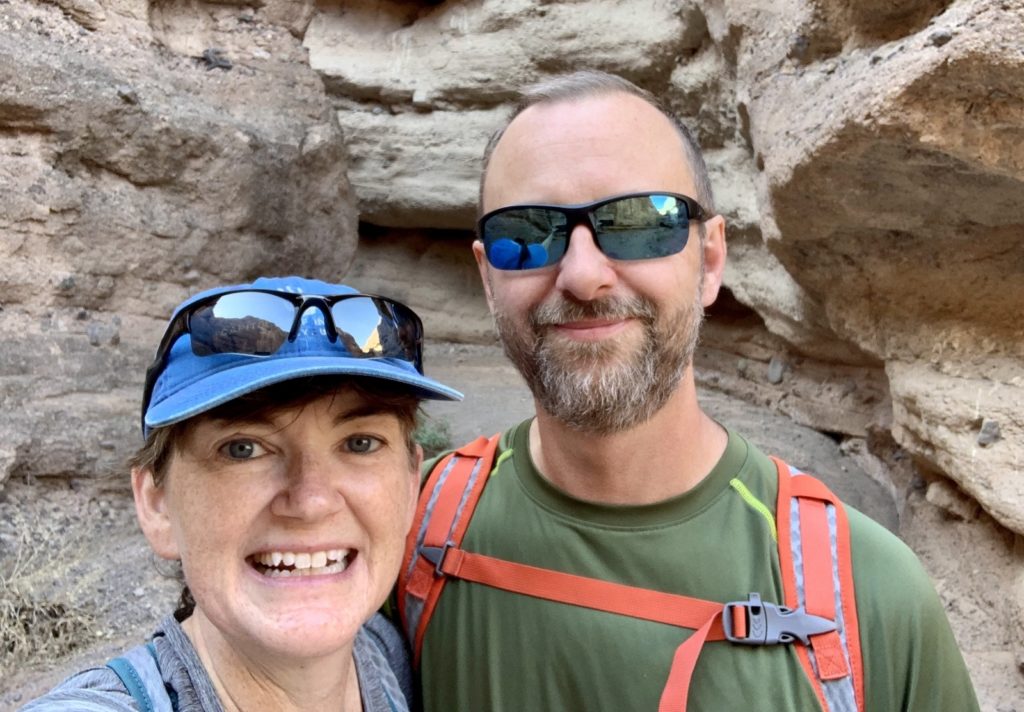 River Mountain Trail to Black Mountain
Not to be confused with the paved River Mountain Loop Trail, the River Mountain Trail is a favorite with Boulder City locals. The CCC built trail begins at a large trailhead parking area off the Boulder City Parkway and climbs roughly 1,000 feet over 3.5 miles to the top of Black Mountain where hikers are rewarded with 360 degree views of Boulder City, Las Vegas, and Lake Mead. And there is a good chance you'll see bighorn sheep. We first hiked this trail in January 2020 and enjoyed it so much we agreed it was worth of a repeat this year.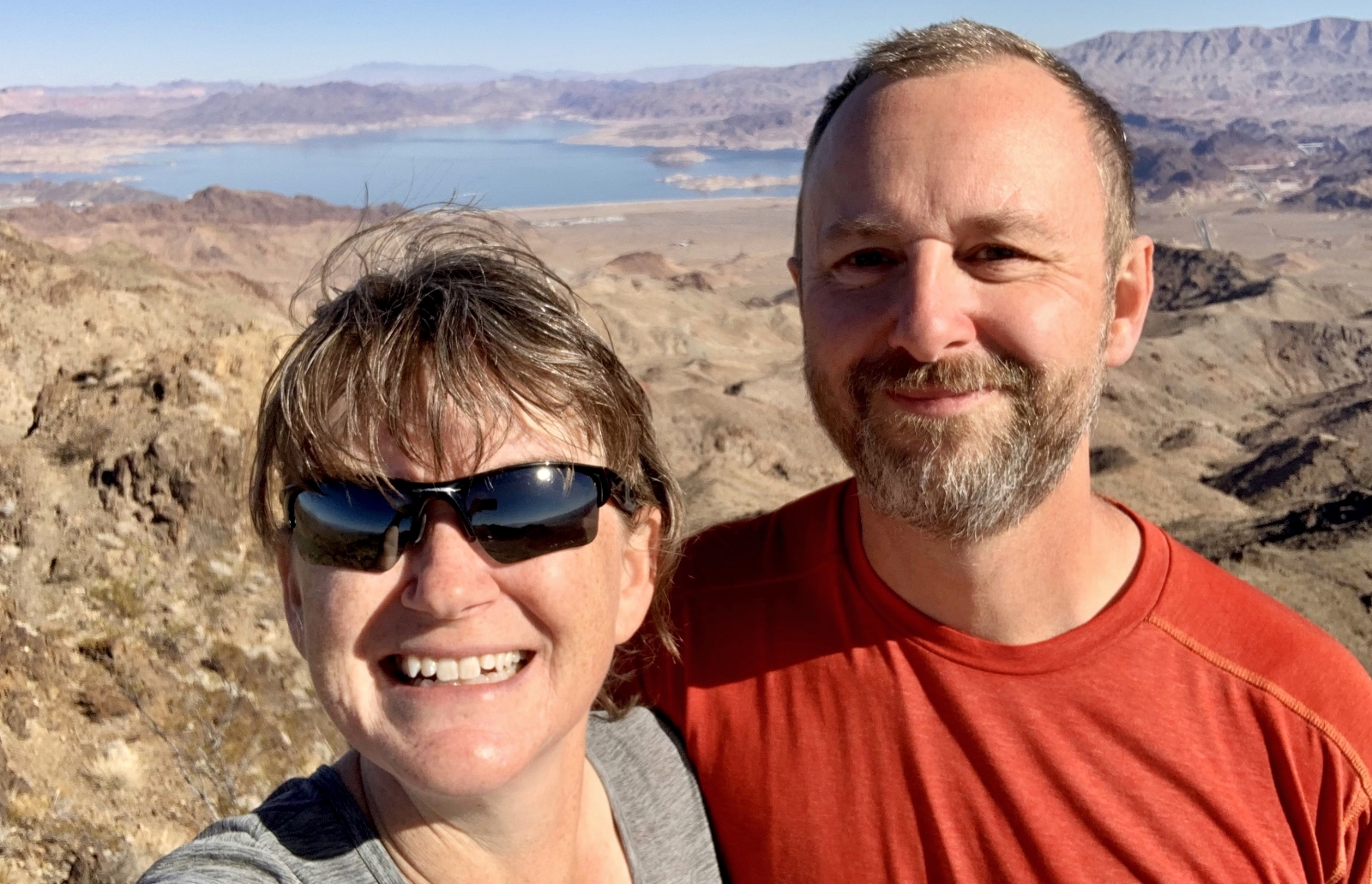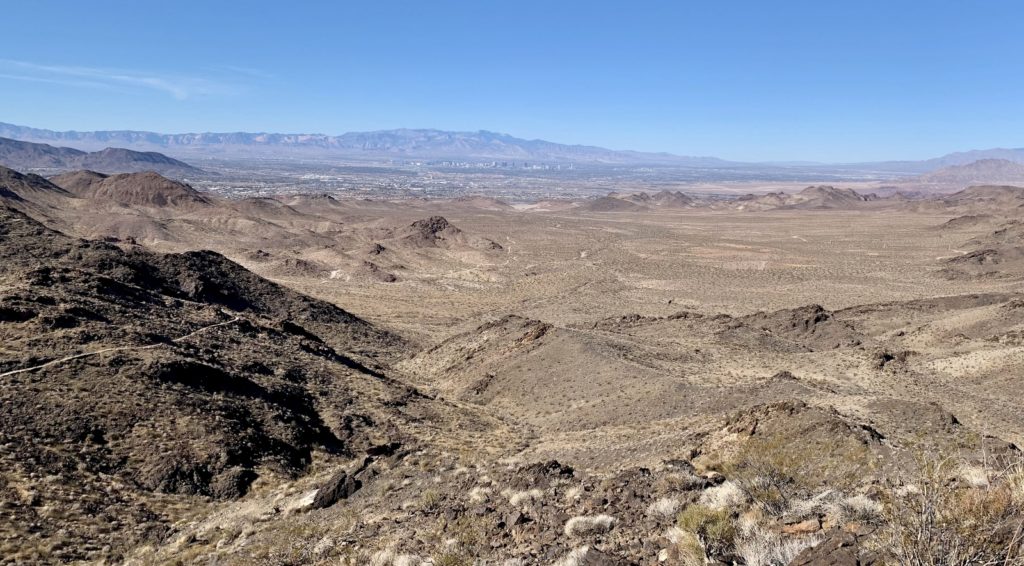 Anniversary Narrows
My favorite activity during our Thanksgiving stay at Lake Mead was finally getting to hike Anniversary Narrows. During our first visit to Lake Mead in January 2020, Anniversary Narrows was not accessible. The majority of the hike is over National Park or BLM land, but a narrow sliver of the route passes over private property and the owners were strictly enforcing no trespassing. Later that year, a massive flash flood reportedly washed out all the fences and private property signs. By 2021 I was hearing reports that hikers could once again access Anniversary Narrows. Reports on Alltrails and a couple recent blog posts online were conflicting, but it seemed worth a try. We decided to hike as far as we could. If we saw any "no trespassing" signs we would simply turn around and call it a day.
We started our hike from the large gravel parking lot along Callville Wash, just off Northshore Road. From what we have seen, most hikers begin there. Those with a high clearance vehicle can drive further, but it requires a short, very rough drop into the wash. Our stock F350 could have negotiated the rocks with careful navigation, but it isn't worth risking our rig so far from home, especially when it is necessary for pulling our home on wheels. Besides, we can use the couple extra miles of exercise. Starting here and continuing to the end of the narrows makes for a 7.0 mile roundtrip hike with little elevation gain.
Our route took us a short distance up Callville Wash then turned up Lovell Wash Road. As we neared the first mine area, we were surprised to find ourselves on a stretch of old, deteriorating pavement. That quickly disappeared and we found ourselves dropping down into Lovell Wash. That is when the real fun began. We turned up canyon and soon came to the private mine where we carefully watched for any signs that we weren't welcome there, but didn't see any. The canyon through this area was particularly scenic with sculpted sandstone walls towering over us.
We followed Lovell Wash past the mine, enjoying nice views, until the canyon suddenly slotted up and we found ourselves in Anniversary Narrows. The sculpted walls of the slot are colorful and beautifully textured. Hiking is generally easy allowing you to stare up at the towering walls above, but there are a few obstacles to navigate. The most difficult section has a well placed metal pipe to assist hikers. Once past that point, it was pretty smooth sailing.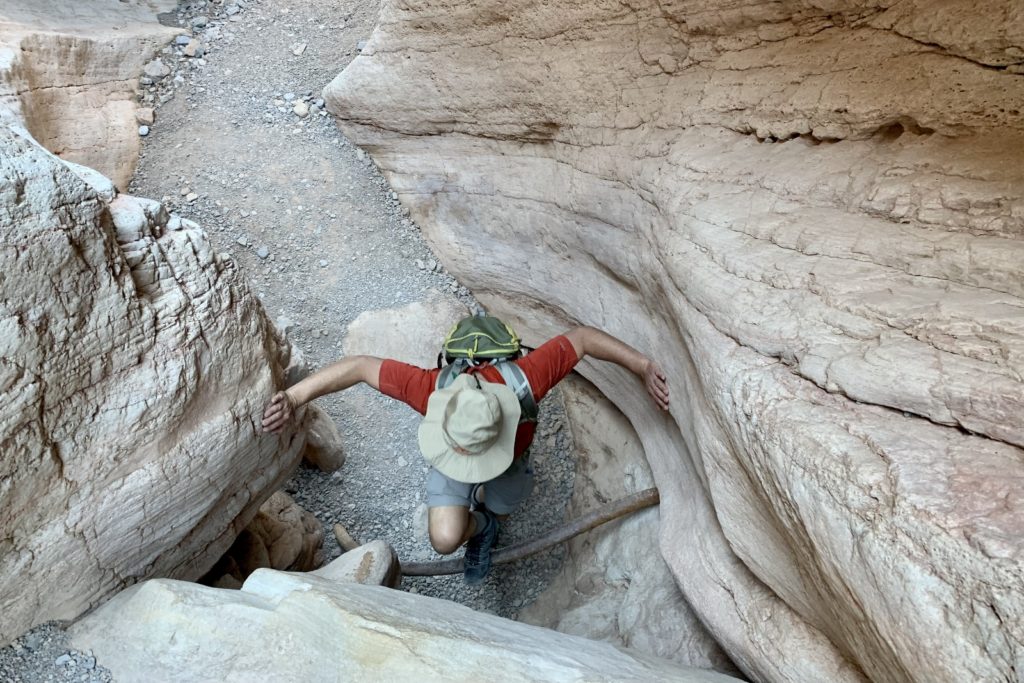 The narrows continued for a distance before opening up into a canyon surrounded by massive sandstone cliffs. We continued up canyon just far enough to find a sunny spot for a break. I'd like to explore further up the canyon some day, but this was a good turn-around point for the day. I was just thrilled to finally get to see Anniversary Narrows. They were every bit as beautiful as I had heard and we appear to have legally made the hike. Hopefully the private land owners will continue to allow access across their small strip of land and hopefully hikers will respect and appreciate that access.
The Adventure Continues
Be sure to join us next time as we push south into Arizona and get an introduction to Quartzsite, winter destination for hundreds of thousands of snowbirds. And don't forget to check out our Amazon RV and Adventure Gear recommendations. We only post products that we use and that meet the Evans Outdoor Adventures seal of approval. By accessing Amazon through our links and making any purchase, you get Amazon's every day low pricing and they share a little with us. This helps us maintain this website and is much appreciated!