November 23 – December 4, 2022
From Las Vegas Bay on Lake Mead, we headed south to near Bullhead City, Arizona for Thanksgiving. We had considered a stay at Bullhead City on previous trips, but had never gone because it always looked so flippin' windy there. This year was no exception—it still looked windy. But the temperatures looked mild and we were wanting a nice quiet area over the Thanksgiving holiday weekend before heading back into California.
Katherine Landing
There are numerous places to camp at Bullhead City, Arizona and nearby Laughlin, Nevada. We chose Katherine Landing on Lake Mohave. Katherine Landing is located above Davis Dam on the Colorado River and is the southern most part of Lake Mead National Recreation Area. On a side note, if anyone knows why they spell it "Mohave", let me know! I always think it should be "Mojave" like the Mojave Desert or Mojave National Preserve.
Katherine Landing has a marina with boat launch, hotel, restaurant, and a 173 site concessionaire operated campground. Sites are all first come, first served and there were plenty of open sites during our stay. The sites are all dry camping (no hookups), but potable water, dump, flush toilets, showers, and laundry are available within the campground. Sites are $25 per night (half off with Senior/Access Pass).
The Katherine Landing campground is split into a northern and southern half with the park's access road running in between. Sites are generally larger on the southern side, so the majority of RVers go there. As a result, it tends to be the busier side and has more generator noise. Hoping for a quieter experience, we pulled into the north side and found a lovely corner spot that was just big enough for our trailer. Most of the sites around us remained empty over the holiday weekend making for a very peaceful stay. Best of all, we had the nicest camp hosts. Deb and Del stopped by on our first evening and invited us to Thanksgiving dinner the following day. They, along with some of the concessionaire staff, put on quite the feast with all our holiday favorites. We were so grateful to them for sharing their holiday with us and all their hard work. A few days later, they were hard at work decorating the marina for Christmas. It was wonderful for us to get to enjoy some holiday cheer even though we were 1,000 miles from home.
Davis Dam and Lake Mohave
Much of our stay at Katherine Landing was spent exploring Lake Mohave, a reservoir on the Colorado River created in 1951 by the completion of Davis Dam just north of Laughlin, NV and Bullhead City, AZ. Lake Mohave extends approximately 67 miles from Hoover Dam to Davis Dam straddling the southern Nevada and northwestern Arizona border. Construction of the dam was a requirement of the 1944 Water Treaty with Mexico to regulate water released from Hoover Dam for delivery to Mexico. Lake Mohave provides a variety of recreational opportunities, including boating and fishing. Three marinas with launch ramps are located on Lake Mohave, two in Arizona (Willow Beach and Katherine Landing) and one in Nevada (Cottonwood Cove). An additional launch ramp is located at Princess Cove on the Arizona side near Katherine Landing
We spent two days exploring Lake Mohave on our Aventon ebikes. For the first day, we rode north and visited Arizona Cove, Cabinsite Point, and Princess Cove, all popular kayaking spots on Lake Mohave. The water was gorgeous and we had hoped to kayak there, but it was too breezy.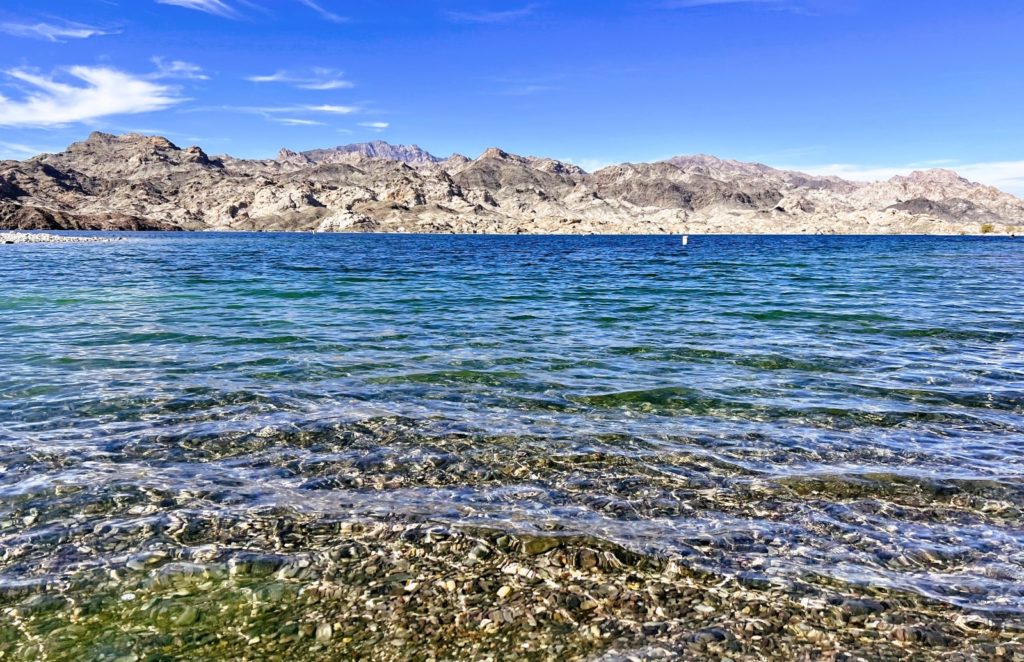 On the second day we rode along the paved Colorado River Heritage Trail System. This is a fantastic network of paved trails on both the Nevada and Arizona side of the Colorado River below Davis Dam. We rode downstream on the AZ side, crossed the Laughlin Bridge, road upstream on the Nevada side, and crossed back into AZ on the bridge at Davis Dam. This was a fun loop with great river views and lots of interpretive signs. We particularly enjoyed the bridge at Davis Dam (closed to vehicles, but open to bike and foot traffic) and Pyramid Canyon Park on the NV side. This park is free to visit and has the best views you'll find of Davis Dam. If you only have a few minutes in the area, definitely go to Pyramid and check out the Colorado River and Davis Dam.
Grapevine Canyon & Spirit Mountain Wilderness
Probably the most popular trail in the Bullhead City/Laughlin area is to Grapevine Canyon Petroglyphs on the edge of the Spirit Mountain Wilderness. Spirit Mountain Wilderness is a jumble of granite boulders and steep canyons along the western shore of Lake Mohave. Covering 33,518 acres, it is partly within the Lake Mead National Recreation Area and is managed jointly by the Bureau of Land Management and the National Park Service. Click here for area map.
The wilderness is named for Spirit Mountain, a massive white granite peak sacred to tribes of the lower Colorado River as a spiritual birthplace. A number of archaeological resources are protected here including Grapevine Canyon Petroglyphs. The panel is located off Christmas Tree Pass Road which heads north off Hwy 163 just 6.7 miles from the Laughlin Bridge over the Colorado River. Once on Christmas Tree Pass Road, drive north 1.8 miles to Grapevine Canyon Road. Turn left and continue to the trailhead at the end of the road,
From the trailhead, the trail drops into Grapevine Wash and runs west for 0.27 miles to a gap in the cliffs. There you'll find a large number of petroglyphs on both sides of the gap. This is a great site for those wanting a short drive and hike to some nice panels. The site is in remarkable condition considering its easy access and high rate of visitation. Please visit the area with respect and don't touch/alter the images to ensure its accessibility for future generations.
From Grapevine, we continued up Christmas Tree Pass Road 2.8 miles to where the road makes a hard turn to the west. From there, a spur road headed north to the Pipe Spring Trailhead. We hiked 5.0 miles roundtrip to a spot known as Dry Water Falls. The route followed a scenic little canyon with great Mojave Desert flora and fauna. This trail is recommended for birders and we were delighted to spot many phainopepla birds happily flying throughout the canyon.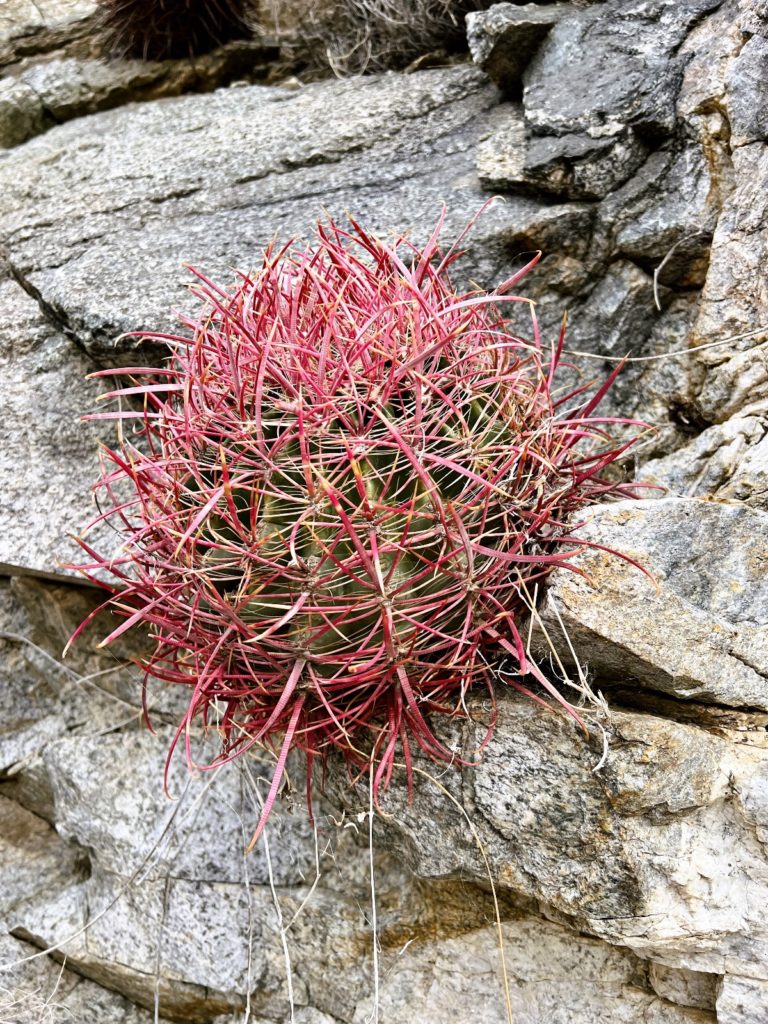 Avi Kwa Ame National Monument (proposed)
During our stay at Katherine Landing, President Joe Biden announced his intention to create the Avi Kwa Ame National Monument under the 1906 Antiquities Act. As of the writing of this post, formal declaration is expected any day. During our travels, we try to visit as many national monuments as we can. It was extra special to visit one just a few days after its proposed creation.
Establishing the Avi Kwa Ame National Monument would preserve some of the most visually stunning, biologically diverse, and culturally significant lands in the entire Mojave Desert. At the White House Tribal Nations Summit in November 2022, President Biden committed to establishing the national monument.

Avi Kwa Ame, the Mojave name for Spirit Mountain and the surrounding landscape, is sacred to twelve tribes, including the 10 Yuman-speaking tribes who pay reverence to Spirit Mountain as the center of their creation.

Avi Kwa Ame National Monument would complete landscape connections between existing national parks and protected lands in the region, including Lake Mead National Recreation Area in Nevada and Mojave National Preserve, Death Valley, and Joshua Tree national parks in California. When considered as a whole, this vast and connected network represents one of the greatest desert conservation reserves in the world, and is a significant contribution towards fighting climate change.

Theresa Pierno, President of the National Parks Conservation Association
For our visit to Avi Kwa Ame, we hiked the Hiko Springs route west of Laughlin. There is no official trail, but the route is easy to navigate—just continue down canyon until you can't go any further. This was a fun little hike with some rock art, good birding opportunities, and nice Mojave Desert flora. We hoped to see some bighorn sheep, but we just saw lots of scat. From the western end of the Laughlin Bridge over the Colorado River, follow Hwy 163 west 9.4 miles to where the highway turns a big bend to the west. At the far western point of the bend, turn left onto a dirt track which travels a short distance to an informal trailhead at Hiko Springs.
The Adventure Continues
Join us for our next post as we wrap up our time near Bullhead City with a great hike at nearby Kingman, Arizona. And don't forget to check out our Amazon RV and Adventure Gear recommendations. We only post products that we use and that meet the Evans Outdoor Adventures seal of approval. By accessing Amazon through our links and making any purchase (even things as simple as toothpaste!), you get Amazon's every day low pricing and they share a little with us. This helps us maintain this website and is much appreciated!