On September 19, 2019, we left our home in Southeastern Washington on our first snowbird trip. Years of living and commuting in Washington's blizzard prone Palouse region had left us weary of snow and ice. With Jason's retirement and my transition to part-time remote work, it was time to say goodbye to winter weather.
Route Map
If you haven't seen it yet, Jason put together a super cool map of our travels! Each of our camps is marked with a pin. Click on the pin and you can link to our blog posts for that location. He'll be doing this for all of our extended trips. To access the map, click the RV Travel Map tab on our home page or click here.
Fall Adventures
Our first few days of travel took us to campsites at Hilgard Junction State Park on the banks of the Grande Ronde River, Spring Recreation Site on the shores of Brownlee Reservoir, and Rome Launch along the Owyhee River. We saw our first hints of fall color and met some wonderful people in these remote Eastern Oregon campgrounds.
Pushing into Nevada on day four, we stayed at our first ever private RV park in Winnemucca. The following day, we made our first major departure from our original travel plans. An early season snow storm would be hitting later in the week. An hour out of Winnemucca, we rerouted, bypassing The Ruby Mountains, and headed south for Ely. During our career years, we never had the freedom or luxury for such flexibility. We quickly realized, this is something we could get used to.
After five consecutive travel days, we were ready to stop and enjoy some adventuring. We found a lovely campsite at Ward Mountain Campground and settled in for four nights. We spent two days hiking at nearby Ward Charcoal Oven State Park and Cave Creek State Park and a day visiting with our friends Tom and Claudia who joined us for two nights.
On day 9, we were an hour out of Ely when we made another change to our planned route. As we approached Baker, NV, I looked up and saw beautiful fall colors on the alpine slopes of Great Basin National Park. We detoured and spent three fantastic days in the remote park. We drove the Wheeler Peak Scenic Drive, hiked the Alpine Lakes Loop, Bristlecone Pine Loop, Baker Creek Loop, and Glacier trails and went on a ranger lead tour of Lehman Caves.
After Great Basin, we crossed into Utah and spent a few nights at Minersville Reservoir. While there, we visited Fremont Indian State Park and had our first resupply/chore day. From there, we set up a base camp north of Panguitch where we enjoyed stunning fall weather hikes in Cedar Breaks National Monument, Red Canyon (Dixie National Forest), and Bryce Canyon National Park. If you love hoodoos and red rock, you can't beat this area!
On October 7th, we pushed east into Grand Staircase-Escalante National Monument—one of our favorite hiking and backpacking destinations. We spent three weeks there enjoying waterfalls, slot canyons, natural bridges, arches, fall colors, rock art, red rock, river trails, and alpine lakes.
By the end of October, overnight lows were dropping into the teens and it was time for us to move to lower elevations. We spent a night in Kanab, Utah before moving on to WillowWind RV Park in Hurricane, Utah. We planned on staying one or two weeks…we ended up staying five. Hurricane proved to be a fantastic base camp for adventure. We enjoyed hiking in Snow Canyon State Park, Red Cliffs National Conservation Area, and Santa Clara River Reserve, but the majority of our time was spent exploring Zion National Park. We also enjoyed the company of several friends who either live in the area or were passing through at the same time.
We enjoyed fantastic weather for the first three weeks of our stay in Hurricane. In fact, Zion hadn't had a lick of rain in over 150 days. That changed the week of Thanksgiving and our last two weeks were filled with turbulent weather.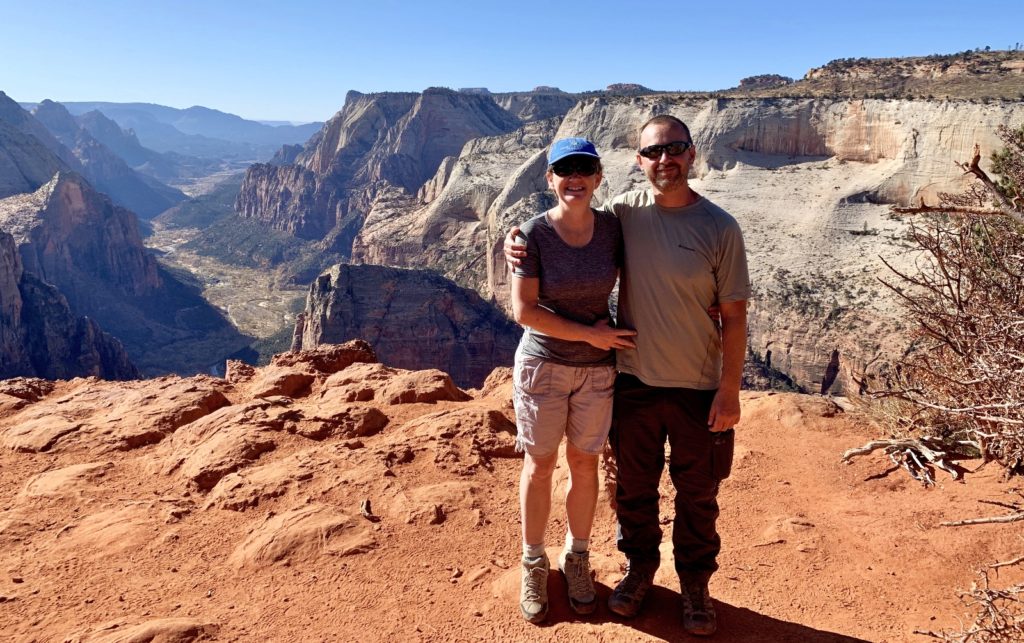 In early December we pushed further south to the northern reaches of Lake Mead National Recreation Area. We scored a beautiful boondocking site and spent a week exploring the history, wildlife, and spectacular rock formations in Valley of Fire State Park.
In mid-December, our nephew visited during his Christmas break. We had a busy week with Max that included hiking in Valley of Fire State Park and Zion National Park, as well as touring Hoover Dam, the Atomic Testing Museum, and the Las Vegas Strip.
Winter Days
As Christmas approached, we moved south along Lake Mead to Boulder Beach near Boulder City. We spent Christmas Day on the Vegas Strip and ended the decade with a spectacular hike high above the Colorado River in Arizona.
Around New Years, we relocated to Las Vegas Bay Campground on Lake Mead which served as a convenient base camp for the Las Vegas area. We got lucky and scored the best site there—a private spot at the end of a cul-de-sac where we enjoyed beautiful sunrises and sunsets during short, but mild, January days. We had abundant sunshine and an average daily temperature of 55-65 degrees. If I'm being honest, the short winter days made us kinda of lazy and we spent many afternoons lounging in the sun and enjoying the snow photos that family and friends were sending from back home. In between lazy days, we enjoyed area hikes, museums and nearby Red Rock Canyon National Recreation Area.
In mid-January, we decided to make changes to our RV configuration. While we were still debating exactly what our next RV would look like, we knew it would be a travel trailer or pickup camper. Things happened fast and before we knew it, the motorhome was going to a new home and we had ourselves a shiny new Ford F350 to pull our future RV. This brought an early end to our snowbird trip, but not before we had one last adventure with our good friend Lorraine. She joined us at Echo Bay on Lake Mead for a few days of sightseeing before helping us move our belongings home.
Crash Landing Back Into Reality
In retrospect, its a good thing we came home early. We didn't realize it at the time, but our first couple visits with Jason's parents were our last with his dad. After years of slow decline, dad suffered cardiac arrest and passed away. We were able to say our goodbyes before he passed, something that wouldn't have happened if we stuck to our original timeline. Don was the epitome of the family man. Nothing made him happier than time with family and in the mountains or along a lake.
About the same time, COVID-19 was escalating from an epidemic in a far-away land to a global crisis reaching into our backyard. Having spent most of my career working in infectious medicine, I felt certain we were headed for a pandemic even as those around us laughed it off. The events of the last month are becoming more than we can comprehend. We hear the first hand accounts from the front lines and we shake our heads in silence. Currently, the United States has surpassed all other nations in number of cases—it didn't have to be this way. While we are in no way isolated from this global tragedy, we are snug in our home with ample supplies and family nearby. Parks and campgrounds where we planned to stay this spring have shuttered their gates. Friends who are still on the road report difficulty finding basic supplies. Yes, we are glad we are home during this historic time.
These are difficult times and we all have a rocky road ahead, but there remains much beauty around us. Get outside and enjoy nature. Sit and enjoy its beauty. Admire the spring blossoms. Listen to the birds chirping. Go for a walk around the neighborhood. This is the best medicine for the soul. For us, this is anything but the end of the road. There is still much adventuring ahead and we hope you'll continue to join us! We are cautiously preparing to resume our travels in the fall with a new RV, but we remain flexible in light of current events.
Trip Statistics
Number of days: 134
Number of camping locations: 17
Number of miles traveled: 903 in the RV and 5,750 in the Jeep
Number of photos taken: 9,104
Number of trails hiked: 71
Number of states visited: 6
Number of State and National Park units visited: 14
Favorite campsites: boondocking near Valley of Fire State Park and Las Vegas Bay Campground at Lake Mead
Favorite restaurant: Fox Smokehouse BBQ, Boulder City, Nevada
Most unusual site visited: Lehman Caves, Great Basin National Park, Nevada
Favorite hikes: Alpine Lakes – Bristlecone Pine Loop in Great Basin National Park; Ramparts Trail in Cedar Breaks National Monument; Willis Creek Narrows and Pine Creek in Grand Stairecase-Escalante National Monument; Subway, The Narrows, and Taylor Creek in Zion National Park.
The Adventure Continues
Join us for our next post that was inspired by all the great questions we've received from friends, family, coworkers, and especially our friend Lorraine. Everyone seems interested in what we learned during our months on the road, what we would do different next time, and much more.
Related Posts