Stunning scenery and panoramic views from one of the best trails in Capitol Reef National Park
Distance: 4.6 miles round trip to Rim Overlook or 9.4 miles round trip to end of Navajo Knobs
Type: out and back
Difficulty: moderately strenuous with 1,110′ climb to overlook and 1,620′ climb to end of trail
Best season: spring and fall
After spending the morning leaf peeping at Fish Lake, we returned to Torrey and made the short drive east to Capitol Reef National Park for some red rock hiking and sun. We absolutely love hiking in Capitol Reef. Never heard of it? That's why we love it—we generally find more solitude here than in other national parks. Few people visit here, concentrating their efforts on nearby Zion, Bryce, and Arches. Of the few who visit, most stay along the highway and scenic drive, shooting a few photos from pullouts and historical sites along the Freemont River. And she is a beautiful park from the road; however, she saves her best for those willing to climb a little. With each foot climbed on trails like Cassidy Arch and Frying Pan, the views increase exponentially.
I wanted to hike the Golden Throne Trail, but when we arrived at the trailhead we found a completely packed parking lot. So much for our quiet little park! People were parking alongside the road in any little sliver they could find. A few cars were even parked in a wash. There was room to squeeze in, but this seemed like a very foolish option given Utah's propensity for flash floods, recent heavy rains, and afternoon thunderstorms in the forecast.
Back on the scenic drive, we pulled over for a late lunch and to plot our next move. The sky was starting to look threatening at the southern end of the park, but looked clear further north. I wanted to get away from all the people and gain some elevation for those awesome Capitol Reef views—Navajo Knobs trail seemed like a good option. I knew we likely didn't have time for the entire hike, but I suspected the whole trail would offer stunning views.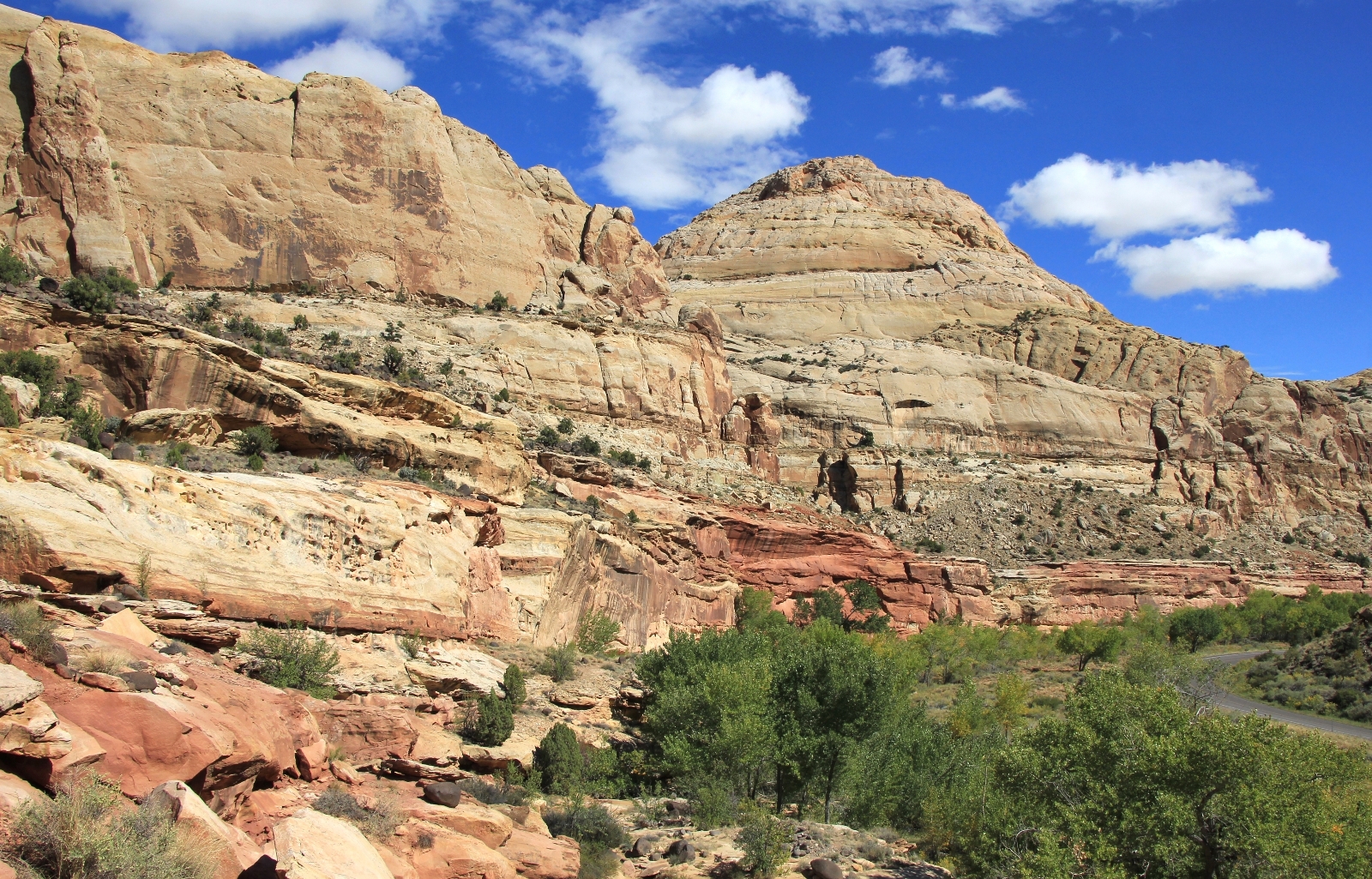 Hickman Bridge and Navajo Knobs trails share a trailhead and first 0.3 miles of trail. The parking lot was packed and we had to park about a quarter mile down the road. Hickman is a short and very popular trail, so I was hopeful most of the people would be headed there. The shared section of trail was very busy, but after the split the number of people reduced significantly, just as I had hoped.
Similar to our previous experiences hiking in Capitol Reef, the views became more and more incredible as we climbed. The trail was generally very easy to follow. It was rocky in places, but mostly well-worn path or cairned slickrock with moderate climb the entire way. One of my favorite parts of the hike was looking south toward the Frying Pan Trail which we had hiked three years earlier. From our vantage point on Navajo Knobs, it looked like unlikely terrain for a trail!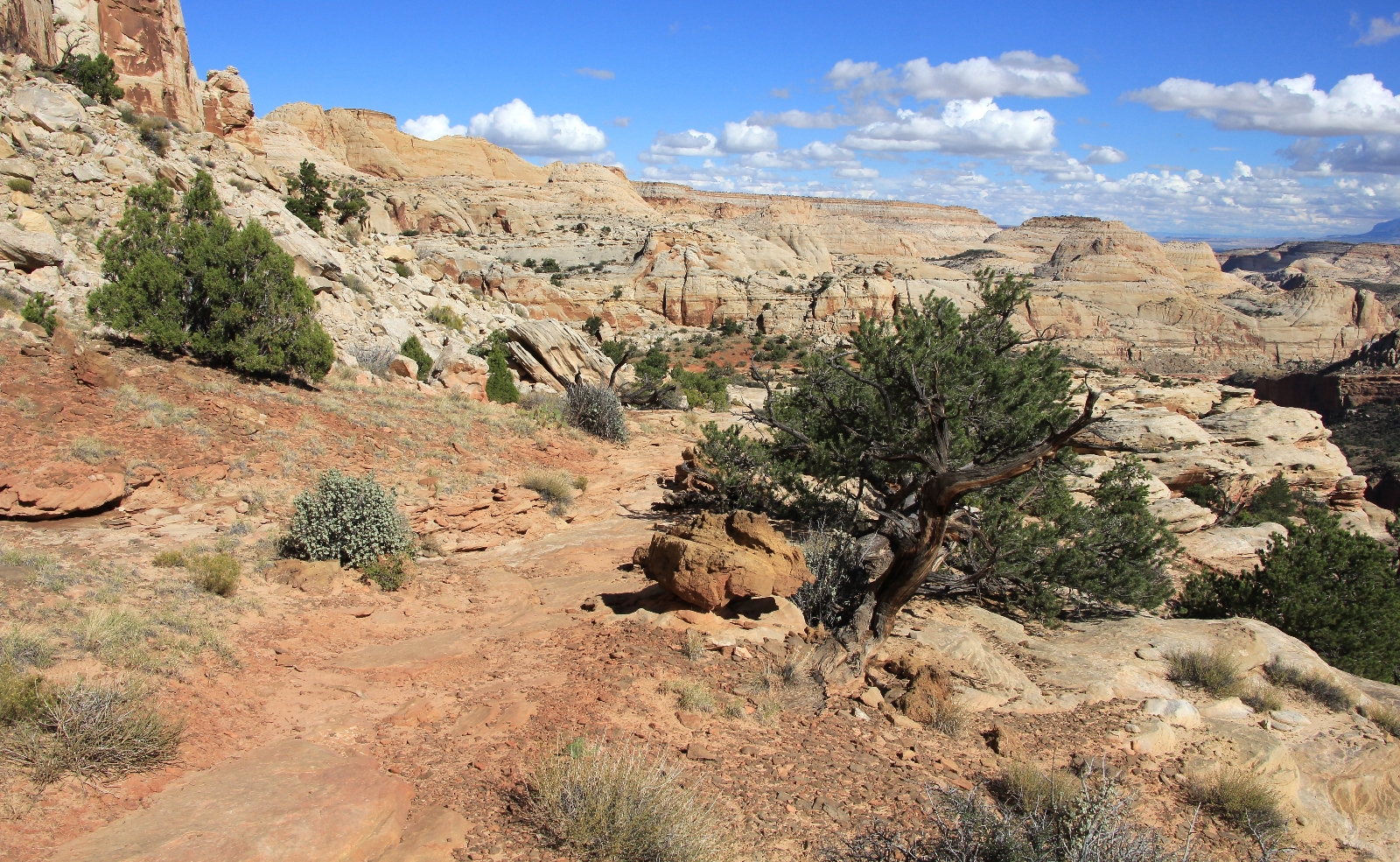 We made it to the Rim Overlook before deciding to call it a day. We needed time that evening to pack for our upcoming backpack along the Escalante River. The light and sky were providing fantastic conditions for photography and it was slow going with my stopping every five feet for photos. This was a fantastic hike—I'm leaving it on my bucket list so we can return someday and do the whole trail to the top of Navajo Knobs.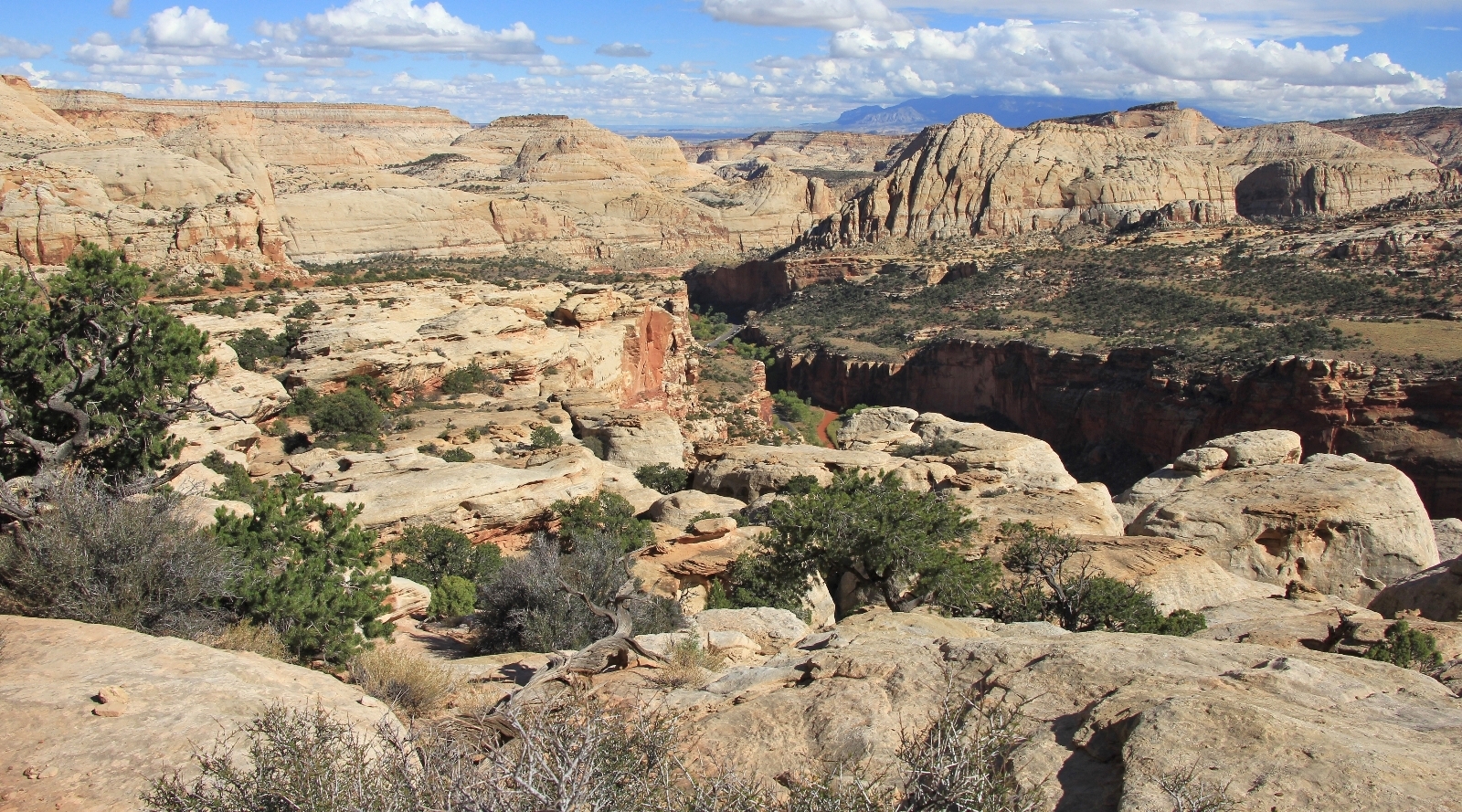 Directions to the trailhead: From the Capitol Reef National Park Visitor Center, drive east along highway 24 for two miles. Turn left into the well-signed Hickman Bridge Trailhead.