See three massive natural bridges, two arches, numerous Indian ruin & rock art sites, and beautiful canyons on this spectacular loop hike
Distance: 9 miles roundtrip (shorter options available)
Type: loop
Difficulty: moderate
Best season: spring and fall
In 1883, Cass Hite explored up White Canyon in search of gold. He didn't find anything that glittered, but did find three massive natural bridges. In 1904, National Geographic Magazine ran a piece on the bridges and a few years later Teddy Roosevelt made the area the first National Park Service area in Utah. The area was very remote, requiring a three day horseback ride from the nearest town, so few people visited the monument until the 1950s when a uranium boom brought new roads to the area. Today, this area is often overlooked as tourists visit the state's wildly popular national parks. Natural Bridges is out of the way, pretty much in the middle of nowhere, providing solitude for those willing to explore her treasures.
Natural Bridges offers multiple options for sightseeing and hiking along the one-way Bridge View Drive. For those not up to hiking, viewpoints provide glimpses down into the canyon to each of the three stone giants. Unfortunately, these roadside stops don't do the bridges justice. It is only by descending into the canyon and standing underneath each formation that you truly get a sense of their massive size and splendor.
For those wanting a short hike, I'd recommend making the hike down to each bridge and back—provided you are up for some climbing. From their respective trailheads, Sipapu is 1.2 miles roundtrip with 500′ elevation change, Kachina is 1.4 miles with 400' elevation change, and Owachomo is a short 0.4 miles with 180' elevation change for a total of 3.0 miles and 1,080′ elevation change. I'd also highly recommend adding the 0.6 mile to Horsecollar Ruin Overlook and back.
Multiple loop options are available for those wanting to view stretches of White and/or Armstrong Canyon in between the bridges. The most popular loop drops hikers down to Sipapu Bridge, heads down White Canyon to Kachina, climbs back up to the road, and loops back to Sipapu TH via the Mesa Trail for a 5.6 mile hike with 500' elevation change.
A second loop option is to start your hike at Kachina Bridge TH, descend to Kachina, hike up Armstrong canyon to Owachomo Bridge, climb back up to the road, and loop back to Kachina TH via the Mesa Trail for a 5.4 mile hike.
The longest and best loop option is to drop to Sipapu, hike down White Canyon to Kachina, continue up Armstrong Canyon to Owachomo, and return to the Sipapu TH via the Mesa Trail. The park brochure puts this at a 8.6 mile loop, but our GPS logged slightly longer at 9.0 miles.
Our first trip to Natural Bridges was in April 2011. We were still relatively new to hiking and were on our second Utah trip. We allowed a day to see a few different sites on Cedar Mesa which included hiking the full loop at Natural Bridges. Conditions turned out stormy with periods of heavy wind and pouring rain so we ended up just hiking down to each of the bridges, a short stretch of White Canyon near Kachina, and out to Horsecollar Ruin Overlook.
Our second trip to Natural Bridges came in October 2012. We met our friend Lisa with the intent of doing the whole loop hike. We started with a hike to a lesser known area pictograph panel and ended up with only enough time to do the shorter loop hike from Kachina to Sipapu. I was happy to see the nearby pictograph panel, but once again the full loop eluded us.
It would be five years before we returned to Natural Bridges National Monument, but we finally bagged the full loop on a beautiful April day in 2017. The photos that follow are taken from all three of our visits. They show Bridges both with green spring foliage as well as stunning fall colors.
Our Natural Bridges hikes always begin at Sipapu Bridge Trailhead (elevation 6,199'). You could start at any of the bridge trailheads, but this is the first of the bridges off the one-way Bridge View Drive and it just feels like a good place to start. A sign at the parking lot describes what's ahead, "a strenuous hike rewards the adventurous with a closer view of Sipapu Bridge. The trail leads to either a viewpoint part way down the canyon wall or to the canyon bottom where you can stand beneath one of the world's largest natural bridges." It is just 0.6 miles from trailhead to bridge with a 500′ descent over two flights of stairs, three wooden ladders, steep switchbacks, and exposed bare rock.
Keep an eye out for a small granary alongside the trail and a set of ruins on the far side of White Canyon.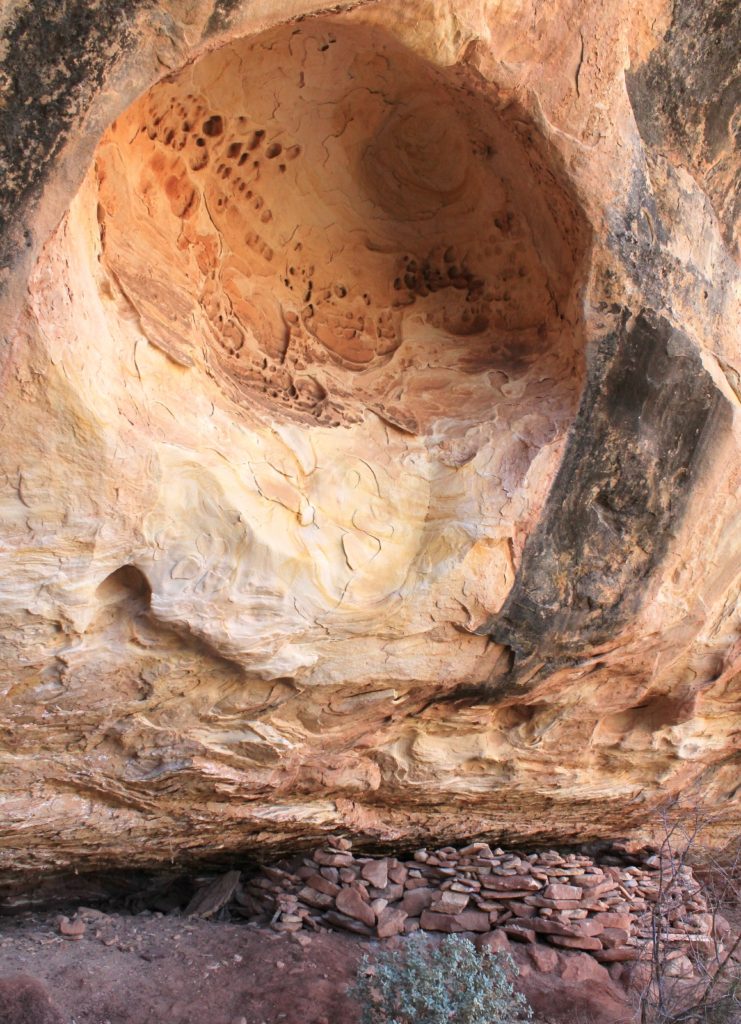 The second half of the descent to Sipapu is one of my favorite sections of trail on the loop.
Sipapu Bridge, one of the largest in the world, rises 220′ above the canyon floor, has a span of 225', and is 53′ thick at the top. Natural bridges are formed by the erosive force of water running underneath, a different process forms the famous arches of southern Utah.
From Sipapu Bridge, it is a 2.3 mile hike along the bottom of White Canyon to Kachina Bridge. The trail is unmaintained; however, it is generally quite easy to follow through the bottom of the canyon. We've seen water on all of our trips, but have always been able to keep our feet dry.
Near the junction of White and Deer Canyon is an impressive hand print pictograph panel in an alcove guarded by a beautiful claret cup cactus.
Shortly after the pictograph panel is spectacular Horsecollar Ruin which was was inhabited by the Anasazi between A.D. 1050 and A.D. 1300. It is easy to walk right past if you're not paying attention. With a bit of scrambling you can climb up into the alcove that houses the ruin and do a little exploring – but please do not touch the ancient structures!
The ruin can also be observed from an overlook just off the road. A short 0.6 mile roundtrip trail leads to the bird's eye view.
There is a large arch across the canyon from the ruin that is easy to miss due to its proximity to the canyon wall.
Past Horsecollar, settle in for a pleasant canyon hike. The hiking is easy and the steep canyon walls make you feel like you're in your own little world.
At 2.3 miles past Sipapu, you will suddenly realize you are staring at the backside of Kachina Bridge.
Kachina Bridge, located at the junction of White and Armstrong canyons, is 210' tall, spans 204' across the canyon floor, and is 93′ thick at the top. Two granaries and some nice rock art can be found near the base.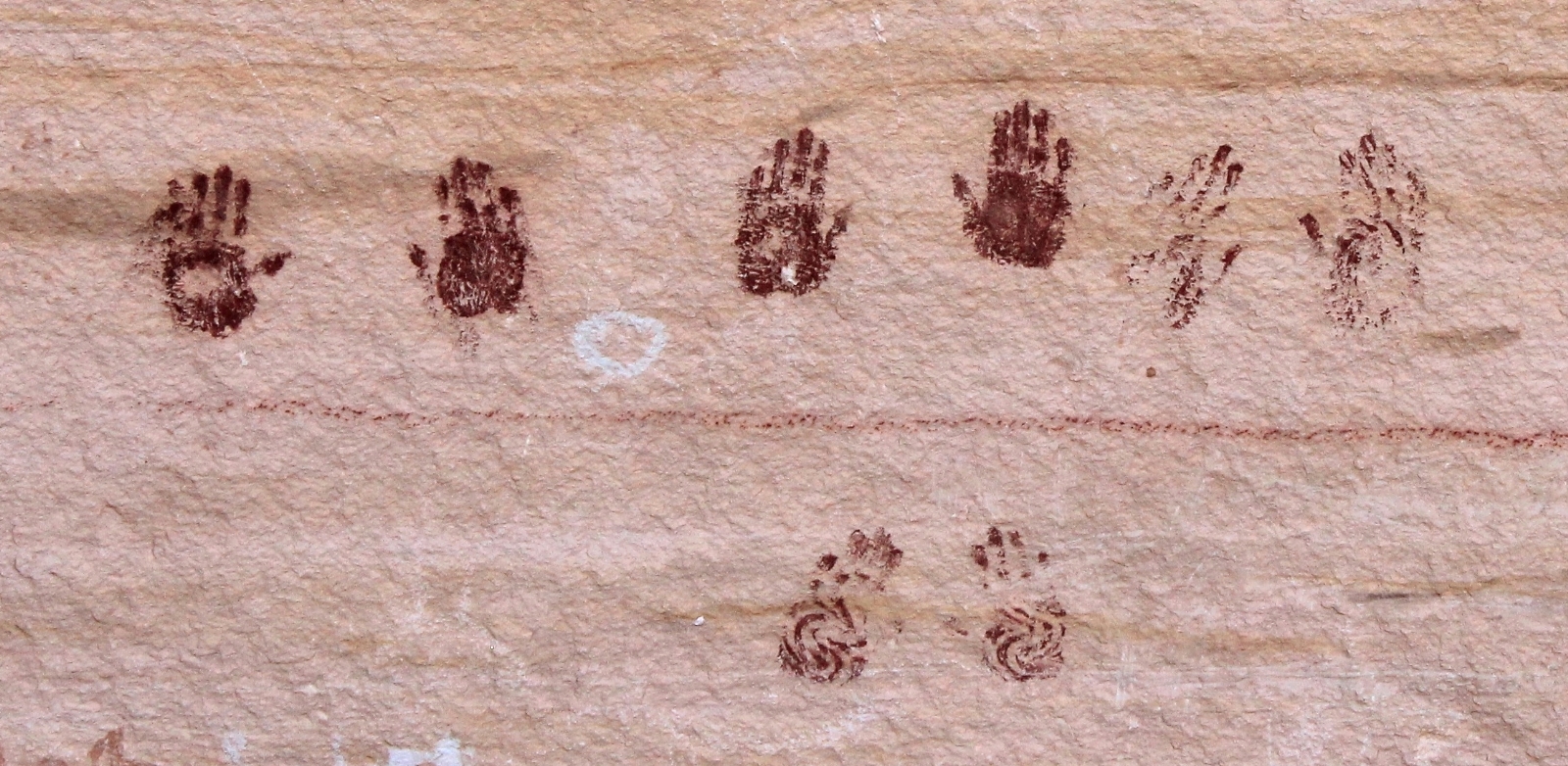 From Kachina, follow the main trail south up Armstrong Canyon. Soon you will begin climbing out of the canyon on steps cut into the rock.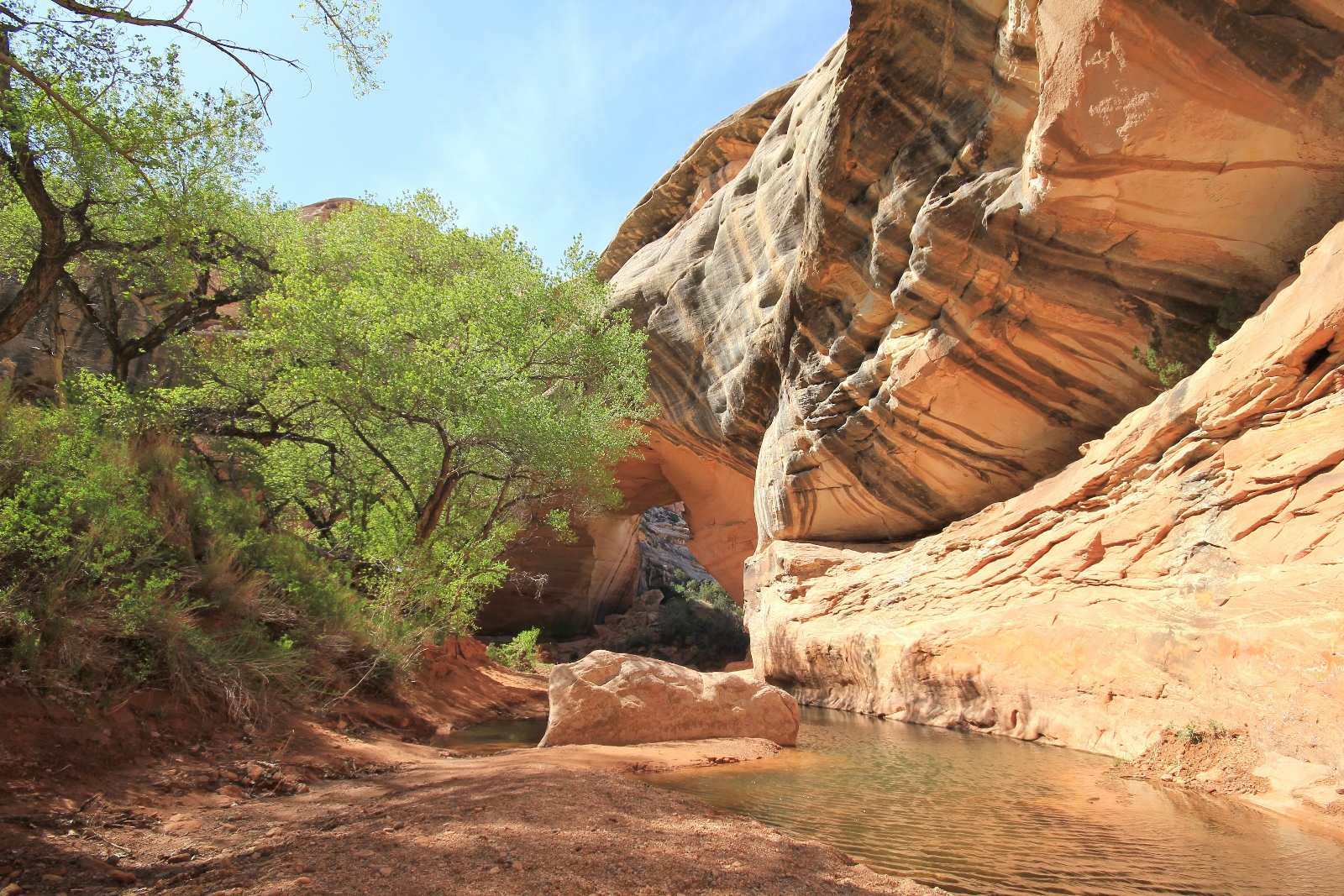 At 0.4 miles from Kachina, you will come to a trail sign. From here you can continue straight another 0.4 miles up to Kachina Bridge Trailhead (for the shorter loop option) or turn right and continue up Armstrong Canyon three miles to Owachomo Natural Bridge. To read about this second half of the trail, please join us here for Utah's Natural Bridges National Monument (part 2).
Directions to trailhead: I recommend starting at the Sipapu Bridge Trailhead located approximately three miles east of the Natural Bridges National Monument Visitor Center on Bridge View Drive.