The time had come to start making our way back north. Fortunately, we had some flexibility in our schedule which allowed us to add a few days of slot canyon explorations along the San Rafael Reef near Hanksville, Utah.
Moving Day: Bluff to the San Rafael Reef
Our last day in Bluff was nearly 80 degrees and gusting winds brought a suffocating sandstorm to town. The move to the San Rafael Reef the following day brought different weather adventures. We drove through a hail storm near Natural Bridges and skirted several storm cells as we crossed the upper reaches of Lake Powell. In between, we were treated to beautiful blue skies and lovely views along lonely highway 95. Then, as we were just minutes from the San Rafael Reef, the temperature plummeted into the 30s and we began passing cars with snow on them.
With reduced visibility, gusting winds. and snow, we found a nice boondocking site in the Temple Mountain area. Fortunately, the storm passed after about an hour and the snow melted quickly. We were left with a muddy mess, but were able to get the RV level after a lot of sinking and readjusting. Once visibility improved, we found ourselves looking straight into the eastern flank of the San Rafael Reef with a great view of Wild Horse Window. We even had cell reception and internet! Both were spotty at best, but functional for checking the weather and email during our stay.
There are several BLM campgrounds (dry camping) and numerous boondocking sites available around Temple Mountain. When we first visited the area back in April 2010, there were only a handful of people camped in the area. This year, most sites were full on most nights. This area makes a great basecamp for exploring the San Rafael Swell & Reef, Goblin Valley State Park, and Canyonlands Horseshoe Canyon. Just be sure to bring all the supplies you will need. The closest town is Hanksville (half hour south), but the grocery store there is extremely small and limited. There are several gas stations there and a stop at Stan's Burger Shack for a burger and shake is always a must for us!
The San Rafael Reef forms the eastern flank of the San Rafael Swell, a 2,000 square mile area of sandstone formations, deep canyons, arches, and historical sites in Southern Utah. Along the Reef, layers of sandstone have been lifted up by an anticline (large dome under the earth's surface) forming a steep ridge along the eastern edge. Erosion forces then cut deep canyons through the Navajo sandstone, forming a series of beautiful slot canyons that run through the Reef.
Slot Canyon Tips & Safety
First, a few tips for those who have never hiked in slot canyons:
Never, ever enter slot canyons if rain is in the forecast. Even a light rain upstream can send deadly flash floods through the narrow passages. Don't become another statistic—always check the forecast and find a different destination if there is any threat of rain in the area.
After a storm, there will be pools of water in most slot canyons. Be prepared for wet feet.
Be sure to carry good maps and a GPS. The BLM offers a great map of the Reef here. We used an excellent National Geographic Map as well as the AllTrails app on my phone.
Pay careful attention at all junctions and intersecting canyons. And turn around to see what the terrain looks like for the return hike. These canyons can all start looking the same after a while!
Carry as light and small a profile backpack as possible—it can get real skinny in the slots and you may have to take your pack off to fit through.
Please pack out all waste including your poo and toilet paper. Can you imagine being in a two foot wide slot canyon and encountering someone's waste. Yuck!
Farnsworth Canyon
During our stay along the San Rafael Reef, we hiked four of the area's slot canyons. The map below shows our campsite (red star) and each of the four canyons that we hiked. Our thanks to gjhikes.com for the excellent directions and trail descriptions. We used this site for all of these hikes and recommend you do the same. First up was Farnsworth Canyon (shown on the map with a red arrow).
The hike through Farnsworth Canyon does not follow an official trail, but navigation is simple—just drop from the parking area into the wash and hike toward the Reef. Eventually, the canyon begins to slot up and you will find yourself in a relatively short, but lovely section of narrows. We had some cold pools of water to wade through during our visit (remember the snow storm we had on our way in?) but even the deepest pool was only about knee deep.
Once through the slot, the canyon widens and it is an easy hike through the San Rafael Reef. We found a unique old survey marker and the remains of a shack about mid-way up the canyon. The highlight of the canyon was some nice pieces of petrified wood near our turnaround point.
We logged 6.0 miles roundtrip exploring Farnsworth Canyon. The route was easy to navigate and the hike through the slot and up the canyon was easy with only minor obstacles. We hiked this trail on a Saturday in late April. The surrounding area was quite busy, but we had the canyon all to ourselves until we were nearly back to the truck.
Wild Horse Canyon
Next up was Wild Horse Canyon (blue arrow on the map above). We didn't even have to drive to the trailhead for this one. We were able to just hike from our campsite. Most people hike to Wild Horse Window at the edge of this canyon (that was us in 2010) and they completely ignore the canyon which has a short, but lovely slot section and beautiful waves of colorful sandstone.
Like Farnsworth, once we were through the slot section, Wild Horse widened and it was easy hiking through the San Rafael Reef. There were some impressive alcoves and we also saw a small natural bridge and arch.
We logged 8.2 roundtrip exploring Wild Horse Canyon. There were two spillovers that we had to bypass, but both were easy and had cairns leading the way. Otherwise, navigation and hiking were easy. Similar to Farnsworth, we hiked this on a busy weekend and didn't see anyone else. Both canyons were a great way to find solitude during peak season.
Little Wild Horse & Bell Canyons
If you do a search for "best slot canyons", you will likely hit on the Little Wild Horse – Bell Canyon Loop. The combination of beautifully sculpted and tight slots along with easy navigation make it popular for all of us who are canyoneering challenged. While there are some minor obstacles to negotiate, no special skills are required. Another big plus, any vehicle can access the trailhead which is located at the end of a paved road just north of Goblin Valley State Park (purple arrow on map above).
The Little Wild Horse – Bell Canyon Loop had been on many of our trip itineraries over the years, but weather had always forced us to bag it for safety reasons (remember to stay out of slot canyons if rain is threatening). Not so this time—finally, we were able to hike it! An early morning start and hiking the loop on a weekday helped us thin out the worst of the crowds. But make no mistake, this has become an exceedingly popular destination.
Those seeking a shorter hike can do a quick out and back along the lower stretches of Little Wild Horse. The narrows start early and they run for quite some distance. Just hike as far as you want and then turn around. But if you have the time and leg stamina, I highly recommend the full loop which is reportedly 8.1 miles, but we logged 8.8 miles roundtrip.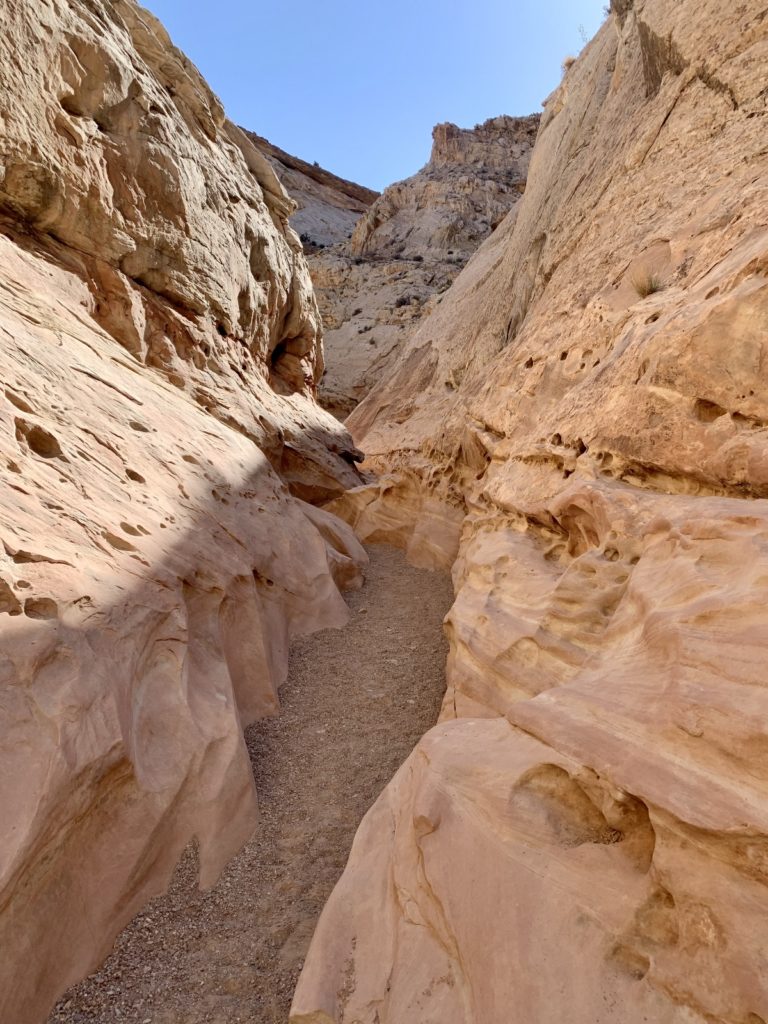 Most people hike this route counterclockwise, going up Little Wild Horse and coming back down Bell Canyon. With an early start and this direction of travel, you will avoid the majority of hikers which helps offer greater solitude AND means you won't have to pass oncoming traffic in the slots (passing someone is impossible in some sections). Oh, this is probably a good time to mention—I don't recommend this trail if you are claustrophobic! There are many sections where the canyon walls are just barely wide enough for one person to squeeze through.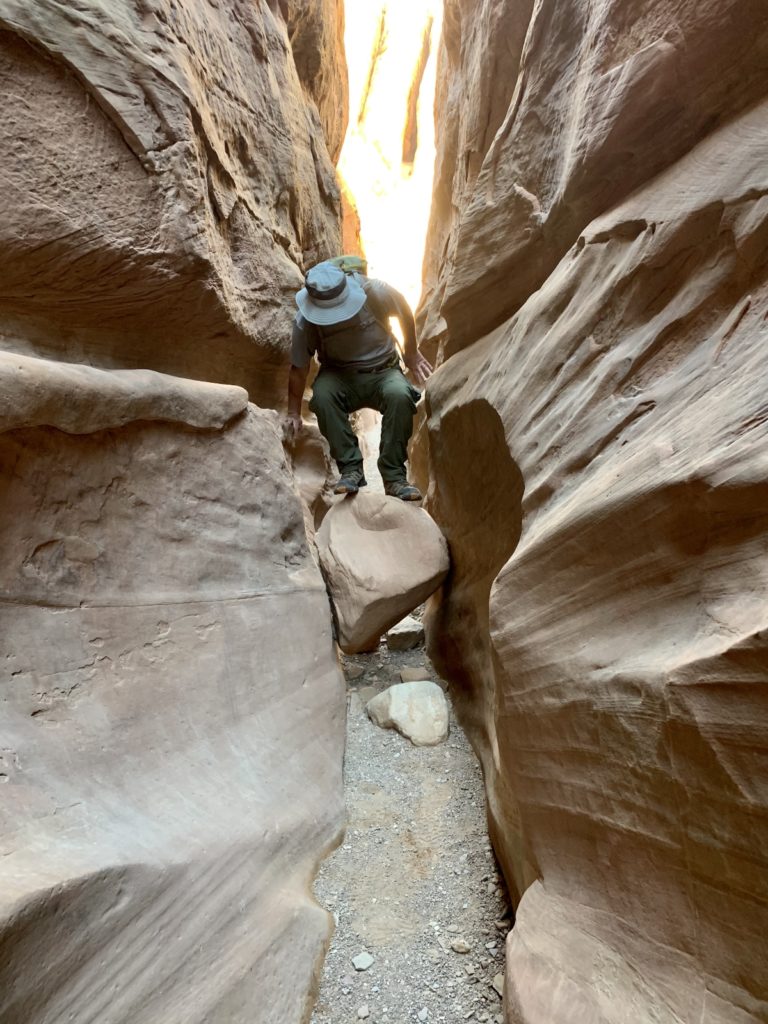 The route up through Little Wild Horse's slots is, without a doubt, the highlight of this hike. The canyon slots up almost immediately and gets tight quick. The canyon opens up from time to time and you wonder "oh was that the last of the tight slots?" Don't worry, they go on and on. Upper Little Wild Horse, while lacking tight slots, remains highly scenic as massive cliff walls tower above you.
Exiting Little Wild Horse Canyon, follow the trail signs which will direct you to the left along a rough jeep trail. The trail is open to motorized vehicles, but we did not encounter any during our hike. After roughly 1.5 miles, the jeep trail makes a sharp curve to the right. Signs there will direct you to the left which is the opening to Bell Canyon.
Having read many trip reports over the years, I expected Bell Canyon to be a bit of a dud. Far from it! While the slot sections of Bell are not as tight and impressive as those in Little Wild Horse, they were still beautiful. We had a few more obstacles to navigate, but none were very difficult. And we only saw a couple people on this stretch making for a peaceful final leg of trail. Again, if you have the time and stamina, I highly recommend hiking the complete loop.
Chute Canyon
For our final Utah hike, we considered driving over to Capitol Reef National Park for the day (63 mile drive each way). But as we thought about our upcoming 1,200 mile journey home, we decided to end with something closer to camp. Looping Chute and Crack canyons together is becoming an increasingly popular route along the San Rafael Reef. We didn't have the time (or the legs) for the full loop, but exploring up Chute a ways sounded interesting enough (identified by a green arrow on the map above).
Most people hike Chute beginning at the trailhead on the northwest edge of the Reef. That would have require a slow and bumpy drive, so we decided to check it out from the opposite end which was just a short drive on paved roads from our campsite. The first part of the route was quite barren and rather mundane as we made our way to the canyon entrance. But once in Chute, it was beautiful and had some nice narrows.
We didn't hike all the way through Chute since we were wanting to leave enough time to run down to Stan's in Hanksville for a burger and shake before departing the area the following day. We satisfied ourselves with 6.5 miles roundtrip and I do think I'd like to do that Chute-Crack Loop someday, likely as a backpack. Once again, we had complete solitude for this hike—a wonderful way to end the Utah portion of our 2021 Spring Adventures.
Area Rock Art
While hiking through the canyons of the San Rafael Reef, we were able to visit two spectacular Barrier Canyon Style (BCS) pictograph panels. BCS panels are estimated to be 1500 to 4000 years old (late Archaic Period) and are typically characterized by large, highly detailed anthromorphs in deep red pigments. Nearby Horseshoe Canyon in Canyonlands National Park is home to the most spectacular BCS panels we've seen, but the panels we found on this visit were unique and very well preserved.
These images were found high up on the canyon walls and required an eagle eye to spot them as well as a willingness to ascend steep rocky slopes to get close up views. A much easier panel to visit is nearby Temple Mountain Pictograph Panel which can be viewed from your car. To visit the panel, turn west off of Highway 24 at the signs for Goblin Valley, 24 miles south of Interstate 70. Follow the Temple Mountain Road for 6.2 miles to an obvious parking area.
Related Posts
The Adventure Continues
Join us for our next post as we conclude our 2021 Spring Adventures. And don't forget to check out our Amazon RV and Adventure Gear recommendations. We only post products that we use and that meet the Evans Outdoor Adventures seal of approval. By accessing Amazon through our links and making any purchase, you get Amazon's every day low pricing and they share a little with us. This helps us maintain this website and is much appreciated!