After six weeks of spring adventures in Utah, it was time to start working our way back home. We had a week before we needed to be in Pendleton, OR for an appointment. The extra time allowed us to adjust our travel days around some severe weather and enjoy a couple last stops along the way.
Great Basin National Park & Sacramento Pass, Nevada
Our first stop was at Sacramento Pass, Nevada where we spent two nights on our trip south. This time we stayed four nights which gave us some time to explore the surrounding area and wait out a massive wind storm. Sacramento Pass is just off highway 50 in extreme eastern Nevada near the Utah border. The highway has been dubbed the "Loneliest Road in America", which makes for a peaceful stay. The small campground actually received fairly heavy visitation during our stay, but the vast majority of campers came in late in the day and only stayed one night. The sites are spread out, so it never really feels busy.
On one of our layover days, we made the 18 mile drive down to Great Basin National Park. We had visited the park in fall 2019 and found it to be one of the unrecognized gems of the National Park System. Most of the park sits at over 7,000′ elevation, making our April 22 visit a bit too early for most locations in the park. And the park's tours of stunning Lehman Cave had not yet resumed after their COVID hiatus. At the recommendation of the helpful and friendly rangers at the visitor center, we headed up Pole Canyon for a short day hike.
The Pole Canyon Trailhead is accessed by driving up Baker Creek Road and then turning onto a narrow road near the Grey Cliffs Campground. Both roads are gravel, but are well-maintained. Trailhead parking is limited. The Pole Canyon Trail (elevation 6,820′) follows Pole Creek 1.8 miles to an intersection with Timber Creek. The trail makes a steady climb through sage brush and mixed pine with views of rock cliffs above the creek and snow covered Baker Peak off in the distance. We turned around after about 1.5 miles when we hit packed snow and ice, but it was wonderful to smell pine trees and see green after six weeks in the high desert.
We also visited nearby Baker Archaeological Site. This BLM managed site preserves the remains of a Fremont Indian village occupied from approximately 1220 to 1295 AD. The site was excavated by Brigham Young University from 1991 to 1994. After the excavations, the site was backfilled to protect the cultural features that remained. While there wasn't a lot to see at the site, I couldn't help but admire a culture that lived in such a challenging environment. The site is located on a cut-off road that runs between NV Hwy 487 at Baker, Nevada, and US Hwy 6/50. Restrooms, picnic tables, a shelter, brochures and an information kiosk are located at the parking area.
We spent another of our layover days hiking some of the trails that originate at the Sacramento Pass Campground. We looped together the Sacramento Pass Trail, Lucky Boy Trail, and some old jeep roads to form a nice 6.0 mile loop. The landscape was dominated by sage brush and P-J forest with exceptional views south to Great Basin National Park.
Oregon State Parks
From Sacramento Pass we spent a wet and windy day making our way to Winnemucca where we once again stayed at New Frontier RV Park. New Frontier has become a repeat stop for us due to its location, easy access, and clean facilities. The following day we skirted the worst of a spring storm on our way to Farewell Bend State Recreation Area where we spent two nights. We had stayed there on the first night of our spring adventures and enjoyed the peace and quiet so much we decided it was worth another stop. Click here if you are interested in the detailed post I wrote for this park.
We had one layover day during our stay at Farewell Bend. We were treated to a beautiful spring day as we explored some local historical sites and a walk along Brownlee Reservoir where water levels seemed shockingly low. It had been a record dry spring back home, so we weren't surprised by the already dry conditions.
Moving on from Farewell Bend, we made the short drive up to Hilgard Junction State Park just north of La Grande, Oregon. We stayed at this beautiful little park along the banks of the Grande Ronde River back in fall of 2019 (click here for related post). Hilgard has 18 primitive camping sites with restrooms, water spigots, garbage, picnic tables, fire pits, and an Oregon Trail interpretive kiosk. One thing this site doesn't offer is quiet—the park is located alongside I-84. If you are a light sleeper, I highly recommend another location. We picked a riverfront site that was just long enough for us to keep the trailer hitched to the truck. It was another beautiful spring day and we spent the afternoon kicked back in our camp chairs enjoying the views and sounds of the Grande Ronde River. The Ronde merges with the Snake River just a few miles from my parent's house and less than an hour from our house…we could feel home getting close and we were ready to be back.
The following day we left Hilgard at 7:30 to be in Pendleton by 8:30. We were about to celebrate our one year anniversary with our Outdoors RV Timber Ridge and we had a few minor repairs for Thompson RV before our warranty expired. After a few hours there, we tackled the final leg of our journey. It had been a fantastic seven weeks on the road, but it felt great to be headed home!
2021 Spring Adventures Wrap Up
That wraps up our 2021 Spring Adventures. I'm a bit of a statistics and accounting nerd and I know several of you are as well. For the curious, here is our trip 'by the numbers':
Trip Stats
Nights out: 49
Nights dry camping (no hookups): 34
Nights in free sites: 33
Coldest night: 18 degrees (Winnemucca, Nevada)
Warmest day: 84 degrees (Canyonlands Needles District)
Total miles driven: 4,517
Miles towing RV: 2,729
States visited: Oregon, Nevada, Utah, and Colorado (does not include WA or ID which were drive-thru only)
# of trails hiked: 28
Favorite hikes: Professor Creek (Moab), Chesler Park (Needles), Peekaboo (Needles), and Little Wild Horse – Bell Loop (San Rafael Reef)
# of photos taken: 5,250
National Park Units visited: Arches, Canyonlands (Island in the Sky and Needles districts), Hovenweep, Natural Bridges, Bears Ears, and Great Basin
Arches & Natural Bridges hiked to: 24
Travel related costs
People always seem curious about our travel costs. I'm showing those below, but there are a few things to note. First, our laundry costs were artificially low on this trip. We only did laundry once during our seven weeks out (4 loads total), but we also came home with 12 loads to catch up on! Second, our travel expenses would normally include an entertainment category (park entry fees, museum fees, miscellaneous sight seeing, etc.). Thanks to Jason now getting into all the National Parks free as a veteran, we did not have any park entry fees. And due to COVID precautions, we did not visit any museums or participate in an paid activities. Third, I have included lawn mowing and house sitting expenses since I consider those indirect travel expenses (necessary for maintaining our home while we're away).
| | |
| --- | --- |
| Diesel + DEF | $1,354 |
| Campsites | $583 |
| Eating Out (take out only) & Travel Snacks | $485 |
| Propane | $100 |
| Dump Fees | $5 |
| Laundry | $12 |
| Lawn Mowing & House Sitting | $396 |
| Unexpected Repairs (new truck windshield) | $100 |
Photo summary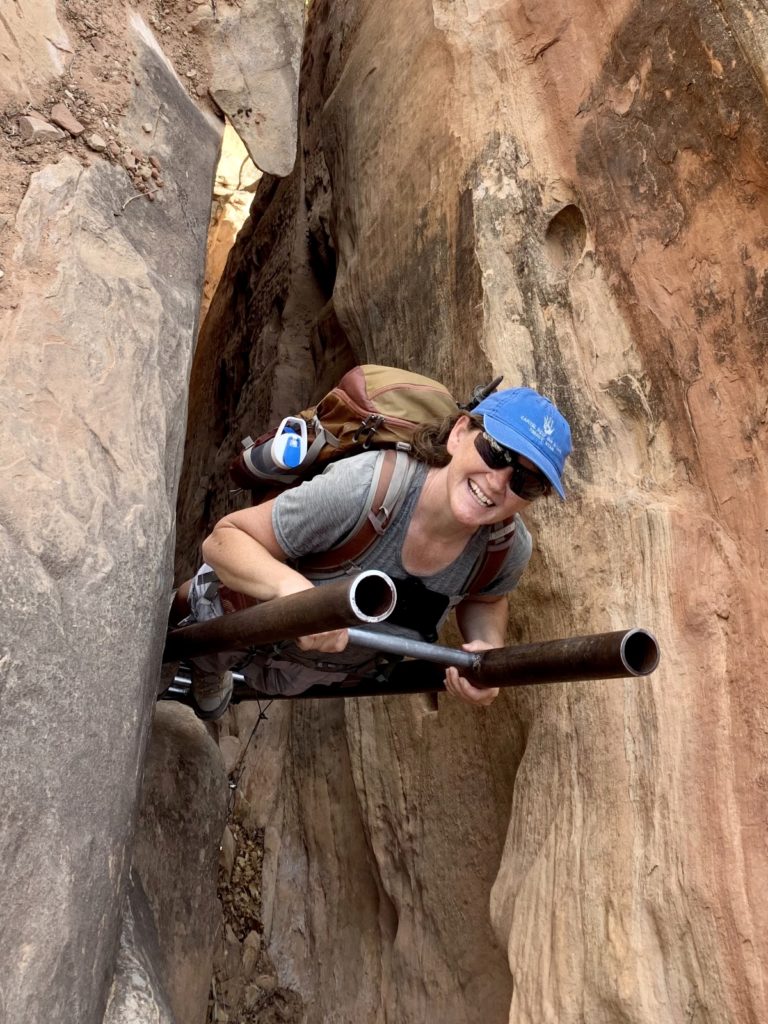 Pandemic Travel
A few thoughts about our travel during the COVID pandemic. Thanks to traveling in our home away from home, we were able to control our surroundings most of the time and we generally felt safe. Traveling out of our insurance coverage network makes it especially important for us to stay healthy (this is true of all our travels). With nearly 30 years experience working hands on with infectious agents, I have a pretty good understanding of what it takes to protect oneself and reduce the risk of infection (social distancing, hand washing, mask wearing indoors and at busy trailheads, etc.). We always prefer to be around as few people as possible, so social distancing is our norm. The majority of the locations we visited were still mandating the basic precautions listed above. Some of the National Park Units had reduced visitor center services, but all units were open. Some areas had strict precautions like on the Ute Mountain Reservation where entry into a convenience store was limited to six individuals and masks and temperature checks were required. Navajo Nation was closed to all tourists. And yes…we visited a few towns that had no precautions in place at all. We gave those towns as little of our business as possible. One item remained a constant—a year of pandemic associated lockdowns had people yearning for time outdoors. All of the areas we visited were busier than we had seen them during previous visits. If you want to travel in 2021, be sure to pack your patience and please remember to be kind to one another.
Related Posts
The Adventure Continues
Please join us for our next post, a one year review of our 2020 Outdoors RV Timber Ridge. And don't forget to check out our Amazon RV and Adventure Gear recommendations. We only post products that we use and that meet the Evans Outdoor Adventures seal of approval. By accessing Amazon through our links and making any purchase, you get Amazon's every day low pricing and they share a little with us. This helps us maintain this website and is much appreciated!