August 12-25, 2019
Knock, Knock, Knocking on 50's Door
August has always been our favorite month. Camping, backpacking, and fishing are all at their prime and we both celebrate another set of birthdays. This year we're both knocking pretty serious on 50's door. Each year brings more wrinkles and grey hairs, but that's o.k. We've earned those the honest way and we're happy with where we've been and where we're headed.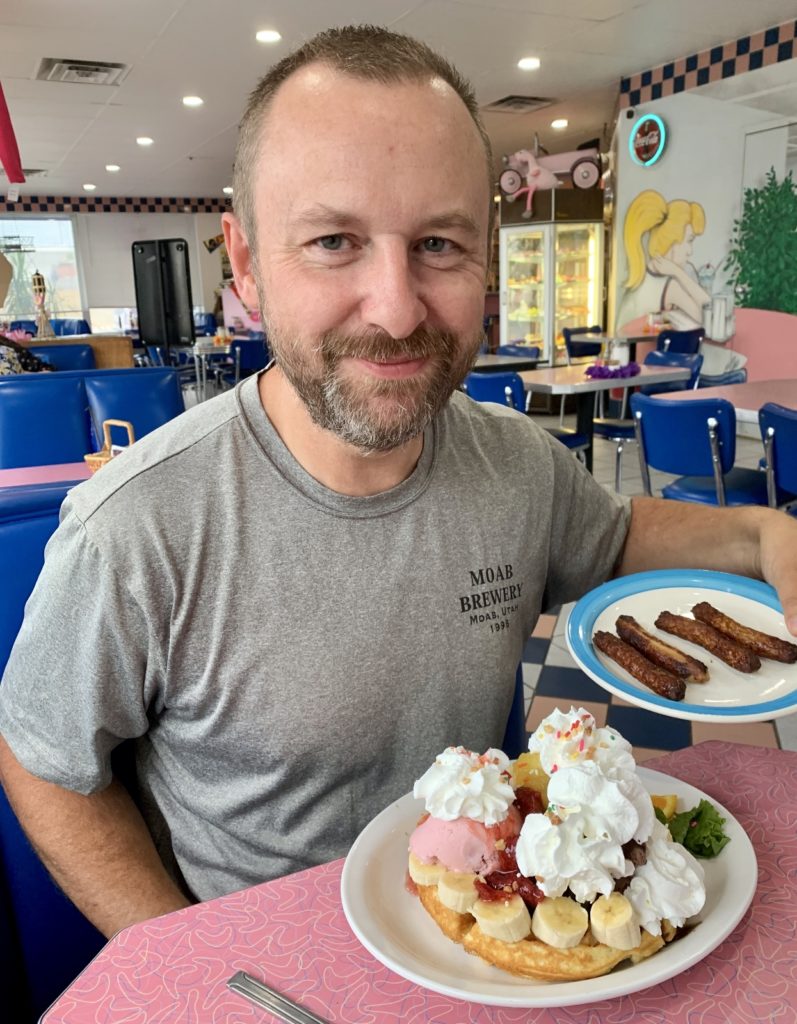 Trip Preparations Continued
The list of things we need to do before we head south on our 7 month trip is long and exhausting. Sometimes I wonder if there is no end to all the little things we need to do and if we'll ever be ready? I can't imagine how we would get there if we were both still working full time. Recently, Jason tested our Roku in the RV using our Verizon hotspot. It worked perfectly so we'll be able to stream Netflix, YouTube, and NFL Pass from the comfort of our home on wheels. We don't watch a lot of tv, but this will be great for those long winter's nights in the desert.
Jason also built a shelf in the back of the Jeep to hold and protect our portable solar panel while still allowing for easy access. This is giving us more gear storage in the Jeep—we need every square inch we can get since we'll be taking everything we need to live and recreate for seven months! The shelf turned out exactly how I was hoping, thanks honey!
This week we've tackled a laundry list of mundane and necessary appointments (oil changes on all three rigs, dentist appointments for both, vet appointment for Jake) and I traveled to work for a day of meetings. My part-time remote work situation has been going well and I am so very grateful for the opportunity I've been given to continue my career in a new capacity. My boss and coworkers have been so supportive of our upcoming trip. I am continually humbled by their encouragement and enthusiasm. I'll miss many things when we point the RV south and seeing my work family on a regular basis is one of those…can't say I'll miss the snowy 2-3 hour commute in December though!
Lakes Basin Backpack
Every summer, we try to do a backpack with our 22 year old nephew Max. We missed going out last year and by next summer he'll be a college graduate with a full time job. This year's trip needed to be special. The Lakes Basin in Oregon's Eagle Cap Wilderness has been high on Max's bucket list for years, so it was no surprise when he asked if we could go there. My response was, "you bet and I know just the route!" The basin presents multiple first class options, but to me the clear winner is the route we took in 2016.
Our trip began at the Wallowa Lake Trailhead near the town of Joseph, Oregon. The parking area was nearly full at 8:00 a.m. on a Tuesday, an indicator of just how popular the area is. We filled out our free wilderness permit and the adventure began.
Day one was really about making our miles and getting to the good stuff. The day began with a 6.3 mile hike up the West Fork Wallowa River to Six Mile Meadow. We passed quite a few backpackers coming out including a friendly group with four llamas. Our pace slowed significantly when we discovered delicious huckleberries in abundance alongside the trail.
From Six Mile Meadow, we waded across the West Fork and began a 3.3 mile ascent to Horseshoe Lake. The 1,100′ climb in the afternoon heat was a bit of a grind, but stunning views and more huckleberries helped distract us.
At Horseshoe Lake, we hiked the length of the lake and sadly found all of the good campsites taken. About the time we decided to continue on to Lee Lake, we discovered a spot tucked in above the lake inlet. It wasn't nearly as good as the site Jason and I had years ago, but it would do for the night. The mosquitoes were mildly annoying, but we had a beautiful full moon. It had been a 10 mile day with 2,500′ elevation gain.
Day two we awoke to a beautiful morning and a mild 38 degrees. Max was ready before us and headed out to begin his big adventure for the day. To our planned route, he was adding an ambitious side trip to Eagle Cap (elevation 9,572′). We sent him with directions, our GPS, and a plan for meeting up later in the day at Glacier Lake.
Jason and I had a pleasant morning on the trail. Our route took us from Horseshoe Lake to Lee, Douglas, and Moccasin lakes. Moccasin is my favorite of all those lake and we took a snack break there to enjoy the views up toward Eagle Cap where Max was likely huffing and puffing his way to the summit.
From Moccasin, we made the 1,100′ climb up and over Glacier Pass (elevation 8,530′). This stretch is a real workout, but the scenery and views are spectacular. Nearing the pass, the view behind us included Mirror & Moccasin lakes, Lostine River & Hurricane Creek valleys, and Matterhorn & Sacajawea peaks. At the top of Glacier Pass, views shifted and we found ourselves staring up at Eagle Cap and Glacier peaks and down at Glacier Lake and the headwaters of the West Fork of the Wallowa River.
Arriving at Glacier Lake, we found a nice break spot where Max could easily see us from the trail. We filtered water, had a nice snack, Jason went for a swim (his coldest swim ever), and read our Kindles. We took bets on what time Max would arrive and he beat our earliest estimates, arriving at Glacier Lake just before 2 p.m.
Reunited, we set off on our final stretch of trail for the day. It was all downhill as we made our way along rocky trail to Frazier Lake for the night. The is one of my favorite stretches of Eagle Cap trail for views, but it is also a warm hike on hot summer afternoon with all those rocks radiating heat. Don't count on any shade here!
Jason and I had camped on the shores of Frazier Lake back in 2016—we had a lovely site with nice views, but the lake's edge was shallow and marshy so that we were filtering water with hundreds of polliwogs swimming around us. This time, we scouted around and scored a beautiful waterfront site along the inlet stream with towering peaks above us.
It had been a perfect day on the trail for Jason and I covering 8.5 miles with 1,400′ elevation gain and loss. Max definitely got a workout, adding an estimated 7 miles and 2,000′ gain/loss. The day ended with a colorful sunset over the lake and a doe grazing in between our tents.
Our final day was relatively uneventful as we made our return trip 11 miles down the West Fork of the Wallowa River. The only real excitement of the hike was our early morning crossing of the river just downstream from a snow bridge making for some cool conditions.
It was fun repeating this loop and seeing it for the first time through our nephew's eyes. We covered just shy of 30 miles in three days with 3,900′ elevation gain (with Max accomplishing even more with his Eagle Cap summit!) Those interested in a more complete route description and more photos, check out our 2016 Lakes Basin backpack.