After two weeks at Lower Lee Vining Forest Service Campground just east of Yosemite National Park, we spent the month of October slowly working our way south along Hwy 395. The highway parallels the east slope of the Sierra Nevada Mountains providing easy access to the high country. Visitors have a plethora of campground choices from RV parks/resorts to Forest Service/BLM campgrounds to boondocking. After much research, we chose two BLM campgrounds for our October stay.
Crowley Lake BLM Campground
Originally we had planned to boondock on some Forest Service land just north of Mammoth Lakes, but a camper-involved shooting there just prior to our arrival left us reconsidering. We visited the area while we were at Lee Vining and decided it wasn't really that desirable of a location (ATVs kicking up dust, no views, and poor sun for our solar). Meanwhile, we had made friends with some locals who live at nearby Crowley Lake. They told us what a nice community Crowley is and how it is a relaxed scene with mostly fisherman visiting the area. The BLM campground just out of town had been on my radar and I knew it would make a good base for our Mammoth Lake area explorations.
Crowley Lake Campground offers 47 RV/tent sites with a maximum recommended RV length of 30 feet. All sites include a fire pit, picnic table and a lantern holder. There is a dump station with non-potable water and dumpsters (cost to dump is $5 even if you pay to stay at the campground). A few potable water spigots are available throughout the campground, usually next to the pit toilets. The camp host keeps a pretty close eye on things. He visited us within the hour to make sure we paid. He paid us another visit when we were a couple days away from the 14 day stay limit. Given the tendency of some to squat on the same piece of public land for months at a time, I appreciated his ensuring we didn't overstay our welcome.
This campground offers stunning views of Crowley Lake and the Glass Mountains to the east and the Sierras to the west. There are a few basic amenities 2 miles south in the charming community of Crowley. Ten miles to the north, the resort town of Mammoth Lakes had everything we needed including groceries, post office, laundromat, the local brewery, and even a Rite Aid where we got our flu shots and were rewarded with a free ice cream cone! We had good Verizon service, but zero antennae TV. The cost was $8.00 per night and the sites were all first come, first serve. It is open from May – October.
We loved the 365 degree views from our campsite which included the rugged peaks above McGee Creek Canyon out our big dinette window and Crowley Lake out the front door. We had an end site and our closest neighbors were spaced well away from us. For us, the expansive views and generous spacing between sites were the big advantages of the BLM campgrounds over the Forest Service Campgrounds. With the Forest Service sites, we would have been closer to the mountain lakes and surrounded by more trees (vs out on the sage brush slopes), but we noticed that views were almost always obscured and they pack the sites in on top of one another. Additionally, the BLM sites were always located a little more off the beaten path away from busy roads making for very quiet and peaceful camping experiences. The BLM sites were also generally less expensive.
From our base camp at Crowley Lake, we visited nearby Convict Lake and Hot Creek Geologic Site, tackled bucket list hikes in the Ansel Adams and John Muir wildernesses, and chased peak fall colors throughout the Eastern Sierras. We enjoyed near perfect early October weather with mostly sunny days with daytime highs in the 70s and overnight lows in the 30s. One local told us, "between the lack of fires and smoke combine with the mild weather, this is the best fall we've had in years."
Horton Creek BLM Campground
After maxing out the 14 day stay limit at Crowley Lake, we moved half an hour south to Horton Creek BLM Campground. Horton has 49 sites with all the same amenities and general stats as Crowley Lake including a dump station and a few spigots with potable water located throughout the campground. Once again we had a spacious site with 365 degree views up to the Sierras and down into the Owens River Valley. Verizon service was very good, but we had no antennae TV. Bishop, California was just 11 miles away and had everything we needed including fuel, propane, a nice grocery store and restaurants.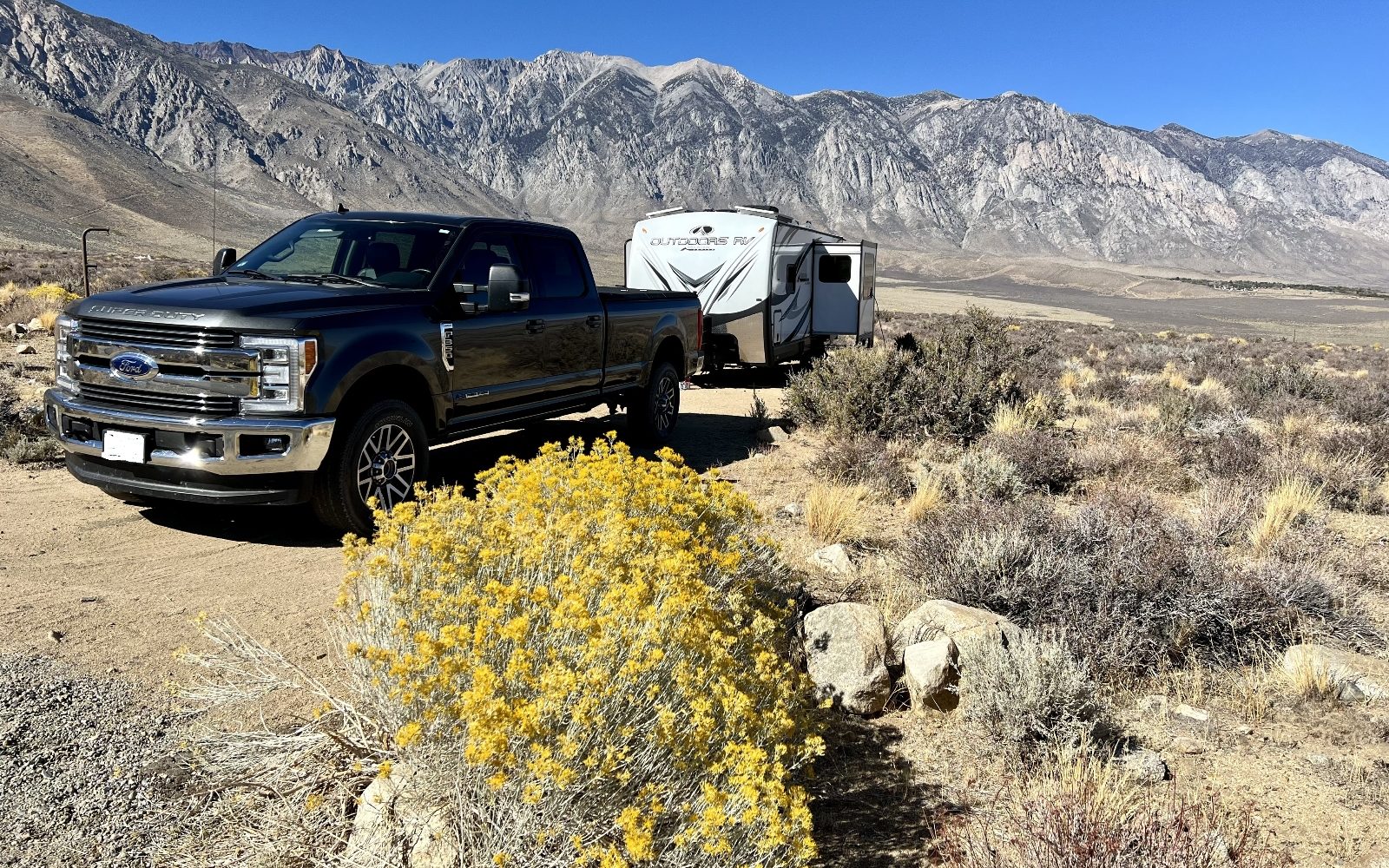 We stayed at Horton Creek the second half of October and generally enjoyed beautiful fall weather with sunny, warm afternoons and crisp nights. We used our base camp at Horton to continue our hikes in the John Muir Wilderness, visit the Bristlecone Pines in the White Mountains, and pay our respects at Manzanar National Historic Site.
Batten Down the Hatches!
Crowley Lake and Horton Creek campgrounds are just two of multiple BLM campgrounds found along the Hwy 395 corridor between Mammoth Lakes and Lone Pine, California. They are typically located at the base of the massive Sierra Mountain Range on the exposed sage-brush slopes with no more than a handful of trees, at best. This means that when the wind blows, it REALLY blows. We lucked out with calm weather during our stay at Crowley, but Horton Creek was another story. Early on in our stay, a massive wind storm hit the area. A weather station next to the campground recorded gusts of 60 mph which was quite the experience in an RV. The gusts were severe enough that they actually scoured away the sand and dirt from around and under our stabilizer jacks. Fortunately, a few rocks underneath provided enough of a foundation that we held our ground. I'm not certain if it was the windiest day we've experienced in our Outdoors RV, but it was certainly in the top three and made me happy for every pound of our sturdy 10,000 lb. trailer.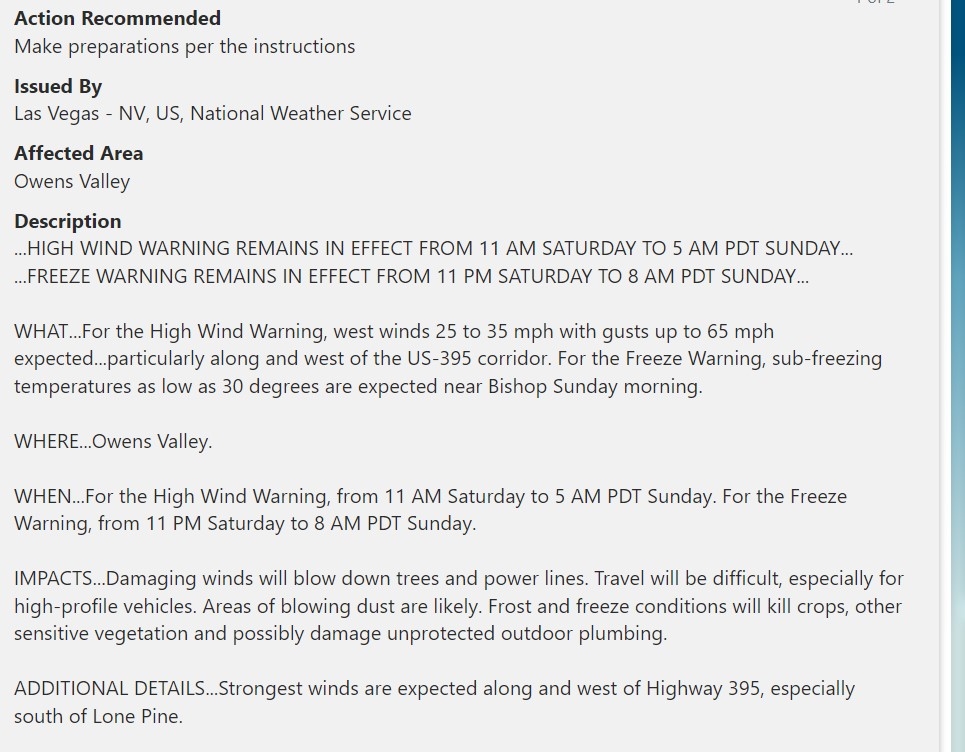 The Adventure Continues
Please join us for our upcoming series of posts as we spend the month of October adventuring in the Sierra Nevada Mountains near Mammoth Lakes and Bishop, California. And don't forget to check out our Amazon RV and Adventure Gear recommendations. We only post products that we use and that meet the Evans Outdoor Adventures seal of approval. By accessing Amazon through our links and making any purchase (even things as simple as toothpaste!), you get Amazon's every day low pricing and they share a little with us. This helps us maintain this website and is much appreciated!