During our two week stay at Lower Lee Vining Campground near Yosemite National Park, we spent five days hiking in the Hoover Wilderness. We loved the Hoover for its easily accessible trailheads, rugged mountain terrain, stunning lakes, and light trail traffic. In my previous post, I covered the three trails we accessed off Highway 395. In this post, I'll cover the two trails we accessed via Tioga Pass Road just east of Yosemite National Park.
Mine Creek & Bennettville Ghost Town
Less than a mile east of Yosemite's busy east entrance is a trailhead for the little-known Mine Creek Trail. This trail takes hikers to the Bennettville Ghost Town and along lovely Mine Creek to several beautiful Hoover Wilderness lakes. This seemed like a good option for beating the Yosemite crowds on a sunny late September weekend. Our hunch paid off and we were rewarded with some nice history, spectacular alpine scenery, and only two other sets of hikers seen.
We began our hike at a small pullout just to the north of the Tioga Lake Overlook. The small pullout only has room for a few cars, but that wasn't a problem. We passed this spot a dozen times over the course of two weeks and only saw another car there once. Alternatively, you can access the same trail starting in the Junction Campground near the junction of Saddlebag Lake Road with Hwy 120.
The first part of the trail followed a stretch of the Great Sierra Wagon Road which was built in 1882 to bring supplies to the mines near Tioga Pass. We had some nice views of Tioga Lake and passed a few small ponds before arriving at the Great Sierra Tunnel that was dug into Tioga Hill in search of gold.
Directly across Mine Creek, the town of Bennettville supported the mining activities. There used to be fourteen buildings here, but they were lost to time long ago. In 1993, the Forest Service restored an assay office and bunk house. It was fun checking out the rustic buildings and enjoying the views of surrounding Mount Dana, Tioga Peak, and Gaylor Peak.
Continuing above Bennettville, it was a short hike along lovely Mine Creek to Shell Lake, the first of a handful of lakes we'd visit. Shortly after Shell, we passed a second smaller, unnamed lake before entering the Harvey Monroe Hall Natural Research Area. This unit of Inyo National Forest land is set aside for researchers to study different aspects of alpine habitats over time.  
Once inside the Hall Natural Area, the trail was unmaintained, but navigation remained easy. Continuing along Mine Creek, we arrived at the largest of the three lower lakes, Fantail Lake. I thought this was the most scenic of the lower lakes with Mount Conness towering to the northwest.
Past Fantail Lake, the hiking got a little tougher. The trail became less distinct and eventually disappeared altogether. The grade also became much steeper as we climbed to Spuller Lake and up to a ridgeline where we were rewarded with stunning views down to Maul and Green Treble lakes.
For this hike we logged 8.0 miles roundtrip with roughly 850 feet elevation gain. I think the distance would be a little shorter if you started from Junction Campground. Top elevation was 10,400 feet. At just our fourth hike in the Sierras, we were still acclimating and the air felt a little thin up there. You could shorten the hike by just visiting Bennettville, the mine shaft, and the lower lakes (Shell and Fantail). This would be a perfectly lovely route, but I encourage you continue to the upper lakes if you are able. The view and solitude more than make up for the price of admission!
Twenty Lakes Basin
From our viewpoint overlooking Green Treble and Maul lakes on our last hike, we caught a sliver view of Saddlebag Lake, the start of our next hike. Over the years, I've used the website hikingwalking.com to plan several of our hikes. The author provides excellent trail descriptions, photos, and maps. Her hook for Twenty Lakes Basin was very convincing, "if I only had time for one hike in the Lee Vining area I'd choose Twenty Lakes Basin. Fabulous scenery accompanies almost every step of this classic loop hike…the hike follows gentle to moderate grades, visiting nine scenic lakes set amid an ever changing backdrop of stunning peaks and ridges." I was sold.
Like the Mine Creek Trail, we saved Twenty Lakes Basin for a weekend when we knew Yosemite would be busy. From our campsite at Lower Lee Vining, we drove west on Highway 120 toward Yosemite National Park. Just past Lake Ellery, we turned north onto Saddlebag Lake Road and followed it 2.5 miles to the hiker's parking area just to the right of the Saddlebag Lake Dam.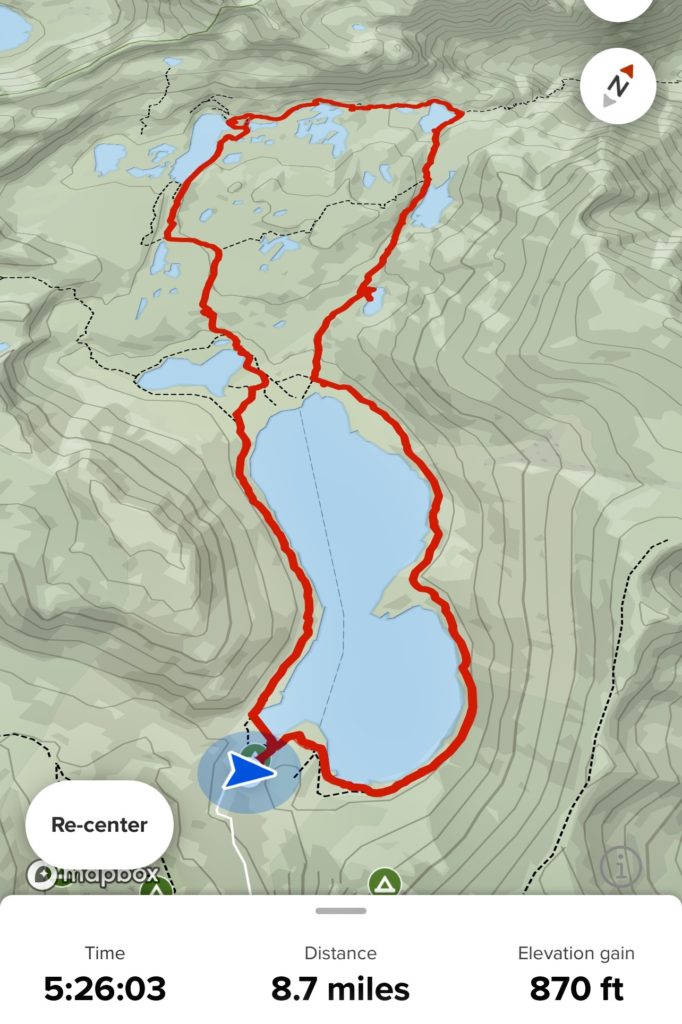 The 20 Lakes Basin Trail forms a figure eight starting at Saddlebag Lake. In the summer, a water taxi is available at Saddlebag Lake Resort that shaves the 3.8 mile roundtrip route around Saddlebag off. For those choosing this option, it is a 4.9 mile roundtrip loop hike around the upper lakes. The taxi was closed for the season when we did our hike on October 1, although we wouldn't have taken it anyway. But it is a nice option for families or those not quite up to the full 8.7 mile hike.
We started our hike with an approximately two mile long stretch along the eastern side of Saddlebag Lake (elevation 10,066′). Saddlebag is a dammed reservoir and water levels were very low, but views of the surrounding mountain peaks were stunning as first light hit them. Saddlebag Dam was built in 1921 to enlarge an existing alpine lake for hydropower generation purposes.
Just beyond the head of Saddlebag we came to a junction (the middle point of the figure 8). We turned right and began a climb to Lundy Pass. We crossed into the Hoover Wilderness and made a brief stop at lovely Hummingbird Lake.
Below Lundy Pass, the trail dropped us toward Odell Lake. This was a long and skinny lake sandwiched in between towering cliff walls.
Beyond Odell, the trail dropped steeply down a rocky gorge into a deep bowl. Footing was precarious as we descended a scree covered slope, but views were stunning as our views opened to the colorful cliffs surrounding Helen Lake.
Along the shore of Helen Lake, the trail turned right and paralleled the lakeshore as we continued along rocky trail to the lake's outlet. This stretch was especially scenic with views of Shepherd Crest to the north and Mount Conness and North Peak to the west.
We rock-hopped across the outlet and followed the trail west through scree covered slopes along the north side of Helen Lake. Have you noticed a theme yet? While the 20 Lakes Basin trail doesn't have a lot of elevation gain, it does cross a lot of very rocky trail. Beyond Helen, the trail climbed steeply up the headwall to Shamrock and Steelhead Lakes. The trail was difficult to follow in this stretch and we relied on the AllTrials app to guide us.
At 4.6 miles from the trailhead we came to the north shore of stunning Shamrock Lake. All of the lakes on this loop are lovely, but this was our favorite. It was by far the most picturesque with its convoluted shoreline, islands, granite ledges and dreamy blue waters. The towering summits of North Peak and Mount Conness dominated the skyline providing a rugged frame for this dreamy picture.
From Shamrock it was a short and easy stretch over to Steelhead Lake's east shore with its great view up to North Peak.
Past the end of Steelhead Lake, the trail continued south past a few small tarns and Wasco Lake before arriving at Greenstone Lake. We took a final break at Greenstone and enjoyed the fine views of the granite peaks and ridges extending from North Peak and Mount Conness.
From Greenstone, we returned to Saddlebag Lake to begin our return hike along the west shoreline. This stretch was especially rocky and was a bit hard on the feet. We passed a few fisherman on this stretch, but it had been a quiet day on the trail otherwise.
Our hike ended with a crossing over the top of Saddlebag Lake Dam where we got an up-close view of the the trickle of water flowing into the dam.
We thoroughly enjoyed our two weeks based out of Lower Lee Vining Campground. We enjoyed all our hikes in Yosemite and the Hoover Wilderness, but it was time to work our way south toward Mammoth Lake
The Adventure Continues
Please join us on our next adventure as we continue our Sierra Nevada adventures in the Ansel Adams Wilderness. And don't forget to check out our Amazon RV and Adventure Gear recommendations. We only post products that we use and that meet the Evans Outdoor Adventures seal of approval. By accessing Amazon through our links and making any purchase (even things as simple as toothpaste!), you get Amazon's every day low pricing and they share a little with us. This helps us maintain this website and is much appreciated!