New Year's Day 2022! After a month in the Tucson area, it was time to move on. Our next destination was one that had been on my bucket list for many years, Organ Pipe Cactus National Monument. The 517 square mile park preserves pristine Sonoran Desert habitat including the majority of the U.S. population of senita and organ pipe cacti. The park got its name from early pioneers who thought the multiple arms of the organ pipe cactus looked like the pipes of a church organ.
Overview & Logistics
Organ Pipe Cactus National Monument is located along the US-Mexico border in southern Arizona, mid-way between Tucson and Yuma. In addition to its national monument designation, Organ Pipe is a United Nations Educational, Scientific And Cultural Organization (UNESCO) Biosphere Reserve. The reserves conserve samples of the world's ecosystems such as a tropical forest, prairie grassland, coral reef, river system, or desert. The biosphere designation attracts scientists from around the world to conduct a variety of studies to help us better understand the Sonoran Desert and the impact of humans on this amazing landscape.
The Kris Eggle Visitor Center is located on Highway 85, approximately 25 miles south of Why, AZ. It is open 9-4 daily except Thanksgiving and Christmas Day (hours may vary on other holidays). The visitor center includes an information desk, nature trail, exhibit hall, 15 minute film, bookstore, and seasonal ranger programs. Visitors to Organ Pipe will find over a hundred miles of scenic drives, dozens of miles of hiking trails, two campgrounds. There is a $25.00 entrance fee (valid for 7 consecutive days) per vehicle.
Is Organ Pipe Safe?
Given its location along the US-Mexico border, it isn't surprising that there have been safety concerns at Organ Pipe Cactus National Monument. Over 200,000 undocumented immigrants crossed monument lands in 2000. Park Rangers were increasingly confronted by illegal cross-border activity. In 2002, Park Ranger Kris Eggle was shot and killed while in pursuit of two men who entered the Monument illegally. Access to much of the monument was closed to the public until additional safety measures could be put in place. From 2004-2006, a vehicle barrier was constructed across the monument's 33 miles of international boundary. New technology was deployed along the border to deter illegal entry. And in 2011, Ajo Border Patrol Station expanded to over 500 Border Patrol agents. In 2014, the closed areas of the park were reopened and by 2015 visitation soared by 25%.
According to the monument's website, today "Organ Pipe Cactus National Monument is a safe place to visit. However, illegal border crossings and activities, including drug smuggling, occur daily. It is unlikely that you will encounter any illegal border activity, but you should be aware that such a situation is possible. Many safety precautions are in existence as a means to protect you and to continue preserving this national treasure." Click here for safety tips while visiting so close to the US-Mexican border.
We felt perfectly safe during our week at Organ Pipe, both in the campgrounds and on the roads and trails. Statistically, we were more likely to sustain injuries from the heat or a motor vehicle accident. When recreating outdoors, we are always hyper-aware of our surroundings and it was no different here. We saw nothing suspicious nor anyone threatening. Over the years, we've spoken to many who have visited Organ Pipe and they reported the same thing. We won't hesitate to return.
Twin Peaks Campground
We spent a week camped in the Twin Peaks Campground, the main campground at Organ Pipe Cactus National Monument. This was an excellent base from which we hiked most of the park's designated trails, explored its most popular scenic drive, and visited nearby Ajo. The campground is located 1.5 miles from the Kris Eggle Visitor Center and Highway 85. The campground has 208 sites with 34 tent only sites and 174 RV sites. There are six restrooms, three with solar showers, and a dump station with potable water. Sites 1-112 permit the use of generators. Generator hours are 8:00 am to 10:00 am and 4:00 pm to 6:00 pm only. Reservations are required part of the year, click here for details. The cost is $20.00 per night.
Tent campers wanting a more primitive experience should check out Alamo Campground. It has 4 tent sites in a stunning desert landscape. Water is not available and fires are not permitted. It is first-come, first-served only. The cost is $12.00 per night.
Easy Hikes Near the Campground & Visitor Center
Wanting to stretch your legs and see some of the Sonoran Desert without spending too much time or energy? Try one of these short trails near the campground and visitor center.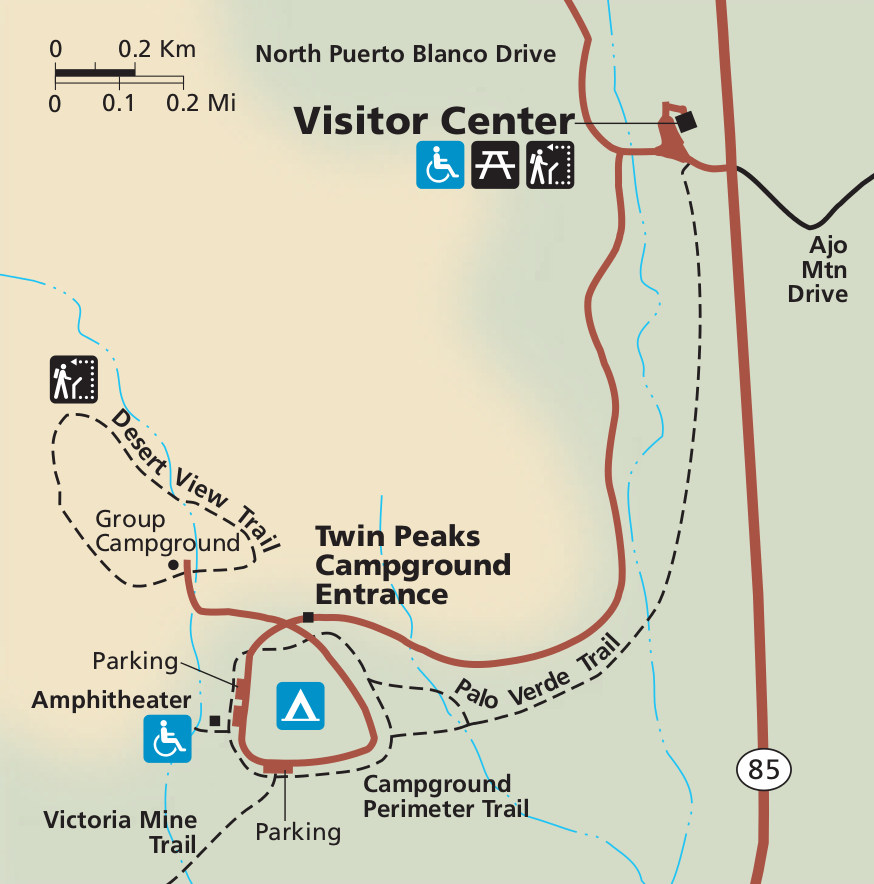 Visitor Center Nature Trail
This easy 0.1 mile nature trail is located immediately behind the visitor center. It has a flat, brick path that is accessible to scooters and wheelchairs. The nature trail showcases native Sonoran Desert plant life and passes by man-made "La Ciénaga" or "desert oasis" pond. It is home to the endangered Quitobaquito pupfish. In nature, this small fish is only found in Quitobaquito Springs, in the southwest corner of the monument, and in the Rio Sonoyta, a small Mexican river drainage directly south of the international border.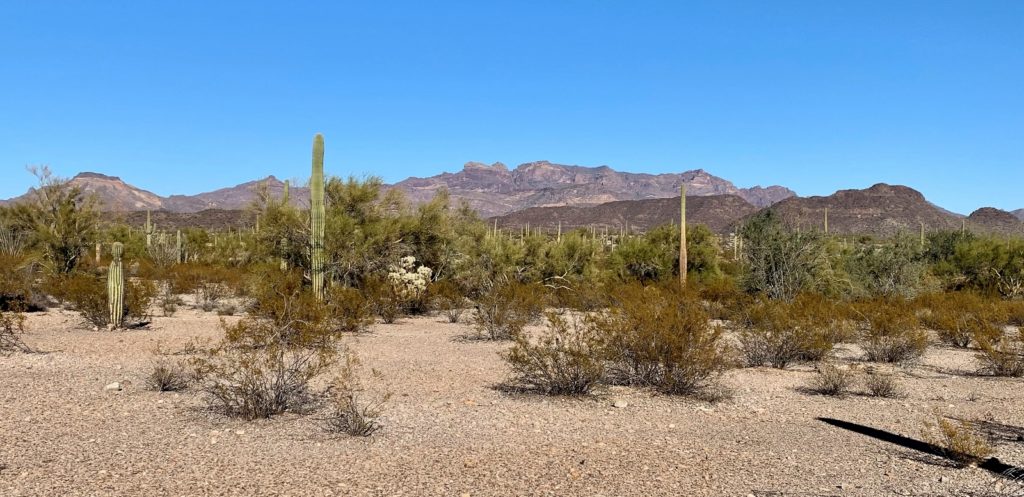 Palo Verde Trail
This is an easy 2.6 mile round trip hike between the visitor center and campground that features beautiful views of the Ajo Mountains to the east. It is the longest trail in the monument that allows pets. All the usual rules apply such as keeping your pet on a 6 foot leash and cleaning up after them.
Desert View Trail
This 1.2 mile loop trail begins at the Twin Peaks Group Campground. A short climb leads to to beautiful vistas that are ideal for sunrise and sunset. We hiked this one at sunset and were treated to incredible 360 degree views of the surrounding mountains, down onto the campground, and into neighboring Mexico. Be sure to check this trail out even if you can't visit during sunrise or sunset. We felt this had the best stands of organ pipe cacti of any short trail in the monument.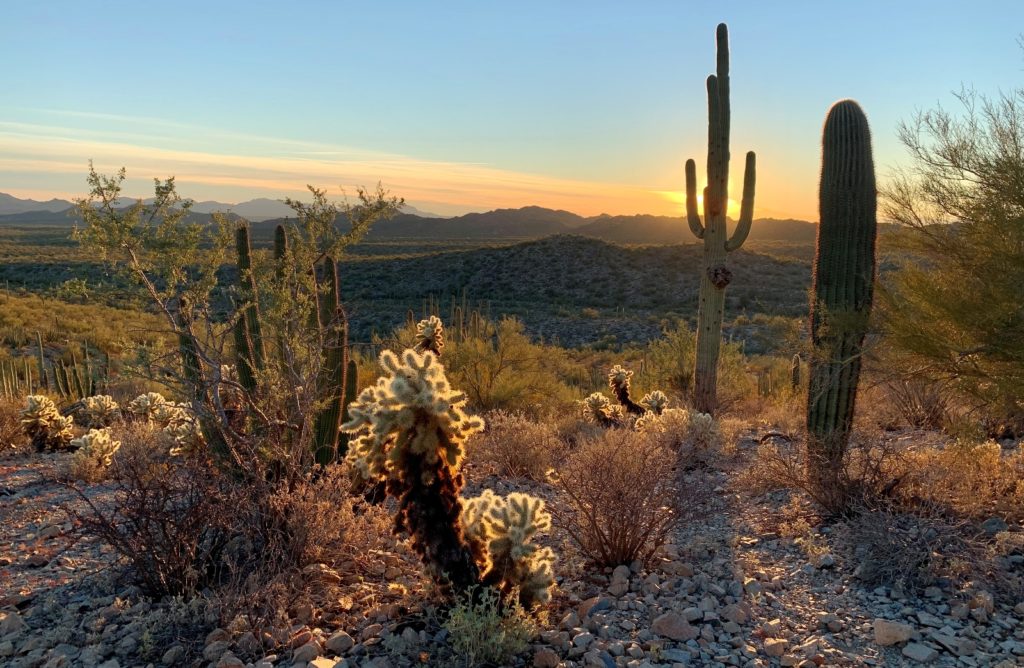 Related Posts
The Adventure Continues
Be sure to join us for our next post as we explore the Victoria Mine and Alamo Canyon trails at Organ Pipe Cactus National Monument. And don't forget to check out our Amazon RV and Adventure Gear recommendations. We only post products that we use and that meet the Evans Outdoor Adventures seal of approval. By accessing Amazon through our links and making any purchase (even things as simple as toothpaste!), you get Amazon's every day low pricing and they share a little with us. This helps us maintain this website and is much appreciated!