Gold Butte National Monument
November 4, 2022
During our stay in Mesquite, Nevada, we spent two days exploring nearby Gold Butte National Monument. Gold Butte had been on my bucket list for a long time and I was excited to explore its sandstone formations and search for some of its many interesting petroglyph panels. Since this was an impromptu visit, I wasn't as prepared as I normally am. But we still had a fantastic couple of days and a good introduction to the area.
Gold Butte National Monument covers nearly 300,000 acres of remote and rugged desert landscape in southeastern Nevada, where dramatically chiseled red sandstone, twisting canyons, and tree-clad mountains punctuate desolate stretches of the Mojave Desert. The brightly hued sandstone provides a stunning canvas for the area's famously beautiful rock art, and the desert provides critical habitat. The area is popular for outdoor recreation, and visitors to the monument can hike to rock art sites, drive the Gold Butte Backcountry Byway to the area's namesake mining ghost town, hunt desert bighorn sheep, or tour the area's peaks and canyons on horseback.

—BLM website
On day one, we explored around Whitney Pocket which is the first major area of interest encountered when traveling the Gold Butte Backcountry Byway. This area is known for its intensely colored sandstone formations rising out of the Mojave Desert floor. There is also some great Depression Era history there, including a stone dam and storeroom built by the Civilian Conservation Corps.
Driving up the Gold Butte Road, you'll know when you reach Whitney Pocket. The road changes from pavement to graded dirt/rock and you are suddenly surrounded by red sandstone formations. We parked in a large parking area to the right and walked the short distance east to the stone dam and storeroom that were built by the Civilian Conservation Corps during the 1930s. The dam is on the left side of the road, a short distance up a narrow canyon. A steep set of stone stairs leads to the top of the dam and visitors are allowed to walk across the top. Just be careful, it is high and there is nothing to hold onto!
Looking around at the dry Mojave Desert landscape and lack of water behind the dam, visitors might wonder why it was built. During the late 1800s when settlers were flocking West, the region was unusually wet. That gave early ranchers plenty of forage for cattle, but also gave them an inaccurate impression about the local climate. By the early 1900s, the land was drying out and ranchers had to build dams and other water control structures in the Gold Butte area (we also saw this in Joshua Tree). Eventually, even dams like this ran dry forcing ranchers to abandon the area.
After visiting the CCC Dam, we hiked one of the more popular off-trail routes in the area, the Amber Cat Rock—Doodlebug Arch Loop. Whitney Pocket is a great area for hiking through the Mojave Desert, but there are no official trails. Be sure to go prepared with all your own data and some decent route finding skills. I had enough information to keep us from getting lost, but I wasn't confident we'd find Doodlebug Arch. And I wasn't even sure what Amber Cat Rock was supposed to look like, but I liked the name and photos of the canyon looking stunning.
We started our 5.0 mile loop by heading west out of the Whitney Pocket parking lot and dropping down into Amber Cat Canyon. Route finding was relatively easy and we soon found ourselves in a canyon full of red, white, yellow and amber sandstone. Amber Cat Mesa was by far the most scenic part of the canyon. Past that, we wandered by a couple of the boulders that some say look like 'amber cats'.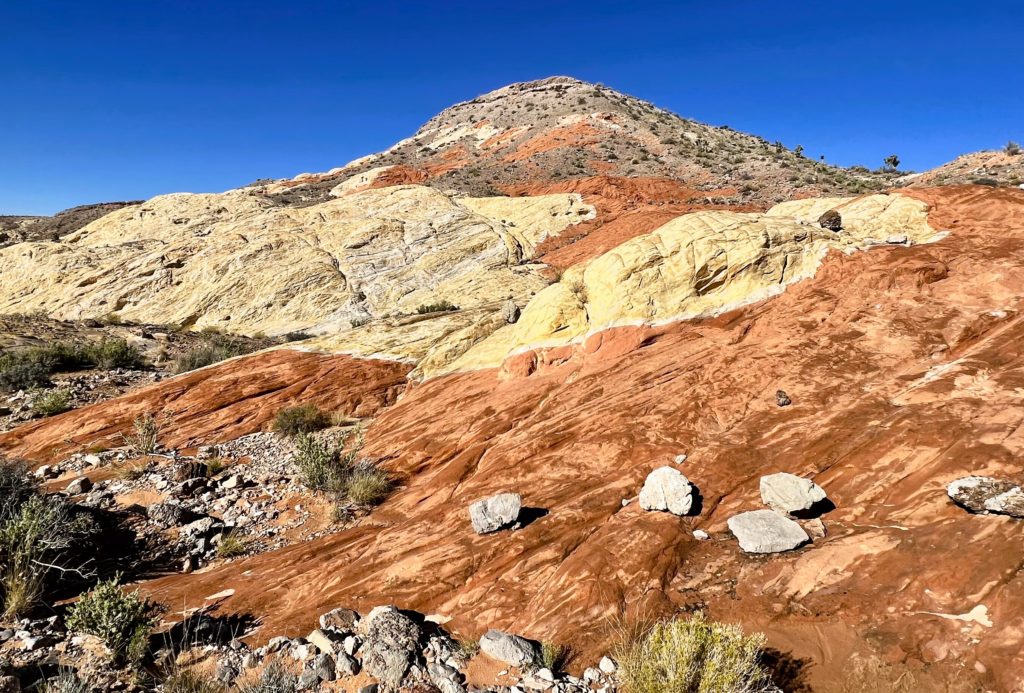 Continuing down canyon past Amber Cat, the route entered an area where the canyon bottom had been sculpted by water to form a series of shallow, but colorful narrows. From there, we turned north and lost the last bit of the route we'd been following. Doodlebug Arch was somewhere up ahead, but I really just had a vague sense of where we'd find it. The intel I did have said it was hard to spot, even when you are practically right on top of it. I have no idea how close (or not close) we came to finding it, but this part of the hike ended up being a 'lovely wander' through the sandstone. We weren't lost, but we never did find Doodlebug.
Despite missing Doodlebug Arch, it was a great first day in Gold Butte National Monument. We had ideal weather, saw only a few other people, and enjoyed some gorgeous scenery. Perhaps our favorite part of the day was hiking amongst the Joshua trees. To this point, we had only ever seen them in a couple other locations and it was really neat getting to hike around so many of them.
Resources
Directions to Whitney Pocket: From Mesquite, travel approximately 9.0 miles southwest on I-15 and take exit 112. Turn left onto Hwy-170 and travel a few miles to a bridge over the Virgin River. Shortly after crossing the river, turn right onto Gold Butte Road and continue 21 miles to Whitney Pocket. Alternatively, you can take Riverside Road (Hwy-170) out of Mesquite and through Bunkerville 9.0 miles to Gold Butte Road. Once on Gold Butte Road, conditions slowly deteriorate and it is slower going once you enter the Monument. For us, the 33 mile drive from Mesquite took approximately 1 hour each direction.
You'll want to do your own up-to-date research before visiting Gold Butte. Road conditions are constantly changing with the weather and this is a remote area to get stuck. Those without a 4WD high clearance vehicle will especially want to carefully assess conditions. Start with a visit to the BLM's Gold Butte website for a high level overview. Then visit the Friends of Gold Butte website for their latest road conditions report. Even if you are just traveling the first 21 miles to Whitney Pocket, be prepared for a slow and bumpy ride. Most of this stretch was paved many years ago, but much of it is pretty rough. We visited immediately following an active and destructive monsoon season that impacted many of the roads. For us, the main obstacle on the road to Whitney Pocket was some deep sand along the first few miles of the road (no problem for us in 4-High). On day two, while accessing the Falling Man Petroglyph area, we encountered some pretty significant washouts along Black Butte Road. 4WD was not required for those, but high clearance most definitely was. Travel at your own risk.
For exploring Gold Butte, you can't beat the website Bird and Hike. I use this exceptional site when planning any trip to Southern Nevada. Here you'll find a massive list of detailed hiking and driving descriptions for Gold Butte. Maintaining an extensive website with detailed descriptions, photos, and maps like this is a ton of work. A big thank you to Dr. Jim Boone for all his hard work and for sharing it with us! I appreciate his philosophy and it is what I try to model here on this website, "BirdAndHike.com is intended to encourage people to visit, learn about, and fall in love with the desert. While more people in the desert isn't necessarily good, more people who love and respect the desert is good."
The Adventure Continues
Join us for our next post as we return to Gold Butte National Monument in search of some unique petroglyph sites. And don't forget to check out our Amazon RV and Adventure Gear recommendations. We only post products that we use and that meet the Evans Outdoor Adventures seal of approval. By accessing Amazon through our links and making any purchase (even things as simple as toothpaste!), you get Amazon's every day low pricing and they share a little with us. This helps us maintain this website and is much appreciated!