Gold Butte National Monument
November 6, 2022
We enjoyed our day exploring the Whitney Pocket area of Gold Butte National Monument so much that we returned a second day to explore some of the exceptional petroglyph panels around nearby Black Butte. Initially, my goal for the day was to find Falling Man, a unique panel showing a figure falling from the high cliffs above. While doing my research, I found reference to several other panels in the general vicinity. After carefully studying several websites, I put together a route that I thought would be somewhere between 7-9 miles roundtrip and would take us to Falling Man, 21 Goats, and Kohta Circus panels as well as many smaller sites along the way.
There is more than one way to visit these panels. Those willing to drive on rough roads could save themselves some of the hiking, but we love the hiking and found this to be a gorgeous route through a scenic corner of the Mojave Desert. I won't go into a lot of details on the route we took other than to say all of these sites are within a two mile radius of Black Butte just west of Whitney Pocket. All the information you need to find these locations is already out there on the web and it is fun to do your own research to create your own adventure. Go prepared with maps and/or GPS as well as good route finding skills.
Falling Man
Our day began along Black Butte Road at the parking area for Falling Man. To get there, we followed the same directions as we had the day before, only we turned right onto Black Butte Road 1.4 miles before reaching Whitney Pocket. After 1.2 miles, the road forked and we went to the left. We came to the obvious parking area after another 0.7 miles. Black Butte Road had some washed out sections from the 2022 monsoon season. We did not need 4WD, but high clearance was a must. We met a couple at the parking area who had been to the area multiple times and they said this was the worst they had seen the road.
From the parking area, we followed a well-defined trail southwest a short distance to a distinctive sandstone crag called Rabbit Ears. Just past that, we took a short spur trail to Calvin's Rock where we saw our first set of petroglyphs.
From Calvin's Rock, it wasn't long before we approached a sandstone cliff. We climbed to its base and passed through a tunnel to the far side. There were a couple of really interesting petroglyphs at the tunnel including a corn image that is apparently one of just a few corn petroglyphs in Gold Butte National Monument. I've seen speculation that it might represent the introduction of corn to the area.
After crawling through the tunnel, we climbed down to a ledge and followed it to the Falling Man petroglyph located a few feet above us on a cliff. I have never seen or heard of another glyph like this. What inspired the unique image? Was this a tribute to someone who had fallen from the cliffs? Or just a warning to watch your step? It was fun to contemplate—just be sure to watch your step while you are contemplating and photographing!
Continuing past Falling Man just a short distance, we came to many additional panels including Newspaper Rock, Bigfoot Panel, the Amphitheater, and Upper & Lower Wall Panels. The area is full of glyphs and we could have easily spent several hours just in this area.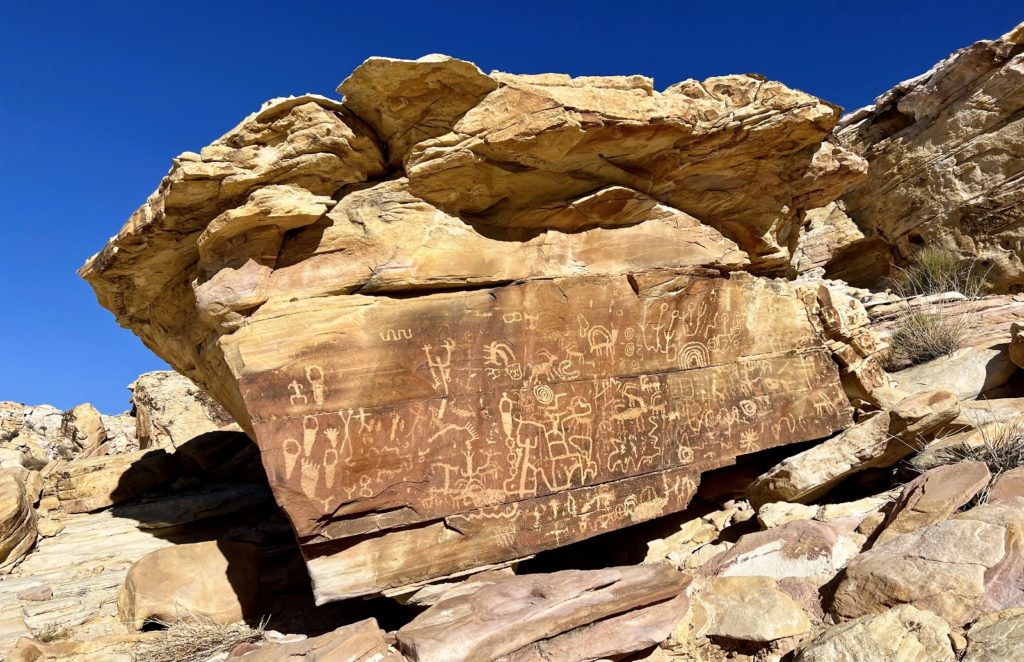 21 Goats
Continuing on, we caught a well-worn user trail about half a mile south toward Black Butte in search of the 21 Goats panel. The name is a bit misleading since it is actually a massive panel of bighorn sheep (not goats). We found the panel high up on a heavily varnished wall shortly before reaching a wash in the bottom of the canyon. If you continue down that wash, there is another CCC era dam. We didn't find the dam, but we weren't looking very hard since we were on our way to yet another cool petroglyph panel.
Kohta Circus
Past 21 Goats, we set off in search of the Kohta Circus panel. (I have seen this spelled Khota and Kohta. I do not know which is correct, but the consensus appears to be Kohta.) During my research, I found significantly less intel for this panel, but I was hopeful that we'd be able to find it. It seems most people drive a rough road from Falling Man to a trailhead closer to Kohta, but I wanted to hike. This had us spending a fair amount of time route finding across a trailless plain, but the scenery was worth it. We eventually made our way to a faint user trail that eventually turned into a well-worn path that dropped us down into a canyon containing several petroglyph panels including Kohta.
Our return hike was easy now that we knew our way. Our route for the day came in at 8.0 miles roundtrip. We saw many exceptional petroglyph panels and only 2 other parties—I'd call that a successful day on the trail!
Help Preserve Sacred Sites!
PLEASE! When visiting these sites, remember that petroglyphs are fragile, non-renewable cultural resources that, once damaged, can never be repaired nor replaced. Do not touch the glyphs. Even a small amount of the oils from our hands can darken petroglyphs making them impossible to see. Do not introduce any foreign substance to enhance the carved and pecked images for photographic or drawing purposes. Altering, defacing, or damaging the petroglyphs is against the law. If you happen to come across sherds (broken pottery) or lithics (flakes of stone tools), leave them where you see them. Once they are moved or removed, a piece of the past is forever lost. Archaeological sites are protected by a number of laws that prohibit digging, removing artifacts, damaging and defacing archaeological resources, and provide felony and/or misdemeanor prosecution with imprisonment up to ten years and fines up to $100,000. If you see people vandalizing or disturbing archeological sites or petroglyphs, please report it as soon as possible.
The Adventure Continues
With our a brand new door module in our truck and covered under warranty (thanks Mesquite Ford!), it was time to continue south. We would be picking back up with our original California itinerary, but we had a few weeks to kill through the end of November. Join us for our next post as we settle in for a little familiar scenery at Lake Mead. And don't forget to check out our Amazon RV and Adventure Gear recommendations. We only post products that we use and that meet the Evans Outdoor Adventures seal of approval. By accessing Amazon through our links and making any purchase (even things as simple as toothpaste!), you get Amazon's every day low pricing and they share a little with us. This helps us maintain this website and is much appreciated!