Short hike to a nice mountain lake along the ID-MT border
Distance: 3.5 miles round trip
Type: out and back
Difficulty: easy with 755′ elevation gain along well graded trail
Best season: summer and early fall
The hike to Revett Lake didn't knock my socks off, but it was a nice enough compliment to nearby Blossom and Pear Lakes. The trail was well maintained and had an easy grade making it a nice stretch of the legs.
There were half a dozen cars at the trailhead (elevation 4,946′) when we arrived at 8:00 on a Sunday morning in August. The trail began in thick forest along a wide and well maintained trail. The trail followed close to the ID-MT border, but remained in Idaho all the way to Revett.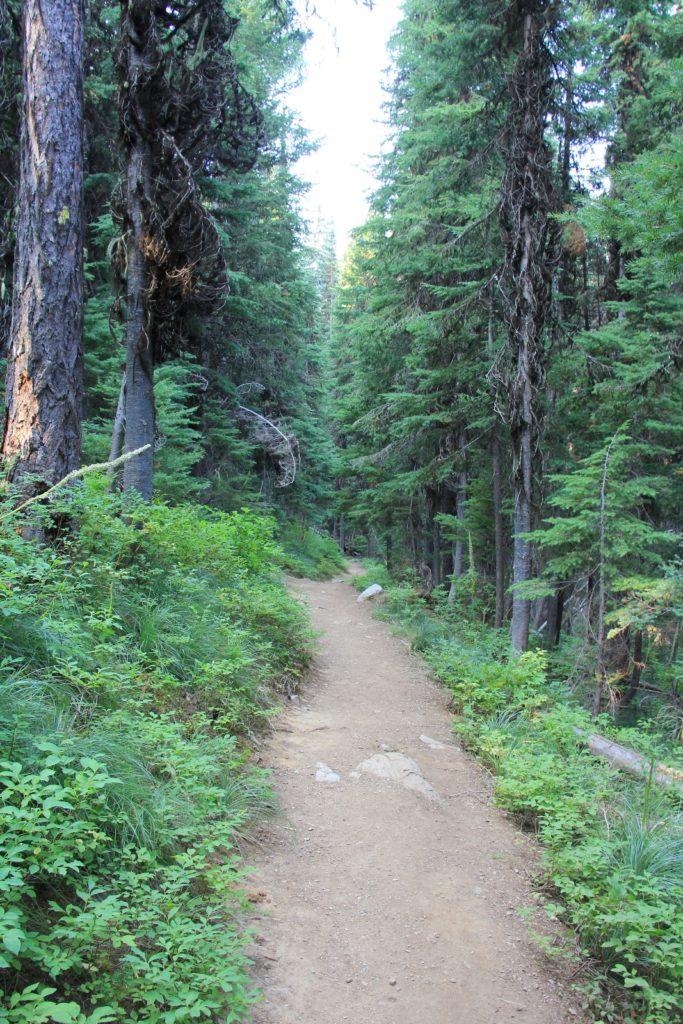 It wasn't long before the trees opened up and we crossed a talus slope.
At 0.8 miles, we crossed Cascade Gulch in a particularly lovely and lush section of trail. There was a small waterfall here. We then began a very gradual ascent up to 5,700′ before dropping slightly into Revett Lake at 1.75 miles from the trailhead.
Arriving at the lake, we found a large group backpacked just to the right of the trail. We worked our way to the left and across the outlet stream for a break. Revett didn't have spectacular scenery compared to many Inland Northwest Lakes, but it was lovely enough.
Our hike out was uneventful. We had seen just two hikers on our way in, but passed several groups on the way out. This appeared to be a popular trail considering its distance from any major population center. One thing that did surprise us—where we had seen abundant ripe huckleberries the previous day while hiking to nearby Blossom Lake, we didn't see any on this trail.
From Thompson Pass, we returned home via Dobson Pass and Wallace, Idaho where we stopped at City Limits Brew Pub for lunch. Jason had the Miner's Delight which was a hamburger with brisket, bacon, fried jalapenos, BBQ sauce, and pepper jack cheese (would you like a Pepcid with that?!) I had the roasted turkey sandwich which had cranberry sauce and stuffing on it. Both were delicious and the atmosphere was good. City Limits gets two thumbs up from Evans Outdoor Adventures.
Directions to Trailhead: follow the directions to Thompson Pass and the Blossom Lakes Trailhead. Note Forest Road 266 off the south side of the Thompson Pass parking light. Follow this single lane road 1.2 miles to the Trailhead. Note there is not an actual parking lot here. Just park alongside the road at wide spots.