Pretty mountain lake with abundant huckleberries
Distance: 8.75 miles round trip
Type: out and back
Difficulty: moderate with 1,600′ elevation gain
Best season: July – September
The Selkirk Crest in northern Idaho is one of our favorite Inland Northwest hiking destinations. This area is so wild that grizzly bear and caribou inhabit its remote corners. We try to visit at least one time a year and late August is our favorite month there. If you want delicious huckleberries, this area can't be beat.
This area near the Canadian border is home to high mountain lakes backed by stunning granite cliffs. To date, Beehive and Harrison have been our favorite lakes, but we are still exploring new destinations and the weekend before Labor Day 2017 found us headed to Snow and Bottleneck lakes. We passed the trailhead to this pair of lakes back in 2013 when we hiked to nearby Roman Nose Lakes.
The trail to Snow and Bottleneck lakes begins at a small pullout along Forest Road 402 (elevation 4,323'). There is a trail junction just 1.5 miles in with the left fork leading to Snow Lake and the right to Bottleneck. Strong hikers could bag both lakes in an approximately thirteen mile day. Adventurous hikers can turn this into a lollipop route by leaving the trail and crossing over the divide between the two lakes. We decided to split the route into two day hikes.
It was a mild summer morning and we were in shade for most of the first stretch leading up to the trail junction.
Not long after taking the trial to the left, we crossed the outlet stream from Bottleneck Lake and shortly after that crossed Snow Creek.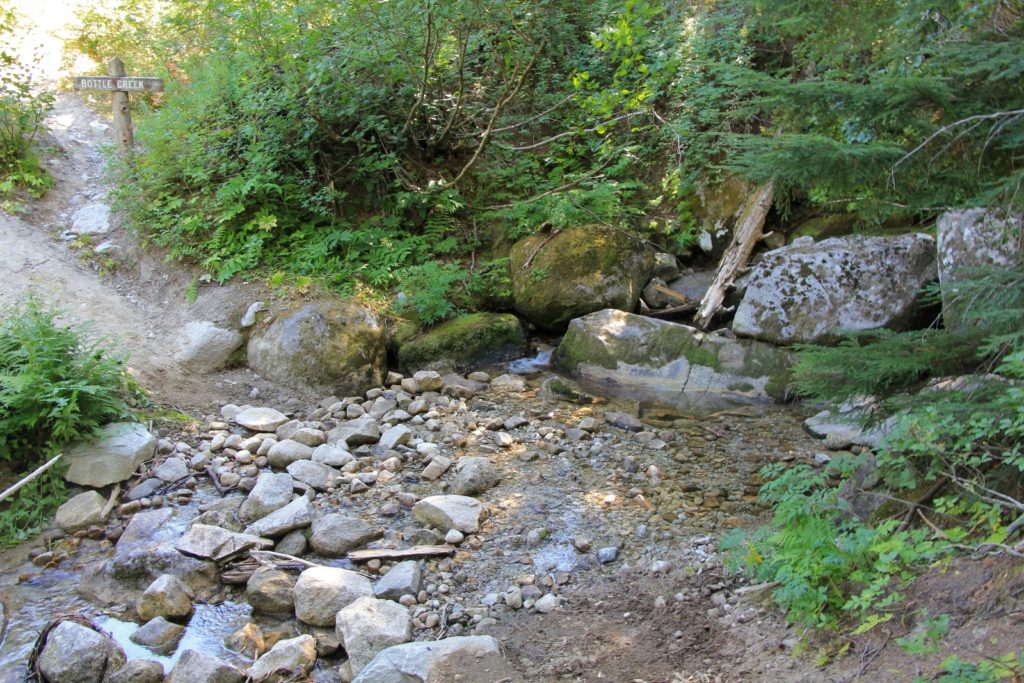 Soon, we started seeing abundant ripe huckleberries! Our pace slowed to a crawl as we grazed our way up the trail. These were some of the thickest berries we'd ever seen. The trail climbed above Snow Creek and our views improved. With the perfect summer day, I was surprised that we only saw a couple other groups of hikers.
Despite all our frequent stops for huckleberries, we finally reached Snow Lake (elevation 5,924') at 4.34 miles. We found a couple very nice campsites where the trail joined the lake and some of the biggest huckleberries I've ever seen. We quickly filled three zip lock bags with perfectly ripe berries. Snow was not as stunning as most of the Selkirk lakes we've seen, but it was still quite lovely and the lack of any real trail company on a gorgeous summer day made it especially appealing. For backpackers, it would make a great camp location—although I think I would be nervous about camping in griz country surrounded by ripe huckleberries! To be fair, I'm sure the huckleberries taste much better than a human burrito.
Back at the Jeep, we made the hour long drive down to Bonners Ferry where we headed straight for the Kootenai River Brewing Company. We scored a nice seat outside on their deck, but waited over 20 minutes before anyone offered us a glass of water or menu. We wouldn't have minded too much, it was a lovely evening and we were entertained by a friendly orange tabby, but we had a hiker's appetite and thirst! Once someone finally noticed us, we had good service and food.
Direction to trailhead: driving north on US 95 from Sandpoint, Idaho, turn left into Naples. Bear right onto Deep Creek Road and drive 5.7 miles and turn left toward Snow Creek Road. Continue 2 miles and take a left at the Y. Follow travel Forest Road 402 9.5 washboard miles to the trailhead which is more of a large pull-out than a parking lot.
Got gear?
Here are some items we take on the trail. By accessing Amazon through the links below, you get the same GREAT Amazon pricing and they share a little with us. This helps us maintain evansoutdooradventures and is much appreciated!
Black Diamond Women's Trail Walking Pole, 59-125cm
Black Diamond Trail Walking Pole, 63.5-140cm