Nice mountain lake along the Idaho-Montana border
Distance: 13 miles roundtrip
Type: out and back
Difficulty: moderate with 1,472′ elevation gain
Best season: summer – fall
Goose Lake along the Bitterroot Divide, the mountain crest that forms the border between Idaho and Montana, first caught my attention when a former college professor of mine said, "don't expect to see a goose at Goose Lake. Expect to see moose instead. When we backpacked to Goose Lake, I saw more of them over two days that I usually see in a year." I love moose, so that was a convincing sales pitch. We finally gave Goose a try over Labor Day 2018.
Looking at a map, Goose Lake isn't all that far from our home in SE Washington. In reality, it is an almost five hour drive, much of it along winding dirt roads that parallel the Clearwater River and its tributaries. If you aren't in a hurry, the drive is an enjoyable part of the adventure. On our drive to Goose Lake, we stopped at the Kelly Creek Ranger Station to inquire about road and trail conditions. The nice young woman at the desk knew nothing about the lake, but said they had just lifted all fire restrictions and we'd be able to have a campfire as long as we were on the Idaho side of the divide. She also indicated that there was a rough section of road in Black Canyon that they weren't recommending for trailers or passenger vehicles. Seeing our Jeep in the parking lot, she added that we would be just fine.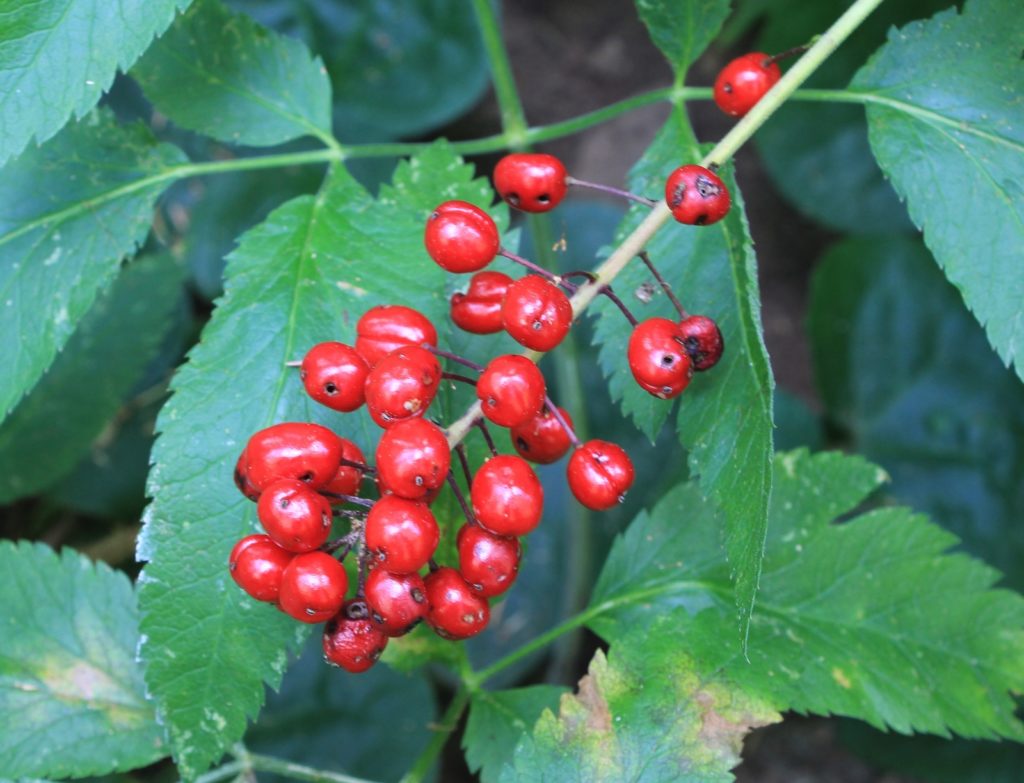 It had been a long time since we'd been up Black Canyon which is the upper reaches of the North Fork of the Clearwater. Here the narrow road and river squeeze their way through a beautiful and steep canyon. Generally the road was in good condition except the spot the ranger had warned about which required high clearance. Just before Cedars Campground, we turned right onto Forest Service Road 295. We followed this a few miles and then split left onto FS Road 5450. Both were single lane roads in good condition. Road 295 followed along Lake Creek and there were a couple really nice car camping spots that we eyed up for the following night.
We arrived at the Goose Lake Trailhead (elevation 4,349') to find sunny conditions with a temperature in the mid-50's. There was no real parking area, just a dead end road. With only one other vehicle at the TH, we knew it would be a quiet hike.
Our packs felt light with just one day's worth of provisions. We started up a closed off road to the right of the trailhead and quickly ran out of trail. I looked at the GPS and discovered we were hiking in the wrong direction. We backtracked and discovered that the trail took off to the left of the TH sign.
The first four miles of trail were a gradual climb through relatively thick forest with occasional glimpses of Goose Creek to our left. After about a mile, the trail became increasingly overgrown with wildflowers and brush. We had four small and easy stream crossings in those first four miles. We were able to rock hop and keep dry feet for all. The fourth crossing was over Steep Creek, a very scenic little stream.
At Steep Creek, the trail became steeper (sounds logical) and more over grown. Much of the remaining hike was a bushwhack, although locating the trail was never an issue. We climbed a series of switchbacks and were treated to some nice views down the canyon behind us.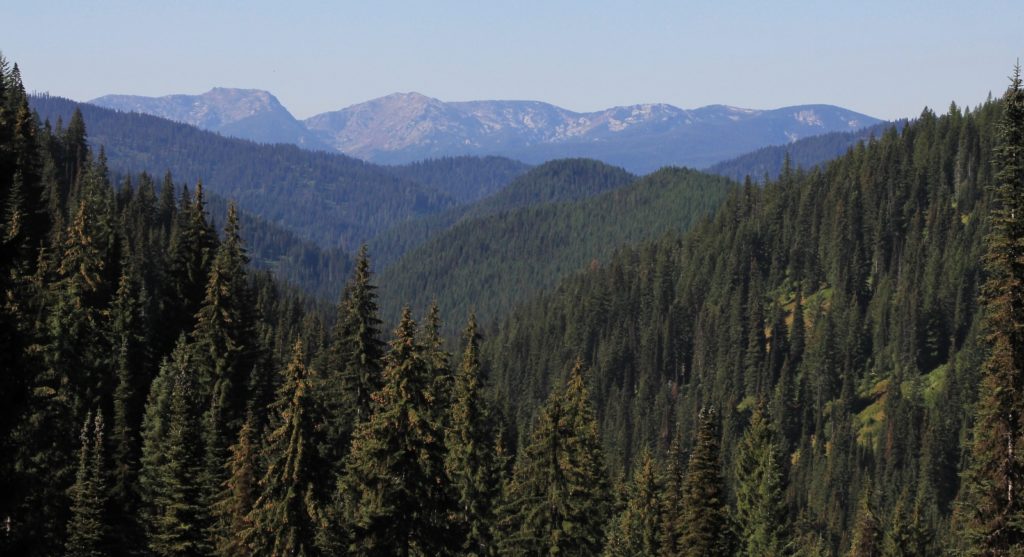 Approximately ¾ mile after Steep, we reached a large meadow filled with wildflowers and good views of the ID-MT divide. We could see some fall colors beginning to pop on the surrounding hillsides. Goose Creek flowed a short distance from the trail. A family with 3 pack llamas was camped in the middle of the meadow. A short distance further, we found two campsites in the trees at the edge of the meadow that we thought would be much more private and scenic. No matter, this was not our destination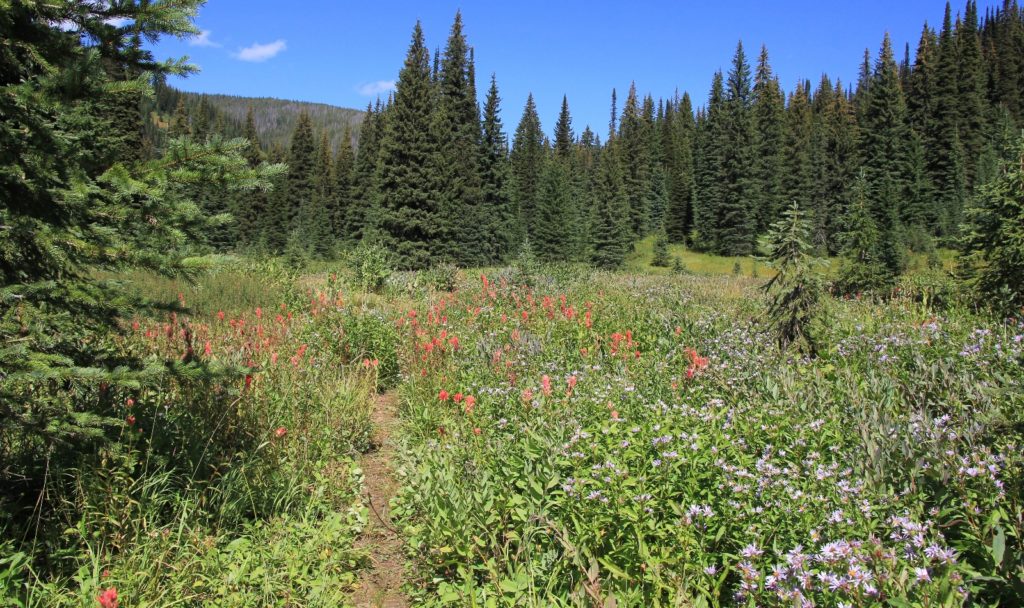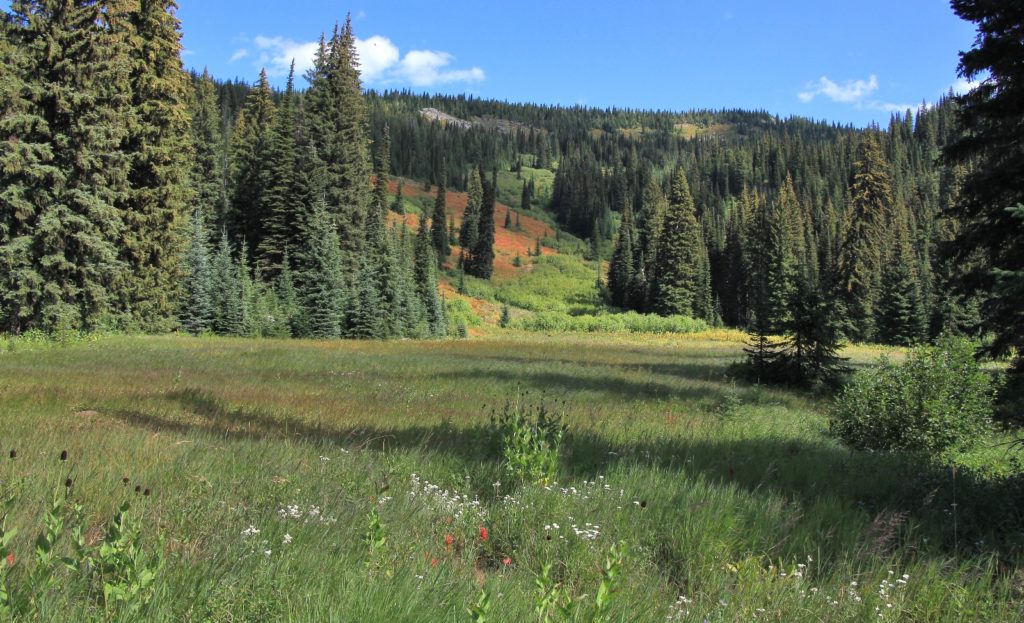 The trail was relatively flat through the meadow area. We then climbed a bit more and made a small stream crossing where the trail curved to the left. By now I felt we should be at the lake, at least according to mileage in one trail guide we had. Apparently we still had a bit further to go. We made a moderate climb with nice views up to the divide.
We arrived at Goose Lake (elev 5,761′) 6.5 miles from the trailhead. We could hear two dogs barking on the far side of the lake. As soon as I heard the barking dogs, I knew we wouldn't see any moose—and we never did. In fact, we didn't see any wildlife other than frogs and birds.
First we headed alongside the right side of the lake, but only saw one mediocre campsite. We went back and crossed the outlet stream. We greeted the people with the dogs, a very nice young couple who came in on the Stateline Trail. They were camped just off the trail in the first clump of trees along the far side of the lake. Past them we found two more very nice spots.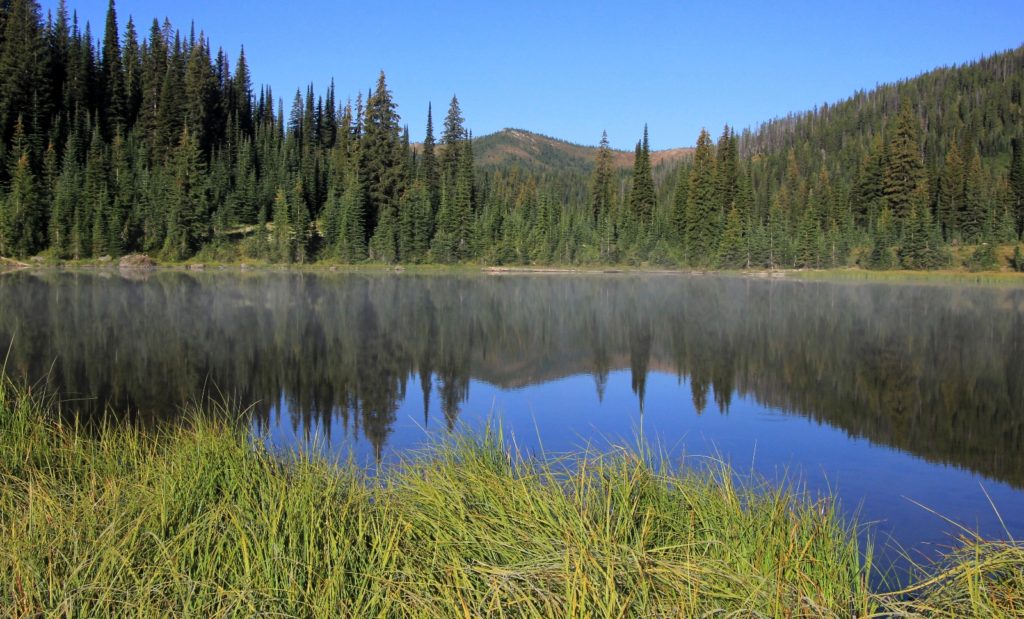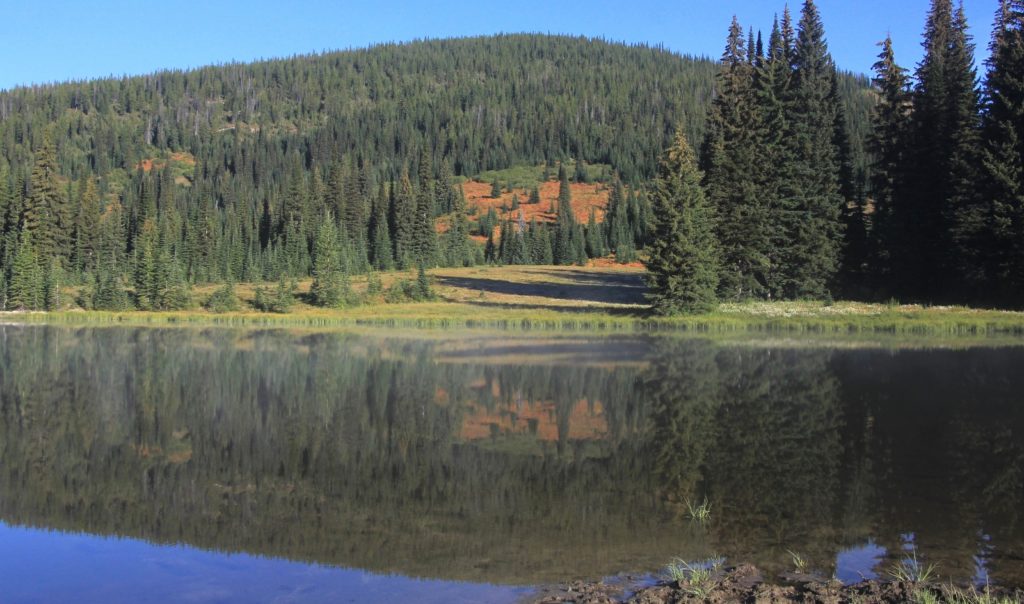 Goose Lake is a small lake of average scenic value. It was pretty and had nice character, but lacked the WOW factor of the Eagle Cap lakes we'd seen earlier in the summer. We made camp at the last campsite just past the small inlet stream. Our view of the lake was mostly obstructed by trees, but we only had to walk a short distance to sit alongside the lake.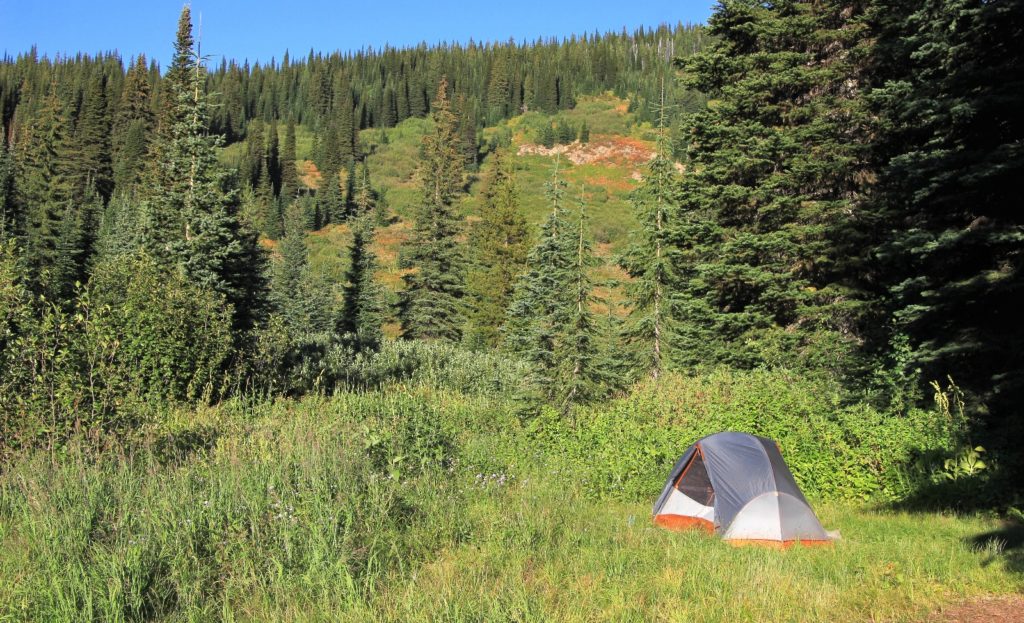 We filtered water from the inlet stream which was conveniently located just a few feet from camp. I saw 3 froggies here and the water was as cold and pure tasting as any we've found. While we were eating dinner, a middle aged couple came to get water from the inlet. They were spending several days backpacking the Stateline Trail along the ID-MT border. They reported fantastic views and few people, but no water unless you are willing to drop several hundred feet in elevation to a lake.
The temperature peaked in the low 60's that afternoon. Once the sun started dropping behind the hill around 6:00, it got cold fast! Temperatures dropped to 44 degrees by 7:30. We retreated to the tent and put all our layers on. It was going to be a cold night.
Sunday morning we were up when it was just light enough navigate without a head lamp. We poked our heads out of the tent and saw everything covered in frost—it was just 28 degrees.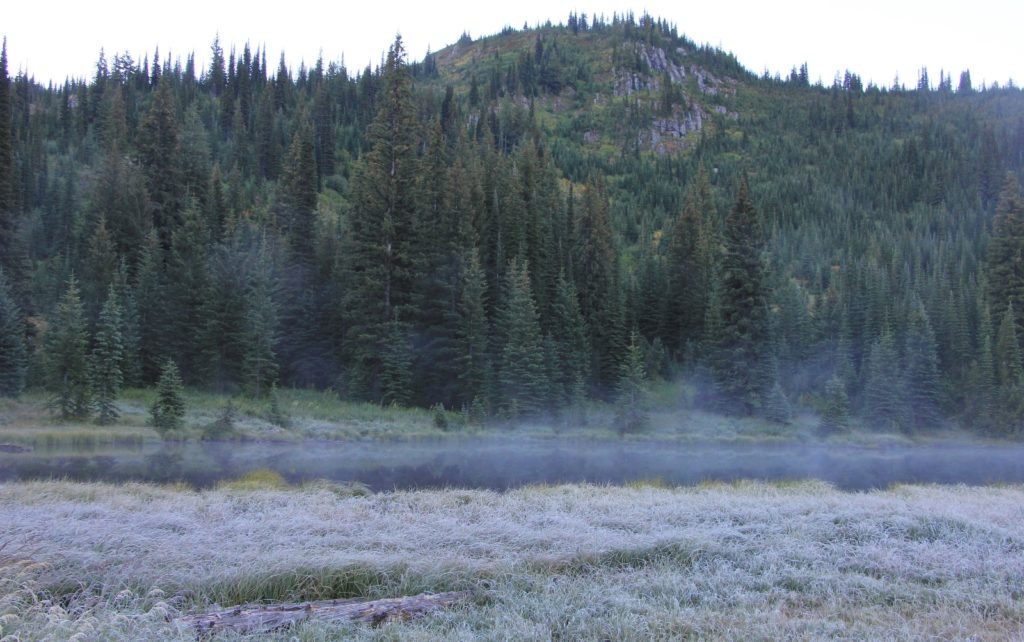 We bundled up and went out for a couple cups of coffee and breakfast. We rarely have a camp fire out backpacking, but they were allowed and someone had left some split wood at our site. Jason tried to start a fire, but with no newspaper and everything covered in frost and dew it was a fruitless effort. We took our time getting ready, neither one of us looking forward to bushwhacking our way back along the overgrown trail.
The lake was beautiful that morning with stream rising just above the surface. The beautiful red paintbrush were covered in frost and the area was accented by bushes starting to sport their fall colors. Despite three other parties camped at the lake, everything was still and quiet (most had come in on the Stateline Trail).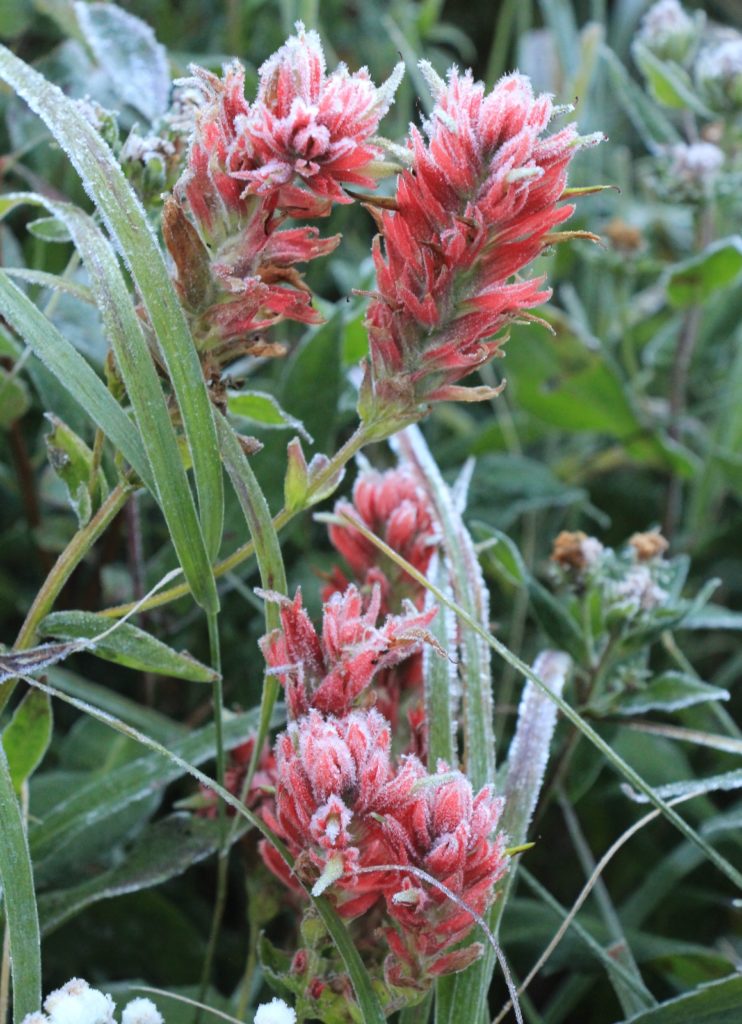 Shortly after leaving the lake, we hit the first overgrown section of trail and were instantly soaking wet from all the frozen dew. Somehow I stayed amazingly dry on top despite the fact that some of the foliage was chest and head high. But it was cold and we were mostly in the shade the entire morning.
We passed the same family down in the meadows and then two hunters past Steep Creek. Other than a few parties at the lake, these were the only people we saw during both days of hiking. The hunters asked if we saw any moose at the lake. I said, "well, there are two barking dogs…" and they both instantly grimaced.
It was slow going along the cold, wet overgrown trail, but conditions did slowly improve after Steep Creek. We even managed to take a short break in a sliver of sun for a few minutes before we got cold and continued hiking just to warm up.
We arrived back at the trailhead around 12:30. Temperatures had warmed into the 60's and it was a beautiful late summer day. We both changed into dry shorts and hit the road to find a campsite. We made our way back to a creek side campsite we'd see along Lake Creek. It was barely visible from the road and had a great tent site.
We set up camp and Jason ran a rope line for us to dry our dripping wet gear. We repacked for our day hike to Heart Lake the following day and ended the day with a couple games of cribbage. Car camping sure is a lot more comfortable than backpacking!
Got Gear?
Click here to see some of our tried and true gear. By accessing Amazon through the links on this page, you get the same GREAT Amazon pricing and they share a little with us. You don't even have to purchase one of the linked items, simply access Amazon through our site and purchase anything! This helps us maintain Evans Outdoor Adventures and is much appreciated! Thank you to our supporters!
Directions to trailhead: from Orofino, Idaho, travel east 8 miles along highway 12 to the small town of Greer. Turn left onto high 11. Climb the Greer Grade, continue through the town of Weippe, then turn right onto French Mountain Road just before mile marker 29 and the tiny mountain town of Pierce. Travel 30 miles to the crossing of the North Fork of the Clearwater River (the road transitions to gravel past French Mountain Summit). Turn right onto Forest Road 250 and travel up the North Fork 18.8 miles to Kelly Forks Work Center and turn left to stay on Road 250. Travel up Black Canyon and at about 18 miles from Kelly Fork turn right on Road 295. When that road forks, take the left to the Goose Lake trailhead.