Backpack to a beautiful high mountain lake in an impressive granite cirque
Distance (round-trip): 11.0 miles
Type: Out and back
Difficulty: moderately difficult with 3,300′ elevation gain
Best season: mid-July to late September
Once again, the rugged Selkirks called to us. Straddling the borders of Washington, Idaho, and Canada, this wild land is home to endangered grizzly bear and caribou. For those willing to venture up steep rocky trails lined with huckleberry bushes, crystal clear mountain lakes in massive granite cirques await. Hungry trout and even hungrier mosquitoes welcome you. Short backpacks lead to popular lakes that can be a busy place on summer weekends. Hike just a bit further and you could have paradise all to yourself for a true wilderness experience.
July 2016: 4:00 a.m. Saturday morning. We awoke in a comfortable hotel room in Bonners Ferry, Idaho, not far south from the Canadian border. We would have preferred camping the previous night, but the last of several severe storms were making their way through the area Friday afternoon and night. With the weather, summer traffic, and road construction, we had been happy just to make it this far north after work. As dawn broke, we could see clouds hugging the mountains on the edge of town. Behind them were some of the most rugged mountains in the Pacific Northwest. A place we'd call home for the next two days.
We made the short drive to the Kootenai Wildlife Refuge where we found a nice pullout. We enjoyed a cup of coffee and bowl of homemade oatmeal thanks to our handy Jetboil backpacking stove. In the distance, a cow moose grazed as two nearby deer kept a close eye out. Closer, 5 large bucks were welcoming the day. Conditions were still cloudy, but the summer's sun was starting to burn that off. It would be a beautiful day on the trail.
We continued up the road from the wildlife refuge and made the nearly 45 minute drive up to the trailhead along road 634 (Trout Creek). Just outside the wildlife refuge, we saw a group of large pelicans feeding in the water. They seemed very out of place and were a thrill to watch. At the same moment, two large juvenile bald eagles fly right over us. This area never disappoints for wildlife viewing.
At the trailhead (elevation 5,420′), we passed a group of eight trail runners who took off ahead of us. We made a few last minute gear adjustments and hit the trail a little after 8:00. Conditions were cool and cloudy making for a comfortable summer morning on the trail. We began the hike on Trail 13 which heads half a mile uphill to a junction. Here we ran into a couple coming down from Pyramid and Ball Lakes. We inquired about how many people were camped up that direction and they indicated both lakes were full. They hadn't been able to find any open spots along any of the lakes. My hope was that we would find more solitude at our destination.
We turned right at the trail junction, continuing along Trail 13. This lower stretch of trail was a relatively gentle, but continuous climb through moderately thick forest decorated with bear grass in bloom.
Shortly we reached another trail split where we followed Trail 41 to the right. We climbed a bit more then leveled out to grade along under a ridge line with great Selkirk views to the south. Behind us were fantastic views of Pyramid Peak— in front of us gorgeous rocky outcrops as the trail made an occasional switchback up. Many of the rugged peaks were still partially covered in clouds/fog while the Kootenai River Valley lay somewhere below us under a blanket of low clouds.
After approximately three miles of hiking and gaining 1,300′ in elevation, we topped out and began a half mile descent over rocky trail into Trout Lake. This was a short stretch, but a steep knee-pounder with a heavy pack.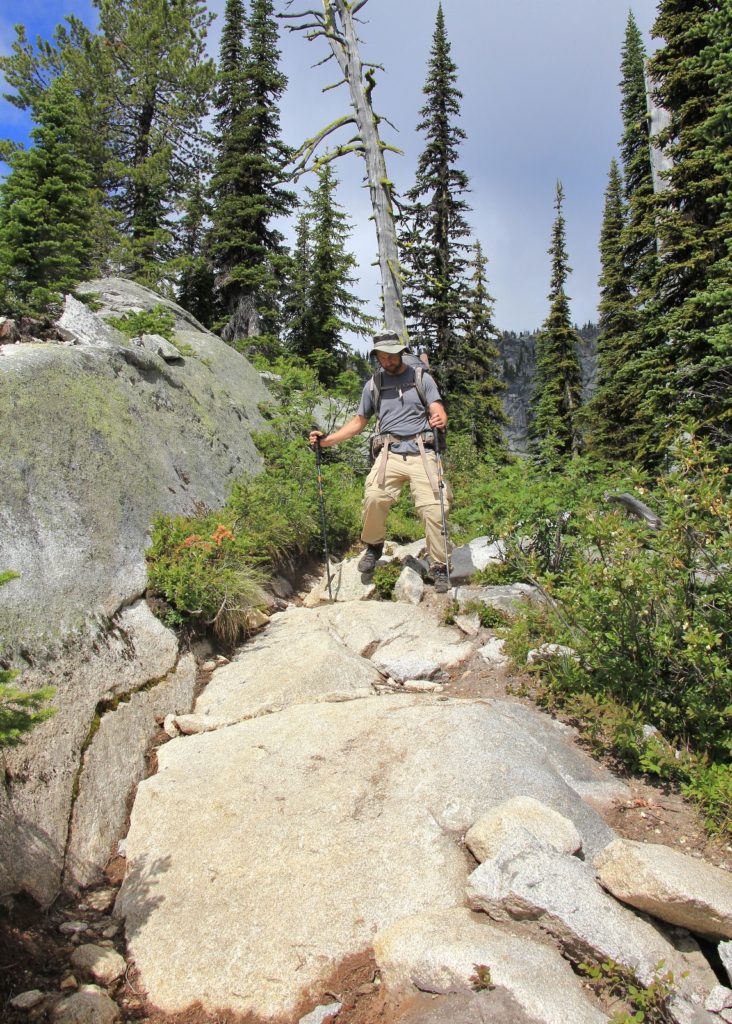 Trout Lake (elevation 6,352′) is located 3.5 miles from the trailhead and is a superb destination. We had visited Trout on a day hike several years prior. Granite peaks tower above this moderately sized lake which is stocked with rainbow and cutthroat trout. There are several nice campsites here and we could see a couple of camps set up around the lake.
We enjoyed a nice break along the lake shore near the outlet. We encountered the group of trail runners we had seen at the trailhead. They had run all the way to Big Fisher and had made their way back to Trout. I inquired if they had seen anyone else at Big Fisher and one man replied, "No, but I hope you brought lots of DEET. The mosquitoes are fierce." Ugh, that didn't sound good!
Back on the trail, we immediately began a long climb away from Trout Lake. We spent the next hour and a half climbing another 1,000' elevation over 1.75 miles. We had occasional glimpses of peaks to the north, but mostly this was a slog uphill thru relatively dense forest. With just 0.75 miles to go, we topped out and had a spectacular view straight down to Big Fisher Lake which sits in a granite cirque 700′ below Fisher Ridge. At times the trail was steep and rocky, but the views were a great distraction and the descent went quickly.
We arrived at the lake around 12:30 and found we did indeed have the place all to ourselves… and 10,000 mosquitoes. As warned, they were fierce and would be the bane of our existence for the next 18 hours. There was a decent campsite right where the trail bottomed out, but we made our way to the left in search of a more private spot. We crossed the outlet and found a great camp site a short ways further. We were on the far side of the lake with no other campsites close by. Fisher Ridge towered above us with pockets of snow remaining despite the summer heat.
By 1:30 we had camp set up and the mosquitoes were out in full force to welcome their guests. Temperatures were in the 60s and most of the morning clouds had burned off revealing sunny skies. To Jason's delight, the lake was alive with hungry cutthroat trout breaking the lake's surface— the mountain silence interrupted by their hungry slurps as they fed on small insects.
Jason grabbed his fishing gear and hit the lake. In an attempt to escape the hordes of mosquitoes, I dove into the tent with my Kindle and spent most of the rest of the day there. We had left the rain fly off, providing fantastic lake views while protecting me from the blood sucking clouds.
While the cutthroat trout in Big Fisher Lake were not large in size, they were numerous in number. Jason had great luck pulling in hungry fish after hungry fish… but he would pay the price. Despite copious amounts of DEET, the mosquitoes ate him alive. For me, it was a comfortable afternoon in the tent with the buzz of mosquitoes, slurps of cutthroat, and squeaks of picas floating through the air.
We did have a little company at the lake that afternoon. A couple we had chatted with at Fisher Lake came over for a few hours of fly fishing. They stayed on the far side of the lake, so we barely even knew they were there. I also noticed two men on the far side of the lake for about half an hour before disappearing as quickly as they appeared.
Knowing we were in potential grizzly country, I didn't sleep particularly well that night. We left the rain fly off for great views of the stars and a ¾ moon. It was a very comfortable night with lows dipping only into the mid-40s.
We were up and out of our tent by 4:30 Sunday morning. The mosquitoes sensed our presence almost immediately and were once again making our lives miserable. I covered every inch of skin possible, but to no avail. They simply bit me through my clothes. We had a cup of coffee and then split a breakfast skillet. The mosquitoes were so thick that several landed in our coffee cups and breakfasts— yum, a little extra protein. Simply put, these were the thickest and most aggressive mosquitoes we had ever encountered. DEET had not deterred them at all. We agreed to break camp as quickly as possible.
We were on the trail by 6:30. It was a beautiful morning with bright sunny conditions. I was happy for the cool start climbing up and out of Big Fisher. With much huffing and puffing, we made our way to the ridge line in 45 minutes. Here we enjoyed a nice view north to Canada and just a few mosquitoes.
Back on the trail, we began the descent to Trout Lake. In places, we enjoyed fine views south to spectacular Selkirk peaks in the distance. I wondered if we were looking over at the peaks above Beehive and Harrison Lakes which are two of the more beautiful lakes we've hiked to.
At Trout Lake we took a nice long break and enjoyed the beautiful morning with virtually no mosquitoes. It is amazing how two such similar lakes could have such different conditions.
Back on the trail, we made the steep climb out of Trout Lake. From there, we graded along while continuing to enjoy far reaching views. We descended through the forest, past all the bear grass, and back to the trailhead at 5.5 miles from our camp at Big Fisher Lake.
Back at Bonner's Ferry, we pulled into the Kootenai River Brewing Company to celebrate another great backpack with cold beverages and good food out on their deck. There's nothing better than ending a trip with a good meal and this place never disappoints!
Directions to trailhead: From downtown Bonners Ferry, take the City Center exit and travel west on Riverside Street following signs for the Kootenai National Wildlife Refuge. At roughly 5 miles from town, keep to the main road as it turns right and passes the refuge headquarters. Approximately 10 miles later, turn left onto Forest Road 634 Trout Creek and drive 9 miles up this steep road to the signed trailhead. Road 634 is steep, washboard, and rocky at times. There small trailhead parking area is only large enough for about 10 well-parked vehicles. No parking is permitted alongside the road, but we saw many violating this rule. Privy available.