By early September 2020, massive wildfires were raging across multiple Western states closing entire forests and creating the worst air quality ever recorded on the U.S. West Coast. California and Oregon were particularly hard hit by the devastating infernos, but the poor air quality extended into most Western states and Canada. For our next adventure, we looked at a map and did our best to pick a location that would have the few people, best weather, and was the 'least smoky'. Southwest Montana's Pioneer Mountains fit the bill. We'd encounter few people and the weather forecast looked beautiful. As for the smoke? Well, that was a real crap shoot anywhere west of the Rockies.
Our travels to the Pioneer Mountains would take us along the 49 mile Pioneer Mountains Scenic Byway in the Beaverhead-Deerlodge National Forest (click here for guide). The paved byway runs the entire length of the Pioneer Mountain Range where granite peaks top 10,000 feet in elevation. There is something for everyone here: camping, hiking, horseback riding, fishing, hunting, historical sites, rock hounding, hot springs, and a ski resort. The Pioneers are relatively unknown, providing for a quieter mountain experience compared to more popular Montana destinations like Glacier.
Designated a scenic byway in 1989, the road extends south from State Highway 43 at Wise River to State Highway 278 between the towns of Dillon and Jackson. The road is closed from December 1 – May 15 between Pettingill parking lot to Elkhorn Hot Springs. The short length makes the byway a nice day destination while nine Forest Service campgrounds present excellent extended stay opportunities.
Camping Along the Byway
Whether your are in a tent or an RV, there is a Forest Service campground along the Pioneer Mountain Scenic Byway for you. Working your way north to south along the byway you'll find Pettengill, Fourth of July, Lodgepole, Boulder Creek, Willow, Little Joe, Mono Creek, Price Creek, and Grasshopper. Generally speaking, we recommend Willow, Little Joe, and Mono Creek for tents and shorter RVs. All the rest (with the exception of Pettengill) had spots that would easily accommodate our 51′ total length (truck + travel trailer). For RV combinations significantly longer than ours, I'd recommend checking with the Wise River Ranger Station to ensure you'll fit in the campground you are researching. As for Pettengill—somehow we missed checking that one out. If you've stayed there, let us know what you thought!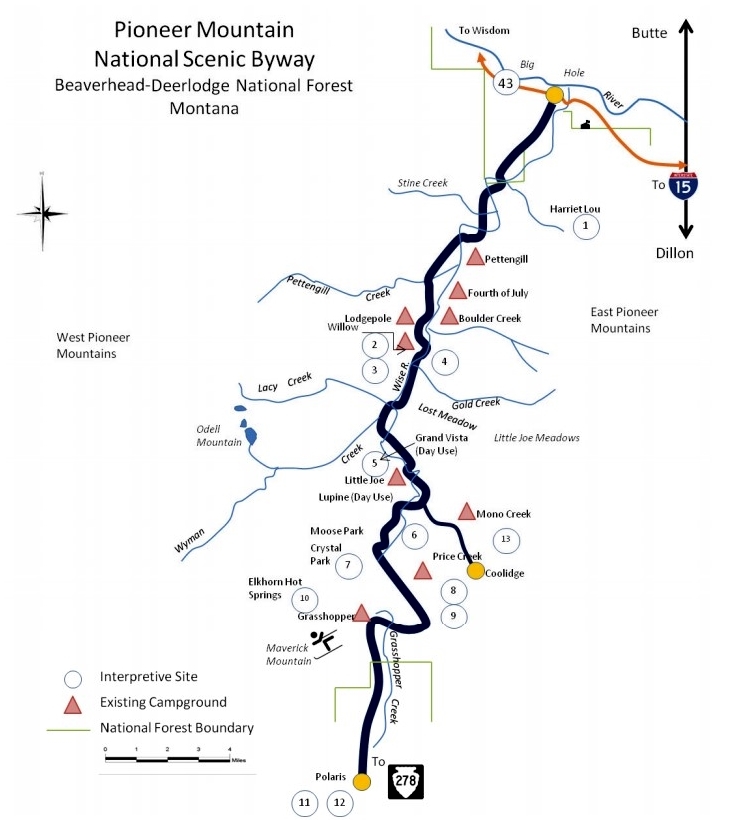 While all of the campgrounds were nice and had their own unique features, we chose Boulder Creek for our stay. It was nicely shaded while still allowing some sun exposure for our solar panels. We also liked that it wasn't as crowded as nearby Lodgepole. I think Lodgepole is so popular because it has nice sites right along the Wise River. At Boulder we scored a pull-thru site overlooking the Wise River (no easy access to the river). Access roads and sites were paved and each site had a picnic table and fire pit. There was a hand pump with potable water and two pit toilets, but no garbage service. Cost was $8 per night.
While exploring the byway, we discovered numerous, very nice looking dispersed sites where we could have dry camped for free. If we return to the area, we'll pursue those opportunities more, but we were pleased with our choice of Boulder Creek Campground for this introductory visit to the area.
A few logistical notes: when visiting the Pioneers, be sure to stock up on supplies and diesel. We bought a couple essentials at the Wise River Mercantile, but their selection is limited to the basics. Also, they are the only gas pumps in town and they do not have diesel. Also, cell and Wi-Fi is extremely limited in this area. The closest Verizon signal we found was at the Wise River Ranger Station parking lot.
Hiking the Pioneer Mountains
Hiking opportunities abound in the Pioneer Mountains. Most trailheads are located off the byway; however, some are accessed via I-15 to the east. I had a long list of high mountain lake trails I wanted to hike during our visit, but we only managed two and smoke obscured good views at both. This was unfortunate. I've seen photos of many Pioneer lakes and they are stunning. We plan to return to the area some day and tackle our list of cancelled hikes.
Our first hike in the Pioneer Mountains was to Sawtooth Lake. From our camp at Boulder Creek, we followed the byway south to just past the turn off for the Maverick Mountain Ski area. We turned east on Clark Creek Road and followed signs to the well-marked trailhead.
The trail to Sawtooth Lake was very well-maintained except for an area with a few fresh blowdowns. We started with a bit of a climb through an area that burned in 2003 and is now full of young, healthy lodgepole pine. Shade was minimal on this stretch. The middle portion of the hike was a lovely stroll along Clark Creek through healthy forest and with minimal elevation gain. The final ascent to the lake was well graded with some nice views along the upper stretches of the trail, but they were a bit muted by the wildfire smoke.
Sawtooth Lake (elevation 8,523) was a stunning mountain lake set against a backdrop of impressive peaks. Our views were somewhat muted by wildfire smoke, but we had a lovely visit and would be willing to repeat the hike for better photos and views on a clear day. We hiked 7.8 miles with a total elevation gain of 1,500′. Trail traffic was light with only four other parties encountered. If you are looking for a moderate hike in the Pioneer Mountains, we highly recommend a visit to Sawtooth Lake.
Our next hike was to Grayling Lake. Grayling was quite close to our campsite as the crow flies…not so much by road. We had a nearly 2 hour (one way) drive to reach the trailhead which required traveling north on the Pioneer Mountain Scenic Byway to Wise River, then east along highway 43 to I-15 and south to the Melrose exit, then 17 slow, washboard and potholed miles west along Trapper Creek Road (gravel) and Canyon Creek Road (dirt) to the signed trailhead. Wow—just the drive in was an adventure! Along the way we made a stop at the fascinating Canyon Creek Charcoal Kilns which I'll talk about in another post.
Conditions were pretty smoky when we arrived at the Canyon Creek Trailhead, but we hit the trail hoping for the best. The trail immediately crossed Canyon Creek on a solid footbridge and continued through the forest at a gentle incline. On occasion we'd catch a glimpse of towering mountain peaks in the distance, but they were largely obscured by smoke. The forest here on the east side of the Pioneers seemed more lush than that on the west side.
At 1.75 miles from the trailhead we arrived at a signed trail junction. The trail to the right leads to Crescent Lake, a likely destination for a future backpack. We took the Lion Creek Trail to the left where we continued a gentle climb through the forest. The majority of the elevation gain came in the last couple miles of trail over one of the best designed set of switchbacks we've ever seen. We passed several viewpoints and we could tell we were surrounded by towering mountains, but the smoke had gotten thicker and our views were limited.
Grayling Lake (elevation 8,728′) was stunning. Had it not been for the smoke, I'm guessing we would have said it was one of the more spectacular lakes we've seen. I had originally planned to continue on to neighboring Lion Lake (which is supposedly even more stunning), but we were already pushed for time and it wasn't worth the extra effort in the smoke. We both agreed that we want to come back and do this as a backpack some day, so for this visit we just enjoyed a nice break at the Grayling outlet before beginning our return hike.
Despite the smoke and obscured views for our visit, we highly recommend the hike to Grayling Lake if you are willing to make the long drive around from the byway campgrounds. Our total mileage for the day was 11.6 miles with an elevation gain of 1,400′. We only saw two other parties on the hike providing for wonderful solitude. We're definitely leaving this area on our bucket list and will return someday for some backpacking.
Other Recreational Opportunities Along the Byway
While our visit to the Pioneers focused on camping, hiking, and historical sites, I'd be remiss if I didn't encourage you to check out these other outstanding recreational opportunities along the byway:
Interpretive sites, overlooks, and picnic areas: be sure to take your time and stop at all the well-signed sites along the byway.
Elkhorn Hot Springs: this privately owned hot springs advertises as a "rustic getaway in the Grasshopper Valley". They offer lodging, restaurant, and multiple outdoor pools ranging in temperature from 92-102 degrees.
Maverick Mountain Ski Resort: a "Montana local secret" with that untouched powder you are looking for!
Crystal Park Mineral Collection Area: dig for quartz crystals at this Forest Service site along the byway. Price is $5 per vehicle.
Big Hole River fishing: the small community of Wise River offers river access and several outfitters offering guided trips.
Nearby Recreational Opportunities
And be sure to check out these nearby recreational opportunities while visiting the Pioneer Mountains!
Resources
This Forest Service brochure is a must-have reference for those planning a trip to the Pioneer Mountains National Scenic Byway. We also obtained up-to-date road and trail conditions from a friendly and knowledgeable woman at the Wise River Ranger Station.
Dillon and Butte are the closest full-service towns to the byway.
Related Posts
The Adventure Continues
Join us for our next post, Montana's Pioneer Mountains National Scenic Byway Part 2: Historical Sites. We'll take you along as we visit Coolidge Ghost Town (a must-see along the byway) and Canyon Creek Charcoal Kilns.