Backpack to a beautiful wildflower filled mountain meadow surrounded by snow covered peaks
Distance: 10 miles roundtrip
Difficulty: moderate with 1,900′ elevation gain
Type: out and back
Best season: summer and early fall
Finally—we were in the prime summer backpacking months. We had been so busy with family and purchasing our RV that it was already the middle of July and we hadn't been on a single backpack yet. In fact, our last pack had been Heart Lake the previous August. Pathetic! I wanted a quick warm up pack before we tackled two moderately challenging packs later in the month and into August. Fortunately, Oregon's Eagle Cap Wilderness is just a couple hours away and offers an endless list of quality backpacks. For this short trip, we decided on McCully Basin.
At 355,548 acres, the Eagle Cap is Oregon's largest wilderness area. It is also the state's largest continuous alpine area and boasts the state's highest lake (Legore Lake, elevation 8,880′). While locations such as Mt. Hood, Mt. Jefferson, and Crater Lake in western Oregon get hoards of visitors, the Eagle Cap is relatively quiet (with the exception of Mirror Lake area).
McCully Basin had been on my radar for a couple years. It didn't look like a spectacular pack (by Eagle Cap standards), but it looked like a good overnighter. We left our home in SE Washington before 5:00 a.m. and enjoyed a beautiful sunrise on the drive south into Oregon.
We arrived at the McCully Basin Trailhead (elev 5,744') SE of Joseph, Oregon a little after 7:00. We were the only vehicle in the parking lot and the weather was beautiful—fantastic! I filled out our free wilderness permit and we were on the trail before 8:00
From the hiker register, we followed the trail a short distance down to the gravel service road for the Wallowa Lake Tramway. At 0.4 miles we came to a sharp bend in the road. To the right was a closed gate. We turned to the left onto an unmarked road which is the trail to McCully. At 0.7 miles, the old road transitioned to trail.
The next couple of miles were pretty pedestrian as we climbed through spruce dominated forest. We didn't have much for views of the Eagle Cap peaks or McCully Creek, but at least we were in shade and we had some nice trail side wildflowers. The climb was never steep for long, but it was a continuous climb the entire hike in.
At 2.32 miles we came to the Eagle Cap Wilderness boundary.
By the time we reached the crossing of McCully Creek at 4.6 miles, I was pooped. I wasn't yet acclimated to summer temperatures or mountain elevations. We continued to have very little for views, so it was hard for me to stay motivated. We crossed the creek and started looking for a nice campsite.
At 5.0 miles from the trailhead, we could see a meadow opening up to the right toward McCully Creek. We followed a faint side trail down to a beautiful campsite on the edge of a large wildflower filled meadow with great views of Aneroid Mountain and surrounding Eagle Cap peaks. McCully Creek was just across the meadow, so we'd have a close water source. We both agreed this would make a fine campsite (elevation 7,653').
We went to work setting up camp in the shade. It was a perfect afternoon with temperatures holding in the mid-60s and just a few poofy white clouds. We filtered some water from cold, clear McCully Creek and then it was time to relax.
Jason fell asleep almost immediately while I read and wandered the meadow taking wildflower photos. I saw paintbrush, lupine, aster, shooting star, columbine, elephants head, mountain bluebell, and penstemon—not to mention several other species that I couldn't identify (I really need to work on my wildflower identification skills). The meadow was dominated by penstemon and what I think were masses of yellow paintbrush not yet in bloom. Mosquitoes were very tame considering we were in a meadow just after snow melt, but the flies were quite obnoxious and annoying. Most were harmless, but the occasional little bastard would bite.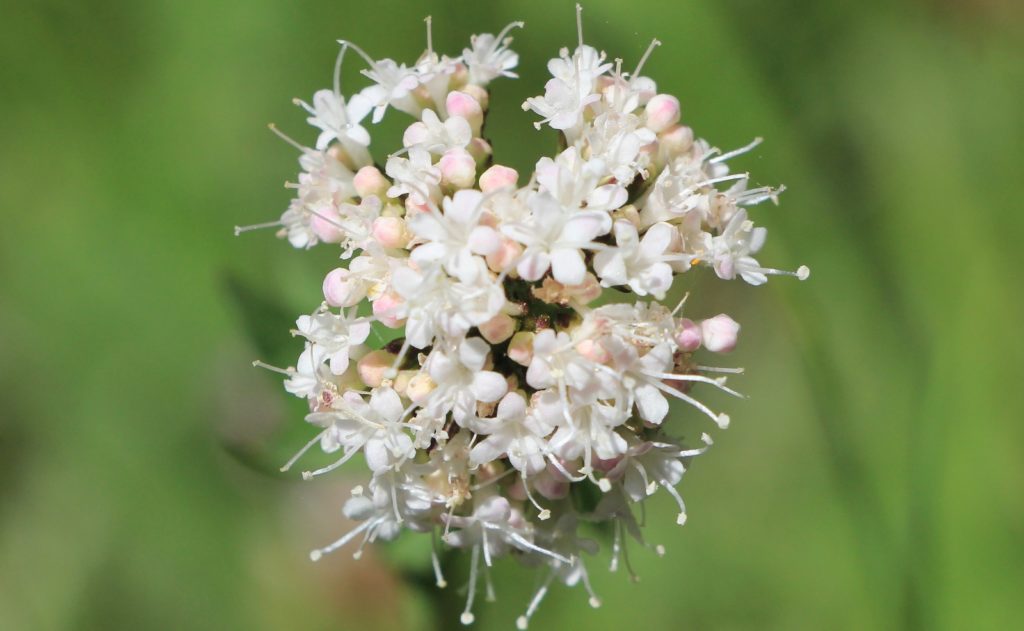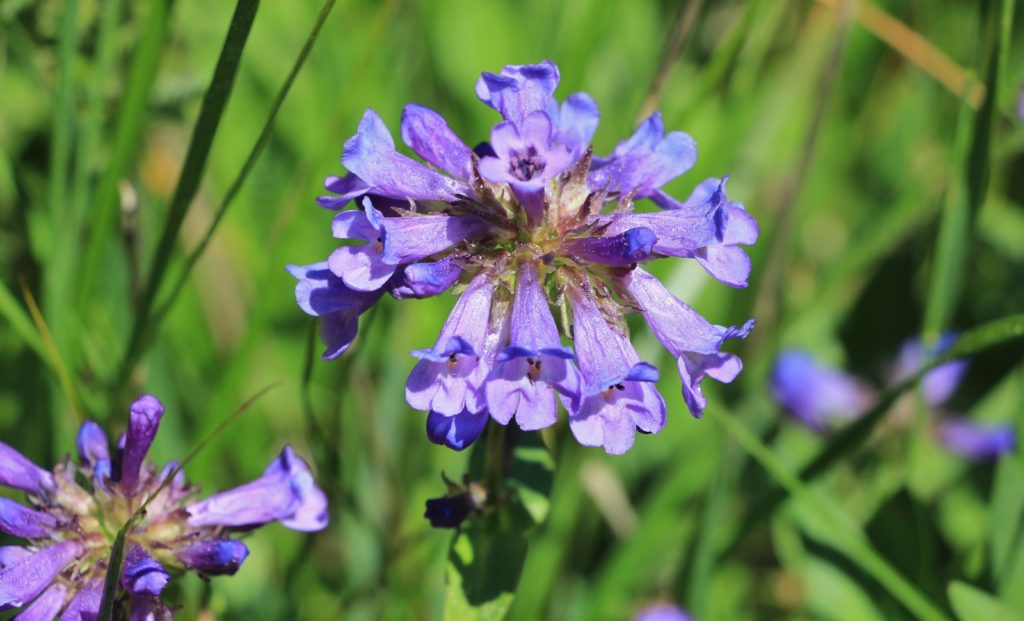 It was a lazy afternoon around camp, enjoying the views and solitude. We hadn't seen a single soul on the trail and wouldn't see anyone around camp that night. We had an early dinner at 4:00 of chili mac and a Knorr rice side. We were in the tent reading by 6:30 and I was asleep by 7:30.
After one of the better night's sleep I've had out backpacking, we were up at 4:30. Early mornings are my favorite time of day while out backpacking. I enjoy the cool, quiet mornings. It was 33 degrees and we enjoyed two cups of hot coffee while comfortably bundled up in our down coats. Breakfast was dehydrated skillet and and my homemade backpacker oatmeal.
We broke down camp and took off around 7:30. Temperatures were still cool making for comfortable hiking conditions. Once the sun crested the mountains, things warmed up quickly and it didn't take long after the McCully Creek crossing for us to shed all our extra layers. It was a peaceful and easy hike out, all downhill on mostly good trail. We had a few rocky areas, a couple downed trees, and the occasional muddy stretch, but overall this is about as good a trail as you'll find.
We saw our first and only trail company about a mile from the trailhead, a lone female trail runner. The last stretch of trail along the road felt especially warm, but we enjoyed views out across the farmland and off to the Seven Devils.
Arriving at the trailhead a little after 10:00, temperatures had warmed into the low 70s and we were happy for an ice cold drink. We had a lovely conversation with some members of the Wallowa Mountain Hells Canyon Trail Association while they were loading their horses in preparation for some trail maintenance. Now that we're semi-retired, we'd like to start doing some volunteer work with organizations such as this fine group. I'm following their Facebook page so I can hear about their upcoming work events.
We made the short drive back to Joseph where we had an early lunch at Embers Brewhouse. A stop at Embers is always a treat. They have outside seating with mountain views and really great pizza and calzones.
Directions to trailhead: From Joseph, Oregon, travel east on the Imnaha Highway. Drive 5.4 miles then turn right on Tucker Down Road. Travel 3.1 miles to the end of the pavement and then continue another 2.0 miles on moderately rough gravel road to the trailhead (keep right at all junctions). A NW Trails pass is required. Pit toilet available.
Resources Used
Hiking Oregon's Eagle Cap Wilderness
100 Hikes / Travel Guide: Eastern Oregon
Got Gear?
Click here to see some of our tried and true gear. By accessing Amazon through the links on this page, you get the same GREAT Amazon pricing and they share a little with us. You don't even have to purchase one of the linked items, simply access Amazon through our site and purchase anything! This helps us maintain Evans Outdoor Adventures and is much appreciated! Thank you to our supporters!