Exceptional backpacking loop to several high mountain lakes and over a mountain pass in Oregon's stunning Eagle Cap Wilderness.
Distance: 21 miles round trip (including side trip to Moccasin Lake)
Type: loop backpack
Difficulty: moderate with 3,160′ elevation gain
Best season: July – September
The first time I can recall thinking, "we should try backpacking" was after seeing photos of the loop hike to Minam and Mirror Lakes in Oregon's Eagle Cap Wilderness (click here for map). The high mountain lakes were stunning and I wanted to see them in person. We planned the trip on two previous occasions, once in 2011 and again in 2014. Neither trip had worked out, but the route remained my top bucket list backpack.
Finally, in July 2015, we were able to make the trip. We drove from our home in SE Washington to the Two Pan Trailhead on the east side of Oregon's Eagle Cap Wilderness. The trailhead sits at the end of the road and it was already packed when we arrived on a Thursday morning. I counted thirty cars in the lot and we managed to squeeze the truck into the last makeshift spot. We signed in at the trailhead, filled out our self issue wilderness permits, and we were off.
Trail 1670 to Minam Lake and trail 1662 to Mirror Lake both begin from the Two Pan Trailhead at 5,584′ elevation. We hiked a short distance to the wilderness boundary and a trail split. We took trail 1670 to the right which would take us up the West Fork of the Lostine River just over 6.0 miles to Minam Lake.
We started by following the East Fork Lostine about 1/3 mile before crossing it on a good foot bridge. For the next roughly 4 miles, the hike was a bit of a grind as we steadily climbed through thick forest with few views. There were some lovely stretches of the West Fork and an occasional view, but mostly this stretch was about making our miles. We knew the destination would be worth it. We only saw one hiker those first four miles as well as a couple on horseback packing in for several days.
At 4.3 miles in we met and took a break with a retired couple from Bend. They were out for several days and were a good source of information and encouragement for our hike. Most importantly, the wife assured me that the river crossing we were about to make over the Lostine was the worst of the trip. It turned out to be no problem thanks to the low snow runoff year—we were able to rock hop across and stay completely dry.
After crossing the West Fork of the Lostine, the trail opened up into a beautiful lush valley. We took another break here to sit and enjoy the view.
It was another 1.5 miles to Minam Lake. This stretch of trail was beautiful and much more enjoyable than the lower stretch. We arrived at Minam around dinner after hiking 6.2 miles and climbing 1,780' in elevation to 7,375'. After doing a little scouting up the east side of the lake, we chose a beautiful campsite just above the lake outlet. We had great views and no neighbors in sight. Conditions had been cloudy most of the hike in, but they started to clear up by evening.
Minam Lake was a relatively large high mountain lake set in front of some impressive mountain peaks (Brown Mountain and Granite Mountain were the two I could identify on the map). Jason did a little fishing near camp before we settle in for dinner. By 8:00, temperatures had already dropped to 39 degrees. We put on our heavy fleece and turned in to bed so that we could snuggle in our warm down sleeping bags and do a little reading.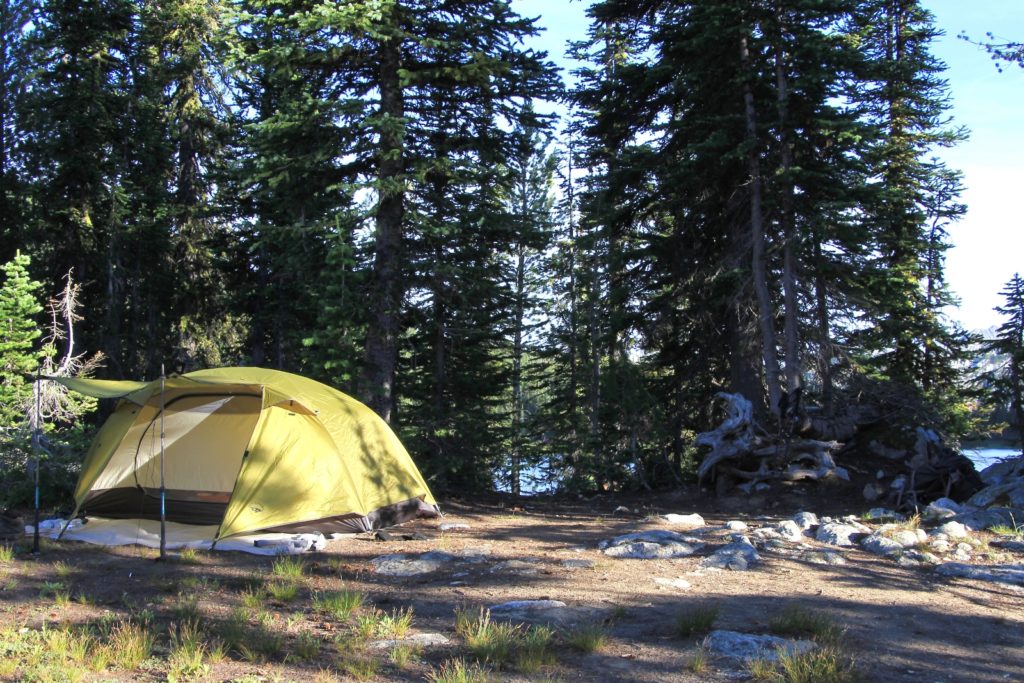 Friday morning: Jason's headlamp illuminated the darkness of the tent— it was 4:00 a.m. He grabbed his book and started reading. I pulled my down sleeping bag up tight and laid there for another half hour until the birds started to chirp.
We rolled out of bed to 38 degrees and a breeze that made it feel much colder. There wasn't enough daylight to see yet, so we made coffee and breakfast by headlamp (oatmeal for me and dehydrated egg meal for Jason).
We hit the trail at 7:30 and followed the east side of Minam Lake for a short distance before climbing above the lake. At the southern end of the lake, we turned east onto trail 1661 and immediately began our climb to Ivan Carper Pass. The trail climbs 1,195' feet in 1.5 miles, but over mostly good tread so it was an enjoyable climb. At between 7,000'-8000', the air was thin and the going slow. I was very happy for the cool conditions.
After about 1/3 mile, views of Minam Lake below started to open up and it was a stunning hike from there forward. As the air got thinner and thinner, the views got better and better. About half way up, we spotted a cow elk grazing in a small meadow with fantastic views. We took a short break there to enjoy the setting before continuing up toward the pass.
We were in pika country now. Boulder slides were everywhere and the view included over to Blue Lake and beyond.
After 1.5 miles, we reached Ivan Carper Pass at 8,560'. Temperatures had warmed a bit, the sun was out, we had amazing 360 degree views, and we were the only people in sight. We enjoyed the views for a while before beginning our descent.
The trail dropped steeply off the pass, losing nearly 1,000' elevation in 1.5 miles to Upper Lake. For the entire descent, we had jaw dropping views of Upper, Mirror and Moccasin Lakes. There were some beautiful meadows and even a couple waterfalls. Best of all, I found a meadow with a bunch of mouse-on-a-stick!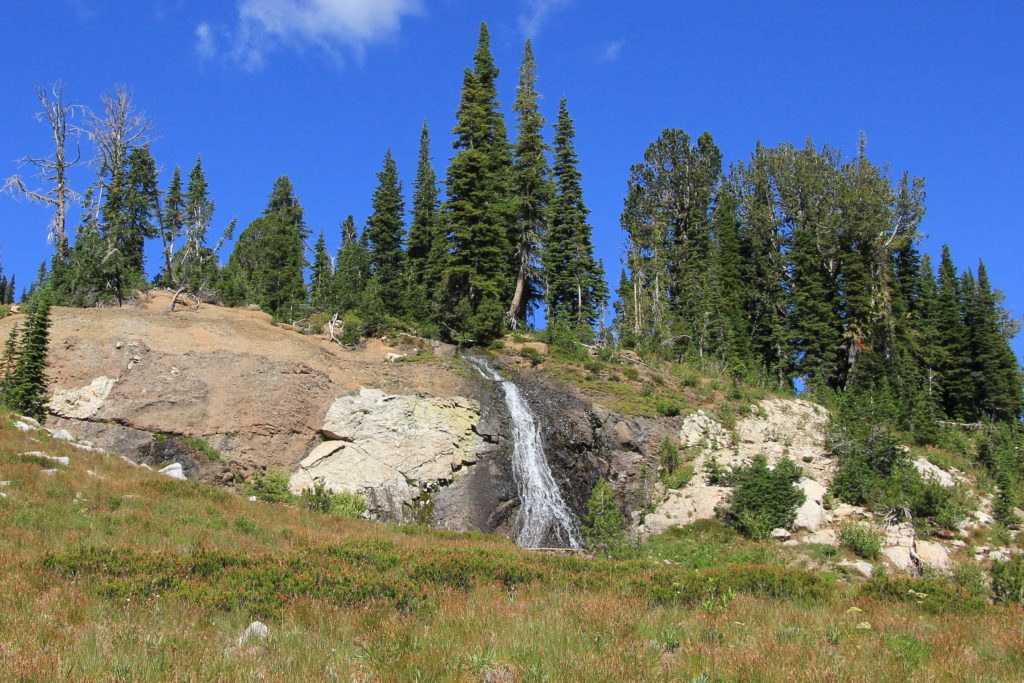 We passed Upper Lake and dropped down onto the shores of Mirror Lake at 7,576'. Here we saw our first person of the day, a young woman backpacking by herself. We also saw the junction for trail 1662 down the East Fork of the Lostine River which would take us back to the truck the following day. For now, we continued straight onto trail 1810 which runs alongside Mirror Lake.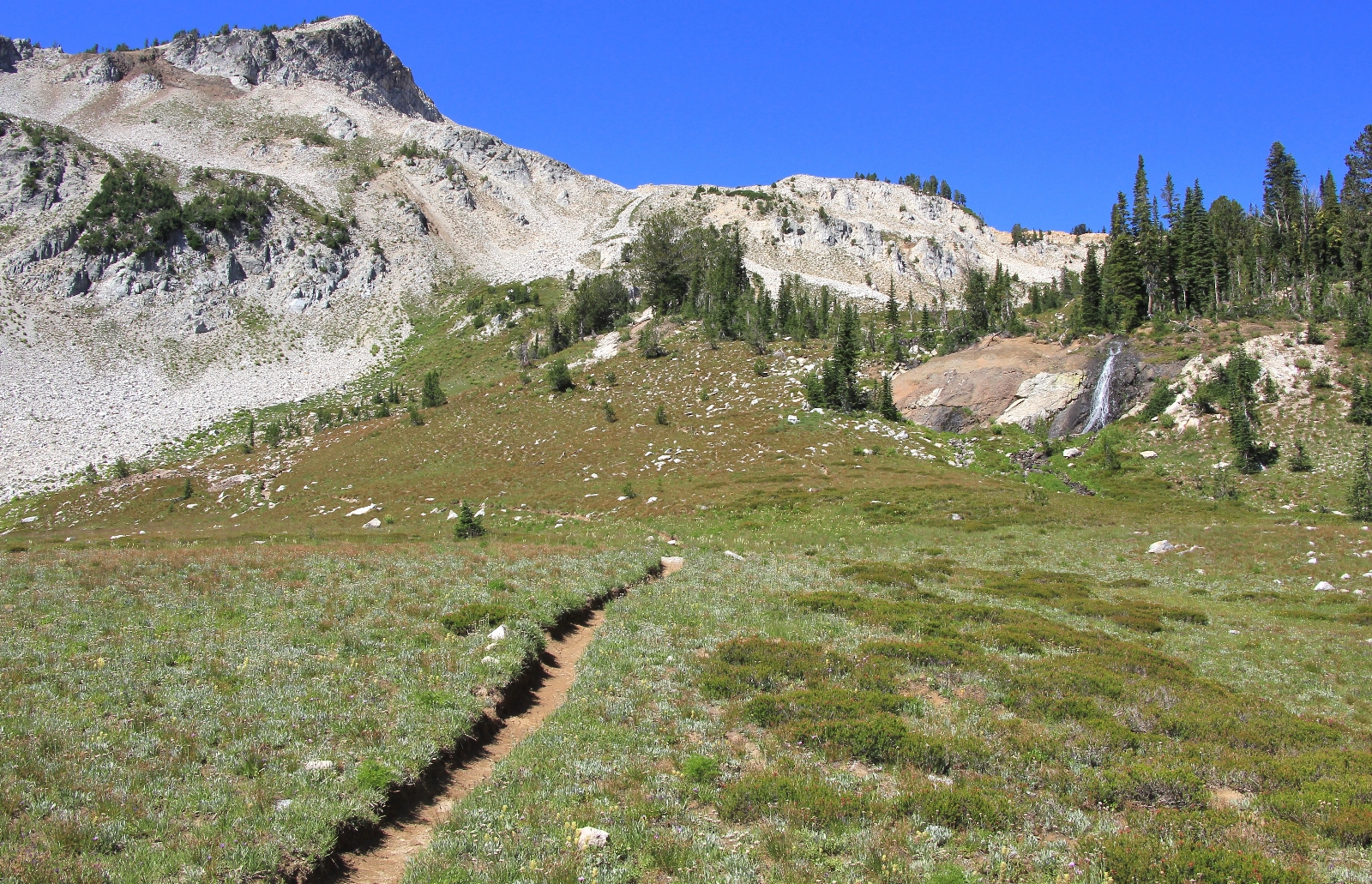 We hiked a short distance further and found a trail leading up and away from the lake. We followed it a short distance to a lovely campsite with amazing views of Mirror Lake and Eagle Cap. It was 11:00. We had hiked approxiately 4.25 miles from our camp on Minam with 1,160′ elevation gain. We set up camp, ate a little lunch, and then grabbed our day packs.
We hiked east along the Mirror Lake shoreline admiring the views and taking photos. It was one of the prettiest lakes we'd ever been on. We found the far eastern corner of the lake to be especially scenic.
From there, we caught trail 1810A down to Moccasin Lake. It was about an easy 1 mile hike with 200' elevation loss. We had superb views of Moccasin from above.
On our descent down into Moccasin, we passed a Forest Service volunteer. He appeared to be in his 60s and we had an enjoyable time talking with him. He indicated that we may see him later patrolling around Mirror Lake at dinner time. In our experience, that is unusual for our wilderness areas; however, with the popularity of Mirror Lake, I think the FS presence is a good idea. They monitor for illegal fires and other behaviors that would have a negative impact on the lake ecosystem.
Once down on Moccasin, Jason did a little fishing. Conditions were a bit breezy, but mostly sunny with temperatures probably in the low 60s. It was a very pleasant afternoon. I enjoyed the scenery with the lake views and towering mountains.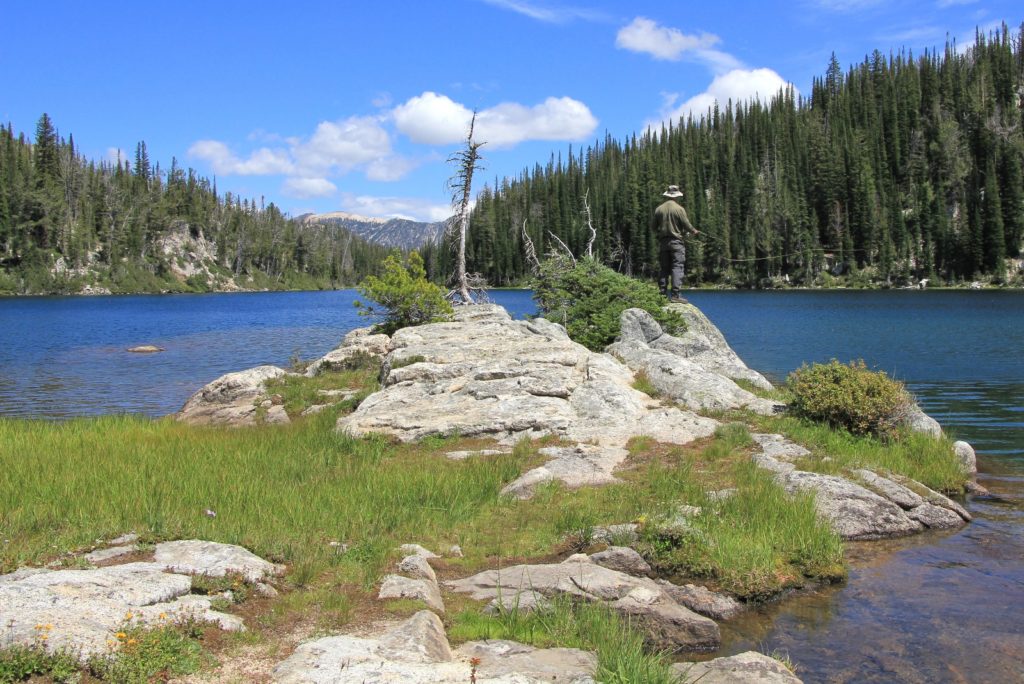 Back at camp, as we were finishing dinner, a young woman came up and chatted with us for a while. She was also a Forest Service volunteer who was attempting to get on with the park service full time. She had hiked/backpacked in many areas and we had a good time talking with her. After a bit, the gentleman volunteer we had seen earlier in the afternoon joined the conversation. We spent the rest of the evening strolling along the lake.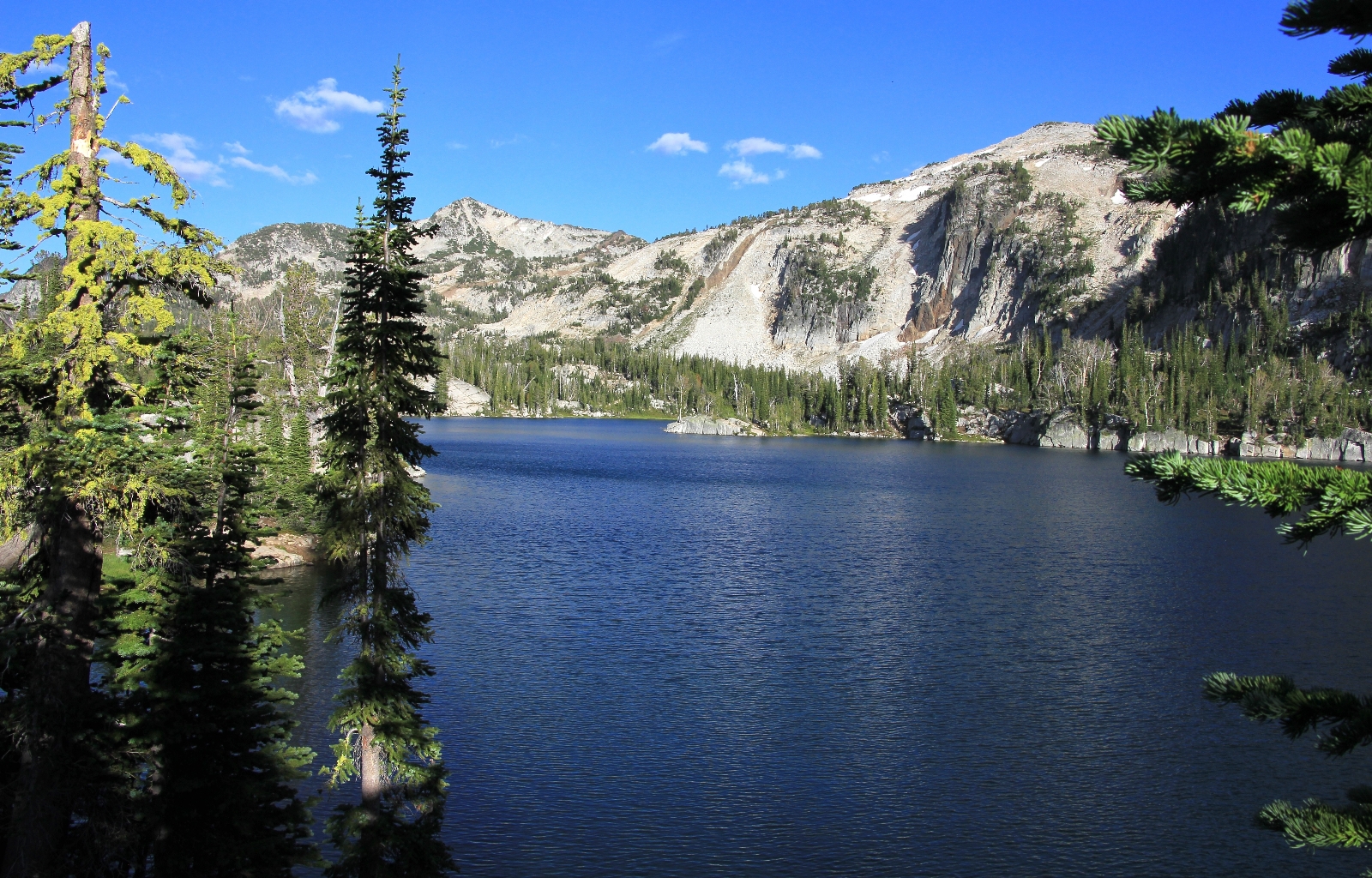 Saturday morning: Again, Jason's headlamp came on at 4:00 a.m… pitch black thirty and 38 degrees outside. By 4:30 we were up and having coffee and breakfast. A doe came through camp and kept us company for a bit. As the sun finally started to rise, I grabbed my camera. It was time for some reflection shots of Mirror Lake.
The previous morning at Minam Lake had been too windy for reflection shots. Likewise, it was breezy enough Friday afternoon that I couldn't grab any good shots at Moccasin or Mirror. But this morning was calm and beautiful. I walked around the lake and grabbed some shots. I even saw a cow and bull elk—the advantage of being the first person up and about on the lake.
By 6:00 I was back at camp and we started packing up. With cool temperatures and no wind, it was a beautiful morning for hiking. We retraced our steps west a short distance toward Ivan Carper Pass and then turned north down the East Fork of the Lostine River trail #1662.
We dropped elevation through thick forest for roughly 2 miles. After descending about 500', the trail dropped down up into a large open valley which would provide nearly level hiking for the next 2.3 miles. We crossed the Lostine on a nice foot bridge where we had amazing views back up to Eagle Cap.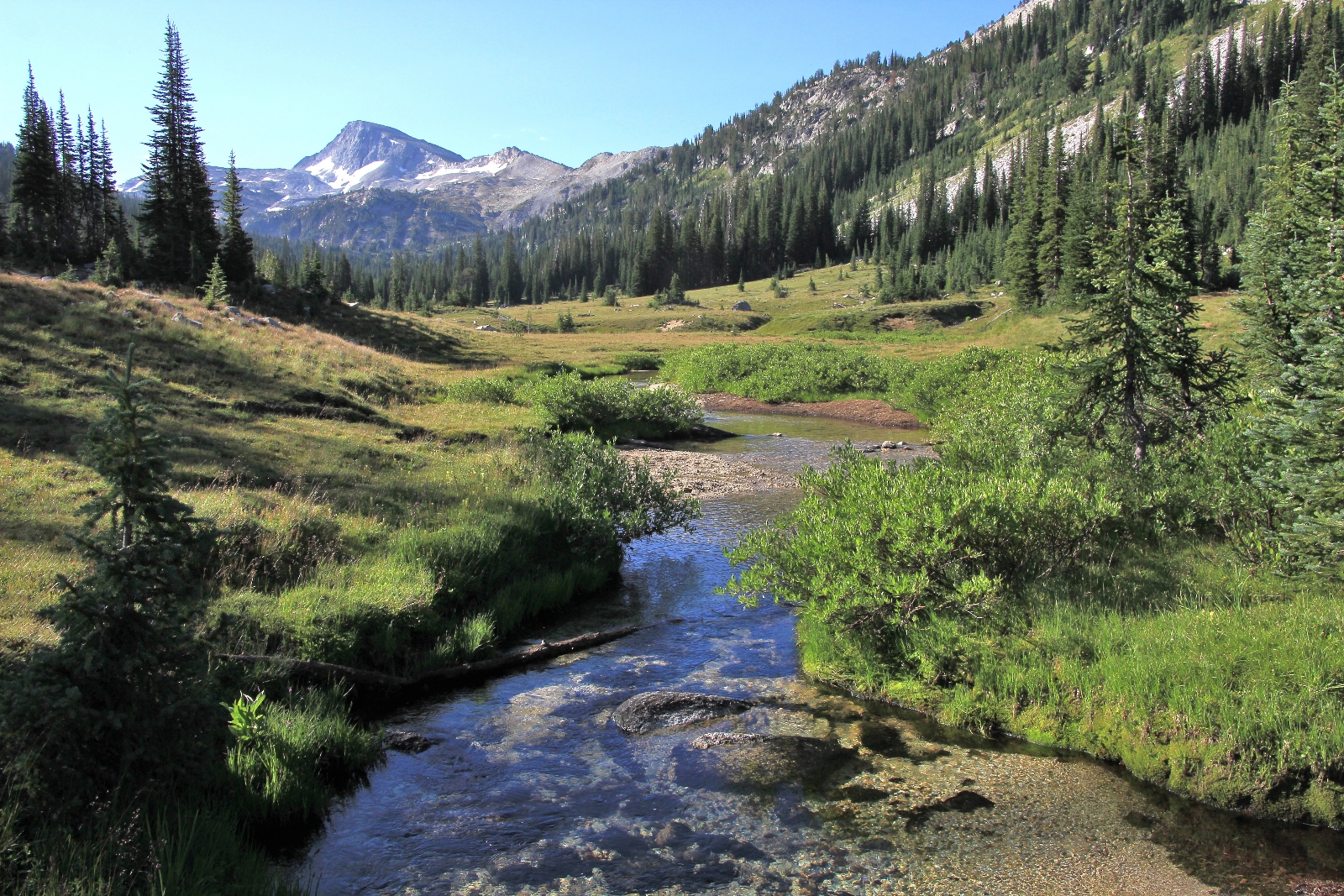 For the next couple of miles we would follow a relatively flat stretch of trail along the edge of the lush river valley.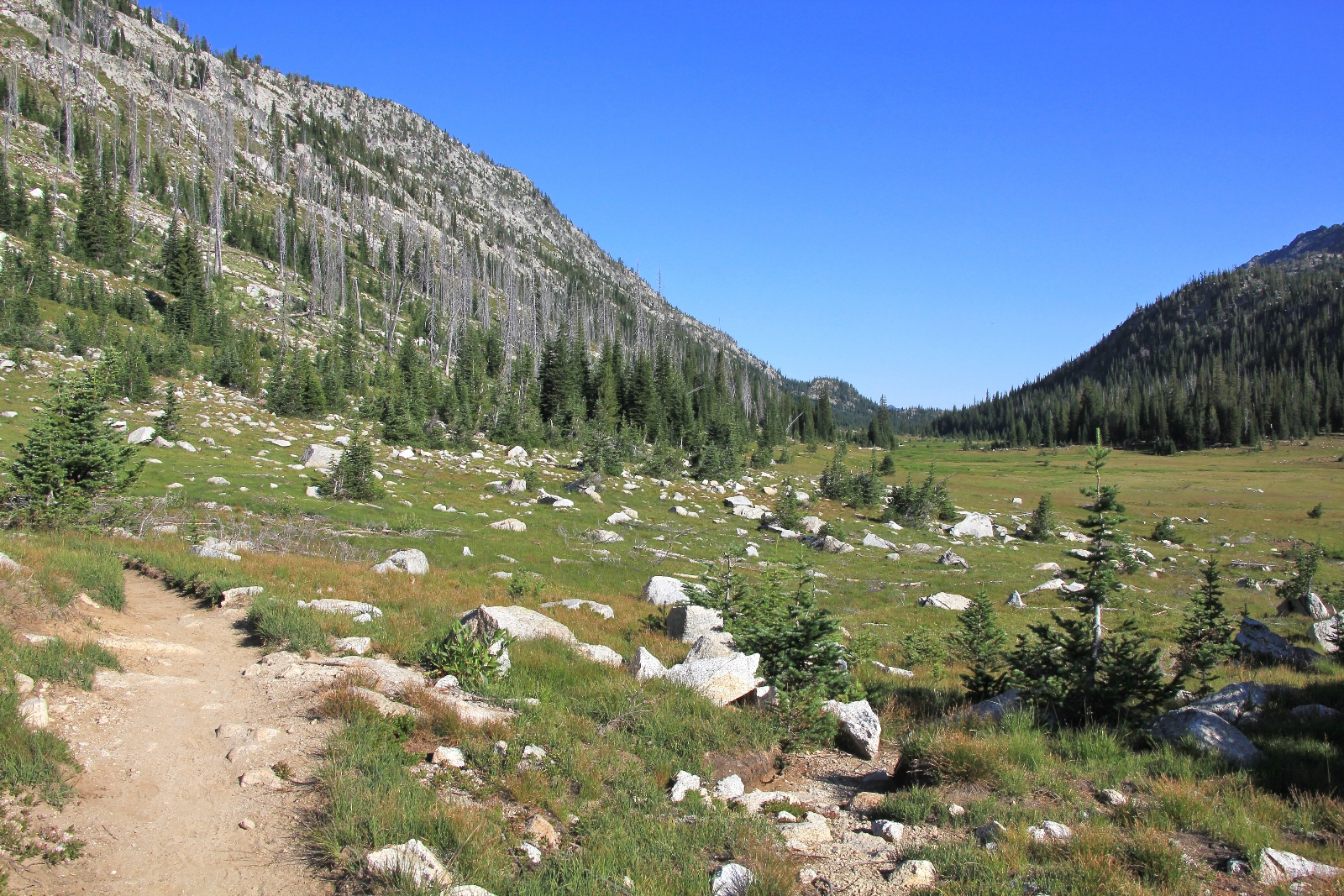 At about 3.5 miles, we encountered our first person- a man around 60 years old who was running the trail. He planned to summit Eagle Cap on his day run. WOW! We continued along to Lost Lake. The lake was not very pretty and seemed very out of place in this beautiful valley.
At 4.5 miles we reached a wide area of the river. Here we found a nice campsite and Jason stopped to try a little fishing. He had several bites, but didn't hook any. The Eagle Cap was just not cooperating on the fishing, but it is an area that gets hit hard.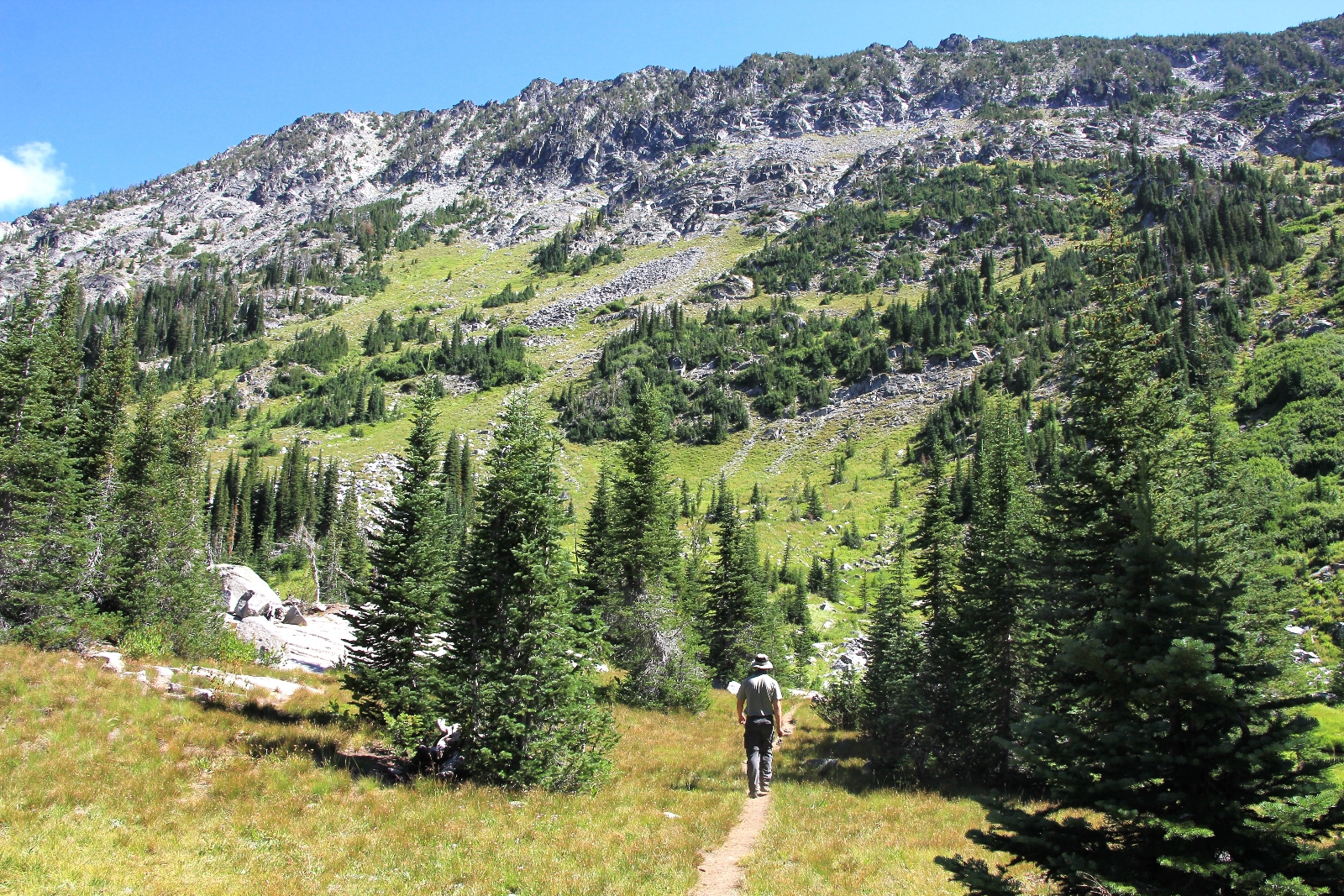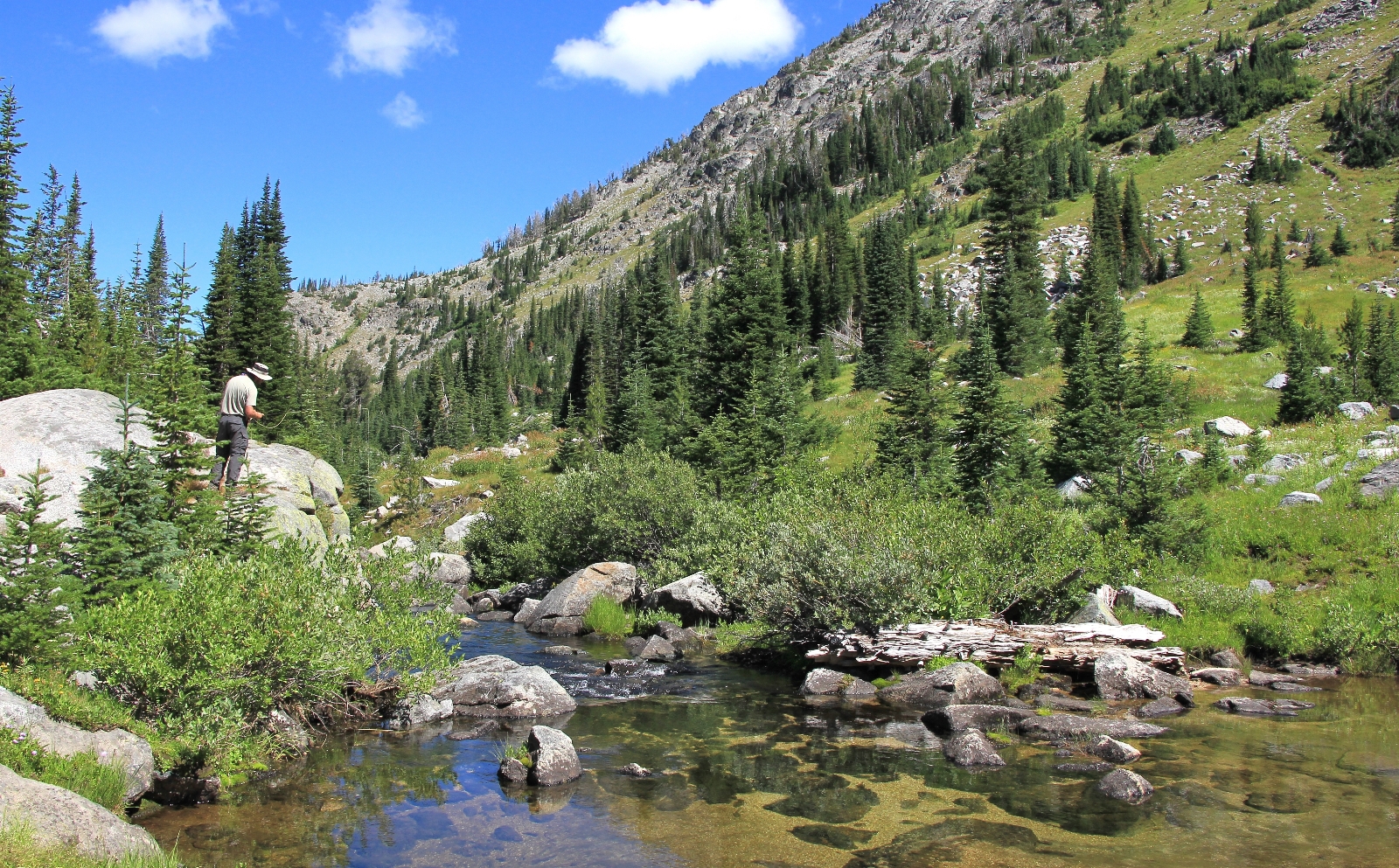 Back on the trail, we began to drop sharply in elevation again. We were roughly 2 miles from the trailhead and we still had about 1,500' to drop. We entered back into thick forest and after a distance passed a nice little waterfall area. Shortly after that we passed a nice campsite in the thick woods along the East Fork as it roared its way through a narrow section of canyon.
As we continued to drop we met up with two older women with six pack goats. We chatted for a while as I inquired about their goats. It seems this was the first trip out for all but one. They were doing well so far and they would be going "as far as the goats would tolerate". We met a few more couples on the trail including a young couple with a dog who planned to summit and then spend the night on the top of Eagle Cap.
As usual, that last mile of trail seemed to last forever, By now, temperatures were in the mid-60s and it had been an absolutely perfect hiking day. We crossed over the East Fork on a single log bridge about a mile from the trailhead.
We arrived back at the truck just shy of 1:00 after hiking 7.5 miles and dropping just over 2,000' in elevation (most of that in the last 2 miles). We had backpacked 21 miles of incredible countryside.
Directions to Two Pan Trailhead: From Enterprise, Oregon travel north on highway 82 to the small town of Lostine. Just as you are entering Lostine, the highway curves hard to the right. Take a left here onto the Lostine River Road and go 7 miles to the Forest boundary; Lostine River Road then turns into Forest Road 8210. Travel on Forest Road 8210 11 more miles to the end of the road and the trailhead; The forest roads are narrow with a gravel surface. Northwest Trail Pass required