Starting out on our Fall 2023 travels, we didn't have any set plans for the first month and a half. We figured we'd head for Southern Utah and make the rest up as we went along. October is a beautiful time of year in red rock country and we knew it would be easy to find campsites and activities. Easy, that is, until we realized we'd be arriving just days before the Ring of Fire Eclipse. Our first destination, Bryce Canyon National Park, would be in the path of totality and officials were expecting a big turnout.
Tom's Best Spring Road Boondocking
We rushed our travels through Nevada so that we could arrive in the Bryce Canyon area several days ahead of the eclipse. Arriving early in the week, we had no trouble finding a boondocking site along Tom's Best Spring Road, just 9 miles from the entrance to Bryce and 4 miles from the Red Canyon Visitor Center.
Tom's is a popular dispersed camping area in the Dixie National Forest. There are a multitude of sites along a cluster of roads immediately off Scenic Byway 12. Tom's Best Spring Road is a relatively well-maintained gravel road and is easily accessible regardless of your RV size and/or clearance. Side roads vary in their condition and I'd recommend those with big rigs scout those out ahead of time. There are a few areas that are closed to camping. Click here for the Powell Ranger District Visitor Use Map which shows areas that are open (and closed) to dispersed camping near Bryce Canyon National Park.
We lucked out with a beautiful spot about a mile from the highway. We were close enough to Tom's Best Spring Road that access was a cinch, yet far enough back that dust wasn't an issue. Traffic was generally light, especially at night. We loved that our site was plenty big for us, but not so big that someone else would move right in on top of us. The area did get busy over the eclipse weekend, but was otherwise pretty quiet given its proximity to Bryce.
Tom's Best Spring Road is true boondocking. There are no designated sites, no hookups, and no facilities of any kind (toilets, picnic tables, water spigots, RV dump, etc.). We enjoyed 8 nights of relative solitude, no close neighbors, and it was completely free!
If you camp here, please follow these common sense rules:
Follow Leave No Trace principals.
Pack out all trash.
Motorized vehicle use for the purpose of dispersed camping is only allowed 150 feet from any designated route to limit resource damage. Use existing campsites.
You need to be self-contained.
Camping limit is 16 days. After 16 days, you must move at least 10 miles for camping in another dispersed area.
Place your campsite at least 300 feet from any stream or water source.
This area is high elevation (nearly 8,000 feet) and the overnight lows reflected that. We had 18 degrees one night and 20s several other nights during our mid-October stay. Despite the cold nights, days were generally sunny and comfortable. We planned to stay two weeks, but left after just 8 nights when the Forest Service came through and signed the area as "NO CAMPING" in preparation for prescribed burns in the area. That was a disappointment, but we thoroughly enjoyed the time we did have and we wouldn't hesitate to stay there again.
During our time at Tom's, we enjoyed 3 days hiking in Red Canyon, 2 days hiking at Bryce Canyon National Park, a lovely bike ride through Red Canyon, watching the Ring of Fire Eclipse, and we even made it down to the Grand Staircase-Escalante National Monument for a day.
In the Path of Totality
During 2023, Bryce Canyon National Park celebrated its centennial. How fitting that it was also in the path of totality for the United State's first annular solar eclipse since 2012! An annular solar eclipse occurs when the moon passes between the sun and earth. The moon appears smaller than the sun and does not completely cover it, leaving the sun's visible outer edges to form a 'ring of fire' around the moon.
We viewed the Ring of Fire Eclipse from the comfort of camp. No fighting traffic and crowds. No searching for a parking spot at Bryce. We just made a cup of coffee, pulled out our camp chairs, put on our ISO approved eclipse glasses, and enjoyed the show. We were struck by how much the temperature dropped while we were in the path of totality and that the birds stopped chirping for about an hour.
Enjoying a Favorite Hike at Grand Staircase-Escalante National Monument
During our stay on Tom's Best Spring Road, we took a day to visit Grand Staircase-Escalante National Monument. The fall colors start putting on their show around mid-October and we wanted to enjoy those. For our brief visit, we chose to hike to an old favorite, Escalante Natural Bridge. From our camp to the Escalante River Trailhead was a 67 mile drive. The route takes you along Scenic Byway 12 which is one of the most stunning drives we've ever seen. It is worth making the trip for the drive alone.
The Escalante River Trailhead parking lot is quite small. When we first hiked this trail roughly 10 years ago, parking was no problem. Not many people knew about the bridge back then. The trailhead has become increasingly busier over the years, but there is ample parking alongside the highway (which is where we parked our beastly truck). This is an easy hike, provided you don't mind wet feet. The trail trends up canyon and you have to make a handful of crossings of the Escalante River. The river is rarely more than calf deep and the crossings are quite enjoyable on warm days.
This is a bit of a 'create your own adventure' and how far you hike is up to you. If you stop at the natural bridge, you'll be at about 3.5 miles roundtrip. At 130 feet high, the bridge is certainly a worthy destination. But if you are able, I highly recommend you proceed past the bridge. With just a little more effort, you'll come to a well-preserved ruin underneath a skyline arch. Better yet, consider doing an overnight backpack along the Escalante River like we did in 2016.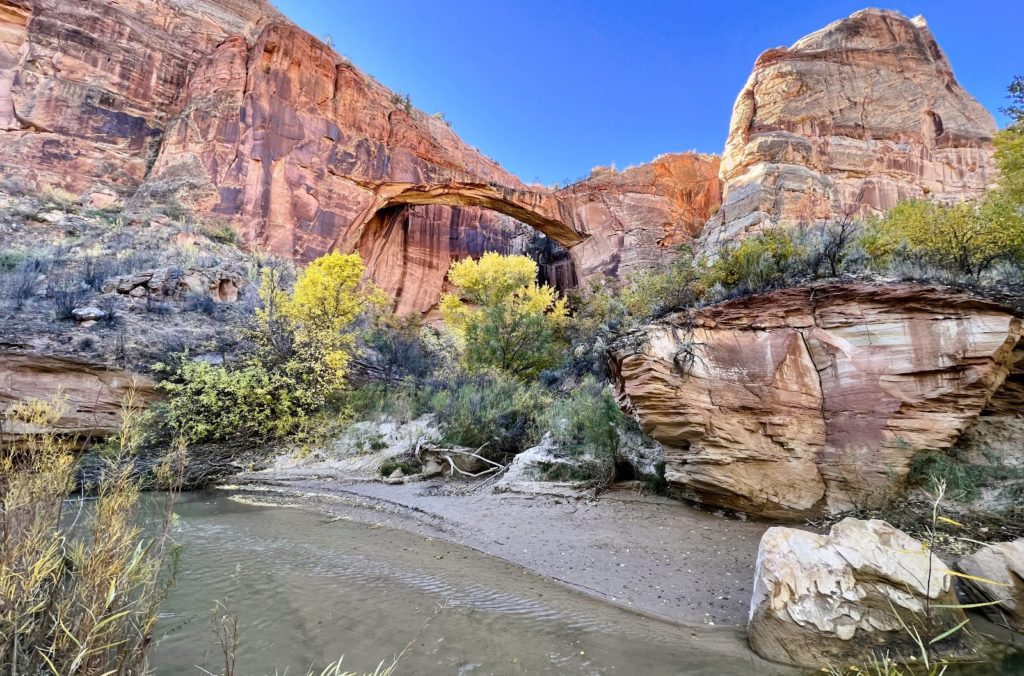 The Adventure Continues
Join us for our next post as we continue our adventures in red rock country. We'll share our hikes and bike ride at Red Canyon along Scenic Byway 12. And don't forget to check out our Amazon RV and Adventure Gear recommendations. We only post products that we use and that meet the Evans Outdoor Adventures seal of approval. By accessing Amazon through our links and making any purchase (even things as simple as toothpaste!), you get Amazon's every day low pricing and they share a little with us. This helps us maintain this website and is much appreciated!