Continuing south from Bighorn Canyon National Recreation Area on our fall 2021 adventures, we spent a week in Wyoming's Bighorn Mountains. The Bighorns are a spur of the Rocky Mountains that extends 200 miles north across the Great Plains. Much of the range falls within the boundaries of the 1.12 million acre Bighorn National Forest which boasts multiple reservoirs, 30 campgrounds, 10 picnic areas, eight lodges, hundreds of miles of streams, 1,200 miles of trails and plentiful wildlife. At 13,175 feet in elevation, Cloud Peak is the tallest peak in the range. Over a dozen more peaks rise to over 12,000 feet. All three highways that pass through the Bighorn Mountains are designated Scenic Byways (U.S. routes 14, 14A, and 16). At the heart of it all lies the Cloud Peak Wilderness, 189,000 acres of roadless land with towering peaks and pristine alpine lakes. Best of all, the Bighorns are typically overlooked in favor of more well-known Wyoming locations such as Yellowstone, Grand Teton, and the Wind River Mountains. In a year of record travel, we hoped to find solitude in the Bighorns.
For this first visit, most of our activities were focused around the Cloud Peak Scenic Byway (U.S. 16), known locally as The Sweet 16. The byways runs 47 miles (distance varies depending on source) from the charming town of Ten Sleep, Wyoming on the west side to Buffalo, Wyoming on the east. If you are looking to cross the Bighorn Mountains with an RV, the grades along this route are the most gentle option (but are still significant gains/losses). I selected Sitting Bull Campground as our basecamp. It was conveniently located off the 16 and one of its two loops was still open during our stay (many close by mid-September). I was able to reserve the best site in the campground for our first four nights and then our last two nights were free because the campground went to off-season/no service status. We had forest on one side of the RV and meadow with views up into the Cloud Peak Wilderness on the other. Located at nearly 8,900 feet elevation, it was the highest we've camped in an RV. We'd heard reports of people having issues with their propane refrigerator at elevations that high, but ours performed flawlessly.
For our first day exploring the Bighorns, we drove up U.S. 14A along the Bighorn Scenic Byway to check out a couple waterfalls. The author of the Mountain Directory for Truckers, RV, and Motorhome Drivers refers to the climb up 14A east of Lovell as the Oh My God Hill! It involves 10 miles of 10% grade followed by 4 miles of 8% grade. Additionally, the pavement is in terrible condition forcing you to hit the breaks even harder. Coming from Hells Canyon country, grades don't generally scare us, but this one sure got our attention. At the top of Oh My God Hill (approximately 35 miles east of Lovell), we followed Forest Service Road 14 to access both of our hikes. Both trailheads were well-signed.
We started with the longer of the two hikes, Bucking Mule Falls (5.2 miles roundtrip). This is a National Recreation Trail and is well-maintained. We descended through lodgepole pine forest, crossed a brand new footbridge over Big Teepee Creek and climbed to a precipitous overlook down onto Bucking Mule Falls. Bucking Mule Creek emerges from two granite pillars to plummet roughly 500 feet out of sight and into the rocky canyon below. While our view of the falls felt distant, the drop off was impressive and was enough to take our breath away. Be sure to watch your step at the overlook and keep a grip on the kiddos—that first step off the top is a doozy.
After hiking Bucking Mule Falls, we drove a few miles down the road to the trailhead for Porcupine Falls. In hind sight, I wish we had hiked Porcupine first. It is the more popular of the two hikes and we might have had the base of the falls to ourselves early in the morning instead of sharing it with about a dozen people. I also think the lighting at each location would have been better. Regardless, this was a short (1 mile roundtrip), albeit very steep, descent to the base of a stunning waterfall that emerges from a slot in high cliffs and plunges 200 feet over a colorful wall of granite. This was one of the more impressive waterfall settings we've ever seen.
We spent another day riding our e-bikes around the Meadowlark Lake area which was near our camp and seemed to be the most popular area along the Sweet 16. We visited several day use areas along the lakeshore, Meadowlark Ski Lodge, St. Christopher's Chapel, and the James T. Saban Lookout (AKA High Park Lookout)—all of which provided a lovely introduction to one of the more developed areas of the Bighorns. After our ride, we made the 21 mile drive west to the tiny town of Ten Sleep for a late lunch at The Sleepy Coyote. Our server was very nice and the burgers were well above average, but our favorite part was their outdoor seating area.
With a day of acclimating to 8,900' under our belts, we decided to tackle the 10.0 mile hike to Lake Helen. I suspect this is the most popular day hike in the Cloud Peak Wilderness owing to its easy access, reasonable distance, and its appearance as the cover photo for the Washakie County visitor brochure. Despite being a Saturday, we saw very few hikers on the trail—no doubt thanks to the questionable weather forecast for the day. Our hike began at the West Ten Sleep Lake Trailhead where we were immediately treated to lovely views of the trailhead's namesake lake. We were able to rock hop across West Ten Sleep Creek and soon after crossed into the Cloud Peak Wilderness. The trail climbed relatively gently, but continuously, over rocky trail. We had occasional views of the surrounding mountain peaks, but mostly we were surrounded by dense lodgepole pine forest.
A veterinarian pathology resident I once worked with told me, "there are lots of moose in the Bighorns." Boy was she right! About half a mile before reaching Lake Helen, we heard a noise and looked up to see one of the largest bull moose we've ever seen. We are no strangers to moose on the trail. We've encountered many over the years, but he was one of the more impressive. There was another moose behind him, although we were unable to ascertain a gender through the thick trees. Our bull still had a bit of velvet on his antlers and we watched in awe as he worked to rub it off. We could have watched him all day, but we were a bit too close for comfort. We went off trail and gave him as wide a berth as the terrain allowed. We spoke with several other hikers later in the day. None had spotted our moose, but reported seeing a different moose around the wilderness boundary. Indeed, there are lots of moose in the Bighorns.
It's hard to compete with a massive bull moose, but Lake Helen (elevation 10,000') was a worthy competitor. We were greeted by stunning views of the beautiful alpine lake with the Cloud Peak Wilderness peaks towering in the background. We appeared to be the first day hikers there and we lucked out with the last sun of the day. We had threatening skies and a few sprinkles during our return hike and a steady rain hit shortly after we returned to the truck—the perfect timing to end the perfect day.
The following day we drove to the east side of the Cloud Peak Wilderness and made the 6.0 mile roundtrip hike to Long Lake. Our hike began at the Circle Park Trailhead in an area filled with aspen trees bursting with fall color. On the trail, we were quickly surrounded by lodge pole pine forest. Like the day before, the trail was a climb over rocky tread, but was well-maintained. We passed Shard Lake and a couple viewpoints along the way, but this was otherwise a viewless hike in the trees until we arrived at our destination. Reaching Long Lake (elevation 8,950'), we were greeted by a small alpine lake surrounded by rocky shoreline and aspens blazing in fall colors. The towering peaks behind the lake were stunning, but it was those brilliant fall colors that made this destination special. Sunshine and 62 degrees made for perfect conditions during our hike, but the big storm we were expecting was about to hit. We had threatening skies for most of our return hike and the rains started as we were a couple hundred yards from the truck. Once again, our timing had been perfect.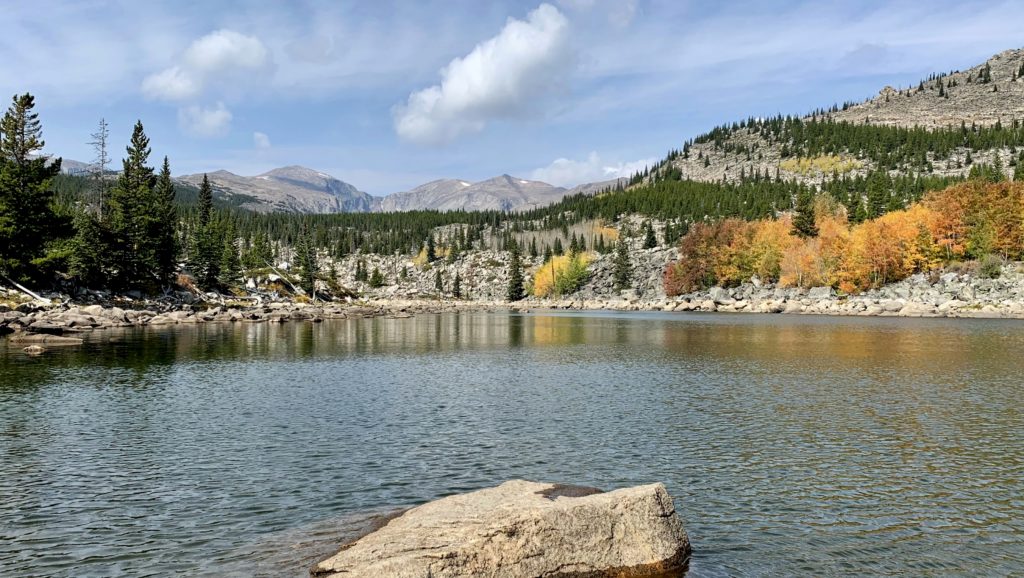 Back at camp, temperatures began to plummet. That night, we transitioned from rain to hail to freezing rain to snow. The following day, we had more snow as the temperature hung in the 30s. That second night we dropped to 21 degrees and saw a little more hail and snow. The sun broke the following day and temperatures began to slowly rebound, but we could feel the warm days of early fall slipping away.
With only a week to explore such a massive area, it is easy to see that we barely scratched the surface of what the Bighorns have to offer. But we felt like we got a nice sampling of what the area has to offer and the Bighorns certainly put on a good show. I have a long bucket list left for the area and we absolutely will be back! But for now, the weather was changing at the high elevations and destinations further east were calling us.
The Adventure Continues
Be sure to join us for our next post as we continue our journey east to Devils Tower National Monument. And don't forget to check out our Amazon RV and Adventure Gear recommendations. We only post products that we use and that meet the Evans Outdoor Adventures seal of approval. By accessing Amazon through our links and making any purchase, you get Amazon's every day low pricing and they share a little with us. This helps us maintain this website and is much appreciated!