Custer State Park preserves 71,000 acres of some of western South Dakota's most stunning granite peaks, lakes, forests and rolling plains. It is home to abundant wildlife and offers a wide array of adventure opportunities including camping, hiking, biking, water sports, horseback riding and scenic drives. No trip to the Black Hills would be complete without a visit here. I recommend allowing at least a few days to just scratch the surface of what the park has to offer. We spent six days there during our October 2021 trip to the Black Hills and only managed to see a fraction of what we wanted.
For the Adventurous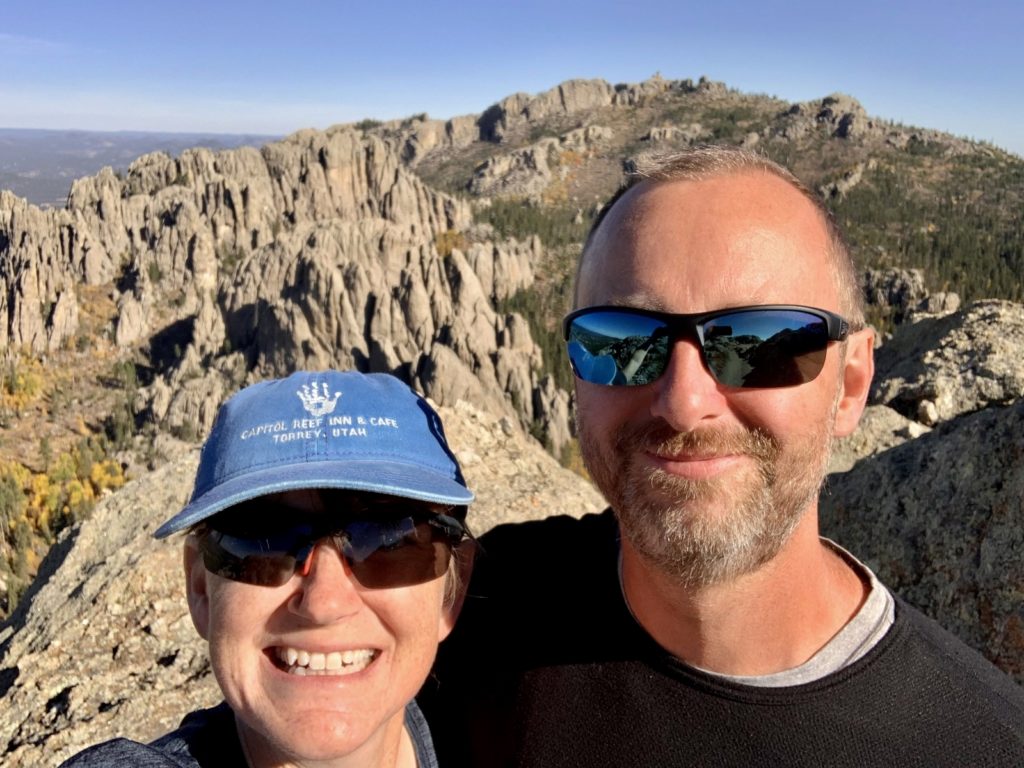 Custer State Park offers miles of well-maintained hiking trails (click here for trail guide). We hiked several trails throughout the park, but the best hiking we found was in the Sylvan Lake and Black Elk Wilderness areas in the northwest corner of the park (click here for area map). That area is famous for its spectacular granite spires, mountain goats, and Black Elk Peak (tallest peak in the U.S. east of the Rockies). Our first hike was to Black Elk Peak. We enjoyed it so much that we went back the following week with friends who were visiting from the Midwest (see upcoming blog post). We also hiked a 4 mile loop around Cathedral Spires and to the top of Little Devils Tower. There were some challenging sections on that loop, but we saw stunning scenery and a herd of mountain goats at close range.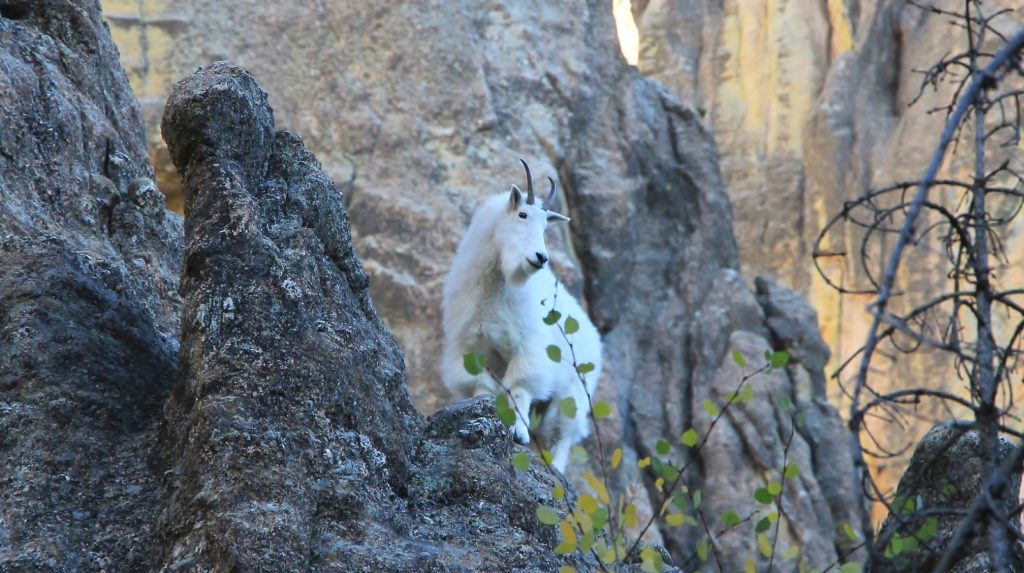 For those looking to make a splash, don't miss the park's five stunning lakes. Sylvan, Center, Legion, Bismark, and Stockade are all popular for their swimming, kayaking, canoeing, and fishing opportunities. Movie enthusiasts will recognize Sylvan Lake from its appearance in the Nicolas Cage movie National Treasure Book of Secrets. We kayaked Sylvan on our first day in the park. What the lake lacks in size, it made up for in stunning beauty!
The Annual Buffalo Roundup is the park's most popular event, drawing as many as 20,000+ spectators the last weekend of September. Cowboys and cowgirls drive the herd of approximately 1,300 buffalo to pens for testing, branding, and sorting. This yearly event is a critical management tool in maintaining a strong and healthy herd. Excess buffalo are sold in order to maintain the herd at a healthy and sustainable number. We did not attend the event, but I applaud the park for their careful management of this precious resource!
Scenic Drives
The park is also famous for its scenic drives. The Needles Highway is a spectacular 14 mile drive through ponderosa pine and spruce forests, meadows surrounded by birch and aspen, and towering granite rocks. The highway includes two tunnels that have been blasted through the rock. Iron Creek Tunnel is 8′ 9″ wide by 10'10" high. I've seen varying measurements for the Needles Eye Tunnel. The sign at the tunnel states it is 8'0″ wide and 9'9″ high, while the Custer State Park website puts it at 8'9″ wide. Regardless, it was a tight squeeze for our Ford F350! We had to bring our side mirrors in, take a deep breath, and crawl through the tunnel. Tourists stood at the far end snapping photos of our behemoth as we narrowly squeezed it through.
Seventeen mile long Iron Mountain Road connects Custer State Park and Mount Rushmore National Memorial and passes through some of the most beautiful scenery in the Black Hills. The road is famous for its pigtail bridges that allow travelers to drop or gain altitude quickly. Iron Mountain has three tunnels that frame Mount Rushmore in the distance: Doane Robinson Tunnel (12′ 0″ wide by 11′ 4″ high), C.C. Gideon Tunnel (11′ 6″ wide by 10′ 9″ high), and Scovel Johnson Tunnel (10′ 9″ wide by 11′ 0″ high). Sadly, an early season snow storm dumped 1-2 feet of snow on the Black Hills the night before we were scheduled to drive this road.
The 18 mile Wildlife Loop Road twists its way through the prairie and ponderosa pine-studded hills that are home to many of the park's wildlife species including deer, elk, big horn sheep, coyotes, pronghorn, prairie dogs, buffalo, and even a feral burro herd! Much of the scenic loop was closed for road construction during our visit. While driving the portion that was open, we saw buffalo, bighorn sheep, pronghorn, and prairie dogs. Like the Iron Mountain Road, a trip across this scenic route is high on the list for our next visit.
Logistics
Custer State Park is located in the southcentral Black Hills west of Rapid City, South Dakota. Fees are $20 for a 7 day pass or $36 for an annual pass. Custer is open year-round with some services limited from October 1 – April 30. A copy of Tatanka, the park's official guide, will be most helpful for planning your visit. This post covers just a fraction of the opportunities that await you!
Custer offers nine campgrounds and five lodges as well as numerous gift shops and dining opportunities. The campgrounds are exceedingly popular and sites book months in advance (I assume the lodges are equally popular). During our October visit, most of the campgrounds were closed for the season and the few sites that were available were booked for our size RV. Numerous Forest Service Campgrounds and private RV parks are available outside the park in and around surrounding communities like Custer, Hill City, and Keystone. We spent 12 nights dry camping at Sheridan Lake South Shore Campground then moved to a full hookup site at Black Elk Resort so that we'd have full hookups and paved roads for a massive early season snow storm. Both were located just north of Hill City and made excellent base camps for exploring Custer State Park.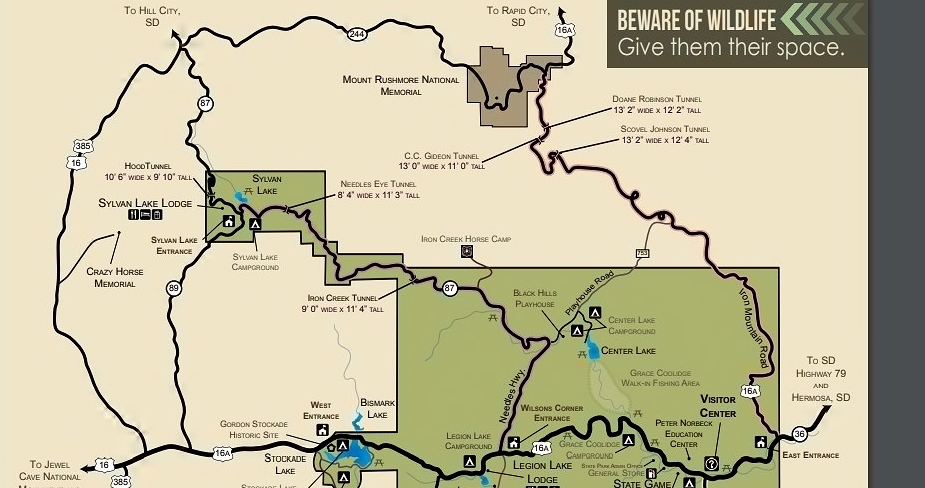 The Adventure Continues
Be sure to join us for our next post as we climb the highest peak east of the Rocky Mountains! And don't forget to check out our Amazon RV and Adventure Gear recommendations. We only post products that we use and that meet the Evans Outdoor Adventures seal of approval. By accessing Amazon through our links and making any purchase, you get Amazon's every day low pricing and they share a little with us. This helps us maintain this website and is much appreciated!