After our weekend layover at Sacramento Pass along the Nevada-Utah border (see previous post), travel conditions improved and we arrived in Moab, Utah. We secured a boondocking spot in the Dalton Wells area north of town. Like all camping areas around Moab (free and paid), Dalton was a very busy area, but we found a spot with great views and that was more removed from the masses than most. We had exceptional views of the snow covered La Sal Mountains rising to the south and the location would provide easy access to all the areas we wanted to visit.
Delicate Arch Viewpoints Trail, Arches National Park
We've visited Arches National Park a few times over the years and with each trip we chip away at their list of official trails. Back in 2010, we hiked the 3.0 mile Delicate Arch Trail which leads to an impressive view of the iconic arch found on Utah's license plates. For those physically able to tackle this steep slickrock trail, we recommend it for the most impressive vantage point of Delicate Arch. For those looking for an easier hike or those short on time, the Delicate Arch Viewpoints Trail offers distant views of Delicate Arch for significantly less effort. The Lower Viewpoint is accessed via a 100 yard, wheelchair accessible trail while the more impressive Upper Viewpoint is reached via a relatively steep half mile trail. This short trail was a lovely warm-up hike for our first day back in the park and I was able to check another trail off the list.
Broken Arch Loop, Arches National Park
After our warm up hike at Delicate Arch Viewpoint, we drove to the Sand Dune Arch Trailhead located near the end of the park road near the campground. There we were able to combine a series of trails into a loop hike that included Sand Dune Arch, Broken Arch, Tapestry Arch, and Skyline Arch. I'm not aware that this loop trail has an official name, but I will refer to it as the Broken Arch loop. The entire route was highly scenic and it was fun to see so many nice arches in just 3.5 miles of hiking.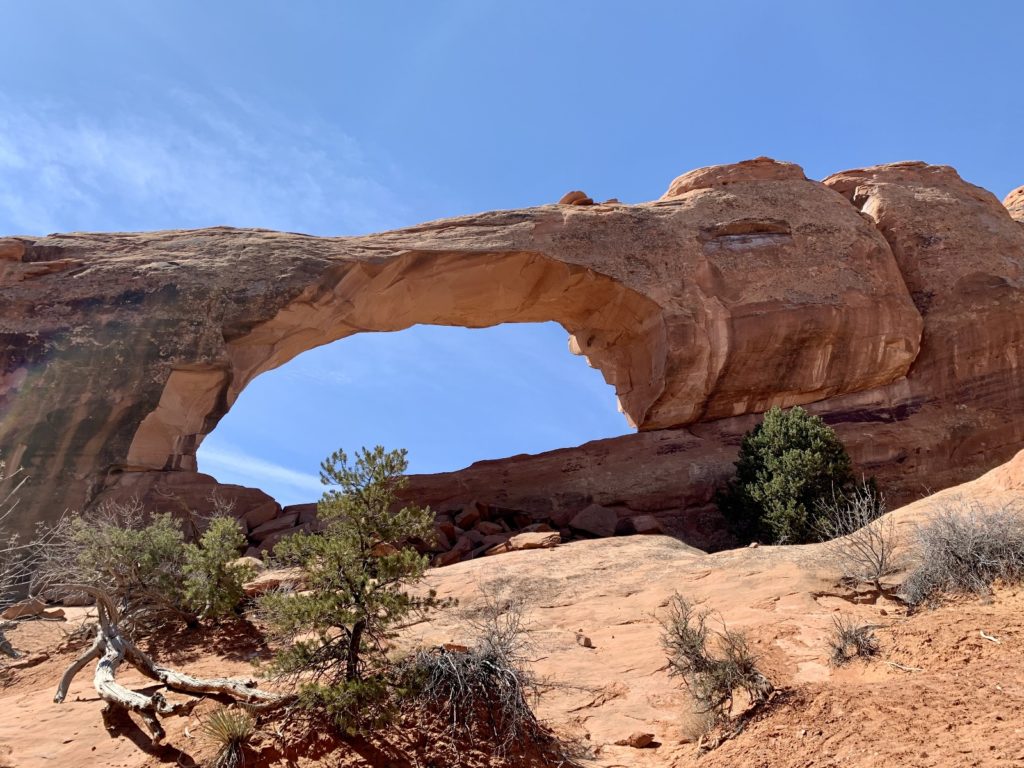 Sand Dune Arch was very busy, no doubt due to its close proximity to the trailhead. Past Sand Dune, we saw relatively few people given how crowded the park was. My favorite arch was Broken Arch, both for its size and physical appearance and because the trails leads you right through it.
Professor Creek & Mary Jane Falls
The national and state parks near Moab get the lion's share of tourist visitation, but there is also an endless list of recreational opportunities outside the parks. One location that had been on my radar for years was the Professor Creek Trail which follows up an increasingly narrow canyon to Mary Jane Waterfall, a highly scenic ten foot plunge over a choke stone.
The Professor Creek Trail begins at the relatively small Sylvester Trailhead. From the far end of the parking lot, the Sylvester Trail begins on the right at a kiosk. Professor Creek is not marked and begins to the left of the parking lot and kiosk. Look for a relatively faint trail that enters the wash and comes out the other side. Once on the other side of the wash, there is an obvious user trail that heads toward Professor Creek. Those with decent trail navigation skills should have no troubles. The trail begins with fantastic views of the relatively open canyon, surrounding buttes, and snow covered La Sal Mountains. Soon it comes within sight of Professor Creek which will be your constant companion for the remainder of the hike.
Initially, all crossings of Professor Creek can be made by rock hopping; however, as the canyon becomes increasingly deeper and more narrow, the stream crossings become more frequent and you won't keep those feet dry. My advice: this is a water hike—embrace it and don't worry about those wet feet. We hiked this trail on a 70 degree day and the fresh snow melt coming down from the La Sals felt quite refreshing. The water height averaged from ankle to mid-calf and all crossing were easy.
At just over 4.0 miles from the trailhead we arrived at stunning Mary Jane Falls, constricted on both sides by towering red walls. I expected a pretty little waterfall, but the double stream that came rushing over the choke stone inside the tight canyon took my breath away. It was a more stunning sight than I had expected to see and we enjoyed every second of our time there.
Some will chuckle at "Mary Jane" falls, but let me tell you the origin of this name. Professor Creek is named after Dr. Sylvester Richardson, nicknamed "The Professor". Dr. Richardson and his wife, Mary Jane, moved to Utah from Colorado and were among the early settlers to this area in the 1880s. Apparently doc was quite the colorful guy who held many titles including doctor, teacher, geologist, postmaster, road builder, saw mill operator, shop owner, and county commissioner. Given his prominent stature in the community, it is easy to see why area features are still named for him and his wife.
Directions to the the trailhead: from the intersection of US 191 and UT 128 on the north end of Moab, drive 18.4 miles up the Colorado River on UT 128. Make a right turn on a single lane dirt road signed simply 'Ranch Road Dead End'. Follow this dirt road 2.2 miles to where it ends at the trailhead.
Celebrating our 29th Anniversary on Neck Spring Trail, Canyonlands National Park Island in the Sky
Our 29th anniversary fell on a busy spring break Saturday in the Moab area. To celebrate, we headed for the Neck Spring Trail in Canyonlands National Park Island in the Sky District. I suspected that this trail would be relatively quiet since most visitors to Island stick to the major viewpoints. I was right and we only encountered one other party along the trail. This was a nice 6.0 mile loop trail that had more elevation change than the 300′ reported by the park service! We visited two springs that were developed by ranchers as year-round water sources for their livestock. We saw many signs of their hard work during our hike. In addition to historical sites and spectacular canyon views, we enjoyed an impressive view down at the Shafer Trail, a dirt track that descends 1,500 feet along a massive sandstone cliff.
Ring Arch & The Tunnel, Arches National Park
In our continued quest to escape the worst of the spring break crowds around Moab, we headed to a couple lesser known features in Arches National Park, Ring Arch and The Tunnel. Neither of these destinations have official trails, but there are distinct user routes to both. They can be visited in the same hike along a 5.0 mile Y shaped route. I only recommend this hike for experienced hikers with a detailed map of the park. Please stay on the trails at all times and do not venture off onto the cryptobiotic crust which is fragile and an essential part of the desert ecosystem.
National Park Update & Tips
On November 11, 2020, federal agencies expanded their Interagency Annual Military Pass to include veterans and Gold Star Families! Those eligible receive free access to more than 2,000 federal recreation areas, including national parks, wildlife refuges, and forests. Per the National Park Service website, "the free access program is a way to thank America's veterans and Gold Star Families for their support of our country and to encourage them to explore recreational opportunities on their public lands and waters". The following federal agencies participate in the free access program: National Park Service, Bureau of Land Management, Bureau of Reclamation, U.S. Fish and Wildlife Service, U.S. Forest Service, and U.S. Army Corps of Engineers. Eligibility requirements can be found here. For Jason, it couldn't have been any easier. He showed his state-issued driver's license which showed his Navy veteran designation. He was given an America the Beautiful Military Pass like the one shown below. Thank you to the federal agencies for recognizing our nation's veterans and THANK YOU to all the veterans and Gold Star Families out there for your service and sacrifice.
A tip for all of you planning to visit any of the Utah National Parks—plan to arrive early in the day if you want to avoid lines and want to be guaranteed a parking spot at your trailhead! We first visited Arches in 2010. Visitation that year was 1,014,405. By 2019 that number was up over 61% to 1,659,702. The parks have become an increasingly popular destination and the COVID pandemic has significantly fueled that increase as people seek to spend much needed time outdoors for their physical and psychological health. The Moab area parks saw a sharp increase in visitation during fall 2020. At Canyonlands National Park, visits increased 30% in October, 67% in November, and 76% in December compared to the same months in 2019. Arches National Park experienced similar trends. Each afternoon when exiting the parks, we routinely passed 200 cars awaiting entrance into Arches and 80 for Canyonlands. At least a couple times during our visit, Arches filled to capacity and they closed entry to additional vehicles. We made the mistake of arriving at Arches at 9:30 one morning and it had a half hour wait to get in. The early bird not only gets the worm, he gets a parking spot without waiting in line!
Please Recreate Responsibly!
COVID Pandemic: As of the writing of this post, the SARS-CoV-2 virus has caused or contributed to the death of 556,000 Americans and close to a 1,000 additional lives are still being lost each day. To protect the health of those who work in and visit America's national parks, face masks are required in all NPS buildings and are also required outdoors on federally managed lands when physical distancing cannot be maintained, including narrow or busy trails, overlooks, and parking lots. We wore face masks at visitor centers, trailheads, and while hiking congested sections of trail and we appreciated every visitor who did the same. We wanted to do a guided hike of Arches Fiery Furnace during this visit, but those tours are temporarily suspended due to COVID. Please do your part to control the spread.
Pack it in, pack it out! Please treat our public lands with respect. Please follow all local camping rules and for goodness sake, haul away your garbage! If you had room to bring it, you have room to pack it out. During our time boondocking at Dalton Wells, we were dismayed to find 3 abandoned pop-up shelters left to rot in the Utah sun. We witnessed one of the shelters being demolished by 50+mph wind gusts. Likely the others met the same fate. We see no good reason why their owners couldn't properly dispose of the garbage they created. Please help keep public lands open for all to enjoy!
Related Posts
The Adventure Continues!
Join us for our next post as we continue our explorations around the Moab, Utah area. And don't forget to check out our Amazon RV and Adventure Gear recommendations accessed via links at the top of our home page. We only post products that we use and that meet the Evans Outdoor Adventures seal of approval. By accessing Amazon through our links and making any purchase, you get Amazon's every day low pricing and they share a little with us. This helps us maintain Evans Outdoor Adventures and is much appreciated!