It had been a great first week in the Moab area, but there was still much to see. We could hike a different trail every day for a month and still not exhaust my Moab list. Two national parks, a state park, the Colorado River, and countless acres of BLM land provide a seemingly endless list of options. Knowing Moab would be extra busy with spring breakers, we planned to concentrate on mostly lesser known trails. But first there was one popular trail that we had to visit.
Devils Garden Trail, Arches National Park
In our 11 years of hiking in Utah, we haven't repeated many trails. It isn't that the trails aren't worthy—most have been spectacular. The problem is, there are so many new trails remaining on my bucket list and there is never enough time. But every once in a while, a favorite is too spectacular to resist. That was the case on this trip with the Devil's Garden Trail in Arches National Park.
Devil's Garden is one of the longer and more popular trails in Arches. Arch baggers can see eight named arches if they play their cards right. It used to be nine, but the park's 12th largest arch, Wall Arch, collapsed in 2008. Devil's Garden was our very first Utah hike back in 2010 and it didn't disappoint. We were brand new to slickrock hiking and including the Primitive Trail made it quite the adventure.
There are several options for hiking the Devil's Garden Trail. Those looking for a shorter hike will enjoy visiting Landscape Arch, the park's longest arch. Adding the side trail to Pine Tree Arch and Tunnel Arch makes for a rewarding hike to three beautiful arches. Those up for more of an adventure can go as far as Double O Arch. The route between Landscape and Double O is more challenging and hikers should be prepared for steep ascents over slickrock and navigation via cairns. We saw many people in this stretch who did not have appropriate shoes or who had lost the trail. Those seeking an even bigger challenge can tack on the side trail to Dark Angel and the Primitive Loop. The Primitive Loop isn't for everyone. If you are considering this route, I strongly advise good traction shoes and experience hiking on steep sections of slickrock. No matter how you hike it, Devil's Garden is highly scenic and rewarding (albeit very crowded).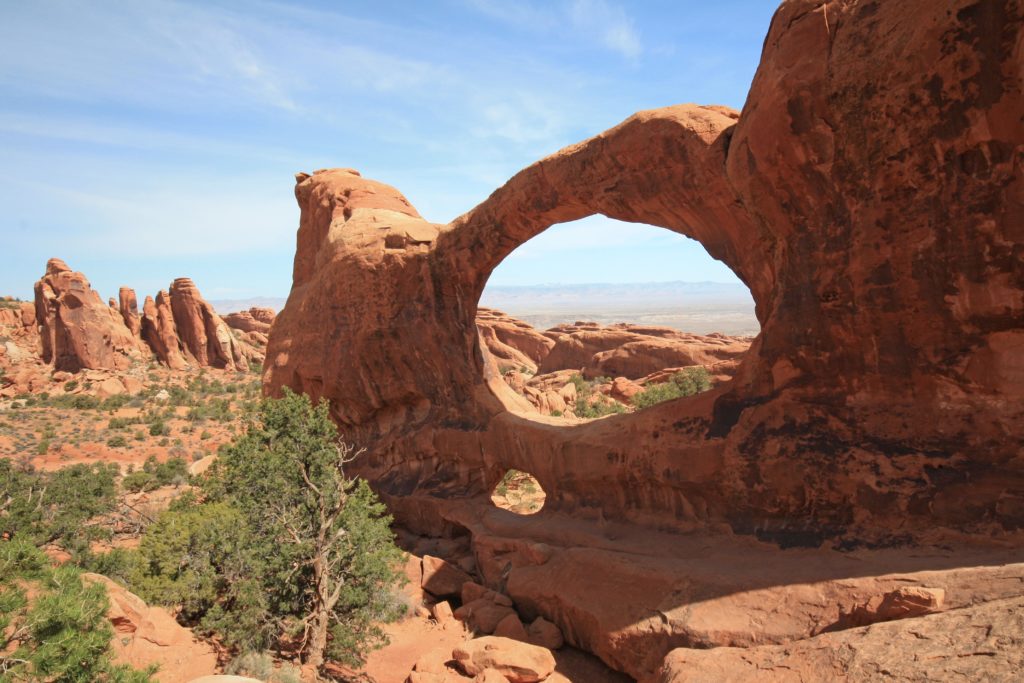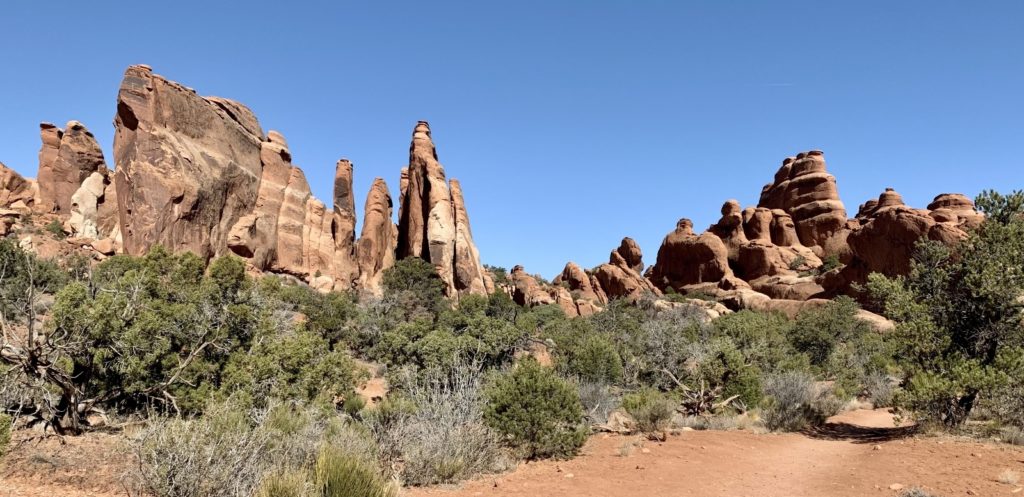 When we hiked Devil's Garden back in 2010, we didn't include the spur trails to Tunnel Arch, Pine Tree Arch, Private Arch, or Dark Angel. This year we added those and then returned via the Primitive Trail for an 8.0 mile roundtrip hike. Pine Tree ended up being one of my favorite arches in the Devil's Garden area and I really enjoyed the solitude found out at Dark Angel.
Our Friends Join Us!
During our second week at Moab, we were joined by our RVer friends D&L and their two adventure kitties. Since D&L are a bit social media shy, I won't be using their full names or showing identifying photos of them. What I can say is they are a lot of fun on the trail and they are crazy cat people, just like us! We were happy our paths crossed as we worked our way south and they worked their way north.
Jeep Arch
Jeep Arch is a lollipop route to a lesser visited arch near the Colorado River just outside Moab. Yep, you guessed it—the opening of the arch looks like a Jeep. Some sources refer to this as Culvert Canyon or Gold Bar Arch. Whatever you want to call it, its a great 4.0 mile hike to a massive arch. The trailhead is an unmarked pullout along the right side of UT 279 just past the Corona Arch Trailhead.
From the unmarked trailhead, enter the culvert and pass under the railroad tracks. Emerging on the opposite side, a sign directs you to the left where the trail leaves the canyon bottom and climbs up onto a slickrock bench. Sandstone cliffs tower above you and it is easy to get lost in their beauty, but be sure to keep one eye ahead for cairns that lead the way.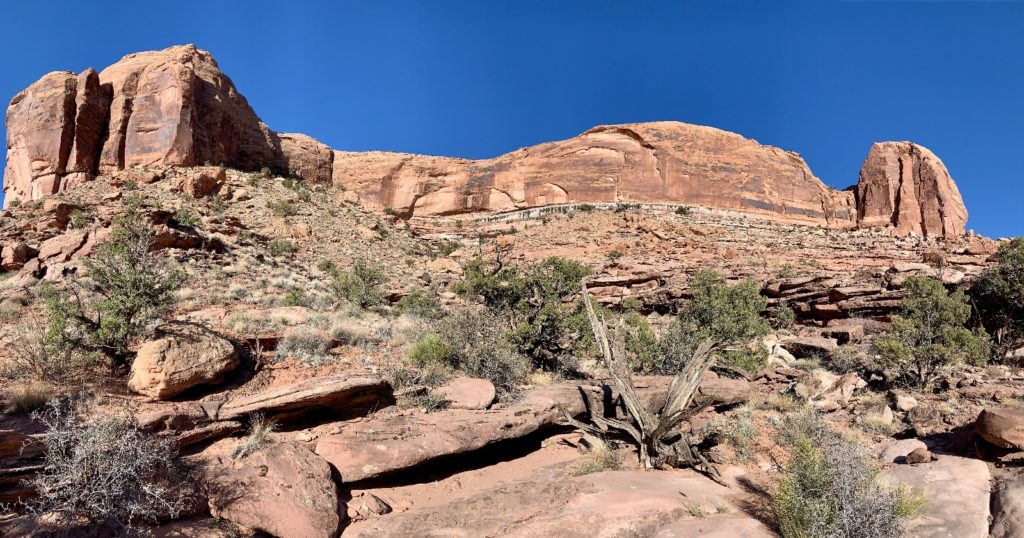 Eventually you will come to a second trail sign that marks the beginning of the loop trail. While the loop can be hiked in either direction, we highly recommend starting with the left branch and hiking in a clockwise direction. This is the route we took and we felt the final approach to the arch was more scenic.
The loop trail takes you through the opening of the arch and out the other side. The arch made a good place for a break with phenomenal views of the snow covered La Sal Mountains in the distance and the mighty Colorado River below.
If you visit Jeep Arch, be sure to check out the exceptional rock art found along UT 279 on the drive to the trailhead. The panels are signed and there is a large pull-out area to safely get off the road.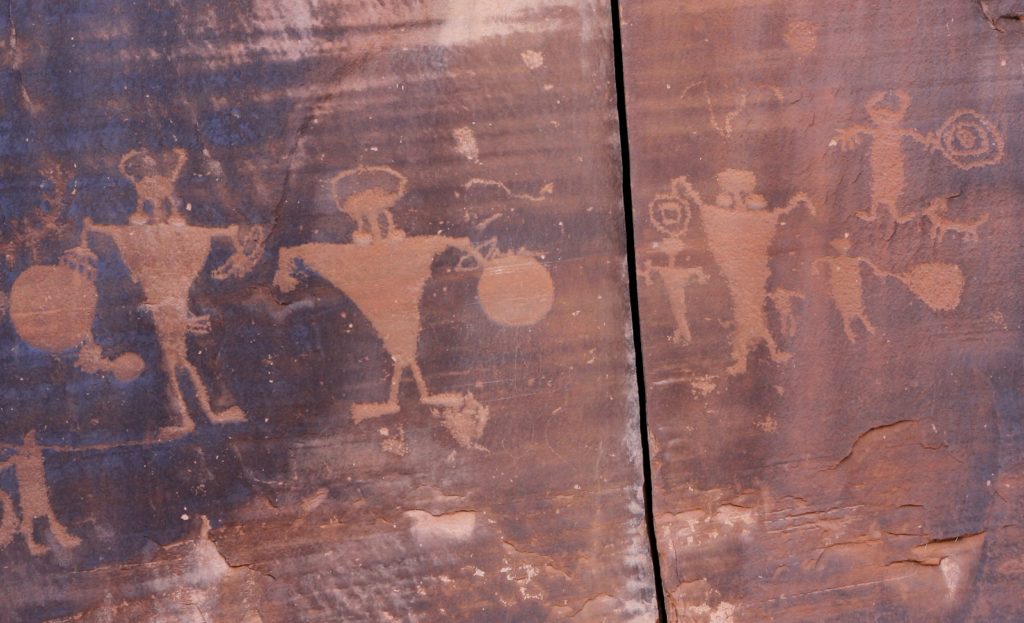 Eye of the Whale Arch, Arches National Park
Another lesser visited arch in the Moab area is Eye of the Whale in Arches National Park. Eye of the Whale is located in the Herdina Park, a remote island of sandstone west of Balanced Rock. I'm sure Whale would be a more popular location if it were located along a paved park road. Instead, visitors must travel 0.8 miles along the unpaved Willow Flats Road and then 2.0 miles along a rough 4WD road (rangers recommend both high clearance and a short wheel base).
Our friends D&L were concerned that their SUV didn't have enough clearance to make it to Whale and we were concerned that our long-box, quad cab F-350 was not what park rangers considered a short wheel base. And so it was a unanimous decision to hike to Whale. We drove the 0.8 miles down Willow Flats and then parked in a small pull out there. From there it was an easy hike down the 4WD road to the arch.
Eye of the Whale was a nice destination. I especially enjoyed standing in the arch and looking out the whale's 'eye'. Best of all, we had the arch all to ourselves. You can't say that about many destinations in Arches National Park these days.
From Whale we went in search of an even more obscure arch. My National Geographic map of the park simply refers to it as 'arch'. The Utah Arches website refers to it as Leaping Arch or Herdina Arch. We followed a faint user trail away from Eye of the Whale and found it easily enough.
Leaping Arch on its own wasn't the most impressive arch we've seen, but it was a nice addition to Eye of the Whale which was definitely worth the visit. Being able to drive 0.8 miles in on the Willow Flats Road made this a 5.0 mile roundtrip hike. I still would have enjoyed this hike even if we'd had to start at Balanced Rock making it a 6.6 mile hike. There are enough views of the La Sal Mountains and The Windows Section of Arches to make for a nice hike.
Klondike Bluffs, Arches National Park
We'd been chipping away at all the major trails in Arches National Park and only two areas remained on our list, Fiery Furnace and Klondike Bluffs. For most, the only safe way to visit Fiery Furnace is on a ranger led tour. Those have been cancelled due to COVID, so we'd have to save that for another trip. But I had Tower Arch in the Klondike Bluffs area down as a 'must see' for this trip.
Early on in our Moab stay, we took a long walk out behind our boondocking location in the Dalton Wells area just west of Arches. As we made our way along a Jeep road, I looked off in the distance and said to Jason, "I bet we could hike to Klondike Bluffs area via Jeep roads, its just right over there." Most people enter the park, drive to the end of the road near Devil's Garden, and travel the long dirt road through Salt Valley to the Tower Arch Trailhead. That seemed like a long way around considering the area was just over the hill from our camp. A study of my National Geographic map of Arches confirmed that Jeep roads would take us most of the way, but we would have a stretch of off-trail route finding. There was a wash I was pretty sure I could find and we could follow that to Tower Arch Road, a 4WD route into the backside of Tower Arch. If nothing else, we'd have a good adventure and our friends D&L were good spirited enough to humor me. I believe I said something like, "The hike will be somewhere between 6-9 miles and I think I can get us to 3 arches, but the whole thing might also be a bust."
We did have to do some route finding and backtracking on the hike in, but soon enough we tied into the Jeep road south of Klondike Bluffs and made our way to Tower Arch. Tower was an especially scenic arch in an area of massive fins. Everything in the area made us feel like tiny little ants scurrying about on the slick rock. There was only one other person there when we arrived and he quickly departed leaving us to enjoy the stunning view in complete solitude.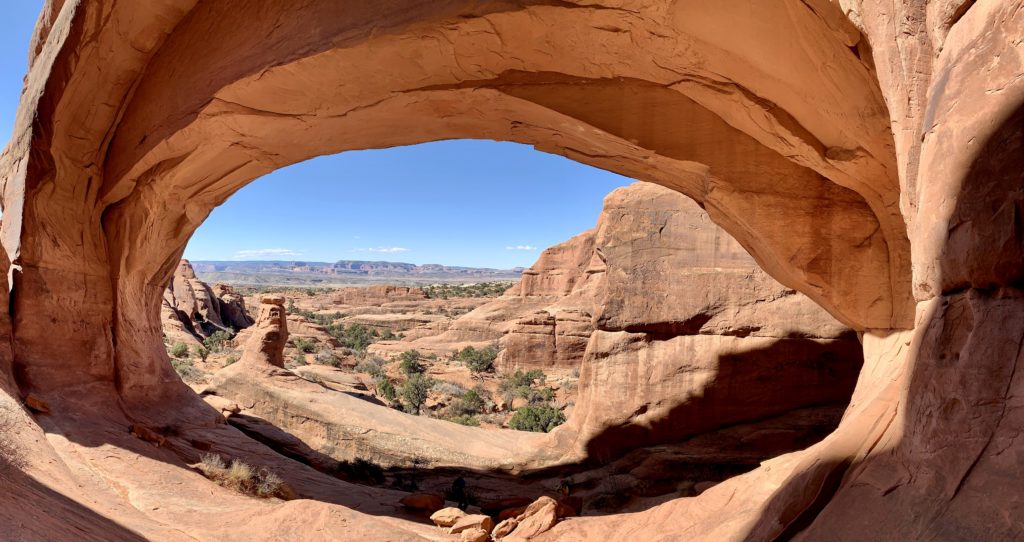 After visiting Tower, we made the short hike over to neighboring Parallel Arch. There isn't much space between Parallel and a towering cliff wall which makes Parallel seem not as impressive. But it was still a nice little arch while we were in the area.
From Parallel we retraced or steps back along the Tower Arch Road and went in search of Anniversary Arch which was shown on the Nat Geo map. Anniversary wasn't visible from the road, but our friend L had a hunch as to where it would be. She and I followed a faint user trail and found it tucked away in a side canyon. Anniversary is a lovely double arch that is named in honor of Mr. and Mrs. Mabery, who first saw it on their wedding anniversary.
And so we had ourselves a successful little adventure. We hiked 7.2 miles roundtrip and saw three arches. I especially enjoyed Tower Arch, mostly because of the solitude we found there and the massive fins that surround it. Adding these three arches to the list, we had hiked to 19 arches while in the Moab area. According to the Utah Arches website, Parallel Arch is two arches (inner and outer) and so is Anniversary Arch (north and south). So I suppose we can technically say we hiked to 21 arches (those viewed from the road, such as The Windows, were not included in our count).
Murphy Point Trail, Canyonlands Island in the Sky
For our last day in the Moab area and with friends D&L, we headed up to Canyonlands National Park, Island in the Sky District to hike the Murphy Point Trail. Murphy fit the bill of new to us and uncrowded. For a short 3.5 mile roundtrip hike, we were rewarded with spectacular views of the Green River and White Rim to the west and the Needles District to the south. We'd be in the Needles in just a few days, so it was fun to see where we were headed.
We started this blog with the goal of sharing scenic destinations and inspiring others in their adventures. The lands we visit are public lands—they are your lands. It is your right to visit those lands and I generally believe in sharing destinations; however, I am also a strong advocate for protecting our public lands and I believe it is each of our responsibility to visit these locations with respect. Each of us has a responsibility to leave no trace. Sadly, not everyone shares these beliefs.
In an attempt to balance sharing destinations with protecting sensitive locations, I follow these general rules. If a location is readily found with a quick internet search, I share those details here. This describes the vast majority of destinations found on our website. But for culturally sensitive sites that are not already widely known, I will not share location details. In those cases, I share images in an attempt to increase awareness and appreciation.
While visiting Moab, we hiked to a petroglyph site that few people seem to know about. It was tucked off the trail, hidden to the hordes of people that pass by each day. I have only seen one reference to this panel in all of my Utah research. Combined with a few details from a friend and a careful study of Google Earth, we were able to find the site. The site was quite large and contained a large variety of image types.
If you are fortunate enough to visit a site such as this one, please do not touch the images or disturb the site. Archaeological and historic sites like these are protected by the Antiquities Act. This law prohibits digging, removing artifacts, damaging and defacing archaeological resources. If you see anyone engaging in such activities, please call the local authorities immediately. These are non-renewable cultural resources that, once damaged, can never be repaired nor replaced.
Please Recreate Responsibly
When traveling in the Desert Southwest, please be respectful of the ancient ruins and rock art. Shortly after our visit to Moab, a popular petroglyph panel, known as the Birthing Rock, was vandalized. This boulder is covered with petroglyphs that date from the Archaic period and includes dozens of ancestral Puebloan images including a woman giving birth. Obscenities, a penis and the words "white power" were scratched over part of the panel. I am so glad we visited this special site years ago before these ignorant racists had their way. Please, respect these sites so that future generations can enjoy them. And please consider that these are sacred sites to Indigenous peoples.
Related Posts
The Adventure Continues!
Join us for our next post as we move our adventures to the Needles District of Canyonlands National Park. And don't forget to check out our Amazon RV and Adventure Gear recommendations. We only post products that we use and that meet the Evans Outdoor Adventures seal of approval. By accessing Amazon through our links and making any purchase, you get Amazon's every day low pricing and they share a little with us. This helps us maintain this website and is much appreciated!