June 1 – 16, 2019
In my last post, I shared our recent Montana fly fishing adventure. While the main purpose of the trip was fishing, we also found time for some sight seeing. Exploring new locations is always fun and it certainly reinforced that we still have much to explore in this beautiful state.
"That Meandering Cow Path"
I love driving through North Central Idaho along US 12. I understand why many do not—it is narrow, winding, and dangerous. In fact, our friends from the Carolinas refer to it as "that meandering cow path". But it is also stunningly beautiful with the majority of the route following the crystal clear waters of the Clearwater and Lochsa Rivers. We took our time driving this stretch so we could scout camping locations for an upcoming trip. We also made a stop at the Devoto Cedar Grove where we enjoyed a picnic lunch under 2,000 year old towering western red cedar trees along the banks of the Lochsa River.
Anaconda-Pintler Scenic Route
More than once, we have driven I-90 east of Missoula, Montana and noticed snow capped mountain peaks to the south and a sign pointing to the Anaconda-Pintler Scenic Route. We've always been in too big of a hurry to take the byway, but have long had it on our bucket list. While we did not complete the sixty-four mile route in its entirety, we toured from Drummond south to Georgetown Lake including a few side trips. I especially enjoyed the area history, stunning scenery, and diverse wildlife. During our trip we saw multiple moose (including a newborn calf and a large bull moose that stared Jason down at a prime fishing hole), deer, elk, antelope, bald eagle, sandhill crane, and more songbirds than I could ever identify.
Philipsburg
Driving south along the Anaconda-Pintler Scenic Route, it would be easy to zip past the tiny town of Philipsburg at 70 mph. Don't let its population of less than 1,000 fool you—this tiny town has a lot to offer. Once a busted down mining town, Philisburg has transformed itself into a charming tourist destination. Historic buildings, a brewery, and charming shops like the Sweet Palace make this town a "must see", even for travelers like us who aren't usually drawn to touristy spots.
Granite Ghost Town
Four miles southest of Philipsburg is Granite Ghost Town State Park. Granite was once one of the largest silver mining towns in Montana. The town had a population of more than 3,000 residents and was known as Montana's Silver Queen. A thorough account of the town's fascinating history can be found here. Our host, Linda, took me to visit Granite. I had a great overview of the once thriving town and would love to go back with Jason some day for a more thorough exploration.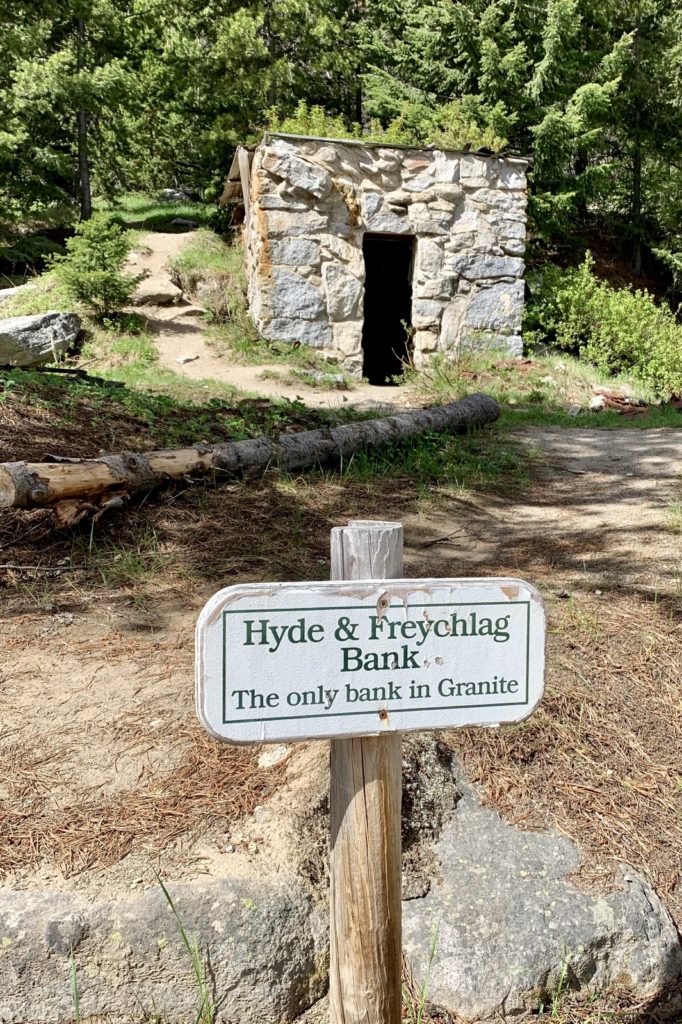 Georgetown Lake
Past Philipsburg, the Anaconda-Pintler Scenic Route climbs through a dramatic canyon to Georgetown Lake. The 3,700 acre lake is surrounded by three different mountain ranges; the Pintlers to the South, the Sapphire Range to the West and Flint Creek Range to the East. Georgetown was created in 1885 by damming Flint Creek. Originally used to produce power, the lake is now primarily used for outdoor recreation and irrigation.
Skalkaho Scenic Route
Did you know that there's a website www.dangerousroads.org? I stumbled upon it while researching Skalkaho Highway for this blog. Apparently the 54 mile drive from Philipsburg Valley to the Bitterroot Valley through the Sapphire Mountains of southwest Montana qualifies as a dangerous road. Some gravel portions of the road are narrow with tight turns and steep drop-offs.
Skalkaho Pass (elevation 7,258′) is the highest point of the highway. While the road was clear when we passed on June 14, we did see some impressive snow lingering alongside the road. It is not surprising that this portion of the highway is closed in the winter due to heavy snowfall.
We took Skalkaho on our return trip home. Skalkaho Falls was the highlight of this scenic mountain byway. Skalkaho Creek cascades 150 feet, providing impressive photo opportunities. With the spring runoff still in full force, we were lucky enough to witness a large amount of water coming over the falls.
World's Best Hosts
This post wouldn't be complete without thanking our hosts. We were complete strangers to Mark and Linda, yet they opened their home and treated us like they'd known us forever. They have a charming old farmhouse in the country that has been tastefully updated while retaining all its 19th century charm. We especially enjoyed the lilacs and flowers in bloom, abundant variety of songbirds, the snipes that serenaded us to sleep each night, and beautiful sunrises and sunsets.
Related Post
Adventure Log June 1-16, 2019 part 1 (Catching the Salmon Fly Hatch)