If it weren't for my quest to visit all the National Park Units in the contiguous US, we likely would have never visited Bighorn Canyon National Recreation Area along the Montana-Wyoming border. The area looked remote to access and a visit there remained a low priority…until I saw a photo of a kayaker there with colorful cliff walls towering high above. That photo catapulted the area to the top of my list for the first destination of our fall 2021 adventures.
Bighorn Canyon, which straddles the Montana-Wyoming border, is 120,000 acres and has remarkable geology, wildlife, and human history. Yellowtail Dam near Ft. Smith, Montana, creates 71-mile long Bighorn Lake with the canyon's colorful cliffs soaring 1000-2500 foot above. Access is limited to one paved road from the north end (Montana side) and one paved road from the south end (Wyoming side). No road connects the two districts necessitating a three hour drive between the two. This post will primarily discuss the Wyoming side since our travels were limited to that area. We chose the Wyoming side because it offered more trails and viewpoints and was on the way to our next stop in the neighboring Bighorn Mountains. The Montana side is largely surrounded by Crow Indian Reservation and public access seemed more limited.
Logistics:
To access the Montana side of Bighorn Canyon National Recreation Area, take MT 313 from Hardin, Montana. To access the Wyoming side, take US 310 south from Billings or US 14A west from Sheridan. If you are traveling with an RV, note that 14A involves 10 miles of 10% grade followed by 4 miles of 8% grade! We are used to pulling steep grades, but a drive up and down 14A is no joke!
Lovell, Wyoming is the closest town on the south side of Bighorn Canyon. It has a hospital, hotels, restaurants, gas stations, and even a decent little grocery store. Be sure to stop at the Cal S. Taggard Visitor Center on the eastern end of town to visit their small museum and inquire about current conditions. The park is free to visit.
Camping is restricted to designated sites in developed areas. It is also allowed in the backcountry and below the high-water mark along Bighorn Lake. Three campgrounds are available on the Wyoming side at Horseshoe Bend, Trail Creek, and Barry's Landing. Horseshoe Bend is the largest campground and was the most conveniently located for our stay. It offers 68 campsites overlooking Bighorn Lake and the red sandstone cliffs of Sykes Mountain. 28 of those sites are extra-large and include electric/water hookups for $30 per night. The smaller, dry campsites are $18 per night. A dump with potable water is available. The campground has nice views of the surrounding countryside and is located next to the Horseshoe Marina. Be advised that none of the campgrounds offers much for shade. With daytime highs ranging from 78-96 degrees during our early September visit, we were very grateful for the electric hookups to power our RV's air conditioner.
On the Water:
In 1825, Jim Bridger built a driftwood raft and set out on the Bighorn River. Three days later, he emerged from the mouth of the canyon, fifty miles downstream, unscathed by the river's rapids. Today, the once wild river is now a calm reservoir, but the towering canyon walls still limit access creating a wild and remote experience for those who enter via watercraft (click here for a boating map or here for waterway trail guide).
Water access on the south side is limited to marinas at Horseshoe Bend and Barry's Landing. Boaters are required to purchase an Aquatic Invasive Species (AIS) permit and have their watercraft inspected prior to launch. For those without a boat, Hidden Treasure Charters offers 2 hour tours out of the Horseshoe Bend Marina for $45. We had planned on taking one of these tours, but sadly they closed early for the season due to water levels. If we ever return to the Bighorn Canyon area, a boat tour will be at the top of our to-do list.
With our inflatable kayak, we had an additional launch option for Bighorn. We had to carry the kayak some distance, but we were able to put in at Crooked Creek where the wild horses like to hang out. From there, it was a short paddle to the main canyon where we were greeted by massive cliffs rising above. Each bend along our route yielded a more incredible view than the previous and we wished we could have gone much further. Our route took us to the Montana border and back for a round trip of about 7 miles.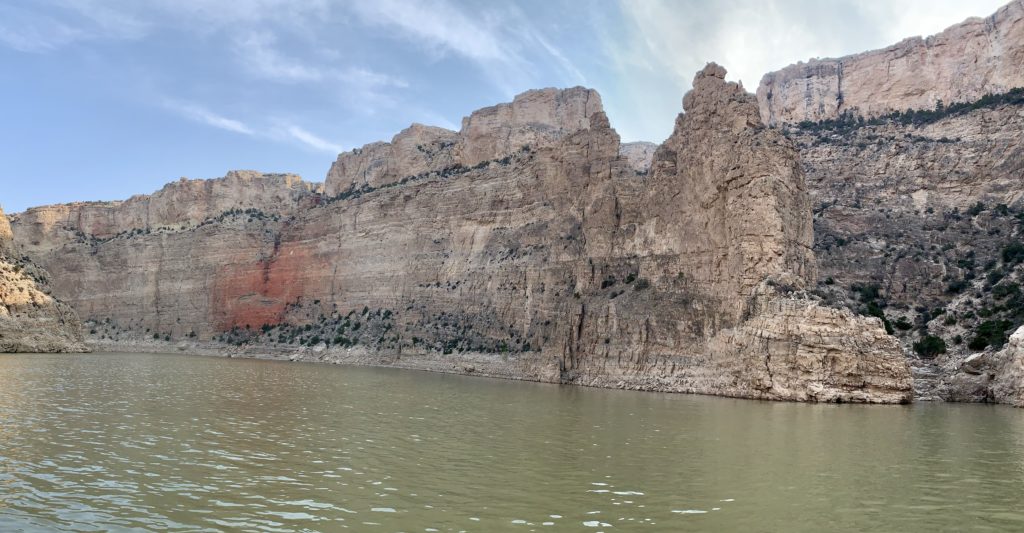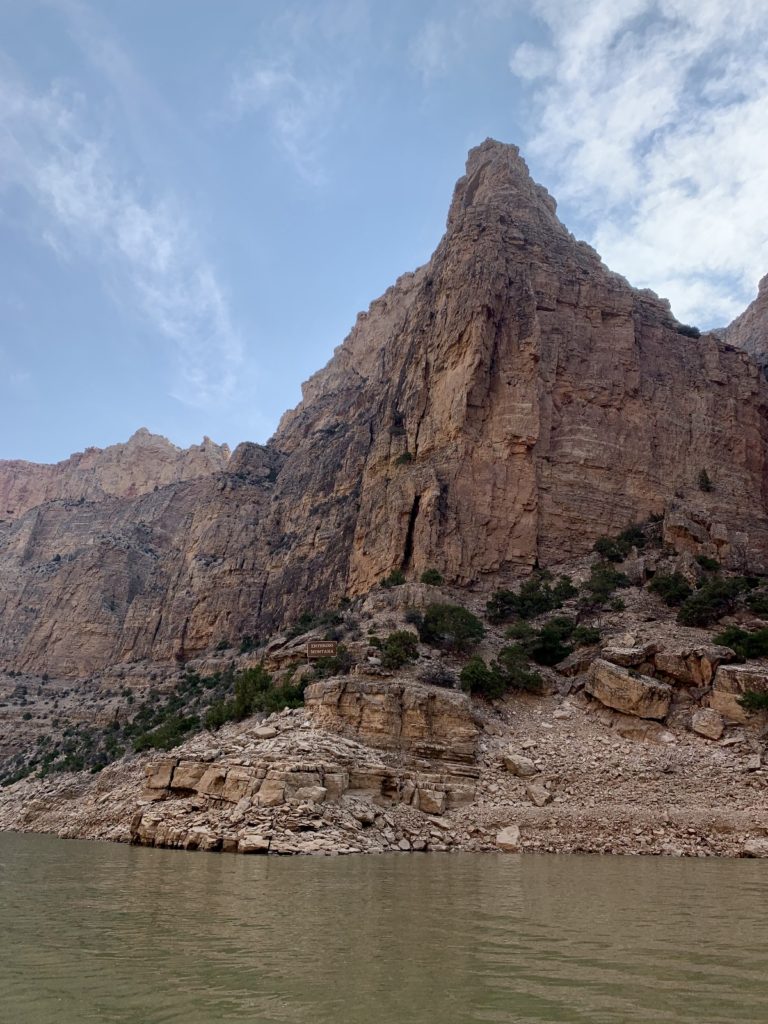 We purchased our Aquatic Invasive Species permit at the Conoco gas station near the Bighorn Canyon National Recreation Area Visitor Center in Lovell. You might have to be a little persistent there. The first employee didn't know they sold the permits and the second didn't think we needed one for our inflatable kayak. I insisted that we needed one (I had confirmed this with the park) and that was soon confirmed once she started entering our information in the computer. Cost was $15. We then took our permit and kayak to the Crooked Creek Ranger Station on the park's main road (highway 37) near Horseshoe Bend. A lovely National Park employee assisted us and we were provided with our inspection report in about 10 minutes (no charge). If you plan on hitting the water at Bighorn, be sure to watch the weather carefully—it is a windy place! We had breezy conditions almost every day and saw gusts well over 50 mph. With the assistance of weather.gov pinpoint forecast function, we lucked out with a calm, warm morning for our kayak trip.
Wildlife:
Bighorn Canyon National Recreation Area is home to the Pryor Mountain Wild Horse Range, America's first public wild horse range. The BLM manages the Pryor Mountain Herd to number between 90-120 mustangs over the 38,000 acre area. Descended from Spanish, Arabian, and English stock, many horses escaped or were released along Bighorn Canyon by Native Americans, ranchers, and homesteaders. Unusual features, such as a dorsal stripe down the back, wither stripes, and zebra stripes on the legs, are typical characteristics of Spanish horses. The population is considered a unique genetic resource since horses of this type are no longer present in Spain. We spotted several members of the herd during our visit in the Crooked Creek and Layout Creek areas. It is not uncommon to see them alongside the road. Please be cautious while driving through the park and give them plenty of space!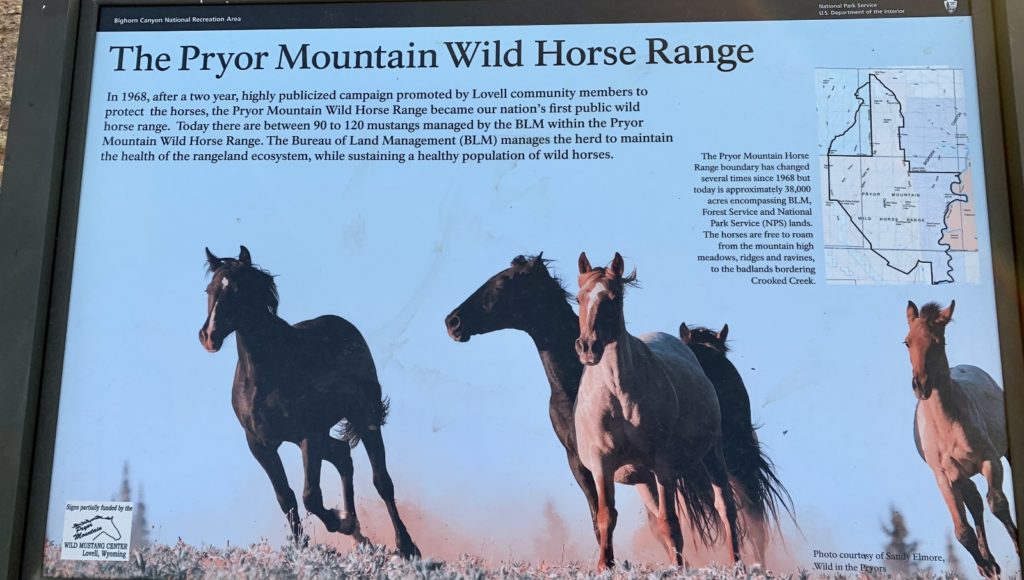 Bighorn Sheep are another common sight along the rocky hillsides and cliffs of Bighorn Canyon. They were reintroduced to the canyon in 1973 and successfully recolonized former canyon habitat. By 1994, the population was estimated at 160 animals. We spotted them a few times while driving through the park and saw evidence of their presence on most of the trails we hiked.
The canyon is also home to numerous bird and mammal species including peregrine falcon, golden eagle, turkey vulture, red-tailed hawk, rough-legged hawk, black bear, coyote, and a very healthy population of rabbit. We had a family of rabbits living outside our RV window. They kept Indy well entertained during our visit.
Trails & Historical Sites
Bighorn Canyon National Recreation Area is a boater's paradise. But there is also much to do and see on land, although few people seem to know that. If you want to get off the beaten path, be sure to check out the hiking trails and historic sites. We were surprised by how quiet these areas were. None of the park's fifteen hiking trails is very long, but they provide a great way to experience the varied landscape and wildlife of the area. And four historic ranches let visitors experience the stories of 19th and early 20th century settlers in the region. Be sure to check out our next post for photos and details from the trails and ranches we visited while in the area.
Suggested One Day Itinerary:
Driving through the area and only have one day to experience Bighorn Canyon National Recreation Area? I recommend the following which samples the best of what the park has to offer:
Take a 2 hour boat tour with Hidden Treasure Charters (season dependent)
Drive the main park road (highway 37) from the Crooked Creek Ranger Station to the end of the road at Barry's Landing. Stop at Crooked Creek to look for wild horses and stop at Barry's Landing and Devil's Canyon Overlook to admire the spectacular views.
Visit the Lockhart Ranch to get a taste of the area's pioneers.
For those able to negotiate rocky trails, take the short hike to Sullivan's Knob. That was our favorite viewpoint in the park and the short trail provides a big payoff for relatively little effort.
Related Posts
Bighorn Canyon National Recreation Area Part 2: Trails & Historic Ranches
The Adventure Continues
Please be sure to join us for our next post as we explore the trails and historic ranches of Bighorn Canyon National Recreation Area. And don't forget to check out our Amazon RV and Adventure Gear recommendations. We only post products that we use and that meet the Evans Outdoor Adventures seal of approval. By accessing Amazon through our links and making any purchase, you get Amazon's every day low pricing and they share a little with us. This helps us maintain this website and is much appreciated!