Colorful sandstone formations and fun slot canyon in the heart of Grand Staircase Escalante National Monument
Distance: 6.5 miles as described here (longer options available)
Type: out and back
Difficulty: moderate due to loose sand
Best season: spring and fall
Note: this is not an official trail. There are no signs at the trailhead or at any point along the route which is dry and sandy with virtually no shade at mid-day. Carry a map and plenty of water.
At its current size of 1.9 million acres, Utah's Grand Staircase-Escalante is the largest national monument in the United States. GSENM offers nearly 3,000 square miles of waterfalls, arches, natural bridges, riparian canyons, sculpted slickrock, slot canyons, rock art, and ruins for the adventurer. The more time we spend in this extraordinary country, the longer our bucket list gets. After a three day backpack to Neon and Choprock canyons along the Escalante River, we decided to explore a lesser known canyon that I had just recently discovered—Bighorn Canyon
A colorful sunrise over Escalante signaled the beginning of another beautiful day in canyon country. We pulled into the Hole in the Rock Heritage Center on the edge of Escalante and watched the day break as we ate our breakfast.
We then drove to Hole in the Rock Road and traveled approximately 4.5 miles south to an unmarked turnout where Upper Harris Wash intersects with HITR (elevation 5,340'). There was only room for a few vehicles here, but that was of little consequence. We were the only car here and we didn't see anyone else all morning. The trailhead was typical of many in GSENM, the scenery was unimpressive with no hint of the wonders ahead.
The first mile or so was pretty pedestrian with no interesting scenery. We did, however, see turkey tracks in the sand and could hear them calling in the distance. The Anasazi kept turkeys and it is relatively common to find turkey track petroglyphs like the ones we saw a few days earlier on the Esclante River.
This upper stretch of Harris had some shallow water from a nearby spring. Our route alternated from side to side, sometimes along its banks and other times up on the bench. One of the criticisms I heard about this stretch of Harris Wash was of grazing cattle and copious piles of manure along the trail—I'm glad I didn't let this criticism deter us. As in previous experiences, we found these statements to be somewhat exaggerated. We saw only two cows and very little fresh or old waste.
At 0.58 miles, we reached an old corral on the north side of the wash. The stream dried up a short distance later.
The scenery quickly improved over the next half mile. There were some interesting sandstone domes making for a pleasant hike to the junction of Bighorn Canyon. Some of this stretch between the corral and Bighorn was through deep sand, but it wasn't too bad up until the last 200 yards or so.
At 1.77 miles we came to the old fence across Harris Wash. Here we left the gray sands of Harris and turned left (north) onto the orange-pink sands of Bighorn Canyon. We were in for a slog now as nearly the entire hike up Bighorn was in loose sand and it was quite a work out on our ankles and calves.
About a quarter mile up Bighorn we came to the West Fork branching off to the left. I've read this is an interesting section to explore, but we decided to save it for another day.
As we continued up Bighorn Canyon, the sandstone walls began to narrow and the scenery quickly became more spectacular.
Soon we were in the first slot. For all our Utah travels, we haven't been big on exploring the region's famous slots and this was easily the tightest we'd been in. Jason took his pack off in one place—I managed to squeeze through, but just barely.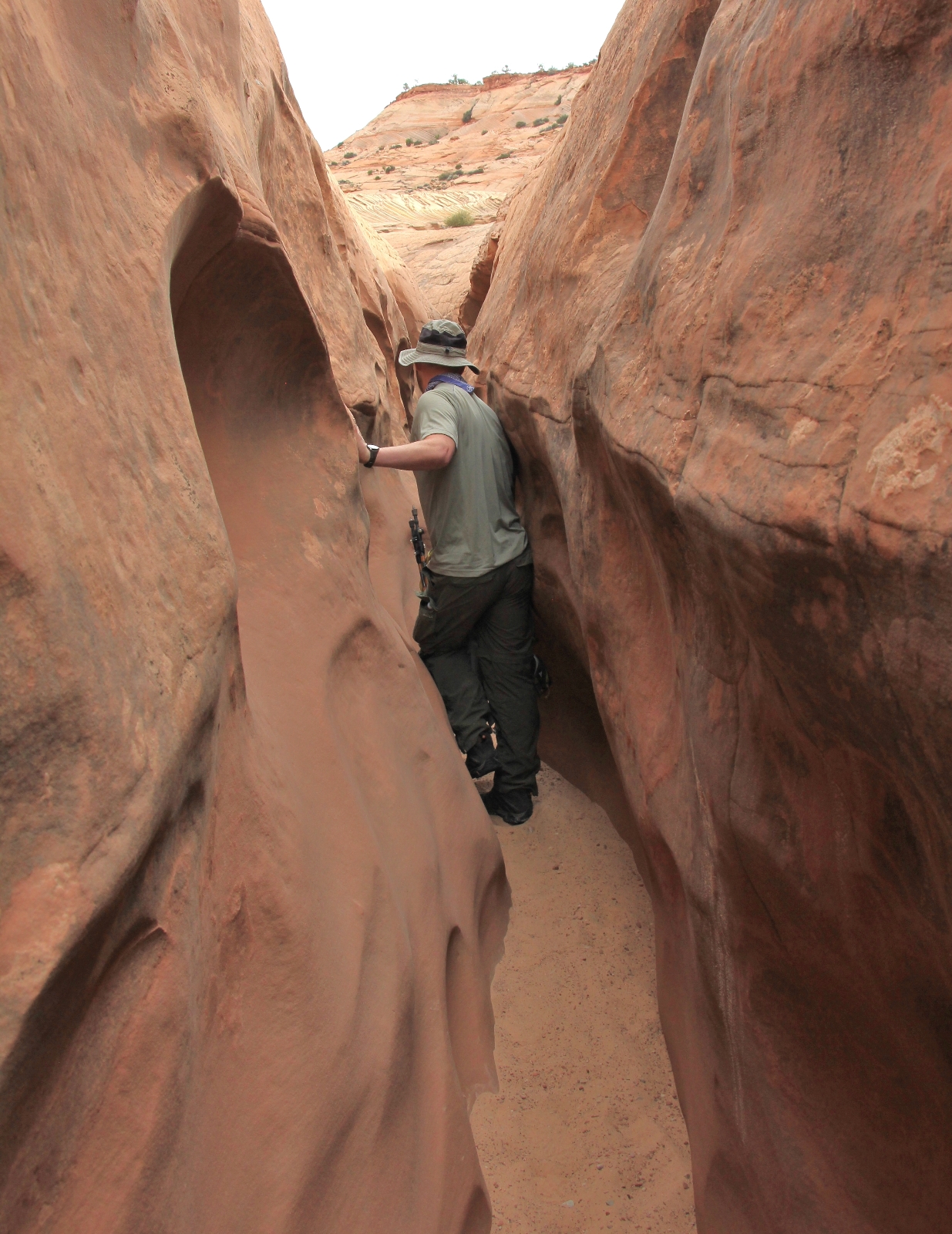 We had a couple boulders to climb over and around, but they were easy to negotiate.
The sculpted walls of Bighorn were beautiful, like finely crafted pieces of artwork.
At about 1.25 miles in, the narrows briefly opened up revealing a slickrock expanse of fantastical shapes and colors.
We continued up Bighorn which quickly slotted up again.
We negotiated a few more easily navigable boulders before reaching a larger one that seemed manageable, but would involve crawling on our stomachs through a deep pocket of debris. We were about 1.5 miles up Bighorn and from photos and way points on the web, I knew we were close to where I had planned to turn around. We decided to forgo doing our best lizard impersonation and go explore the interesting slickrock area we had just passed.
Both sides of the canyon were an explorer's delight, but I found the west side to be the most colorful and finely sculpted. Climbing out of the canyon was easy and it would be difficult to get lost if you are paying attention. In my humble opinion, exploration of this area is a must for anyone hiking Bighorn. While the slots were a lot of fun, this was my favorite portion of the hike.
Someday I would love to go back and explore more of Bighorn including all the forks. I tell ya though, that loose sand is a real slog! I think the ideal would be to do this hike immediately after a light rain. You wouldn't want too much moisture with those narrow slots, but I think a light rain would help pack the sand down. I'd also be interested in doing the hike as a loop with Zebra Canyon starting on Spender Flat Road. I guess I'll be leaving this little gem on our bucket list!
Back at the Jeep, we had hiked 6.5 miles round trip. The number of people encountered on the trail = zero! I made us avocado-turkey wraps which we enjoyed with a cold drink. Conditions were mostly sunny with a temperature in the low 70s, another beautiful day in canyon country. It was only early afternoon, so we decided to hike Upper Calf Creek Falls to finish the day.
Directions to trailhead at Upper Harris Wash: from the town of Escalante, Utah travel east on highway 12 4.5 miles then turn right on Hole in the Rock Road. Travel approximately 4.5 miles down this wide gravel road until you see an old corral on the right. Turn left here and park in the large pullout or travel a short distance further to a small parking area with room for three vehicles (N 37°40.6636' W 111°28.8927').