Unique pothole arches, stunning canyons, narrows, and rock art—Utah's Escalante River at its finest
Distance: 22.5 miles round trip for the three day backpack described here
Type: out and back
Difficulty: moderate with 1,200′ elevation loss from Egypt to Escalante River, numerous river crossings for the route described here
Best season: spring and fall
The final day of our Neon and Choprock canyons backpack began well before dawn. Lisa and I had agreed we wanted to make the steep return climb up to Egypt Trailhead in the cool morning temperatures. We left camp at 6:30 and enjoyed a beautiful return hike. It would have been great light for photos, but I was still trying to dry my camera out after it took an accidental swim in the Escalante River on day two.
Back at the trailhead, we celebrated with ice cold drinks. Yvonne, Jason, and I still had half the day left for a new adventure and Lisa had a little time before she needed to head home. We kicked around some ideas and decided we'd make a quick visit to the Hundred Handprints Panel near the confluence of Calf Creek and the Escalante River. Lisa would then head home while we'd make a return trip to Escalante Natural Bridge with Yvonne. The cool river crossings sounded great on a sunny and warm afternoon.
Despite the migraine and accidental plunge into the Escalante River with my camera, it had been a great backpack that we'd love to do again. We'd plan to arrive at Golden Cathedral earlier in the day and spend a little more time there. And while our campsite in Fence Canyon was very nice, I'd prefer to stay along the Escalante River or in the lower stretch of Choprock Canyon. We'd also allow more time for exploring Choprock including a possible loop hike with Silver Falls Canyon.
At the Escalante River Trailhead, I set my camera on the Jeep dash in the sun. With outside temperatures in the mid-70s, the wet camera would get a hot desert baking that afternoon. I grabbed my pathetic little point and shoot camera that I had packed "just in case" and we took off for the Hundred Handprints Panel. We made the short scramble up to the remarkable panel that, as the name clearly implies, has many white handprints and some nice bighorn petroglyphs. I'll definitely need to return to this panel with a good camera someday.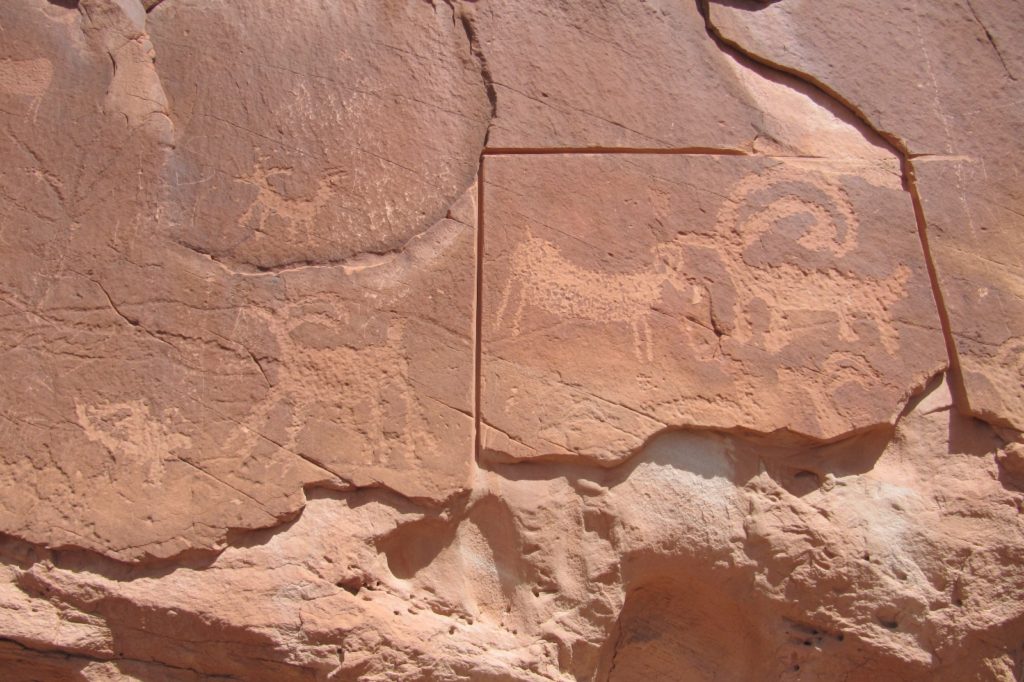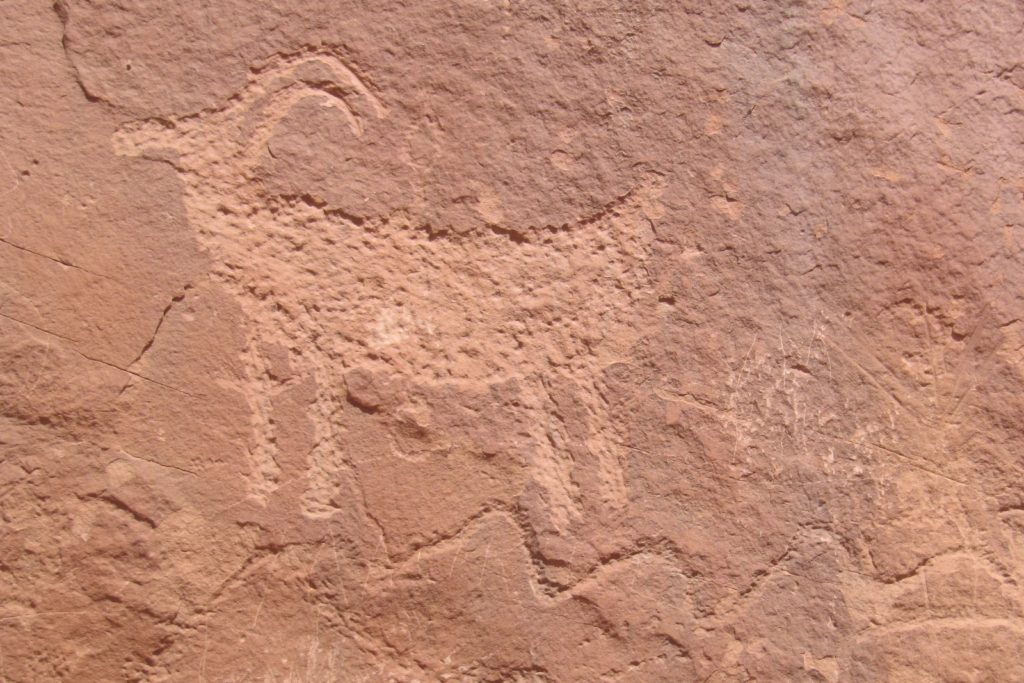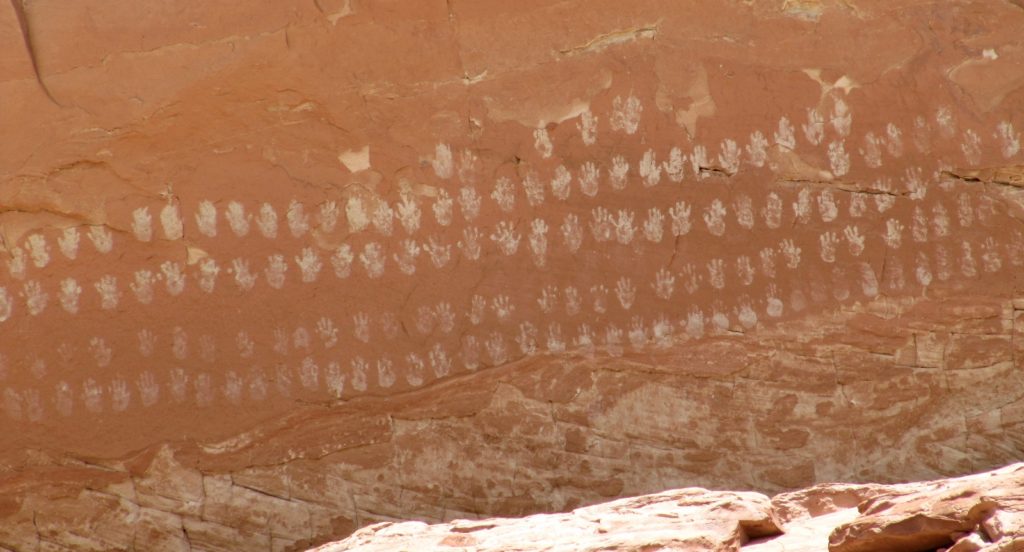 Back at the trailhead, we said our goodbyes with Lisa then began our hike to the natural bridge with Yvonne. Temperatures were in the mid – upper 70s and I was looking forward to the cool river crossings. We covered this stretch of trail last fall on our Escalante River Backpack. Portions of the trail had been buried under quick sand and debris from September's flooding and at times we had difficulty finding a clear path. Since that time, the trail had been well traveled and we had no trouble with navigation.
We made four river crossings on our hike to Escalante Natural Bridge. This is a beautiful hike with colorful sandstone domes lining the canyon. Compared to nearby Calf Creek Falls, you'll experience relative solitude. The knee deep river was beautifully clear (for the Escalante) and felt great in the afternoon warmth.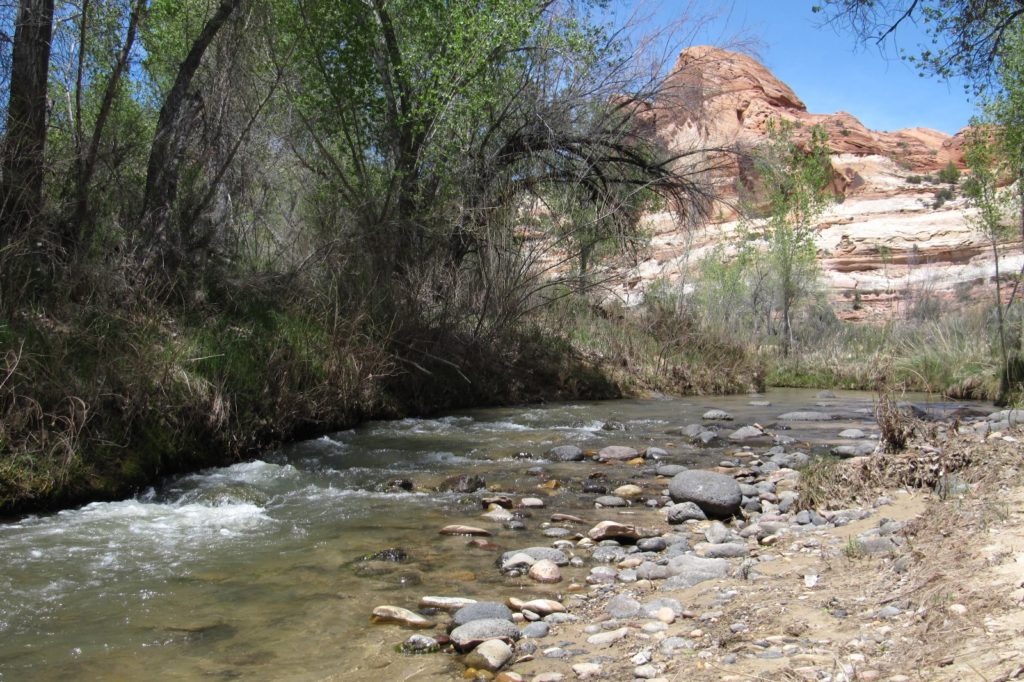 We visited the natural bridge, skyline arch just past the bridge, and the ruins under the arch.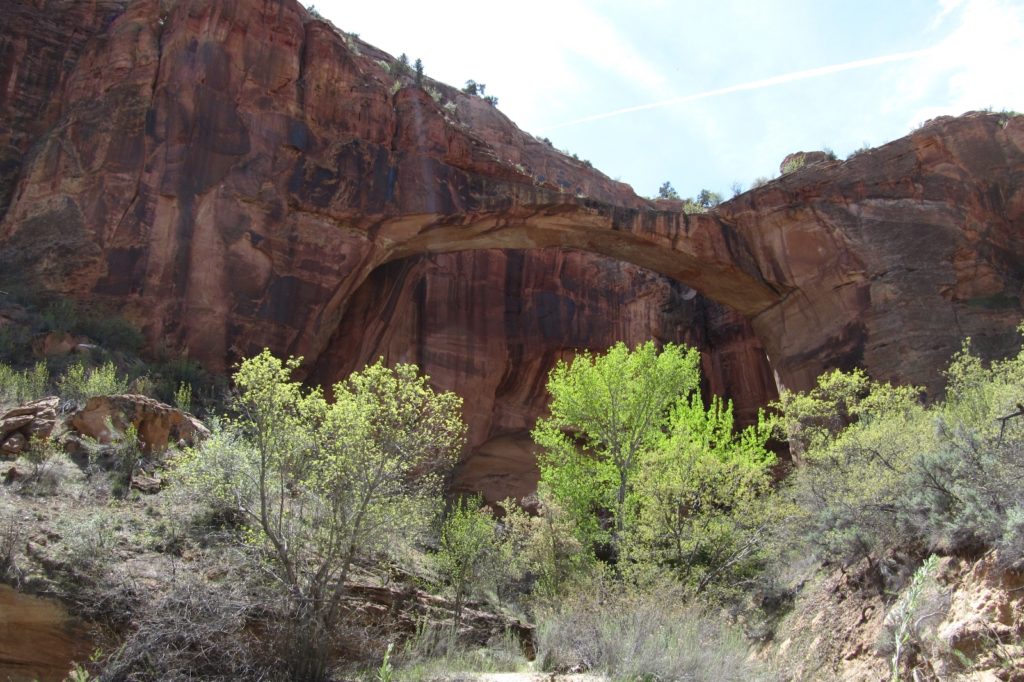 Back at the trailhead, the gps showed 4.8 miles which included both the short hike to the Hundred Hands Panel plus the bridge. Combined with the 3.4 mile backpack out of Fence Canyon, it had been a nice day.
We said our goodbyes to Yvonne and headed for Escalante. We were ready for a shower and bed, but our first priority was food. We pulled in to the Circle D Eatery where we both had burgers with fries, split a salad, and downed some ice cold drinks. Yum!!
Back at the hotel, I couldn't stand the suspense any longer. I nervously put a battery and SD card into my camera and fired it up. The camera turned on and didn't seem to explode. I fired off a couple shutter rounds and checked the card. I was delighted to see crystal clear photos on the screen. Next, I checked the SD card that had gotten wet. The photos all appeared to be there. It looked like somehow I managed to luck out and have my camera for the rest of the trip. I was thrilled!
Directions to Egypt Trailhead: from the Mormon pioneer town of Escalante, Utah travel east on highway 12 4.5 miles then turn right on Hole in the Rock Road. Travel 16.3 miles down this typically washboarded road then turn left (east) onto Egypt Bench Road. Continue 10 miles down this generally rough road to the Egypt Trailhead. I would recommend a 4WD and high clearance vehicle for the Egypt road; however, I was amazed to see a sedan just half a mile from the TH.
Directions to Escalante River Trailhead: from the town of Escalante, travel east on highway 12 13.3 miles and turn left into the well-signed Escalante River Trailhead.