During our recent two week stay at Lower Lee Vining Campground on the eastern slopes of the Sierra Nevada Mountains, we were just 10 miles from the east entrance into Yosemite National Park. It was a short drive into the park and we spent five days hiking in the 704,624 acre Yosemite Wilderness off Tioga Pass Road. We enjoyed beautiful fall weather and light shoulder season crowds.
Mount Watkins
Our first hike in Yosemite National Park was to Mount Watkins. The small trailhead parking area is located along the Tioga Pass Road between Porcupine Flats Campground and Tenaya Lake. I did not find this trail on my National Geographic Trails Illustrated Yosemite National Park map; however, AllTrails had a nice description for it here. The first couple of miles were a rather pedestrian walk through the forest as the trail dropped and them climbed to the top of Mount Watkins (elevation 8,498 feet). Once at the top of Watkins, views quickly opened up and we found ourselves staring down at a view of Half Dome that few tourists see. Most people stare up at the granite monolith as it towers 5,000 feet above the Yosemite Valley floor. We were staring straight across at it. We dropped down the southern side of Mount Watkins and found ourselves perched atop a precipitous drop to the valley below. We sat there alone, in silence, staring in amazement at the granite wonderland that surrounded us.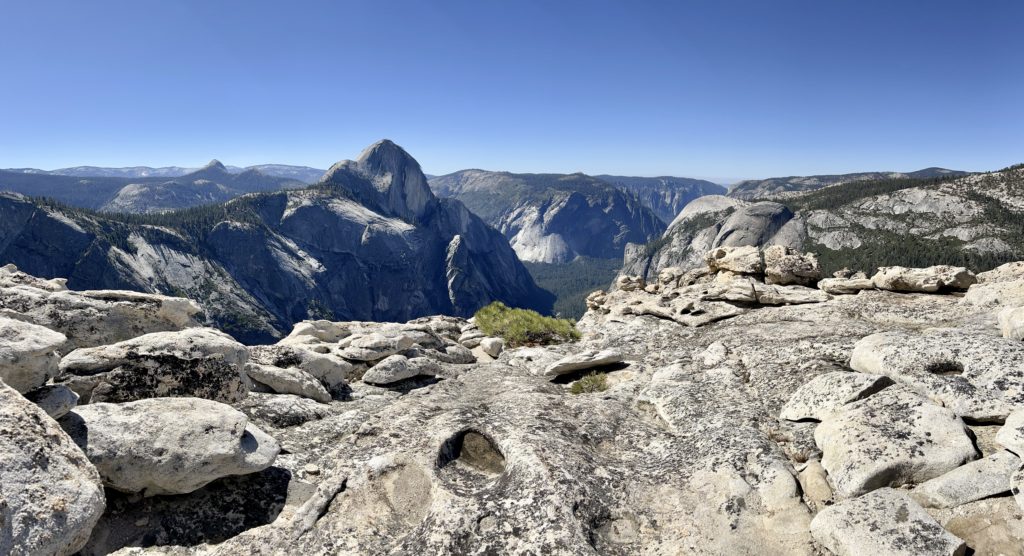 This was a relatively short hike at just 6.4 miles roundtrip with a little over 1,000 foot total elevation gain. The entire trail was at over 8,000 feet elevation which was the most challenging part of this hike for those of us who were not yet acclimated to that elevation. This is a quiet trail and a great option for those looking for great views without the crowds.
May Lake Loop
May Lake is one of the more popular hikes off Tioga Pass Road due to its scenic destination and short distance. The most common route is a short 2.5 mile roundtrip hike with 500 feet elevation gain. I wanted to visit May Lake, but the short and busy trail option didn't appeal to me. I looked at our National Geographic map and decided to make a big loop starting at Tenaya Lake, up the Murphy Creek Trail to Polly Dome Lakes area, crossing a pass to May Lake, and then dropping down a section of the historic Great Sierra Wagon Road back to Tenaya Lake.
The hike up Murphy Creek was a relatively gentle climb through the forest with occasional views of the granite domes and cliffs along the creek. Once we passed Polly Dome Lakes and began to climb the pass over to May Lake, views opened up quickly and we were treated to incredible views of the High Sierras. The trail along this stretch was built into solid granite rock and was quite impressive.
Topping out, we enjoyed a break at lovely Raisin Lake. This small lake was one of my favorite spots during the five Yosemite hikes we did.
From Raisin Lake, we climbed another low pass and dropped slightly to May Lake. May is a lovely destination with Mt. Hoffman towering above the shore creating a stunning backdrop. Prior to arriving at May Lake, we had only seen one other couple on trail. From May Lake down to the main trailhead, we passed many visitors making the short hike to the beautiful lake. I can see where this would be a very busy trail during peak season.
At the May Lake Trailhead, we caught an old section of the historic Great Sierra Wagon Road which was built in 1882-1883 to allow for the transportation of supplies to the silver mines near Tioga Pass. 340 mostly Chinese laborers built the 56.25 mile road in just 130 days. The road is now little more than a steep path through the forest to Tioga Pass Road west of Tenaya Lake.
Once back on the Tioga Pass Road, we caught a parallel trail back to Tenaya Lake where we started. In all, we hiked an 11.4 mile loop with approximately 1,600 feet elevation gain. Much of this route was down in the forest without a lot for views; however, the scenery at Raisin and May lakes, as well as from the passes we crossed, made it worth every mile.
Lembert Dome & Dog Lake
If you've driven Tioga Pass Road, you've likely noticed Lembert Dome. It is the massive granite dome towering above the road at the east end of Tuolumne Meadows. The hike to the top of Lembert is short and steep, but the reward is big with spectacular views of Tuolumne Meadows, the Cathedral Range, and surrounding peaks. This classic Yosemite hike was a must-do during our visit.
We parked at the Dog Lake Trailhead near the Wilderness Permit Station and Tioga Lodge. From there, the loop trail climbed through the forest to a signed spur trail leading to the base of the dome. The official trail ends there and hikers follow the path of least resistance up the granite face to the top at 9,420 feet elevation. Provided you are wearing the appropriate footwear, traction on the sticky granite is quite solid and you will go up and down easier than you think. Views from the top were amazing and we were lucky enough to have them all to ourselves.
Once back on the main trail, we continued north around the loop trail and took the spur trail to Dog Lake. Dog was a pretty enough little lake, but it wasn't "knock your socks off" by Yosemite standards. Still, it only added 1.4 miles to our hike and was worth the extra effort.
By combining both trails, we created a 5.0 miles roundtrip hike with just under 1,000′ elevation gain. Lembert can be hiked alone for 3.4 miles with 850 feet elevation gain. A trip to just Dog Lake is 3.6 miles with 600 feet gain. The Park Service rates each of these hikes as moderately strenuous. I would add that the climb to the top of Lembert Dome may not be for those with a fear of heights due to the steep climb at the top.
The Adventure Continues
Please join us on our next adventure as we continue our Sierra Nevada series with two more classic Yosemite National Park hikes. And don't forget to check out our Amazon RV and Adventure Gear recommendations. We only post products that we use and that meet the Evans Outdoor Adventures seal of approval. By accessing Amazon through our links and making any purchase (even things as simple as toothpaste!), you get Amazon's every day low pricing and they share a little with us. This helps us maintain this website and is much appreciated