Lovely pair of high mountain lakes in Idaho's Smoky Mountains
Distance: 10.8 miles roundtrip
Type: lollipop
Difficulty: moderately difficult with 1,600′ elevation gain (the section up to Miner Lake is relatively steep and rocky with blow downs to navigate over)
Best season: summer and early fall
Miner Lake, Smoky Mountains
Day two of our Labor Day vacation in the Sawtooths started off warmer than day one. Temperatures had only dropped into the 40s and it looked like we might have a smokier day than the previous when we hiked North Fork Wood River in the Hemingway-Boulders Wilderness. From our camp south of Galena Pass, it was just three miles to Prairie Creek Road where we turned west and ventured into (ironically) the Smoky Mountains. This was our first visit to this portion of the Sawtooth National Recreation Area. Unlike its three neighbors to the north and east (Sawtooths, White Clouds, and Boulders), the Smoky Mountains are not designated wilderness.
at Prairie Lake Trailhead in the Smoky Mountains of Idaho
We arrived at the Prairie Lakes Tailhead (elevation 7,204′) at 8:00 and found just one other car—not bad for Labor Day. This trailhead presented us with several different options. We could hike up West Fork Prairie Creek, but the main branch of Prairie looked much more interesting. The options up Prairie included an out and back to Prairie Lakes (10.0 miles RT), out and back to Miner Lake (8.0 miles RT), or a 10.8 mile lollipop route that would visit both lakes.
Temperatures were still cool as we started up the trail in relatively smoky conditions. Almost immediately we crossed the West Fork of Prairie Creek. We were easily able to carefully cross on a couple of logs and keep our feet dry, but I read this can be a difficult crossing early in the season.We then made a brief climb before following above Prairie Creek. Most of this stretch was through a pedestrian section of forest, but we had some nice views of the stream and peaks ahead. Conditions weren't so smoky that they completely blocked out our long views, but the distant peaks would have popped a lot more without the smoke. It was a disappointing day for photography, but the hiking was still enjoyable.
At 1.3 miles we came to a lovely meadow. A few wildflowers, including some paint brush, lingered here despite the dry condition of the canyon.
At 2.3 miles (elevation 7,634′), we came to another meadow and a trail split, left leading to Miner Lake and right to Prairie Lakes. We took a break here before turning left toward Miner Lake. We dropped briefly and crossed Prairie Creek. I could see where this would be a significant crossing in the early season, but this late it was quite shallow. We managed to cross on logs and rocks to keep our feet dry.
From there we immediately began climbing over increasingly rocky trail. This section covered the majority of our elevation gain for the day. It was a relatively stiff climb around rocks and over about a dozen blow downs. I could see why they didn't recommend this trail for mountain bikes.
As we neared the top, we had nice views to the left as we entered a good size meadow. I imagine this area is quite a sight when the wildflowers are at peak.
It was a 1.7 miles from the junction down on Prairie Creek to another signed junction just before Miner Lake. To the right was the trail over to Prairie Lakes. We continued to the left to Miner Lake (elevation 8,765′) at 4.1 miles from the trailhead.
Miner Lake was of above average scenic value, but relatively mediocre by Sawtooth standards. I have no doubt I would have been even more impressed on a clear day. The smoke wasn't horrible for our visit, but it certainly muted our views and my photos. We enjoyed the company of several dragonflies buzzing past us as we enjoyed a lakeside break.
Miner Lake
There was at least one very nice large campsite at Miner Lake (likely a couple more). Some jack-hole had left a full bag of dog food here—great way to call the bears to camp for everyone else.
As we were getting ready to leave the lake, we heard voices. Two men on mountain bikes arrived at the campsite and were the first people we had seen since one couple at the trailhead. They had come from Prairie Lakes and were doing the circuit in the opposite direction as us. I asked how the trail over from Prairie Lakes was. They reported many blowdowns, but otherwise the trail was good. I warned them of the rocky trail conditions they were about to encounter on their descent. We then retraced our steps the short distance back to the trail junction and took the left to Prairie Lakes.
The trail over to Prairie Lakes did some roller coaster up and down, but none of the climbs were ever steep or long. The tread was good and while most of the trail was through forest, we did have some nice views to the west. We had a few blown down trees to navigate around, but this stretch of trail was better than the climb up to Miner. It was 2.0 miles from Miner to Prairie with an estimated 400′ total climb if you count the ups and downs.
Arriving at Prairie Lakes (elev 8,822′), 6.12 miles from the TH, we passed within sight of one of the small lakes. We then crossed an outlet stream and joined up with the main trail that comes up from the trailhead. We took a left and quickly arrived at the largest of the Prairie Lakes. This was a nice lake, but not as scenic as Miner Lake. Prairie appears to be the more popular destination, not doubt because the climb to Miner Lake is more strenuous. There was a couple swimming with their dogs off to our left and we saw three different groups of people arrive at the lake while we were there.
the largest of the Prairie Lakes
After a nice snack break, we began our five mile return hike. There were a few short and moderately steep sections of trail, but overall the descent was gradual. This section of trail was a breeze compared to the steep and rocky Miner trail. It appeared as though there were some very nice long views to the northeast into the Hemingway-Boulders Wilderness, but smoke blocked much of our view.
Back at the trailhead our gps put us at 10.8 miles for the day with an approximated elevation gain of 1,600′. This was a very nice hike and I would love to retrace our steps sometime when conditions are clear.From Prairie Creek, we drove north to Stanley where we checked into a local hotel for two nights. The smoke was moving in even thicker and we could barely see the Sawtooth Mountains behind town (the view is typically stunning). The following day we hiked to Cabin Lake through horribly smoky conditions. Officials were warning people to stay inside and not physically exert themselves. By the end of that hike, and additionally demotivated by the worsening smoke forecast for the rest of the week, we pulled the plug on vacation and made plans to return to work early.
Directions to Prairie Creek Trailhead: drive Idaho 75 north of Ketchum 19 miles. Turn left onto Prairie Creek Road and continue 2.6 miles down this good gravel road to the trailhead at the end of the road. There is a large parking area here with good turnaround.
Got Gear?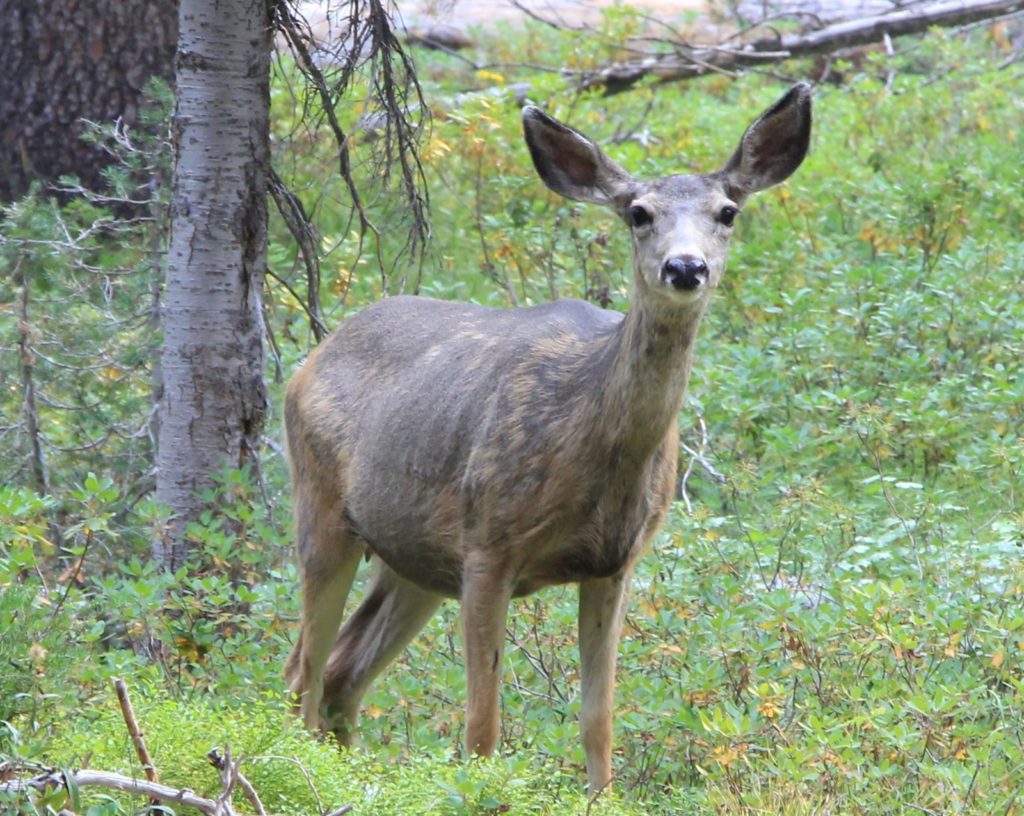 Click here to see some of our tried and true gear. By accessing Amazon through the links on this page, you get the same GREAT Amazon pricing and they share a little with us. This helps us maintain evansoutdooradventures and is much appreciated!